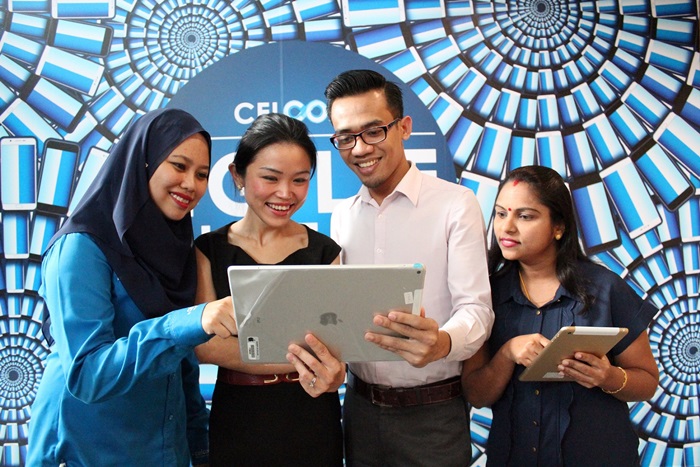 Customers engaging with Blue Cube personnel regarding
the latest devices bundled with FiRST™ by Celcom Internet Plans.
Christmas is just 3 days away, and Celcom Axiata Berhad are already bringing their Celcom customers a season of joy by giving the latest devices and more internet data exclusive for them starting this holiday season.
In conjunction with their FiRST Blue and FiRST Gold post-paid internet plans success, Celcom has implemented 40GB worth of internet and data for FiRST Gold with a monthly commitment of only RM100. In addition, starting from 23 December the new FiRST Blue Internet and FiRST Gold Internet users were also given a chance to get new devices bundled together which are the Apple iPad Mini 4 16GB, Apple iPad Mini 4 64GB and Apple iPad Pro 128GB models, starting from as low as RM1268.
"FiRST Gold Internet will give 6GB of monthly internet together with 12GB between 1am to 7am. With a monthly commitment of RM100, customers will also receive 6GB complimentary Celcom WiFi per month and 12GB complimentary WiFi from 1am to 7am as well. This internet plan also consists of our 4GB FREE internet on weekends, totalling up to 40GB of data and internet per month!" said Zalman Aefendy Zainal Abidin, Chief of Sales and Marketing Officer of Celcom Axiata Berhad.
Besides that, FiRST Blue and Gold users will be given free unlimited music with Yonder Music for 12 months, their unused Internet data will also be carried forward up to 6GB per month and an extended credit limit up to RM500. Lastly, they are also eligible to enjoy Celcom's Millions of Giveaways throughout the month of December until 29 February 2016.
"Celcom is significantly bringing more internet through our FiRST Gold Internet, which has been personalised to cater to the ever changing digital needs of Malaysians. It goes without saying that these new plans complement correspondingly to our customers' usage behaviour, and are powered by the country's widest and fastest 4G network,'' Zalman added.
For more information on the packages and price plans, visit www.celcom.com.my or any of the nearest Blue Cube stores and selected Celcom Xclusive Partners.