Celcom has joined UTM and Ericsson on 5G and IoT research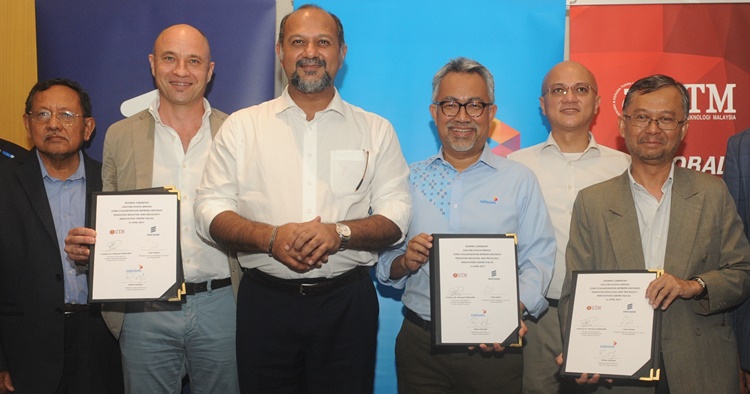 Celcom will work with UTM and Ericsson to drive the development of 5G and IoT use cases relevant for Malaysia. (L-R) Professor Dr. Tharek Abd Rahman, Non-Governmental Commission Member of Malaysian Communications and Multimedia Commission, Todd Ashton, President, Ericsson Malaysia, Sri Lanka and Bangladesh, Yang Berhormat Gobind Singh Deo, Minister of Communications and Multimedia, Idham Nawawi, Chief Executive Officer of Celcom Axiata Berhad, Al-Ishsal Ishak, Chairman of Malaysian Communications and Multimedia Commission, and Professor Dr. Shamsul Sahibuddin, Pro-Vice Chancellor of Universiti Teknologi
Malaysia, Kuala Lumpur Campus
Today, Celcom Axiata Berhad has signed a new agreement on joining IC5G at Universiti Teknologi Malaysia (UTM). IC5G is an initiative by UTM and Ericsson back in 2015, where its research and development on 5G technology is conducted for the benefit of students and industry professionals.
To give you a brief summary of IC5G, it is a facilitate research platform on understanding the impact of 5G on industries and society. There's an innovation showroom, where it showcases 5G uses and demonstration, a research lab on studying 5G (propagation, antenna, wireless communications, networks, security, sustainability and safety studies), and finally, a learning space for short-, medium- and long-term learning programmes on 5G.
The agreement was signed in presence of YB Tuan, Gobind Singh Deo, Minister of Communications and Multimedia. As part of the agreement, Celcom will work with UTM and Ericsson to drive the development of 5G and IoT use cases relevant for Malaysia, which includes studying and testing network traffic across different use cases to better understand 5G performance and feasibility scenarios.
Todd Ashton, President, Ericsson Malaysia, Sri Lanka & Bangladesh said, "Ericsson remains committed to bringing our world class technology to Malaysia and we firmly believe that through partnerships, the full value of connectivity can be realised for the whole ecosystem. I would like to welcome Celcom as a partner to the Innovation Centre for 5G that we initiated in collaboration with UTM in 2015. With Celcom now on board, it will boost our joint efforts to develop 5G and IoT use cases."
Stay tuned for more 5G development news at TechNave.com.