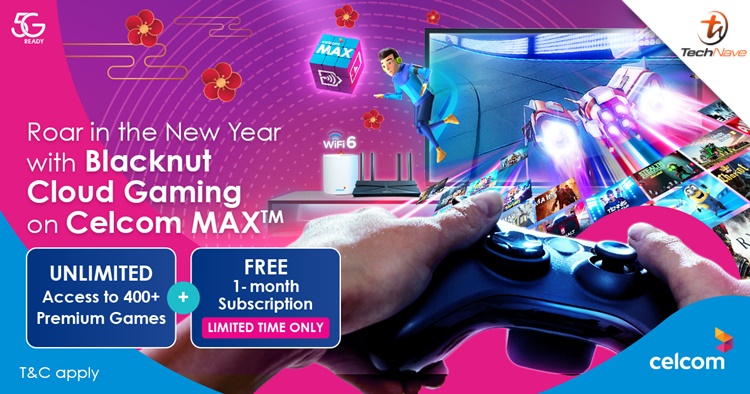 Today, Celcom just announced that it has launched its first-ever cloud gaming service. Also a first in Malaysia, this initiative by Celcom is a partnership with Radian Arc and Blacknut allowing Celcom customers to enjoy more than 400 premium cloud game titles at only RM40 per month. So how does this work?
According to Celcom, Radian Arc and Blacknut cloud gaming solution use GPU Edge technology and operator networks to process data as close to the end-user as possible. Also by leveraging on Celcom's 4G LTE and fibre network, Celcom MAX customers can enjoy unlimited access to stream and play their favourite games right away of up to 500Mbps and unlimited home fibre internet.
For a limited time only, Celcom is also offering new and existing Celcom MAX users 1-month trial access to Blacknut cloud gaming services for free. Moreover, the Celcom Home Fibre and MEGA postpaid plan offerings include a lifetime savings of RM21 every month and an AX router for free. Interested customers can simply subscribe with Celcom MAX by visiting any Celcom bluecube outlet, Celcom Certified Partners or call our Celcom Contact Centre at 1111 or 019-6011111.
For more information on the Celcom MAX's cloud gaming services and offerings, you can visit the official webpage here or check out the latest cloud games by visiting Blacknut's webpage.