Celcom to Launch Samsung Galaxy S4 / S IV From RM588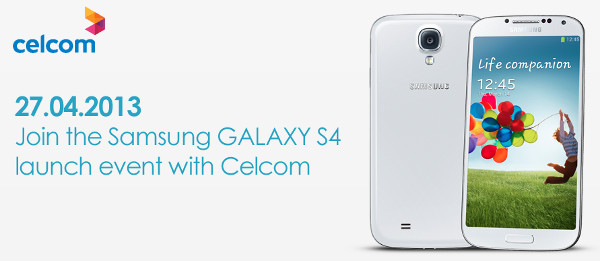 Just like all the other telcos in Malaysia, Celcom have come out with a Samsung Galaxy S4 / S IV offer for tomorrow's official launch of the smartphone. This offer is at a jaw dropping RM588 but there are a number of conditions that have to be met to get that price which include:
You have to buy it during the launch
You must sign up for the Celcom First Voice with a Data mPro bundle plan
At first glance, this is all that you need to get the Samsung Galaxy S4 / S IV at RM588 but if you look closer, the price coincides very closely with the lowest subsidized price of RM1338 minus RM750, which is the highest value for a rebate discount voucher. This discount voucher can only be received if you're lucky enough to get it during the launch event, which must mean there are lucky draws or similar crowd participation mini-events during the main launch. According to the Celcom site, 200 lucky participants to the launch event will get discounts (in the form of rebates) between RM200 to RM750 along with RM240 worth of rebates on your monthly bills.
This isn't entirely a bad deal, but it does explain how Celcom can offer the Samsung Galaxy S4 / S IV at RM588. There are other exciting plus points too in that you can also get 30% off selected Samsung Galaxy S4 / S IV accessories. You can also "stand a chance to walk away with a FREE Samsung Galaxy S4" and this is a direct quote from the Celcom site itself. Making it even more random is the fact that the launch will be split up amongst three event locations at:
BLUE CUBE @SUNWAY
Celcom Taman Molek
BLUE CUBE ALL SEASON PLACE.
Click here for more Celcom telco deals but for more information regarding this event and it's many deals go to the Celcom site.