Celcom upgrades Internet data for FIRST Gold & Platinum, introduces new FIRST Gold Plus plan and AnydayGB feature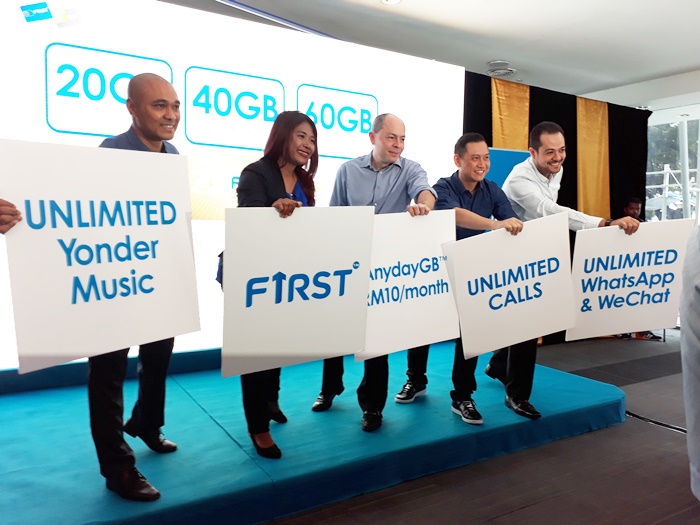 (L-R) Daren Victor, Head of Brand Management Access; A'an Sriyani, Group Brand Management; Azwan Khan Osman Khan, Deputy Chief Executive Officer, Business Operations; Zalman Aefendy Zainal Abidin, Chief Marketing Officer of Celcom Axiata Berhad; Tengku Muneer Tengku Muzani, Head of Marketing
Today, Celcom Axiata Berhad has announced that starting tomorrow onwards, a brand new Celcom FIRST plan feature will be introduced called the AnydayGB. AnydayGB is a new add-on feature that allows customers to combine their weekday and weekend internet from the newly allocated Internet data from the current FIRST plans, as well as introducing a new FIRST Gold Plus plan.
Before we get into the AnydayGB feature, Celcom first announced that the FIRST Gold and FIRST Platinum will be enhanced with a bigger and higher Internet allocation, which means:
FIRST Gold will have 10GB data for weekdays and 10GB for weekends, for the same RM80 price
FIRST Platinum will have 30GB data for weekdays and 30GB for weekends, for the same RM150 price
To add on to that, there will also be a new FIRST Gold Plus Internet plan for RM98 at 20GB for weekdays and 20GB for weekends.
Existing FIRST Gold and Platinum subscribers, including FIRST Gold business and FIRST Platinum business; they will get to enjoy this new feature effectively on 1 November 2016 without any additional charges. Also, the carrying forward data feature won't be applicable since there is so much data; as well as for SMS which will be charged.
And as for AnydayGB feature, it will be an add-on onto all three FIRST Gold, FIRST Gold Plus and FIRST Platinum for RM10 per month and can be used any day, anytime by combining their weekday and weekend Internet data into a single independent allocation. For example, applying AnydayGB on FIRST Gold will result having 20GB Internet data instead of separating 10GB for weekdays and weekends respectively.
Zalman Aefendy Zainal Abidin, Chief Marketing Officer of Celcom Axiata Berhad also remarked the FIRST plans are a set of comprehensive packages that give their FIRST customers including FIRST business customers, access to the best postpaid deals that have the biggest and highest allocation of monthly internet.
"Previously, Celcom FIRST plans provided customer with sufficient internet allocation however due to the rising demands for more internet, the new Celcom FIRST plans just got bigger and better! In addition , customers on existing postpaid plans with mobile internet will also enjoy a significant data increase for the best 4G mobile internet experience." he said.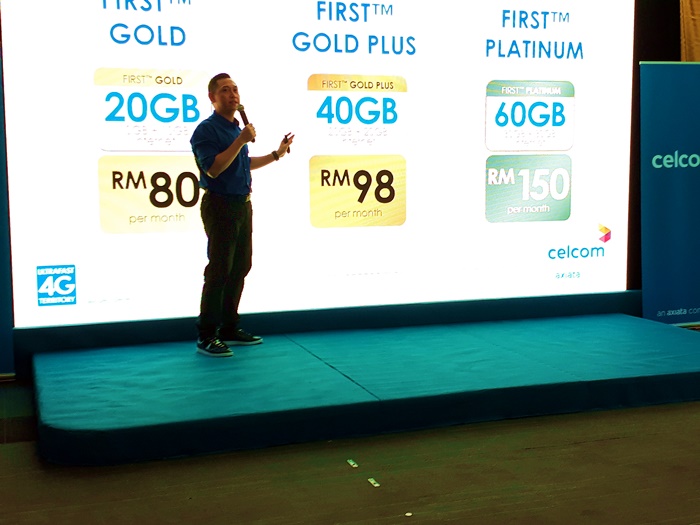 "Every day, the demands for more internet and affordable prices rapidly increase and whether for work or play, during day or night, weekends or weeksday, customers are constantly thirsty for a data plan that allows them to do so much more on th internet. With the new AnywayGB add-on feature, our customers can now use their total internet allocation at any day any time!"
Last but not least, the unlimited call to any network, unlimited Whatsapp and WeChat usage, free unlimited Yonder Music, NewPhone plan and Wonderoam data plans are also included even after AnydayGB is added.
To subscribe AnydayGB, the customer will just have to dial *118# or send 'ANYDAYGB' to 28882 via SMS. It's also an auto-recurring subscription feature so if the customer doesn't want it anymore, he or she can just unsubscribe it again. AnydayGB will be available in all Blue Cube and Celcom Xclusive partners nationwide starting tomorrow.
For more information, kindly contact their Celcom Careline customers service at 0196011111.