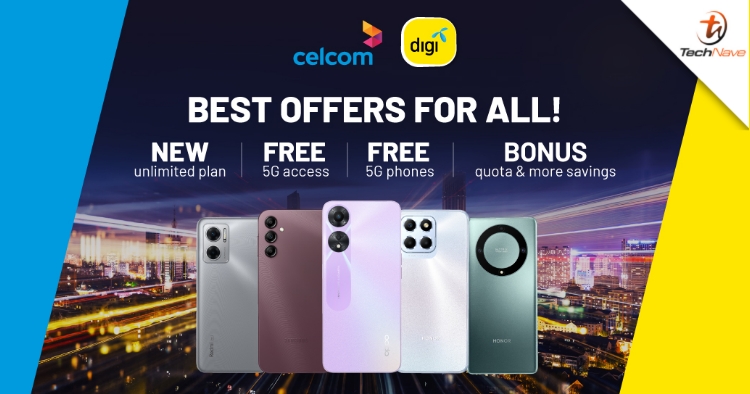 CelcomDigi today announced the availability of its new unlimited plan for Xpax Postpaid users, 5G Boosters free trial for Digi Prepaid users and the launch of its latest campaign in conjunction with the Ramadan and Aidilfitri festive period. Happening from today until 15 May 2023, read on to know the full details.
First up, CelcomDigi launches the all-new Xpax Postpaid Unlimited 75 plan that is available for a limited time only. The plan features unlimited Internet with a speed of 10Mbps and free 10GB monthly Hotspot Internet with unlimited calls to all networks.
Customers who sign up for the Xpax Postpaid Unlimited 75 with a 12-month contract will also enjoy an RM10 rebate and pay only RM65/month for 12 months. Those interested may visit the nearest bluecube, Digi Stores or any authorised dealers to sign up.
Next, the telco company is also offering a free trial of the 5G Booster to Digi Prepaid users. Starting today, eligible Digi Prepaid users can access 5G services for free (N.P: RM10/month) if they opt for the 5G Booster.
This free trial is available for Digi Prepaid NEXT users who are on monthly internet plans from 16 March 2023 until 30 April 2023. Digi Postpaid users will also continue to enjoy this free introductory offer as well until 30 April 2023.
Besides that, exclusive during the Ramadan period, CelcomDigi is introducing Sahur Pass, in which both Celcom and Digi postpaid and prepaid users can enjoy a high-speed Internet quota of 444GB at only RM7. The pass is valid for 7 days and is applicable for Internet usage between 3.00am to 7.00am. It can be purchased via Celcom Life App and MyDigi app.
There's also the HD Video Pass that offers all CelcomDigi customers 555GB Internet quota for all-day streaming usage to binge-watch their favourite shows on Netflix, YouTube, AstroGo, Viu, and iQiYi. This video pass is available exclusively via Celcom Life App and MyDigi app for only RM5 with 3-day validity.
The promo doesn't end there either as CelcomDigi is also offering more free 5G smartphones. New and existing customers can now enjoy a free Samsung Galaxy A14 5G when they sign up with Celcom MEGA 98 or on Pakej PowerJimat with Digi Postpaid 90.
The Galaxy A14 5G will join the wide range of free 5G smartphones offering, including OPPO A78 5G, Redmi 10 5G, HONOR X8 5G (exclusively for Digi users) and HONOR X9a 5G (exclusively for Celcom users).
For the full list of promos as well as their terms and conditions, do visit Celcom or Digi's official websites. As always, make sure to stay tuned to TechNave for more tech news and promos such as this.