Comparison: Disney+ Hotstar, Netflix & more, which TV streaming service should you subscribe to?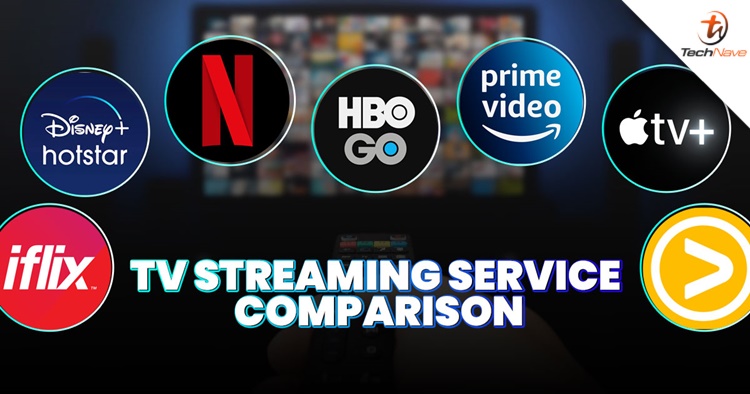 In case you missed it, Disney+ is finally arriving in Malaysia and it will be launched as Disney+ Hotstar here. That being said, there are now a plethora of TV streaming services and sometimes it can be a dilemma to choose which channel you should subscribe to. Price is one thing, but the movie and actual TV show content also matters to many Malaysians nowadays especially during this pandemic period.
Besides Disney+ Hotstar, there's also the ever-popular Netflix, as well as HBO Go, Amazon Prime Video, Apple TV+, iflix, Viu, and many more. We thought of including Tubi TV and tonton as well but you can practically watch these for free (with advertisements). As for dimsum, it's going to close down soon this year on 30 September 2021.
Anyway, without further ado - here is our comparison for the top TV streaming services in terms of price and content for Malaysia.
Disney+ Hotstar - A hot contender

As of today (1 June 2021), Disney+ Hotstar is now official in Malaysia. Currently, there are two ways to subscribe to it. Either you subscribe directly to the platform on Android or iOS for RM54.90 for three months or have it on your Astro package as a Movie Pack customer with an additional RM5 on top of your Astro fee. Do note that if you already have a Movie Pack, you're already kinda forced to have it without any consent. Astro is currently making Disney+ Hotstar available on the Ultra and Ulti boxes by the end of the year.
Upon subscribing, you will have access to Disney licensed movies in Ultra HD 4K with Dolby Vision and Dolby Audio (note, only some). This includes Star Wars movies and TV series like The Clone Wars. Of course, you will also get access to a huge catalogue of Marvel Cinematic Universe movies and TV shows like the recent movie The Falcon and The Winter Soldier. The launch in Malaysia also means we will be just in time for the upcoming Loki TV series. However, do note that Disney+ Hotstar won't have premier access like the one in the West where Cruella is already released. Disney+ Hotstar is also viewable on any web browser, Android TV and Apple TV.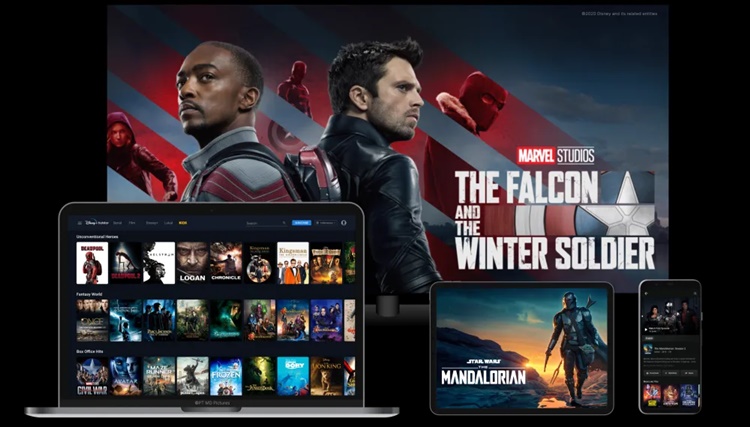 That's not all, though. Disney+ Hotstar will include many local films such as J2 J Retribusi, Zombitopia, Ada Hantu, Ejen Ali The Movie 2 and others. Even other unrelated Disney IP like The Walking Dead, The Simpsons, Grey's Anatomy, and Alien will be available. Considering the subscription fee and the huge catalogue of movies and TV shows, Disney+ Hotstar is arguably the most costs effective. Although one account can only be viewed on two separate screens at the same time, this also means you and your movie kaki buddy will have to pay RM9.15 per month. But since the fee is only accounted for quarterly, that's just RM27.45 for 3 months. You can visit the official DisneyPlusHotstar.my or Astro's version for more information.
Netflix - The popular kid on the block
Netflix doesn't need any introduction but in case you're not subscribed, here's the gist of what you should know. Netflix is the only one that offers package flexibility according to your needs - Mobile (RM17/month), Basic (RM35/month), Standard (RM45/month) and Premium (RM55/month). Obviously, each package plan also offers different features. Mobile means you can only watch them on your mobile or tablet at 480p, whereas Premium offers 4K resolution content for up to four users watching at the same time on any platform.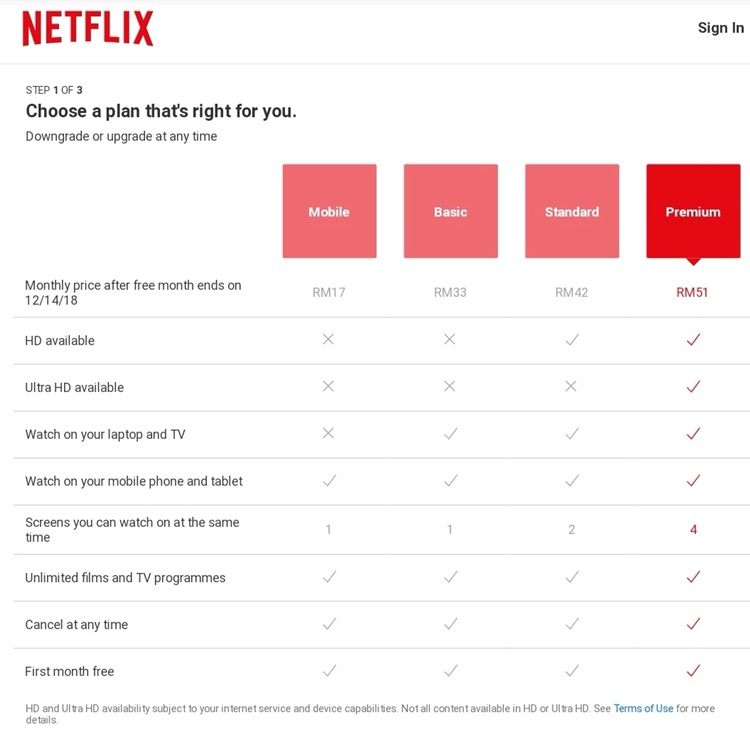 In terms of content, there isn't really much excitement if compared with Disney+ Hotstar. The most recently hyped release was Attack on Titan Final Season Part 1 but after that, there are still some occasional movies or TV series to check out (like Shadow and Bones, Vincenzo and others). That said, Netflix does have a huge library of shows ranging from documentaries to anime, original Netflix movies, Korean TV dramas and many more. There's something for everyone here.
HBO Go - An underrated streaming platform?
HBO Go (not to be confused as HBO Max, totally different) is like the weird kid that nobody really pays attention to but doesn't care. Initially, it was launched for Astro customers as part of the Movie Pack or standalone for RM25/month but now users can subscribe to it online via iOS and Android for RM34.90/month.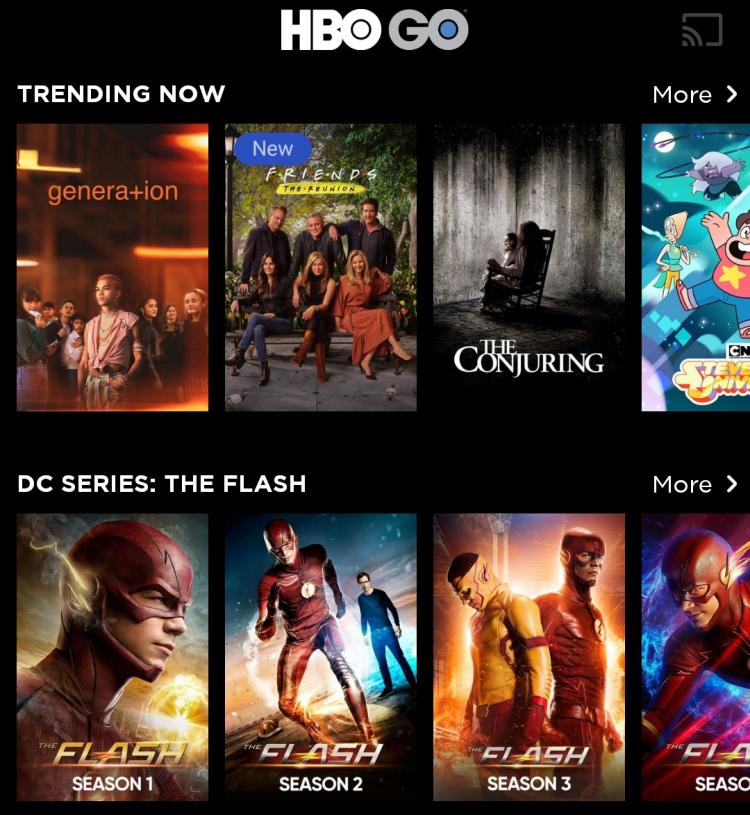 Anyone fancy Friends: The Reunion?
Content-wise, you can watch any video-on-demand that is part of the HBO license and this includes HBO original series like Game of Thrones, Westworld, Lovecraft Country, Raised by Wolves, His Dark Materials - and films, and originals specially curated from HBO Max. If you're a DC superhero fan, you should also know that HBO has already released Zack Synder's Justice League (and there's a grey version!) and continues to expand the DC Universe on the platform with other DC series such as DC's Legends of Tomorrow, Arrow and Swamp Thing, a slew of DC Universe: Animated Movies, and more.
Amazon Prime Video - (Does anyone in Malaysia watch this?)
When it comes to TV streaming platforms, Amazon Prime Video is not usually the one that comes up. Can you even get it here? Well, actually yes but the fee is at $5.99/month (~RM24/month). However, if you're a Digi user, you should have come across the Amazon Prime Video subscription deal at RM14 for the first six months, then RM27/month after that.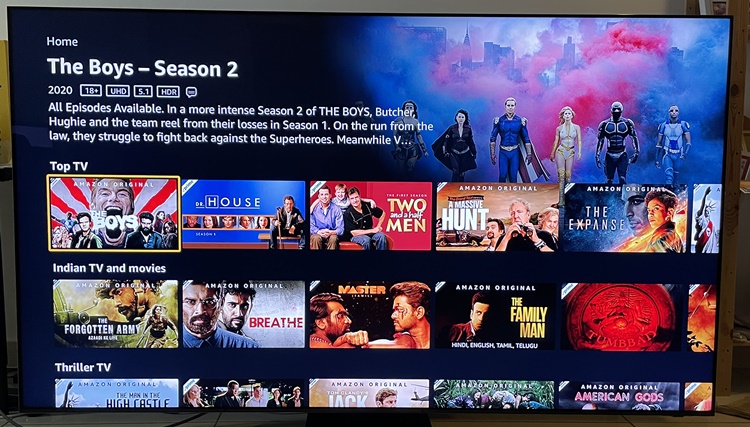 Compared with the others above, the payment rate is not as high but what kind of content can you watch on it? For starters, you can watch the critically acclaimed superheroes gone bad The Boys which will have a season 3 soon this year. Besides that, there are many original TV shows like Fear The Walking Dead, Star Trek: Picard, as well as animated movies like Shrek. There are also a good number of Indian TV shows and movies on Amazon Prime Video as well.
Apple TV+ - Another one that's under the radar
You can also find Apple TV+ on selected smart TVs and obviously, on your iPhone, iPad, iPod Touch, Mac and especially Apple TV. For the record, it's only RM19.90/month and even better, it comes free for one year if you purchase a new Apple device starting from November 2019. However, it's a bit weird that Malaysian Apple users don't really talk much about Apple TV+ (including me).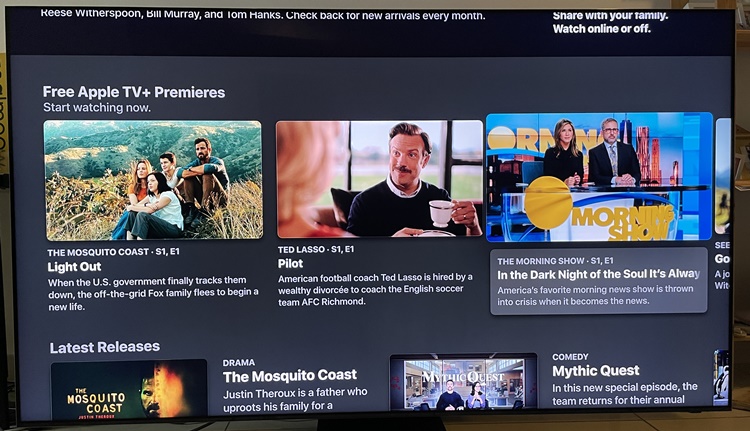 Like Amazon Prime Video, Apple TV+ has a lot of original content as well. One of them is The Morning Show starring Jennifer Aniston, Reese Witherspoon and Steve Carell, as well as Jason Mamoa in an original movie 'See'. Other than that, Jason Sudeikis as Ted Lasso has gotten quite popular as well and season 2 is coming this year too. However, Apple TV+ is very much American-based, with almost no local or non-American foreign content (to my knowledge). You can have a free trial of 7 days just to test it out.
iflix - The former local boy
Ah... iflix. This used to be a popular local streaming platform but make no mistake, many Malaysians are still using it. There are currently two ways to watch iflix - either you pay RM10/month or watch it for free. Of course, there are ads if you don't subscribe, so paying RM10 is quite worth it if it has the content you intend to watch.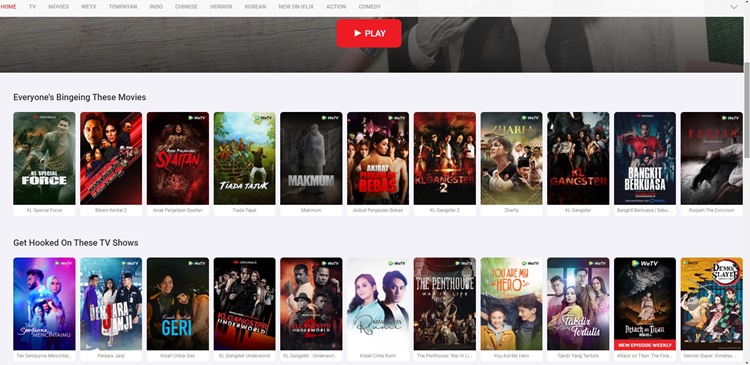 In case you have been living under a rock, iflix offers a lot more local and Asian content such as those from South Korea, Indonesia, Japan and others. It should be noted that more Chinese shows have been added as well after its acquisition by Tencent in June last year. If that's your cup of tea, we think it's not that bad but unfortunately, it's rather overshadowed by the other aforementioned TV streaming services above.
Viu - For the hardcore Korean TV fans
Viu is also just as affordable as iflix in that it only charges RM10/month or you can watch it for free with ads. This service has been around for quite a long time already, but it started in Hong Kong first in 2015 and now it has certainly proven to be popular in Malaysia especially amongst the hardcore Korean fans.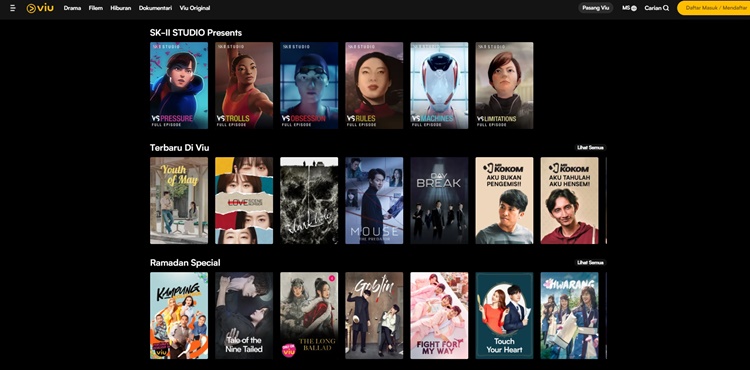 This is mainly because Viu is a streaming platform that is mostly dedicated to the latest Korean TV drama series and entertainment shows. On top of that, you can also find a ton of Japanese shows and anime series, Chinese and Taiwanese dramas, as well as Malaysian soap operas. Viu is the perfect channel for serious Korean TV fans, or anything Asian-related.
So there you have it, we know there are some more that we didn't include but we just think these are the ones that should be on the list. Subscribing to more than one streaming platform is certainly hefty as well. If you take both Netflix (standard) and Disney+ Hotstar together, that's RM60.30/month or RM180.90 for three months. Our suggestion - you should find some 'movie-kaki' who are willing to share a family package just like Spotify and YouTube Premium. For example, the YouTube Premium Family Sharing Plan allows up to five members and dividing the cost is just RM5.70 each. Only then, it will be less of a burden on your wallet by a lot.
But what do you think of these streaming services? And which one have you subscribed to? Let us know in the comments below and stay tuned for more trending tech articles like this at TechNave.com.