Comparison: HTC U 11 or the HTC U Ultra, a closer look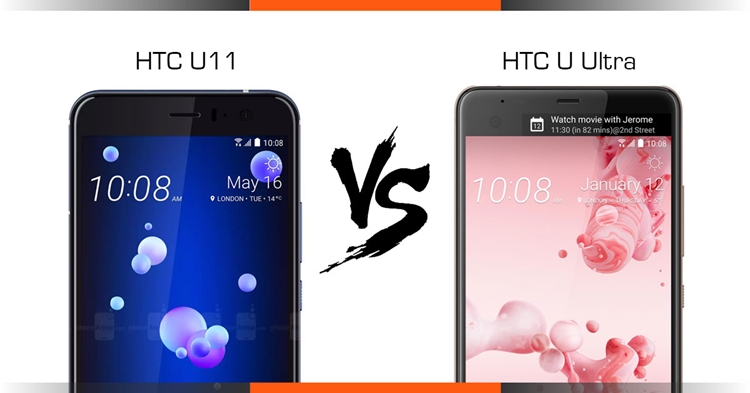 The tech scene has suddenly become saturated with the latest HTC U 11 after its recent release but wait, didn't the HTC U Ultra just make an appearance just a couple of months ago? With both phones being top notch, let us see which one will take the cake.
Tech specs and performance – HTC U 11 knocks it out of the park
On paper, it would seem that the two phones would be largely similar in terms of specs but in terms of significance, the HTC U 11 clearly takes this round. Why? Let us take a close look;
The most obvious difference is that the HTC U 11 would be packing the latest flagship octa-core processor, the Snapdragon 835 with the Adreno 540 compared to the HTC U Ultra's quad-core Snapdragon 821 with the Adreno 530. Performance-wise, this already gives the HTC U 11 a huge advantage as an octa-core chip will usually have better processing and multi-tasking power over a quad-core chip. On top of that, it is also a known fact that the Adreno 540 GPU performs 25% better than the Adreno 530.
Moving on, the HTC U Ultra has a bigger screen with its 5.7-inch super LCD5 screen as compared to HTC U 11's 5.5-inch super LCD5 screen. Yes, the larger screen size does appeal to the big screen fans but based on our previous review of the HTC U Ultra, the large phone size does make it a bit hard to wield and may prove to be a challenge for small handed individuals. A larger screen size also puts the HTC U Ultra at a slight disadvantage in case of power consumption as both phones pack a 3000 mAh battery. Due to its large screen, the HTC U Ultra will only pump out a 312 h standby time in contrast to the HTC U 11 with a standby time of 336 h.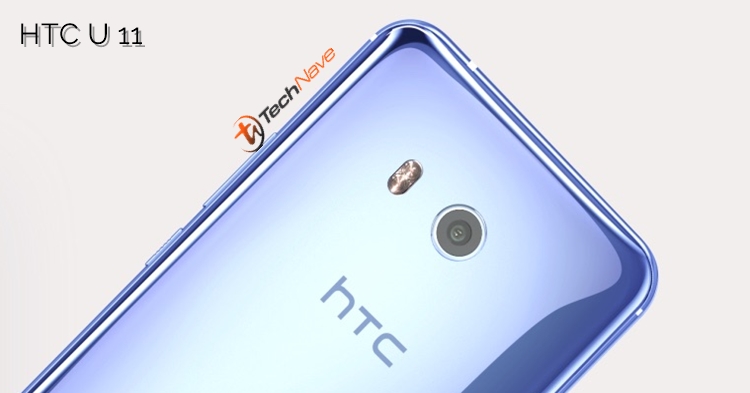 In terms of design, both phones look almost identical
Design and features – HTC U 11 takes it away, again
Now in terms of design, not much difference can be seen from both of them asides from colour options. The U Ultra's larger size and the slightly larger edge of the HTC U 11 (No doubt to house the Edge Sense feature) set them apart but ultimately, both of them look largely similar in terms of design. Did I mention that both phones do not sport a headphone jack? I for one am not a fan of the headphone jack removal but this is just a difference in opinion and is highly subjective.
Moving on to features, this is where it gets a bit lopsided. Where the HTC U Ultra is made to be a large phablet device with a cool dual-display feature, the HTC U 11 however, was built with physical functionality in mind with its featured Edge Sense and IP67 water resistance. Although it is too early to say anything about Edge Sense and how well it works, it is still a cool new feature to have.
Both phones feature a 360-degree audio recording features to improve on immersive video recordings but the HTC U 11 was introduced with an improved noise cancelling feature. However, how good this improvement is still remains to be seen so no verdict can be passed off here. So let's just call it a draw for now.
In terms of camera features however, both phones sport the same 12MP rear camera as well as the 16MP front camera but the HTC U Ultra narrowly wins with its extra Auto-HDR and phase detection autofocus camera features. But wait! In terms of camera performance however, DxOMark has given the HTC U 11 a score of 90, which is the highest camera rating ever as of this moment. The rest is self explanatory.
Price and conclusion – Bigger may not be better
Price comparisons can be a bit tricky at this point of time because the HTC U 11 still does not have a confirmed Malaysian price. However, based on the US pricing of 650USD (RM2800) or ~RM3000 to be safe, the HTC U 11 may be considerably more expensive than the HTC U Ultra which had its price slashed to ~RM2400 recently.
The justification for forking out a potential extra RM600 for up to 25% improved performance and a handful of cool new features with improvements can be a bit of a stretch. However in my own personal opinion, the potential future-proof and dust and water resistance features of the HTC U 11 makes it worth it and is a good deal to consider.
So do tell us what you think. A bigger, decent/safe phone with a lower price tag or a faster, more expensive device with a handful of cool new features? Feel free to leave a comment and stay tuned to TechNave.com to stay informed with the latest tech news and updates.