Comparison: Huawei Mate 10 Pro vs Apple iPhone X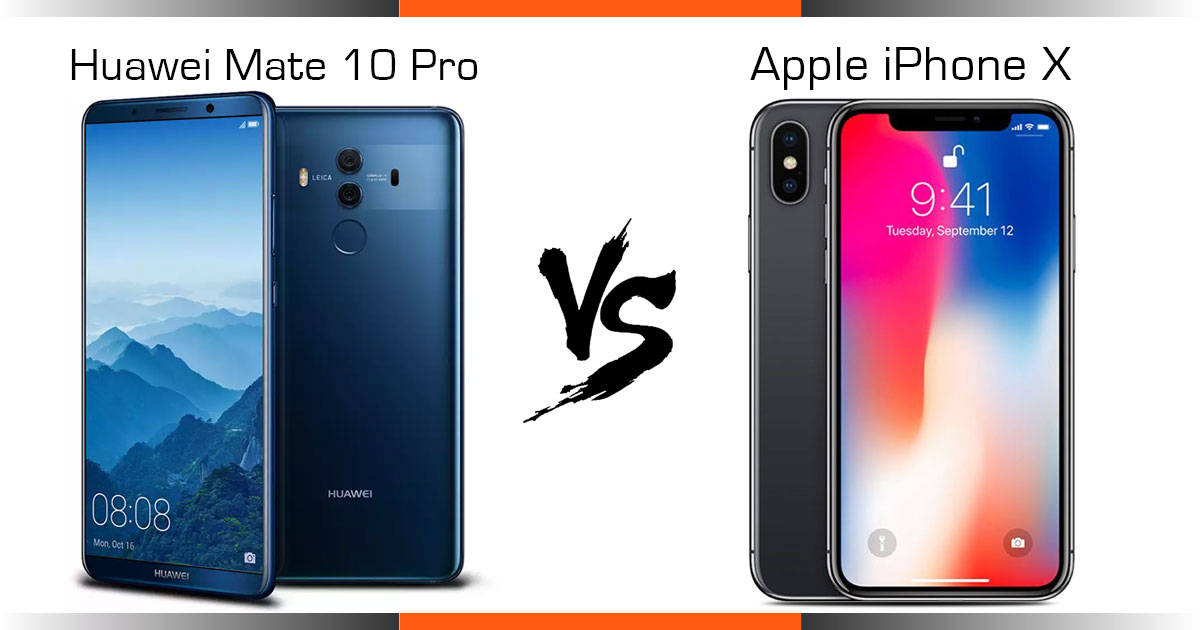 Hey TechNavers, our comparison battles have been long overdue but we are back and do we have a treat for you. Obviously, you're here to see what we have to say about the Apple iPhone X and we are pitting it against the Huawei Mate 10 Pro. Who comes up on top? Without further ado, check out the 8 aspects below on which flagship is the better one.
1. Design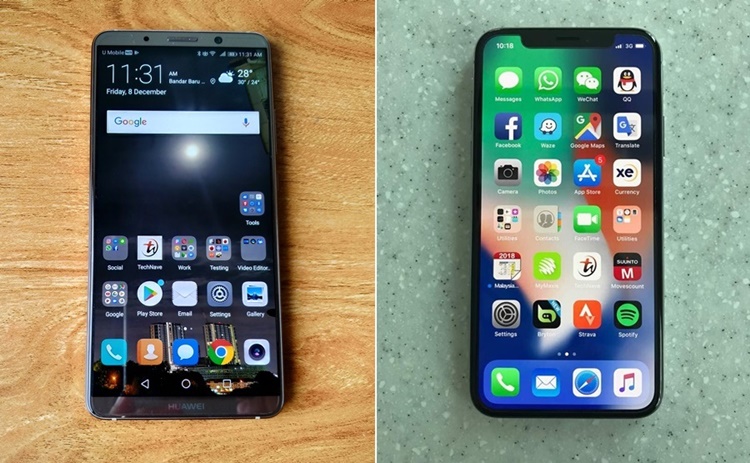 Mate 10 Pro vs iPhone X
Right off the bat, the Mate 10 Pro is probably the most favoured one here compared to the iPhone X. The Mate 10 Pro is using a 6-inch FullView display with an 18:9 screen-to-body ratio. That's almost covering the front phone and with that, the fingerprint scanner has to be moved to the rear unlike the Mate 10. Speaking of the rear, Huawei has added colour shading at the dual camera area, overall making it look quite elegant to make up for the camera bump (just saying, heh).
On the other hand, the iPhone X has quite a unique design, it's one of the few phones that actually maximise the display fully, even more so than the Mate 10 Pro since it reaches the bottom and the top, well partially thanks to the notch that's in the middle sporting a number of sensors including the 7MP front camera, infrared camera and others for FaceID. Despite using a 5.8-inch Super Retina OLED display, the iPhone X does not feel too big when holding it.
The Mate 10 Pro would have taken the first win here, but we will have to say it's a tie because while people with OCD do get annoyed with the notch while watching a video horizontally, there's an option to cover that seamlessly so it's no big deal, honestly.
2. Performance
This is a tricky one, both flagships are incredibly powerful and while we could have easily put the benchmark scores here, AnTuTu and other benchmark apps don't really show a definitive clear comparison. So we will just have to go with what each other has.
First up, the Mate 10 Pro features a 2.8GHz octa-core Kirin 970 (Huawei's first), a Mali G72MP12 (another first), a dual ISP, NPU and 6GB of RAM. For starters, NPU stands for Neural-network Processing Unit and it's designed to work together with the new Kirin chip + GPU + dual ISP together for the purpose of increased performance and energy efficiency. If that sounds familiar, that's because it is supposed to be in-sync with EMUI 5.1's machine learning A.I. to optimise your phone usage to its best in the long run, and more advanced stuff (more on that later).
Meanwhile, the iPhone X has also its own Neural engine alongside with a 64-bit A11 Bionic processor six-core M11 motion coprocessor and a 3GB of RAM. Now, obviously people would look down on the 3GB RAM but that's because Apple processors normally don't need that much RAM power to keep its apps running in the background. From experience, the A10 chip was already strong and A11 is just on another level just to support augmented reality (AR).
3. Battery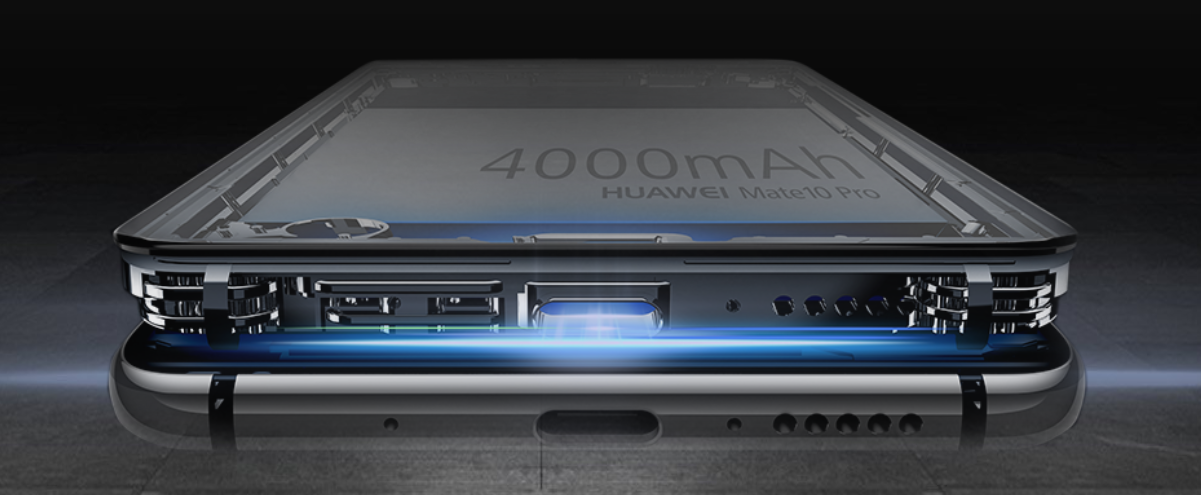 If you think we are putting the two flagships tied again, you're mistaken. In this section, there isn't much to say as the Mate 10 Pro's battery energy is almost twice as much as the iPhone X, which is 4000mAh vs 2716mAh. Granted, the way Android and iOS consumes battery is not the same but since the iPhone X's A11 Bionic processor caters to AR, we will have to give this round to the Mate 10 Pro. Seriously, Apple, at least make it 3000mAh mah (lol).
4. Camera

Mate 10 Pro camera vs iPhone X camera
Moving on, the camera is a tough one and once again it's really subjective and it really all comes down to preference. Let's take a look at what the two flagships offer:
Mate 10 Pro - Dual 12MP RGB (f/1.6) + 20MP monochrome camera sensor, accompanied by Summilux-H Leica lens, Optical Image Stabilizer and a 4-in-1 hybrid sensor, 8MP front camera (wide-angle lens)
iPhone X - Dual 12MP (f.1/8, wide-angle) + 12MP (f/2.4, telephoto, optical zoom), 7MP TrueDepth front camera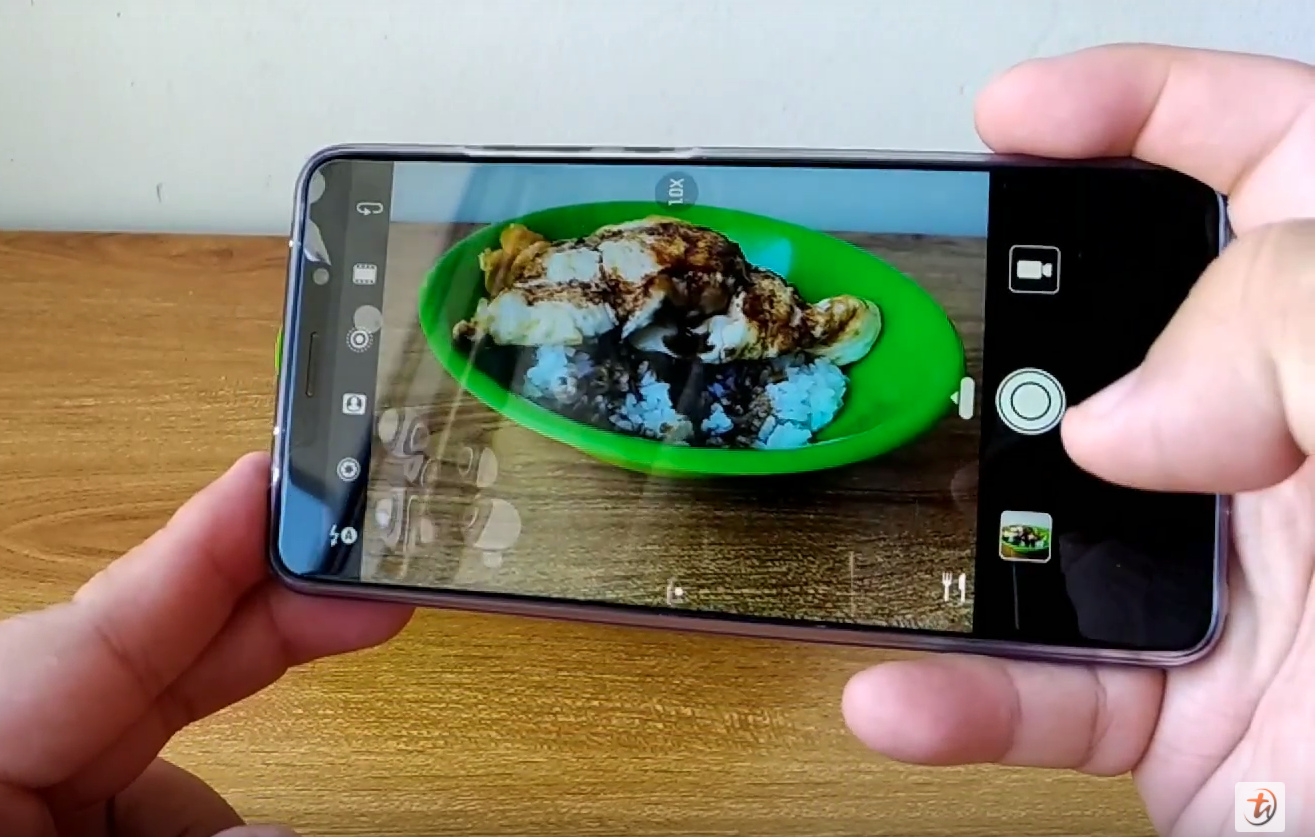 You can see the Food scene icon appearing automatically at the bottom right
On a side note, It's also worth mentioning that Huawei has integrated an artificial intelligence (A.I) real-time scene and object recognition, which helps to the user to determine which setting is the best for a photo, from landscape to animals, and plants to food, in fact they have 13 scene recognition modes altogether so that's quite something. Let's not forget it has a dedicated monochrome sensor too.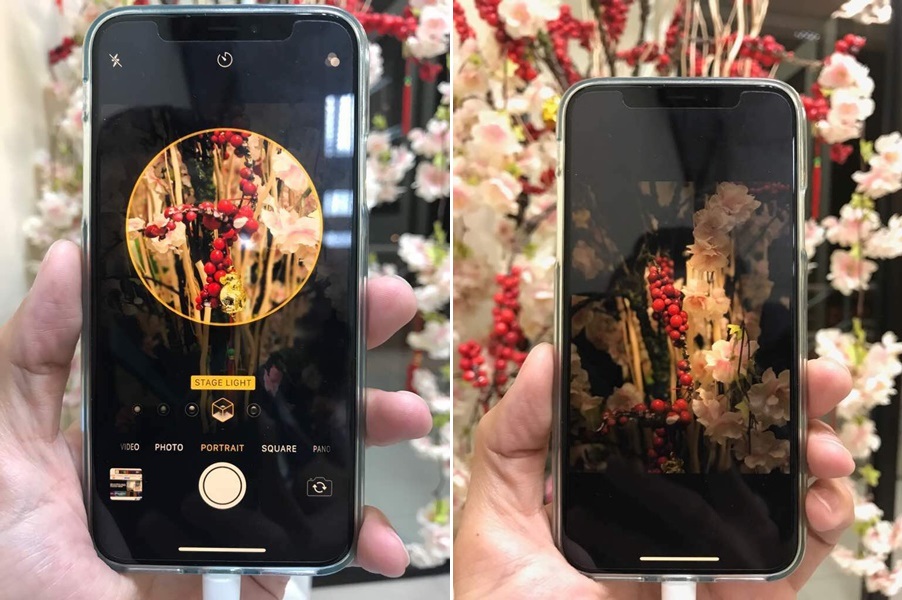 For the iPhone X, it has a new Portrait Mode that gives five filters of Portrait Lighting Mode that's currently in beta mode and each filter is really taking advantage of the telephoto lens, bringing out "personality" and it sure looks impressive. It's a shame that it's not available on the iPhone 7 Plus, though (could have just added in as an update, no?).
5. Features
Aside from having the same water and dust resistant grade feature, both the Mate 10 Pro and iPhone X have a few tricks up their sleeves. Let's start with the Mate 10 Pro first, shall we?
As we mentioned earlier, the NPU does more than just managing the performance and battery efficiency. The NPU also helps to assist image recognition and sorting out the best setting given, for example - automatically applying the correct scene setting (night, pets, sports, food, landscape, macro, people, etc) in real-time. In addition to that, there's also an A.I. voice reduction that intelligently amplifies or reduces noise for the speaker and listener while on the phone (so cool). Speaking of voice, there's also a language translator at your disposal.
Meanwhile, Apple has a new Animoji feature which is another impressive technology, but it can only be shared among iPhone 8 and X users. Also, not forgetting the FaceID biometric security system but so far we have been hearing some "funny" incidents like a child unlocking her mother's iPhone X effortlessly, and the fact that it can be unlocked from a much-effort 3D dummy face when Apple said it couldn't.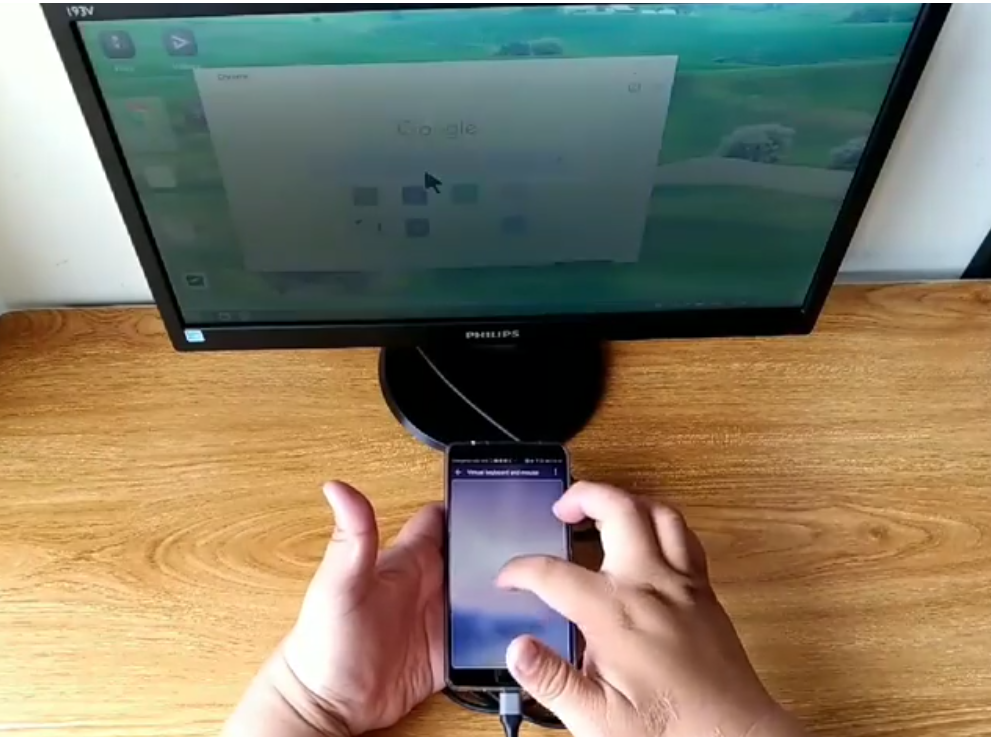 Did I also mention that you can turn your Mate 10 Pro into a PC Desktop-like EMUI Desktop via Easy Projection? With this, we are giving this round to the Mate 10 Pro.
6. Connectivity features
While we are still on the topic of features, we should also check out the connectivity performance. It's true that connectivity performance usually relies on which local telco you use, but the phones have an important part to play too because nobody would want the connection to die in the middle of the road. Both flagships are capable of transmitting VoLTE and utilizing a 4G LTE network, but the Mate 10 Pro can go up to 4.5G LTE (Cat.18) which is kinda fast but at this moment it's not that useful in Malaysia yet because the telcos are still working on it. As for iPhone X, it has WiFi with MIMO technology.
But do you know what the Mate 10 Pro has that the iPhone X doesn't? A Dual hybrid nano-SIM card slot which is a favourite among Malaysians and both nano slots supports 4G data. So another round for Huawei.
7. Audio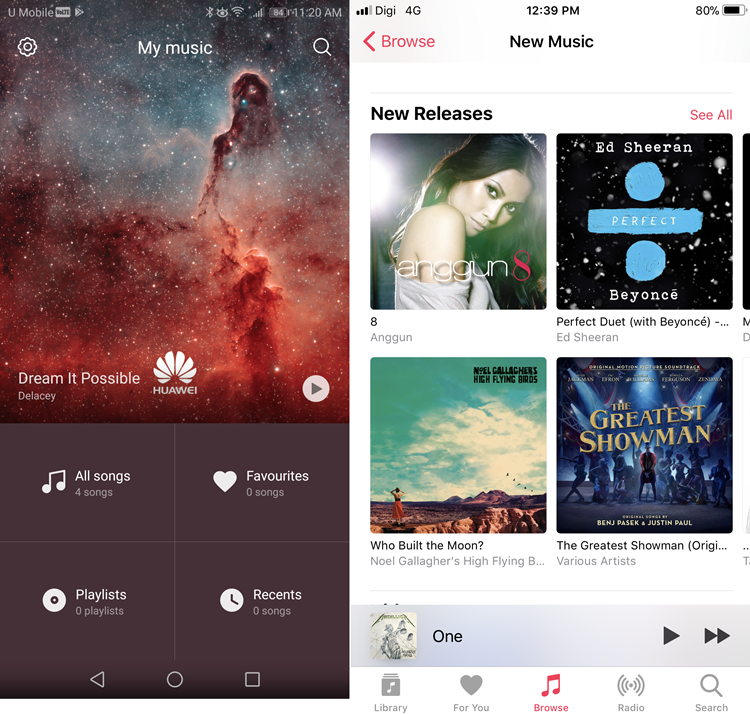 Huawei Music Player and Apple Music
Like most high tier smartphones, both of them are capable of playing MP3, MP4, 3GP, OGG, AMR, AAC, FLAC, WAV, MIDI sounds and more. Apple has a slight edge if the user purchases songs from the Apple Music because it automatically stores as Apple's own Lossless sound quality with protected AAC. On the other hand, the Mate 10 Pro supports aptX / aptX HD and LDAC HD Audio, if you have no idea what any of these means, basically it produces really good music in terms of clarity.
We would like give a point to Huawei here simply because of flexibility for supporting aptX while for Apple, you actually have to purchase songs from Apple Music.
8. Price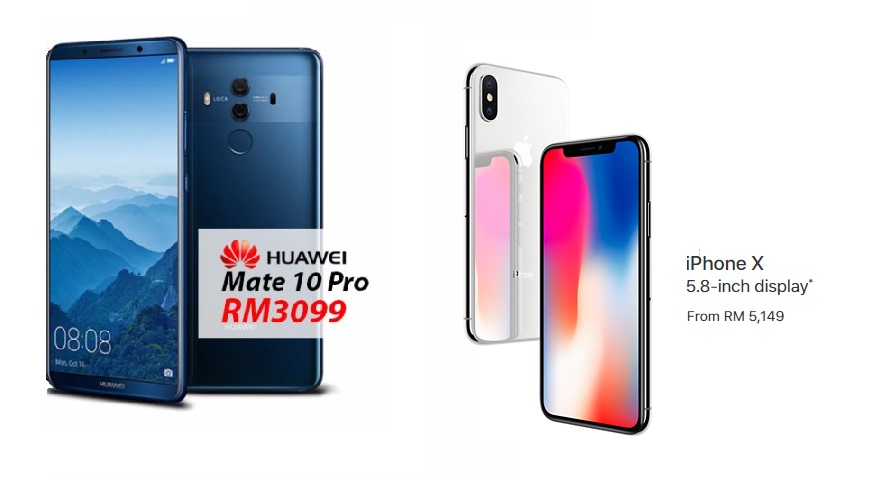 Last but not least, I think we all know who is the winner here in this price segment. For what the two flagships possess, it is just plain ridiculous that the iPhone X costs over RM5k while the Mate 10 Pro just retails at RM3099, that's almost an RM2k difference and you can literally get another mid-range smartphone with that! Enough said.
Conclusion - Mate 10 Pro 8 : 3 iPhone X
With the final score of 8:3 in favor of the Mate 10 Pro, I think the facts above really speak for themselves. Both are high tier flagships, yet the Mate 10 Pro is more affordable than the iPhone X, also not forgetting the accessible features that the Mate 10 Pro offers you such as the Easy Projection, which I think is a big win. But what do you think? Do you agree with our list? Thanks for reading and stay tuned for more comparison articles in the future at TechNave.com.