Comparison: OPPO Reno6 series plans by Celcom, Digi, Maxis and U Mobile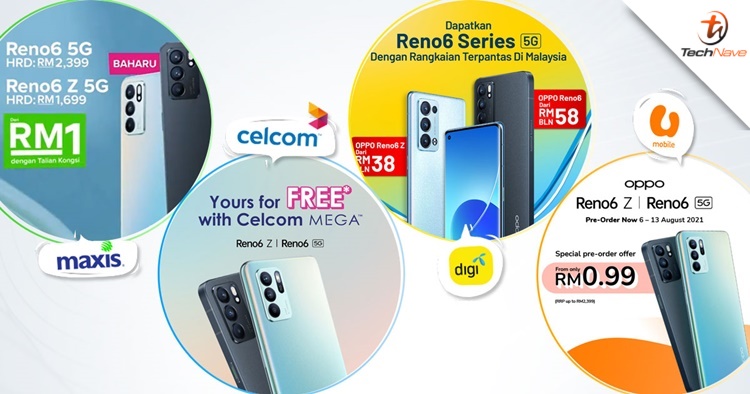 From time to time, we would publish an article comparing all the package plans offered by our four local telcos - Celcom, Digi, Maxis and U Mobile. Usually, it would be about the latest iPhones or Samsung Galaxy devices, and some special postpaid plans they would offer. This time, we will be touching on the OPPO Reno6Z 5G and Reno6 5G together. Let's get right to it.
Celcom - Get a free Reno6 Z 5G with Celcom MEGA Lightning XL
So starting with a bang, Celcom will actually offer free Reno6 Z 5G + gifts worth RM502 if you subscribe to a Celcom MEGA Lightning XL plan. That's pretty great for those who are looking for a new phone and postpaid plan altogether. However, Easyphone is not available for the Reno6 Z 5G.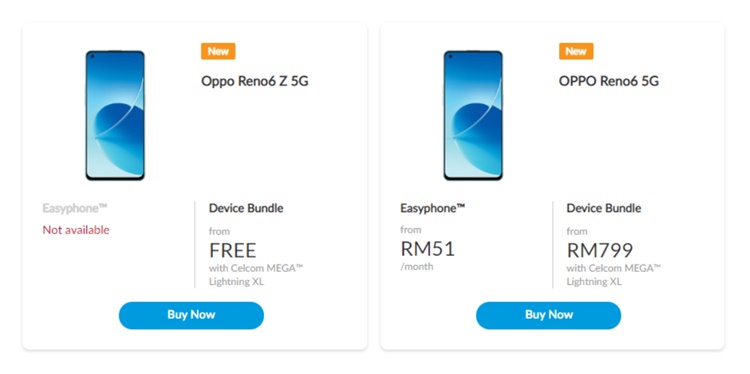 On the other hand, the Reno6 5G will be RM799 with the Celcom MEGA Lightning XL plan if you decide to go for the Device Bundle. For Easyphone, it will be more affordable for those who prefer an installation plan from RM51 per month. By the way, Celcom postpaid plans have up to 120GB of high-speed internet data and unlimited calls. The gift bundle seems to consist of a pair of OPPO Enco wireless earbuds and OPPO Cloud.
Digi - RM20 discount x 24 month with Digi PhoneFreedom 365
Next, Digi is offering the Reno6 Z 5G and Reno6 5G with its trademark PhoneFreedom 365 plan. If you want to pay the lowest fee, you will have to subscribe to Digi Postpaid 150 which offers the two phones at RM30 per month and RM50 per month respectively.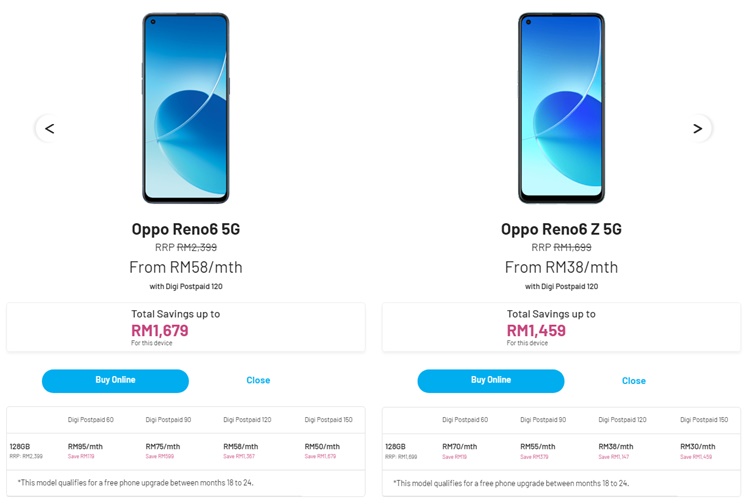 There are other postpaid plans, of course, such as the Digi Postpaid 60, 90 and 120. However, only Postpaid 120 and 150 have a special discount at RM15 and RM20 for 24 months which explains why the fee is so low. From just the Postpaid 120, you can save up to a total of RM1679 and RM1459 on the Reno6 5G and Reno6 Z 5G respectively.
Both OPPO phones are also available in the Family line plan with 50% off. You can also get up to 85GB of high-speed internet data, unlimited network calls and 1000 free SMS.
Maxis - RM1 for both phones on selected normal contracts
As always, you can choose either the Maxis Zerolution or a normal contract. Also as always, choosing the highest postpaid plan (Postpaid 188) will offer you the lowest device fee for the Reno6 Z 5G and Reno6 5G at RM39 and RM69 per month respectively. Other postpaid plans include the usual Postpaid 158, Postpaid 128, Postpaid 98 and Postpaid Share 48 (not available in the normal contract).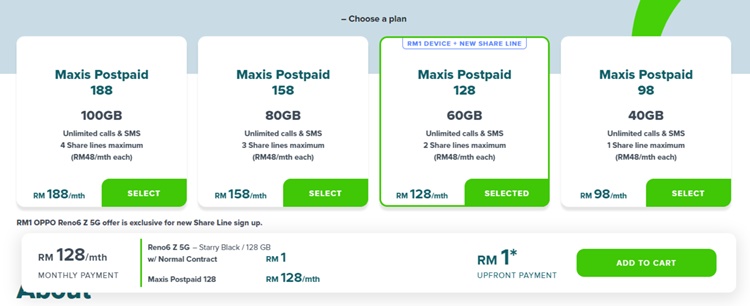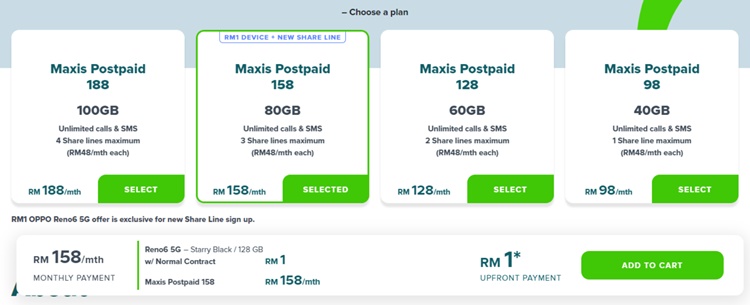 However, the real catch is that you can actually get the Reno6 Z 5G and Reno6 5G at just RM1 only as an upfront payment and new share line. This is only eligible if you go for the normal contract with Postpaid 128 and Postpaid 158 respectively. It sounds like a viable plan but it's up to you.
Maxis' postpaid plans go to up to 100GB of high-speed internet data, unlimited calls and SMS, and a maximum of four shared lines. There are some gifts bundled too that include OPPO Enco Buds, 1 Year HeyTap Cloud Service, Powerbank, Smart Tag, Bluetooth Speaker.
U Mobile - RM29 per month from UPackage

Finally, U Mobile's offer is also quite low. If you go for the UPackage, the Reno6 Z 5G and Reno6 5G is only at RM29 and RM59 per month respectively. The standard package isn't so bad either, offering RM219 and RM889 respectively with Unlimited HERO Postpaid plans. Speaking of the Unlimited HERO Postpaid plans, only the Reno6 Z 5G has an extra postpaid which is the P79.
Gifts included are a powerbank, Bluetooth Speaker and a Smart Tag, all worth RM277. Plus, all the postpaid have unlimited high-speed internet data, 3GB roaming data, up to 100GB mobile data hotspot, unlimited network calls and unlimited HD video streaming quality.
So that's all, folks. You can visit the links below to grab your new Reno6 Z 5G or Reno6 5G from your preferred telco from today onwards (while stocks last). Stay tuned for more trending tech news at TechNave.com.