Comparison: Samsung Galaxy Note10 series pre-order plans by Celcom, Digi, Maxis, U Mobile and YES 4G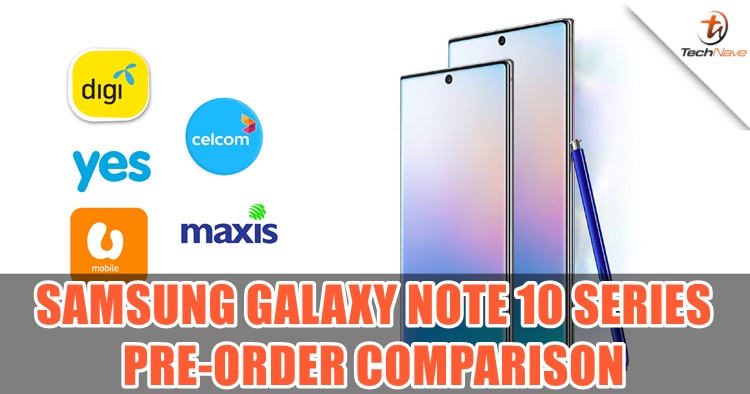 So the online pre-order for the Samsung Galaxy Note 10 and Note 10+ are sold out on Samsung Malaysia's official store. No worries, multiple partners are selling the same device and there is still some time left before the pre-order ends on 18 August 2019. So without further ado - here's what you can get out of Celcom, Digi, Maxis, U Mobile and YES 4G.
Celcom - Get 2 for Samsung Galaxy Note10 at 1 Price
Not to be confused with getting two phablets for the price of one, but it just means that the Note10 series devices are subsidized under Celcom's offer (normal stuff for telco bundles). Currently, 2 packages are being offered now - EasyPhone and Device Bundle. If you're going for the EasyPhone route, the most affordable one is Celcom Mobile Platinum at RM126/month and RM154/month for EasyPhone Rent and EasyPhone Own respectively. On the other hand, the device price on the Device Bundle can go as low as RM2128 on Platinum Plus.
There is also +1 Celcom Mobile Family Line where you can get the Note10 256GB model at a lower price, this time for RM1828 in line with Platinum Plus. Pre-order exclusives include a pair of Galaxy Buds (RM499), 1 Year Extended Protection + 1 Time Screen Protection (RM280) and a Wireless Battery Pack (RM279) for the Note10, while the Note10+ has the same one except switching the Galaxy Buds for a Free Memory Upgrade (RM600) from 256GB to 512GB.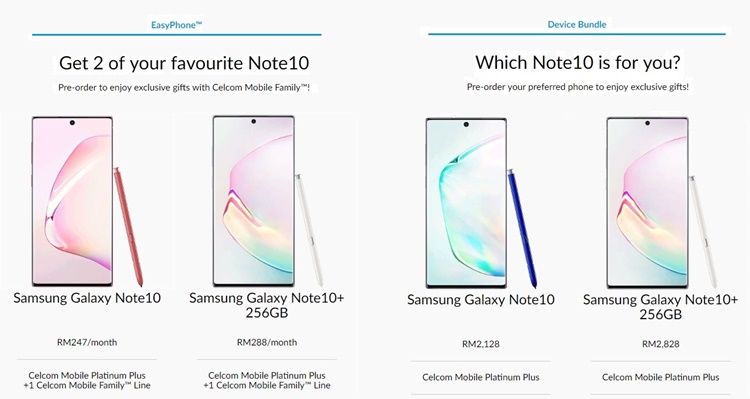 For more information, you can head over to their website here
Digi - Pre-order deals from RM79
Next up, Digi will offer fans and consumers the latest phablets from as low as RM79/month and RM99/month on its PhoneFreedom 365 package. There are no upfront payment or interest charges and those who sign up for the Digi Postpaid 160 and 190 will get a free Digi Shield, which is a feature that protects your phone from accidental and liquid damage for two years.
Likewise, the pre-order gifts are exactly the same. This is pretty straightforward but if you would like to know more, you can visit their homepage to check it out.
U Mobile - From RM2399 with Unlimited Hero P139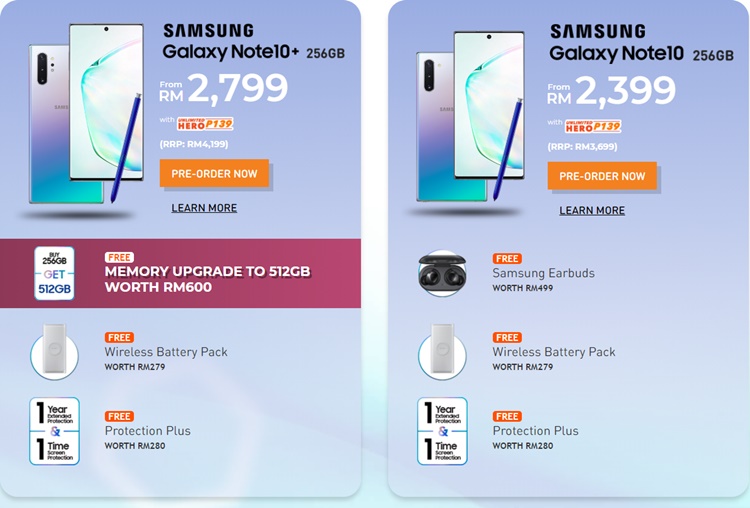 Similar to Digi, there is no upfront payment during the pre-order as you just have to pay off the device price only. The Note10 256GB device price is available at RM2399, and RM2799 for the Note10+ 256GB variant. Besides the Unlimited Hero P139 plan, the P99 plan is also included but consumers will have to pay RM2999 for the Note10 256GB device price.
Both the P139 and P99 will offer the same pre-order gifts as aforementioned earlier. To learn more about their promo, you may visit the webpage over here.
YES 4G - RM3799 for the Samsung Galaxy Note10+ 512GB model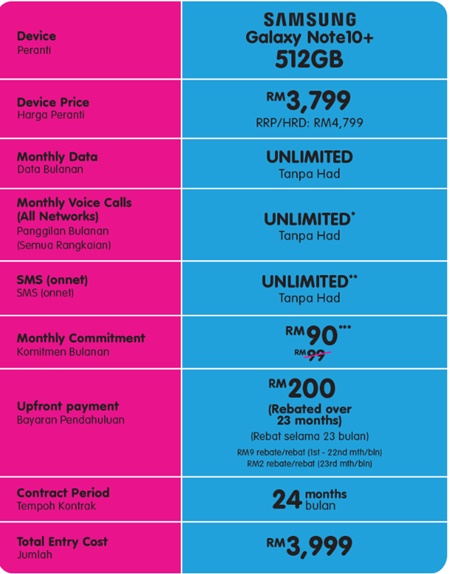 So yes (pun intended), YES Malaysia is just offering the Note10+ 512GB model with the Konfem Unlimited Postpaid 99 plan. There is a RM200 upfront payment and RM3799 device price payment, and a price cut for the postpaid plan monthly payment from RM99 to RM90 upon an upfront payment rebate.
Since there is only the Note10+ 512GB model available, the gift will only include a 1 Year Extended Protection and a Wireless Battery Pack. There are other terms and conditions on its Unlimited network voice calls and SMS too because after 24 months, there will be charging fees. To read the bigger picture, you may head over to this site to understand.

Wait, where's Maxis? Well, their side has finished up selling the pre-order units so there's nothing much to say. However, consumers will still be able to get their hands on the Note10 series when it's officially launched on 23 August 2019, most likely on their Zerolution, Zerolution360, and Normal Contract as usual. If you must know, the most affordable one in their plans is the MaxisONE Plan 188 Zerolution with RM129 or RM139/month for the Note10 and Note10+ device price respectively. Or if you want the normal contract, that'd be RM2199 or RM2599 for the two phablets mentioned on the same plan.
So these are the gist of the Note10 series pre-order plans from our local telcos. If you ever want to have an easier phone plan comparison, we have a tool for that and you can view all the Note10 and Note10+ plans from the telcos at once (you're welcome). Are you getting one and have you secured yours already? Let us know in the comments below and stay tuned for more local tech deals at TechNave.com.
Samsung Galaxy Note 10 Plus Specs & Price >