Comparison: realme X2 Pro vs vivo NEX 3 5G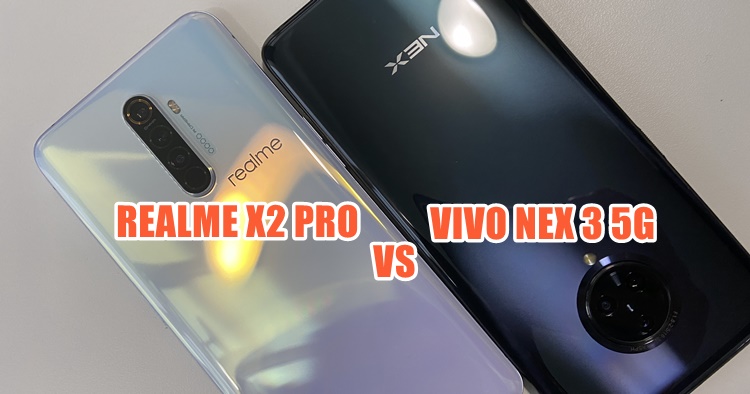 The realme X2 Pro has just been released recently and has certainly gotten a lot of attention. In case you haven't heard, this bad boy has a lot of badass features - a Snapdragon 855+ chipset, 12GB of RAM, a 64MP quad camera setup and many more. Normally, prices for these tech specs on a mobile device would go through the rooftop, but not this one - it's only RM2399 - something which we haven't seen in a long time!
In this comparison battle, we will be pitting the realme X2 Pro against the vivo NEX 3 5G. This probably doesn't make sense to you because the latter is RM3899, like, how in the world is that fair? Listen, hear me out - on paper, these two phones are actually similar to each other (on the inside). Don't believe me? Check out the comparison below.
Design - The simple and premium
Before we get into the tech specs, let's go over the design first. As mentioned in our previous article on the design, the X2 Pro has a rather visible quad rear camera bump laying on the acrylic glass back curving nicely to the sides. At the same time, it also has a realme brand logo that is out of place below the camera bump. We are guessing they did this on purpose so that people can take notice of it.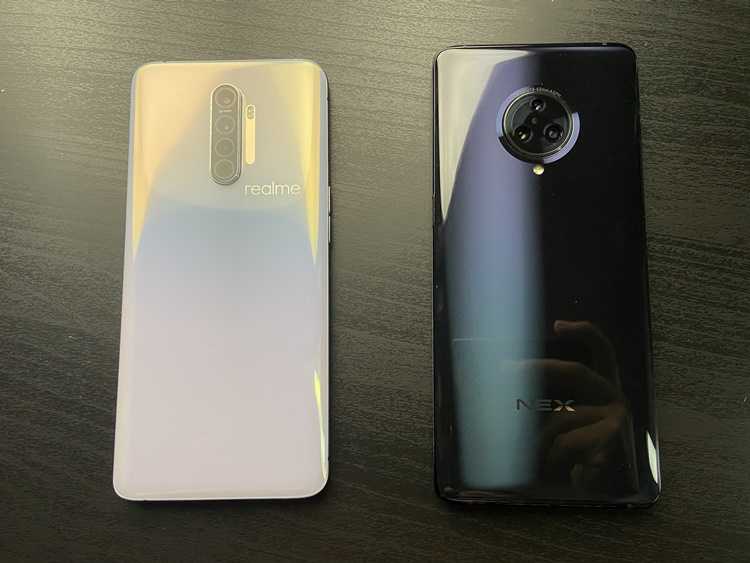 The light and dark, which side are you on?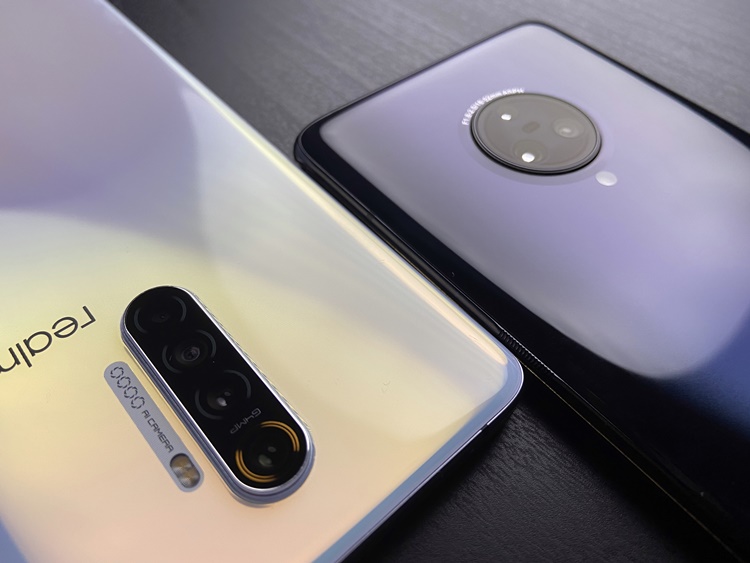 A closer look at the camera bump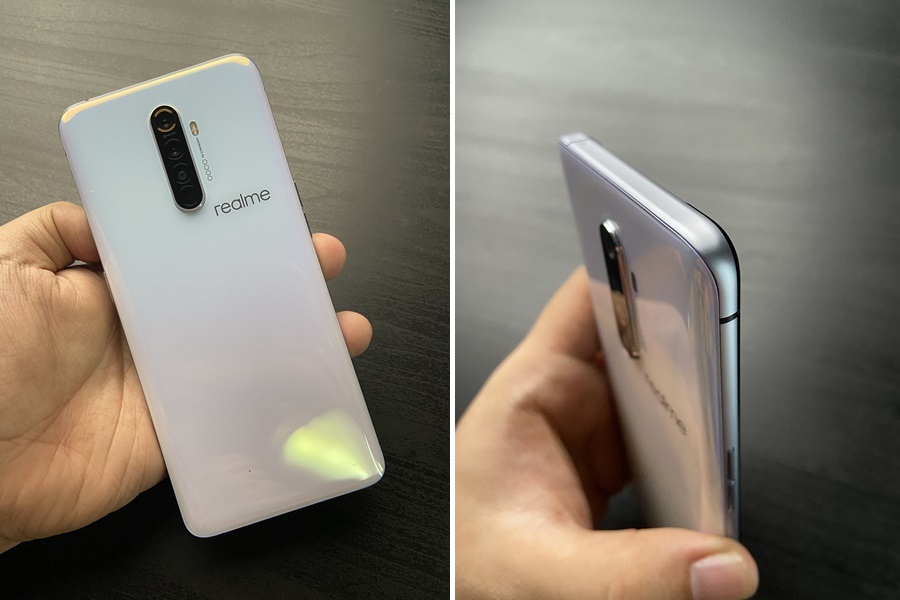 Back design of the X2 Pro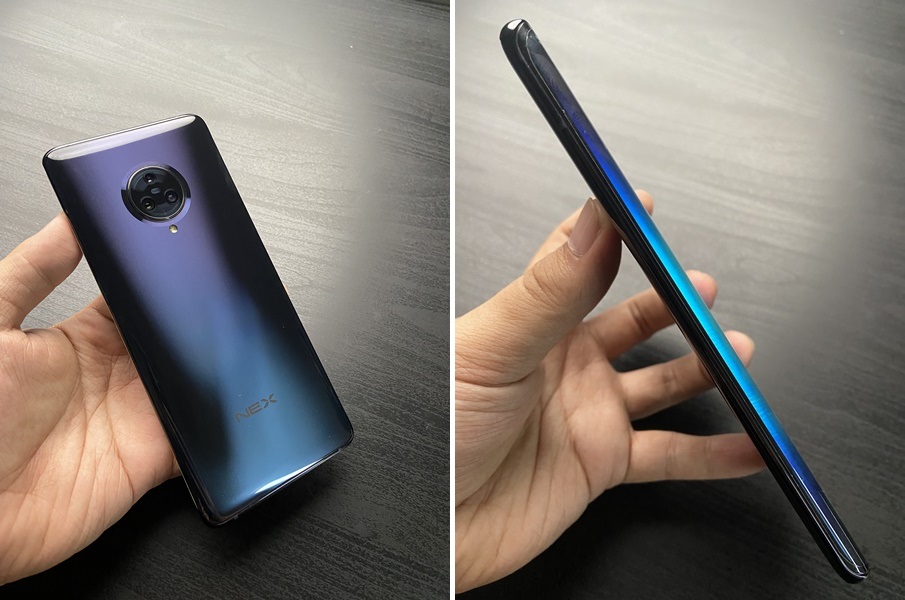 Back and side display design of the NEX 3 5G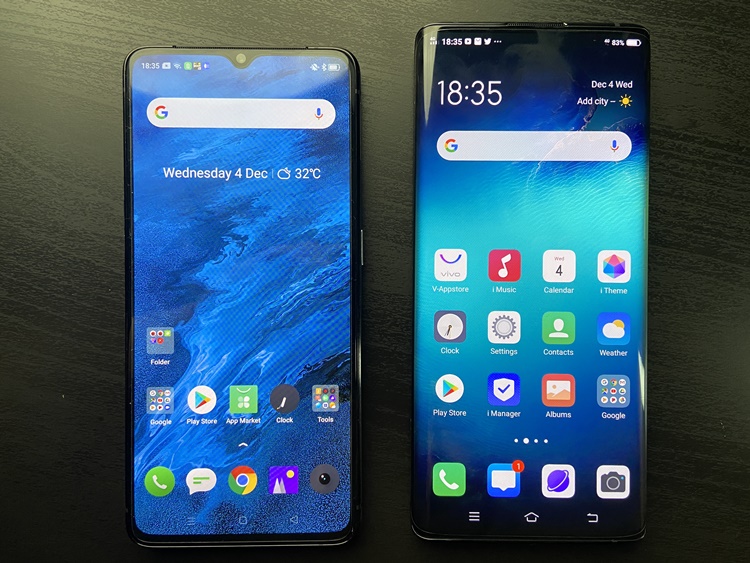 The Super AMOLED front display
On the other hand, the NEX 3 5G's design is a lot more premium. It has a flatter circular triple camera bump on the back and uses a dual-curved edge Waterfall display instead of the back which looks futuristic. It's also heavier than the X2 Pro and thanks to the pop-up camera, there's no need for a notch. However, I'll say this though - holding this phone to take photos doesn't feel safe at all due to the slippery side surface of the Waterfall display, so a protective casing is a must!
Tech specs and features - Almost identical
Now in terms of specs, these two are nearly identical. Here is the list of tech specs that are the same:
Qualcomm Snapdragon 855+ chipset

256GB internal storage (UFS 3.1)

16MP front camera

64MP main camera

13MP telephoto lens

Super AMOLED display + in-display fingerprint sensor

Android 9.0 Pie OS out of the box
As for the remaining tech specs, the differences are quite minimal. In an X2 Pro vs NEX 3 5G order, it's 12GB of RAM vs 8GB of RAM, 4000mAh vs 4500mAh battery, 8MP vs 13MP (ultra-wide), and 6.5" vs 6.89" display. Both have fast charging technologies too, 50W SuperVOOC flash charge (it can reach 100% in just 35 minutes) vs 44W Dual Engine fast charge. The latter is 5G-ready, but it's not very useful at the moment since we still have a long way to go for God-knows-when will 5G be ready in Malaysia.
It's worth mentioning that the X2 Pro has a 90Hz refresh rate on the display too, but what's the big deal of having a higher refresh rate? Well, you might have heard about gamers buying monitors that can support up to 120Hz refresh rate or more and this is for supporting graphics intense games. The same concept applies to mobile phones so with the 90Hz refresh rate, you should be able to play graphics intense mobile games such as Call of Duty: Mobile, Asphalt 9: Legends and others to their full potential in glorious HD.
Performance - A tale between the light and dark
So as you can see, the tech specs between the two aren't that far out. But how about the performance? We have no doubt that the two devices can play games superbly, but what about the cameras and can they deliver swag photos? We think there shouldn't be any problems too, but for research purposes, we took some photo samples and you will be the judge.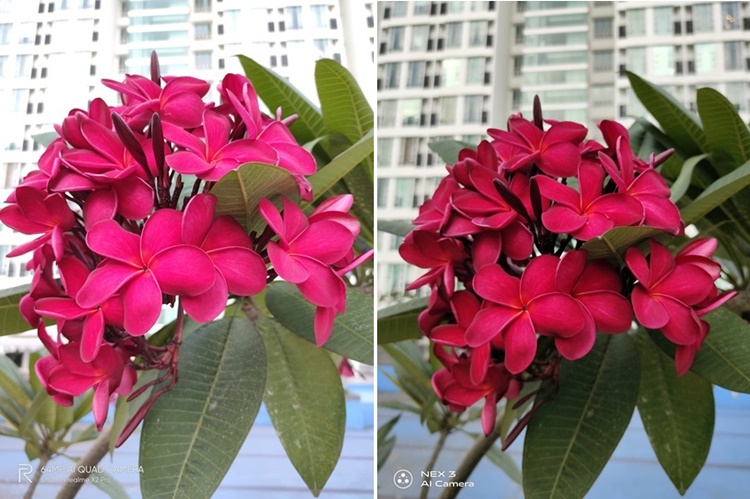 64MP mode, one brighter and one darker, which one do you like better?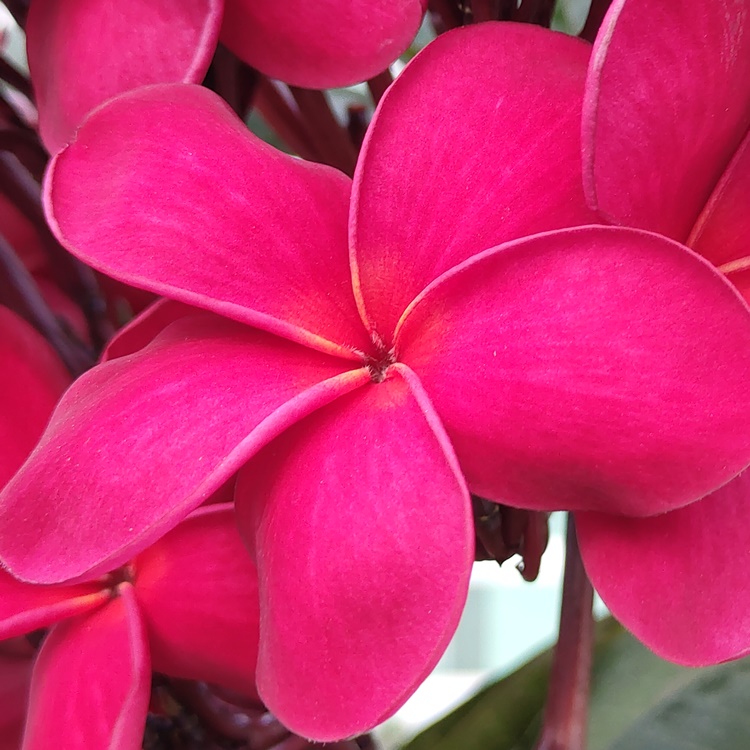 A cropped image from the X2 Pro 64MP mode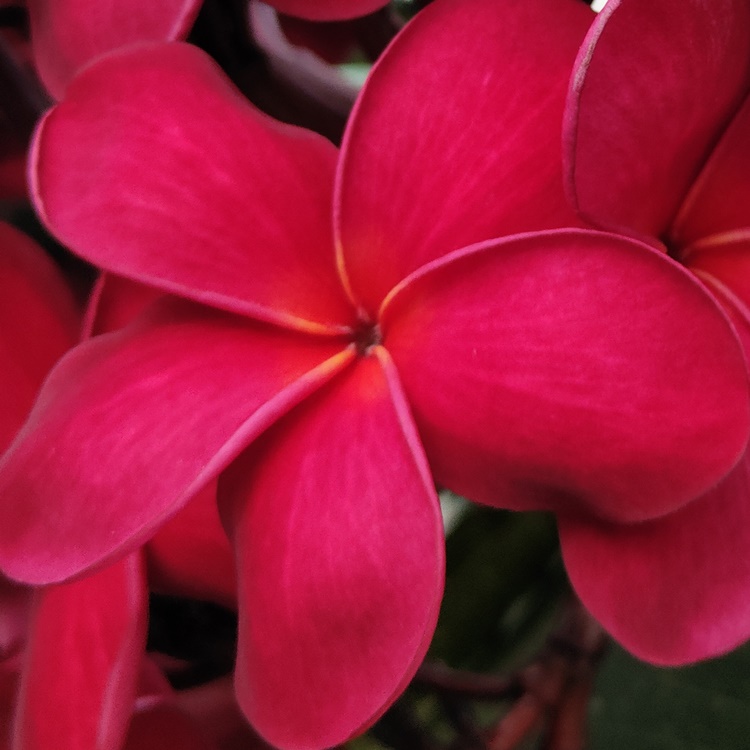 A cropped image from the NEX 3 5G 64MP mode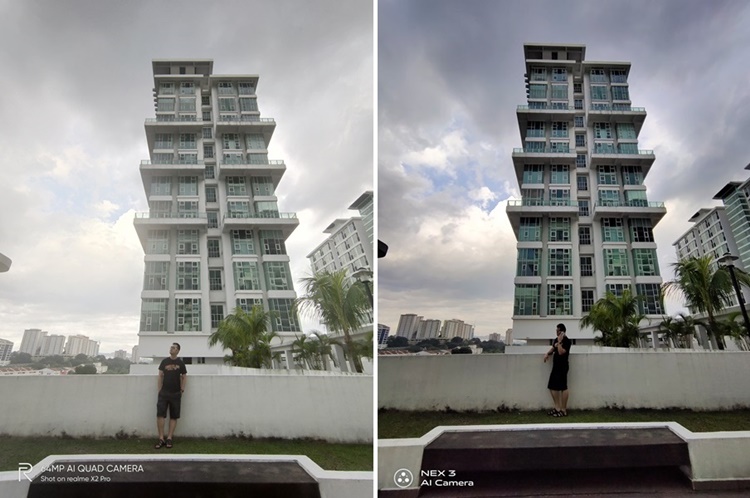 Ultra wide-angle shot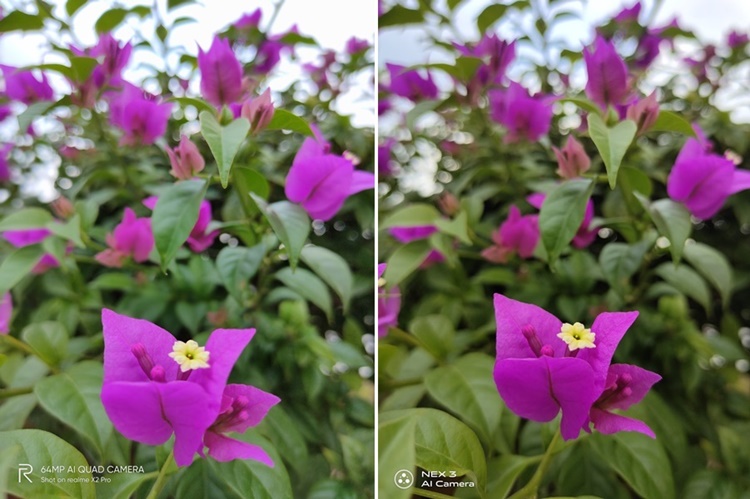 Portrait mode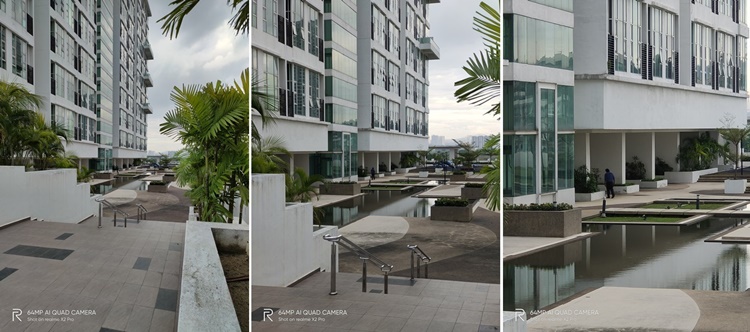 Normal, 2x hybrid zoom and 5x hybrid zoom from the X2 Pro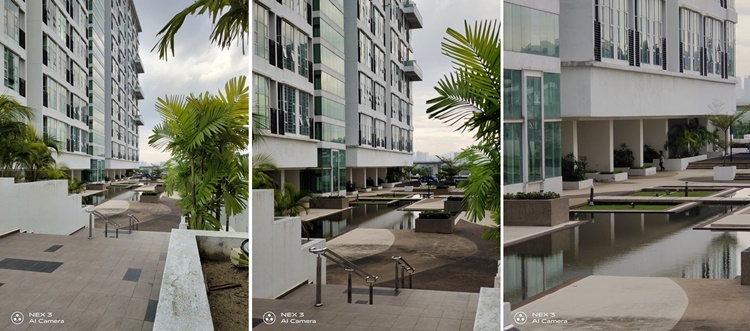 Normal, 2x hybrid zoom and 5x digital zoom from the NEX 3 5G
Price and closing thoughts - Would you take better photo quality over price?
With all that said and done, we've come to a close on these two devices. As most of our comparison battles, the X2 Pro and NEX 3 5G are just too similar and thanks to the price point (RM2399 vs RM3899), it's clear that the X2 Pro would likely win over the consumers who are on a budget, especially the youth who are realme's target audience. However, from the photo samples above, I think those who prefer deeper colour contrast will favour the NEX 3 5G.
The realme X2 Pro is available right now at its official realme online store here, while the vivo NEX 3 5G can be found at vivo's online store here. BUT what do you folks think? Which smartphone gives the most swag? If you want to compare more devices, you can use our comparison tool on our website for your convenience. Stay tuned for more fun comparison articles at TechNave.com!