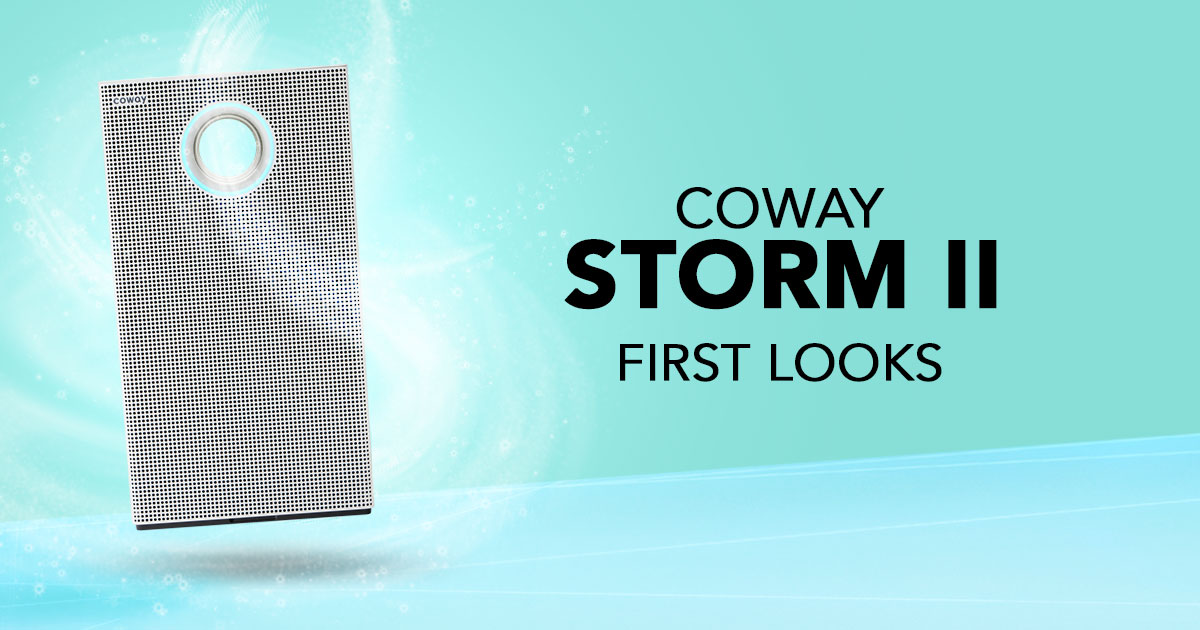 If you live with pets or near a busy road, dust and fur are probably your constant enemies. While keeping your doors and windows locked could help with the latter, pet hair is more of a pain to deal with especially if you have breathing difficulties. Thankfully, you can rely on air purifiers to improve the air quality in your home. With that said, Coway recently launched their latest STORM II air purifier. We got a first look at the device, so here are our impressions.
Design: A new look
First, let's look at the design of the Coway STORM II. While its size and weight aren't too different from the previous model, its shape and design are noticeably different. The STORM II features a more boxy look and a simple opening where the air is funnelled through. It also has a front cover with a mesh design that is easily removed thanks to the magnetic clips. The clips keep the front cover in place well enough, so accidental knocks from curious children or pets won't dislodge it.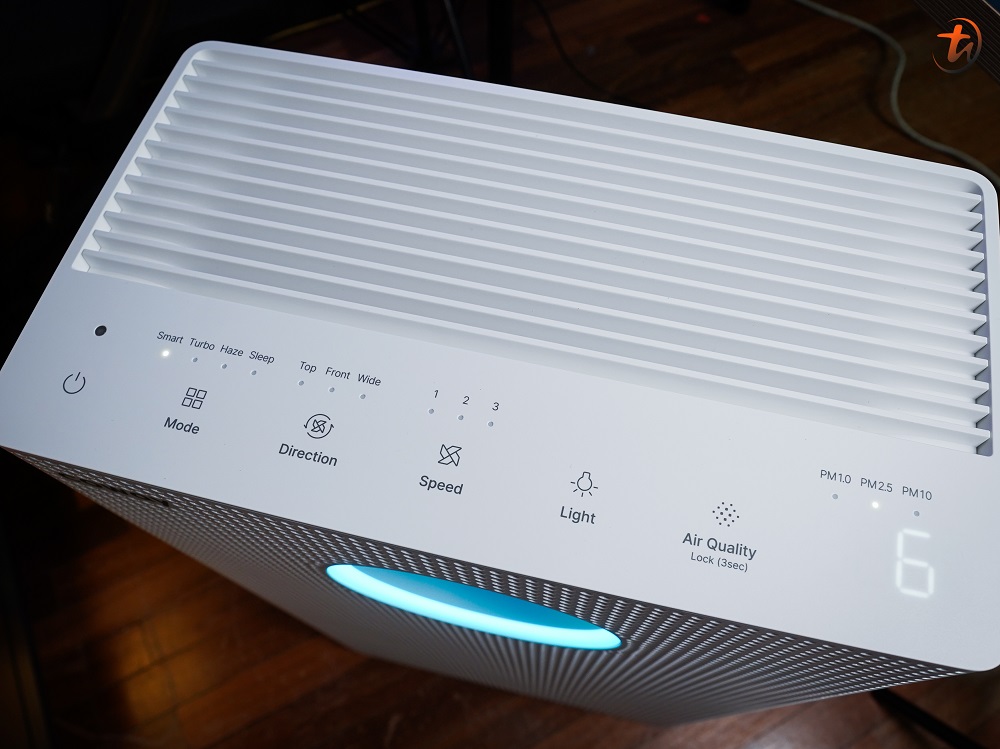 No tactile buttons, but the soft touch controls will make a sound when you press them
The controls for the STORM II are all on the top and are pretty straightforward. We mostly stuck to the Mode, Direction, and Speed buttons to control the device. There's also a power button, a light button to enable or disable the light indicators, and an Air Quality Lock button. Lastly, there are two more light indicators for the selected Air Quality setting and Dust Sensor Measurement. The interface was intuitive enough, and the Soft Touch Buttons are touch-enabled. However, there's a soft 'ding' sound when we press the buttons for some audio feedback. Also, the air quality indicator can turn yellow or red, depending on the air quality of the environment so it can help you determine which air quality setting you should use.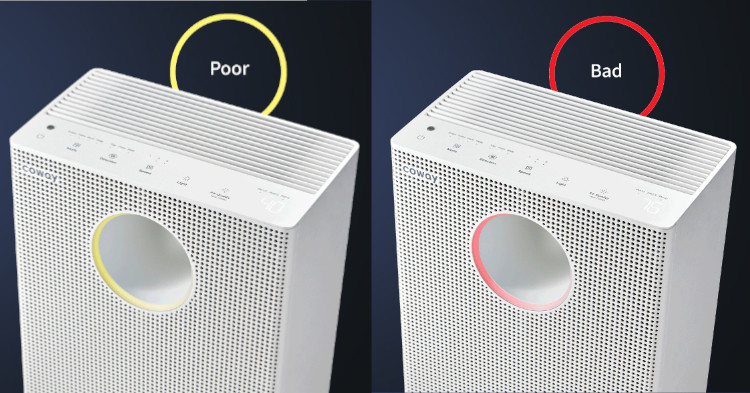 The main indicator changes different colours to indicate the environment's air quality
Features: Silent but powerful air circulation
Like many air purifiers, this one comes with an air circulation feature. This helps move the air in your home or room and draws air pollutants or particles towards the filters. Upon powering up the device, we noticed that the Coway STORM II lives up to its name. It generated plenty of airflow in our office and was particularly effective in more enclosed areas like our meeting room. The device delivers 2.5 times more air circulation than its predecessor and provides multidirectional airflow, which is handy in certain room setups.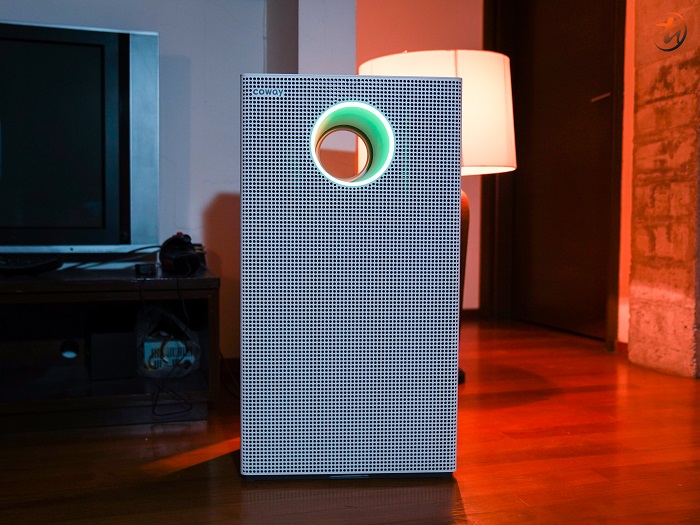 It'll fit in most offices and homes
Of course, it also proved effective in spaces like living rooms or main office areas. The effects were best felt when there weren't too many large objects obstructing the airflow. But that's less of an issue if there's air-conditioning on, as the device can spread the cool air better throughout the area. We tried that in our office, and it worked out very well. No more stuffy meeting rooms and dusty floors, so that's pretty nice.
Moreover, the STORM II has 50% wider filters compared to the previous model for wider air purification coverage. It has a 4-step filtration system that consists of a Pre-Filter, Fine Dust Filter, Double Deodorisation Filter and Copper HEPA filter (H13). The first one targets pet hair and larger dust particles, followed by the second one to catch fine dust, and the third filter to remove pet odour and other harmful gases. And finally, according to tests conducted by the Korea Conformity Laboratories, the last Copper HEPA Filter would remove up to 99.999% of ultrafine dust and 99.9% of airborne viruses, bacteria and black mold. In other words, it should help absorb almost everything, so you'll have a much lower chance of triggering allergies.

As for those who get it on the easy payment plan, Coway Service Technician (ST) would service your STORM II once every 2 to 4 months. Clogged filters shouldn't be a problem with this.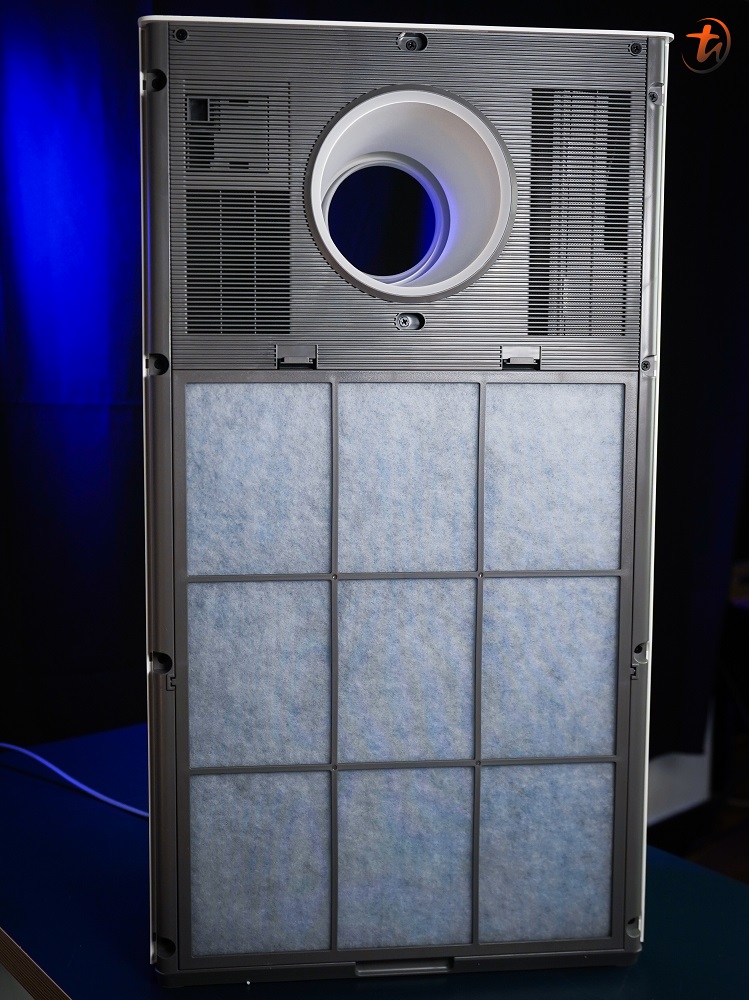 Filters are 50% larger than the Coway STORM
Besides larger filters, the Coway STORM II boasts a relatively low-noise level. As you would know, fans tend to generate more noise at higher speeds. But it wasn't noticeable with this device, as the sounds from our keyboards and office air-conditioner would cover it. This model is also 22% quieter than its predecessor, so you could probably switch it on before bed and won't hear anything. As mentioned, there's a light button you can press to disable the lights too. With the lights off and the device quiet, you won't have to worry about your rest being disturbed.
Works well and uses less power
To close, the Coway STORM II worked very well in our office environment, and will definitely be great for homes as well. It helped with air circulation in our office, so we didn't have to turn on both air-conditioners in the main office area to keep the place cool. Also, it was easy to use and nearly silent when in operation, so it didn't bother us while we work. Moreover, it uses 33% less power than its predecessor. Overall, having one of these would ensure clean air and significantly less airborne bacteria. And as a result, you should end up feeling more healthy in the long term.
Recently, the Coway STORM II was launched here in Malaysia and is now available at an outright price of RM3,190 with 1 year of free service. You could also get it with the easy payment plan now for a promotional rate of RM70/month (original price RM98/month) and get 5 years of free service (once every 4 months). Coway is also offering free delivery, free installation, free repair and maintenance, as well as a waiver on the registration fee (worth RM200), while stocks last. If you're interested, here are more details about it.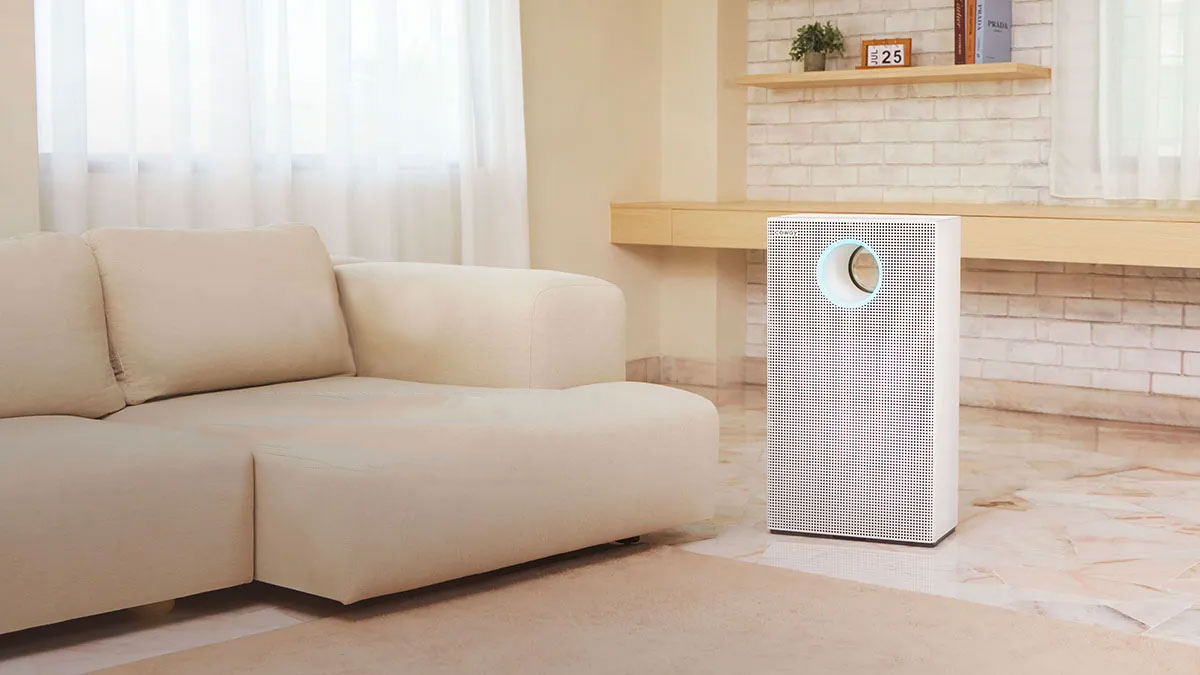 So, what do you think about the Coway STORM II? Would you get one for your office or home? Let us know in the comments, and stay tuned to TechNave for more articles like this.