DJI Mavic 3 details leaked, expected to launch in Nov 2021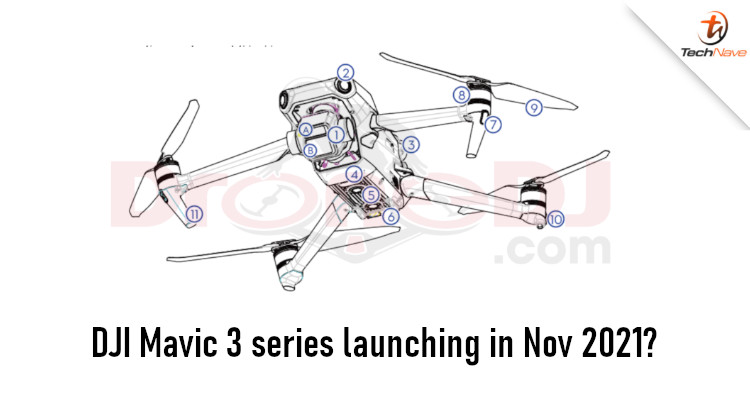 Leaks are not surprising these days, but few companies have leaks of product manuals or diagrams. That seems to be a thing for DJI though, as sources with early access once more leaked the manual for an upcoming product - the DJI Mavic 3 series.
Courtesy of DroneDJ, the owner's manual for the DJI Mavic 3 will come in two versions - a standard one and a 'Cine' model. Unlike the Mavic 2 series (from way back in 2018), the Mavic 3 seems to have both a wide-angle and telephoto camera. The former uses a 20MP sensor that can output 5.2K resolution videos, while the latter will have a zoom distance equivalent to at least 3 metres.
#Mavic3 full manual and specs! Price: 1600. Date: 15 November. Smart controller, 15 km. 4/3 inch.@DroneXL1 @geeksvana @dronedj @techdronemedia @DronewatchNL @DronefriendlyB @dronemodelismo @OsitaLV @DJIGlobal pic.twitter.com/2w1slWCOc2

— Jasper Ellens - 27 Leaks (@JasperEllens) September 23, 2021
The drone is expected to weigh about 920 grams, which is still quite light. What's interesting is that the Cine model will allegedly feature an internal SSD, providing you more storage space to save 5.2K resolution video footage. As for the remote controller, it will pack a 5000mAh battery and can transmit the video feed from the drone's camera to its 5.5-inch FHD screen from a distance of up to 15KM.
DJI is expected to retail for USD 1599 (~RM6697), which is the same price as the Mavic 2 Pro. It's also rumoured that the launch will be sometime in November 2021. Having said that, would you be interested in getting one for yourself? Let us know in the comments, and stay tuned to TechNave for more updates about this.