Death Stranding: Director's Cut Review - More refined, but you may still love it or hate it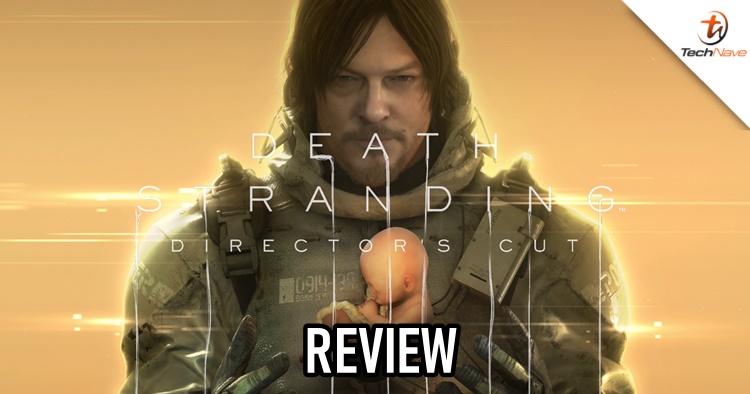 Here's a confession - I have never played Death Stranding before until this month. However, I did have some ideas about the game - it was unconventional that was considered art. And many gamers, including my friends, didn't like it at all. Fast forward to two years later, I was given the opportunity to review Death Stranding: Director's Cut that was released for the PlayStation 5.
As a fan of Hideo Kojima, I must admit that my curiosity got the best of me. He is, after all, the man behind the Metal Gear franchise, which is one of the greatest video game series ever. So I decided to try it out, and oh man, do I have a lot of things to say about this game. Since this is the Director's Cut edition, that's the version I will be focusing on. Without further ado, here is my Death Stranding: Director's Cut (DSDC) review.
Game design - Visual improvement but still a dull-looking world
Starting with the visuals, I'll keep this short because Death Stranding is graphically pretty and even more so on the PS5. Before you start playing, you can log in to the settings and switch between "Prioritise Performance" or "Prioritise Quality". Both modes offer 4K resolution, but the latter gives 60FPS, so that's nice. Another sweet feature is the ultrawide screen option. As you should know, PS5 games aren't optimised for that, and the DSDC allows it to display at a 21:9 aspect ratio.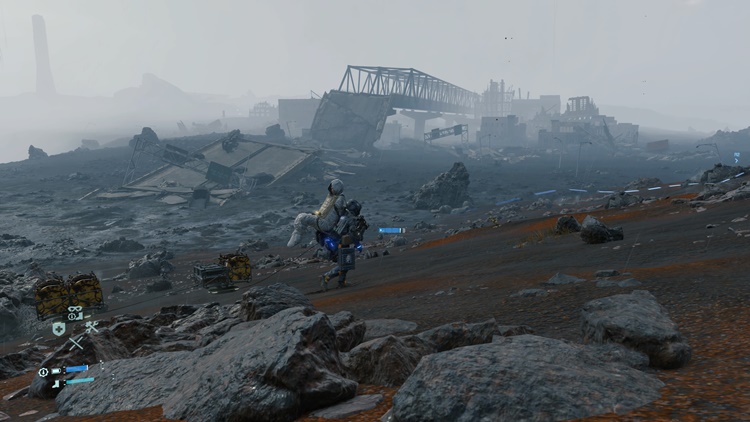 A dull-dull world
Despite the visual improvement, the world of DSDC is still...well, dull. I'm usually down for some breathtaking photography in open-world games, just not DSDC. In fact, the few screenshots that I took are just for the sake of this review. Then again, it's set in a post-apocalyptic world, so what did I expect? Butterflies and rainbows? Oh God, speaking of rainbows...it's not a good sign at all for newbies like me.
Game features - Lots of add-ons for a better gaming experience
For those unfamiliar with the game, rainbows are a sign of Beached Things (BTs). These are like spirits that lurk around during a Timefall (rain). Every time you approach an infested area, your equipment will alert you, and that's where the Kojima Productions development team put a lot of work on the PS5 DualSense controller.
I must commend the haptic feedback on the DualSense controller. The controller will detect actions like climbing, falling, or shooting and provide the best haptic feedback possible. Even your BB's coos and cries can be heard through the controller's speaker (the lighting colour changes too), as well as the sound when you cross a small stream of water. As good as that sounds, this drains the controller's battery FAST. Fast as in if I play the whole afternoon, the battery life can easily be less than half when I stop playing.
I used the Maser Gun so many times that I unlocked an achievement for it lol
As a newcomer to Death Stranding, I learned that the Maser Gun (an electrical weapon) wasn't available in the original version. This weapon is definitely a lifesaver as I initially preferred avoiding confrontation with MULEs because it was easier that way. That said, you won't carry it with you all the way because you will eventually have much better weapons. The development team also added a Firing Range where you can practice and compete record times with other players. It was kinda mind-blogging that these two important features weren't available back then.
Besides the Maser Gun, there are other new items added to DSDC. The new Support Skeleton is another good addition. It's like the jack of all trades compared to the previous exoskeletons in speed, power, and terrain climbing. It's even solar-powered, so the machine can self-recharge when you're out on a good sunny day. You can also throw down a new Cargo Catapult, Jump Ramp, and Chiral Bridge for better travelling across rough terrains. The Buddy Bot got a new upgrade as well, which can now follow you to carry multiple boxes as long as it's within the Chiral network area.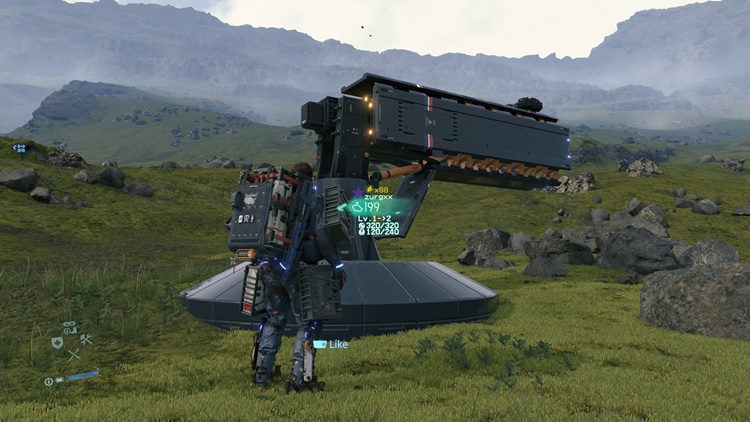 Cargo Catapult is so convenient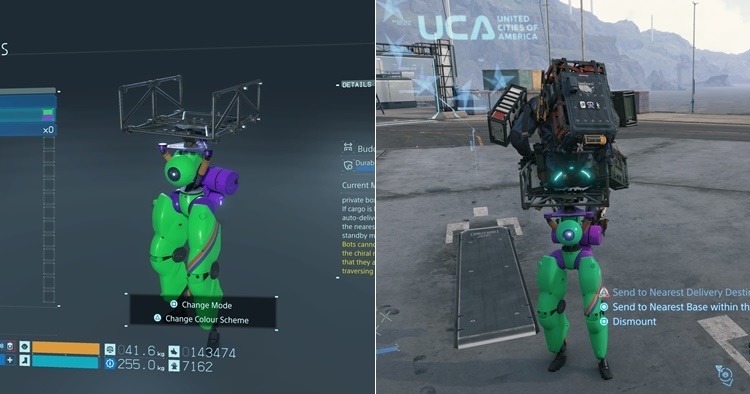 You can customise your Buddy Bot colour scheme too (and sit on it)
Do stunts in the air to get likes from your BB lol
Out of all the additions, the new Fragile Circuit race track is probably my favourite. This race track can be easily missed if you're not paying attention to the emails, all you need to do is complete Order No.35 (that's after you complete carrying a human cargo for the Junk Dealer). When you get the invitation, head over to Timefall Farm and head South, where you should eventually see a Racetrack Terminal.
After contributing the necessary resources, the race track will be unlocked. At the racetrack, you can take on several challenges depending on the vehicle, one of which is the fancy-looking one called The Roadster. You may also set a time record to challenge yourself and other players who feel the NEED FOR SPEED.
The Fragile Circuit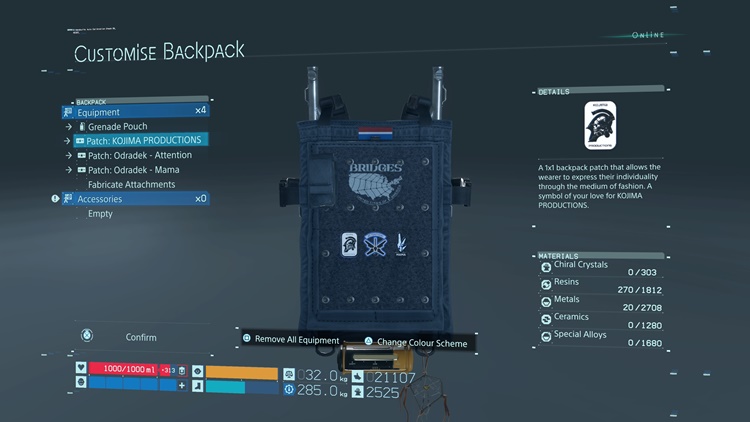 New cosmetic colours for your backpack
Gameplay - A short but sweet Metal Gear tribute
Anything else that's new to the story? Well, the development team added a new mission but you don't need to finish the game to unlock it. Dubbed the Ruined Factory, most new players will eventually come across this in the first region but would skip the rest of the mission easily. This mission requires you to return to the same place at least three times to go deeper into the levels. However, it doesn't let you know when you should return after completing the first task.
Nonetheless, this new mission is quite special because it places you inside a building, unlike all the delivery tasks. No spoilers here but when you get to level 3, you are in for a Metal Gear treat. As a big fan of Metal Gear, I squealed with delight at how the level design closely resembled the beloved franchise. It's definitely a tribute, and Kojima even included a reference of the box (if you know, then you know).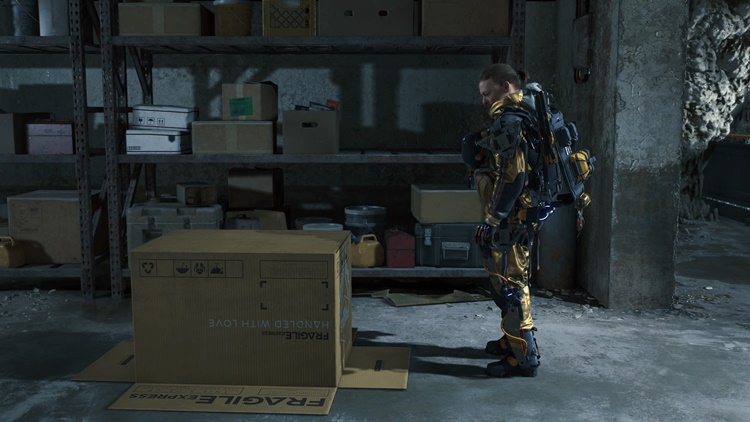 Cheeky Metal Gear reference haha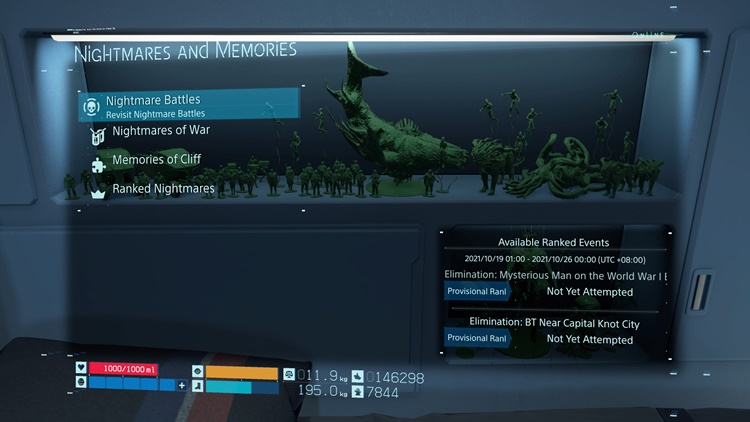 Just look behind you at the toy figures to replay Nightmare Battles
Finally, you may also choose to replay some BTs boss battles or replay Cliff's memories. The BTs boss battles are labelled as Nightmare Battles, and it's quite easy to access them. All you have to do is go into your private room and look behind you to select the toys. From there, you can choose a battle and set a timer record for how quickly you want to beat down a BT boss.
Conclusion - Either you love it more or still hate it
All in all, Death Stranding: Director's Cut is a much more refined game that makes it convenient for returning and new players. The aspect that saw the most improvement is none other than the addition of items like the Maser Gun, Support Skeleton, and others. There's also the fun Fragile Circuit race track, replayable boss fights, and the new Ruined Factory that's clearly Metal Gear-inspired. That said, it still won't change the minds of those who find the game boring.
After spending my time with the game for about three weeks, I can understand why some gamers enjoy it (maybe too much). There is a sense of accomplishment and togetherness when everyone comes together to build infrastructure across the broken world. The music tracks played when you're travelling also makes it feel like an immersive road movie. Moreover, it's a nice change from the oversupply of Triple-A action-packed first-person shooters games.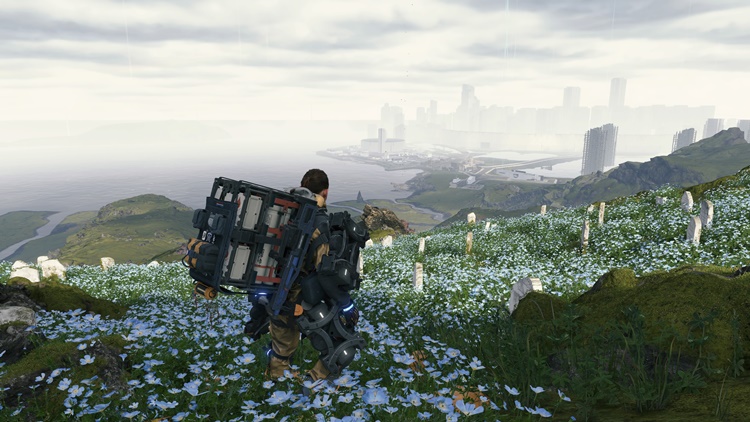 It was alright, I guess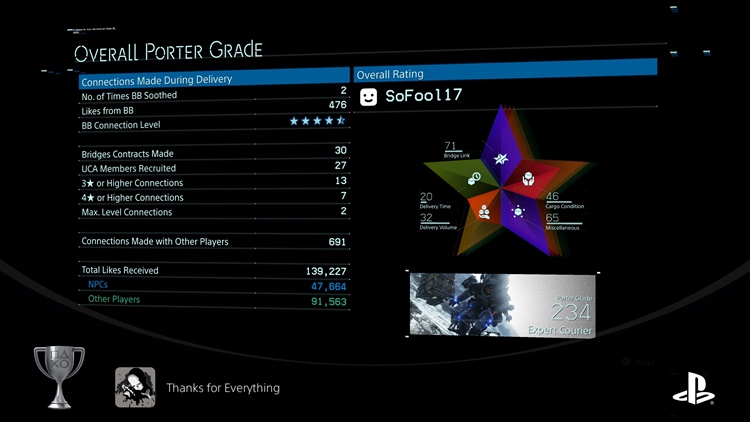 It has a ton of replayability, but I'm pretty much done playing the game
Unfortunately, I'm not one of those people who enjoyed the game. I would normally try to complete every necessary objective and mission in an open-world game to make my time and money worth spending, but not so much for DSDC. The side missions were mundane, and the story was overly convoluted, though I understood what Kojima was trying to convey. The boss fights also felt like an entirely different game that didn't match the game's delivery theme.
I still think it's something worth checking out if you're tired of the mainstream rehashed titles and sequels. But what do you think of Death Stranding: Director's Cut? Let us know in the comments below, and stay tuned for more PS5 game reviews at TechNave.com.