DiGi offering Samsung Galaxy Note 3 + free Samsung Galaxy Gear from RM1319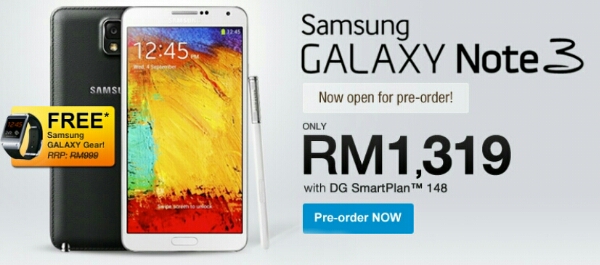 Finally, the Samsung Galaxy Note 3 pre-orders are opening up and DiGi is currently offering the smartphone from RM1319 with a free Samsung Galaxy Gear smartwatch for DG SmartPlan 148 subscribers. The Note 3 is still available by itself for other Smart Plan postpaid subscribers but all of them are under a 24 month contract. According to earlier reports, DiGi may only have limited stock of the Samsung Galaxy Gear smartwatch so if you want the RM999 smartwatch free, now is the time. For more details check out the table below:
DiGi Samsung Galaxy Note 3
DG SmartPlan 58
DG SmartPlan 88
DG SmartPlan 148
Monthly
RM58
RM88
RM148
Data (Quota)
2GB
4GB
6GB
Call rates
15 sen/minute
10 sen/minute
SMS rates
10 sen/SMS
Free calls
200 minutes on network
300 minutes
600 minutes
Free SMS
200 SMS on network
300 SMS
600 SMS
24 months contract
RM1879
RM1639
RM1319
Total Cost
RM3271
RM3751
RM4871
Note that if you do sign up for the DG SmartPlan 148 just to get the free Samsung Galaxy Gear, you will be paying about RM1120 more compared to signing up for the DG SmartPlan 88. So only do so if you're a really heavy mobile internet user. DiGi is offering the Samsung Galaxy Note 3 LTE version with 32GB storage in black or white. Shipment is expected to be on 25 September 2013 but you can choose to pick up everything on the same day at a DiGi store of your choice. For more plan options check out our Samsung Galaxy Note 3 plan comparison tool but if you need more information regarding this deal do check out the DiGi site. Alternatively, you can also check out our other DiGi Telco plans as well.
Samsung Galaxy Note 3 Specs & Price >