Digi extends Digi Fibre 150 promotion until end of July with 300Mbps Internet data speed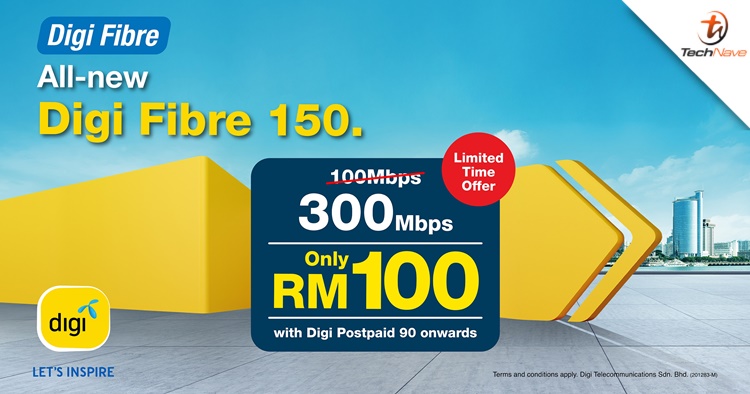 Today, Digi has announced that the Digi Fibre 150 promotion has been extended until 31 July 2021. Not only that, but they have also increased the unlimited data speed from 100Mbps to 300Mbps for the same price tag of RM100 per month. Of course, this is provided if the customer is paired with a Digi Postpaid plan.
For those who missed it, the Digi Fibre 150 is an Internet data plan for the household. According to Digi, it's ideal for a medium household of up to four family members for working and studying from home. With the increased internet data speed to 300Mbps, it's great for those who want some entertainment at home too.
Moreover, Digi Postpaid customers can enjoy the lowest entry fee for Digi Fibre plans with rebates of between RM15 to RM30 per month when they choose to pair it with qualifying Postpaid plans. With the Digi Fibre 150 promotion, customers can increase their savings up to RM50 per month. If that's the plan you have been looking for, you may visit the official webpage right here.
Stay safe, stay healthy and stay tuned for more trending tech news at TechNave.com.