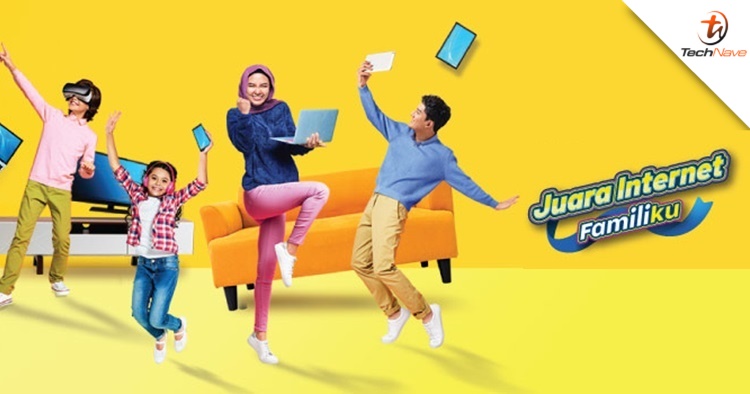 Today, Digi has launched another Juara Internet promotion and a new Prepaid NEXT20 plan for new and current Digi users. The Juara Internet Familiku is a limited-time campaign offering Malaysian families to enjoy free smartphones and tablets, as well as great savings across Digi's prepaid, postpaid and fibre packages.
The campaign has already begun and will go on until 31 July 2022. If you subscribe to the Digi Postpaid Family Unlimited (RM200/month), you can bring home a free Samsung Galaxy Tab A7 Lite tablet. On top of that, new and existing customers can now enjoy a free Samsung Galaxy A03 or Samsung Galaxy A13 when they sign up with Digi Postpaid 60 or Digi Postpaid 90 respectively.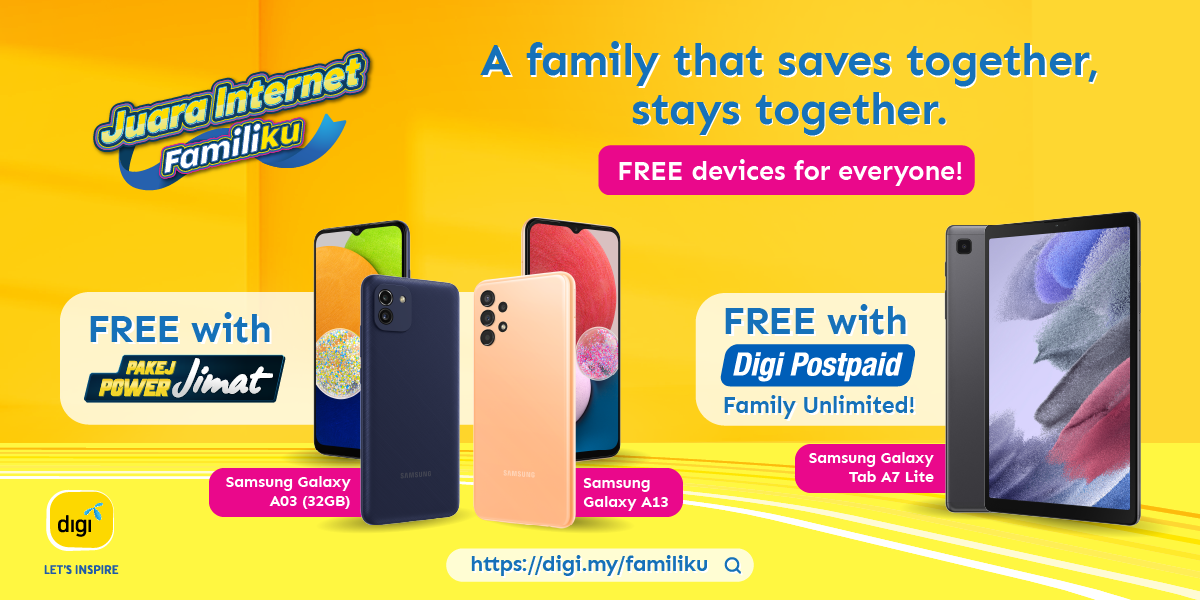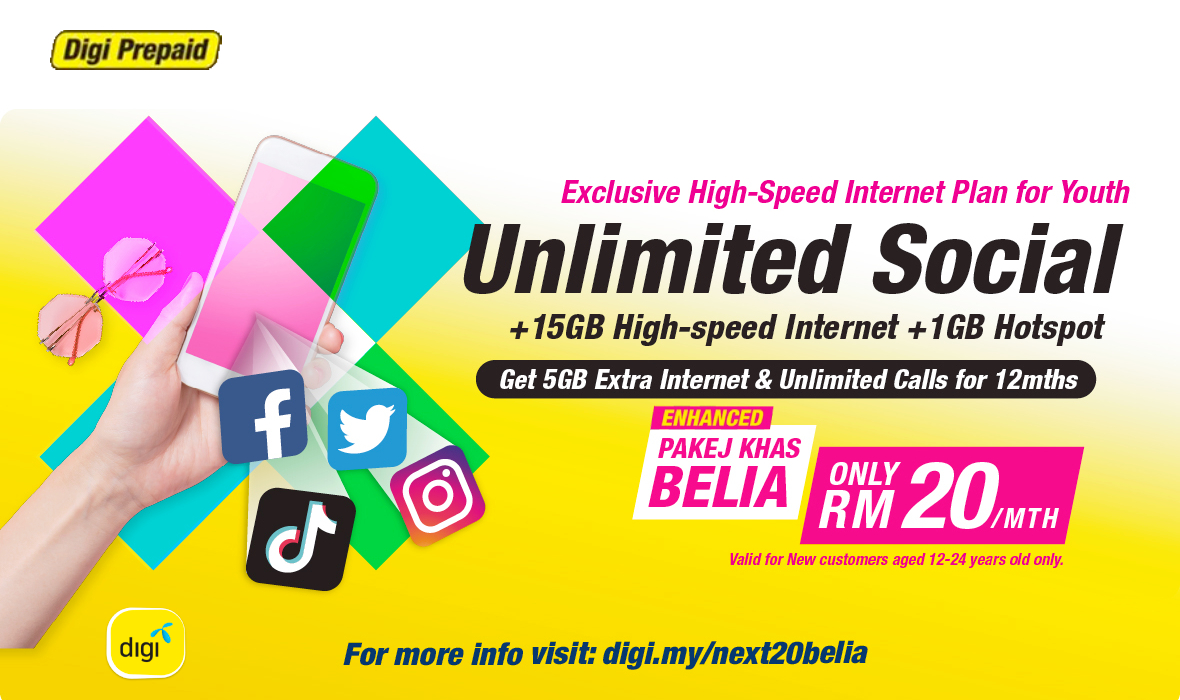 That's just the tip of the iceberg, as there are many promotions for new and current Digi users. You can check them out below:
New and existing Digi customers who switch to Digi Postpaid will enjoy an extra internet quota for 12 months. Digi Postpaid 120 / 150 customers will get up to 50% extra quota while Digi Postpaid 40 / 60 / 90 customers will get extra 10GB of Internet

New and existing Digi customers who upgrade to Digi Postpaid 90 and above will also enjoy an additional rebate of RM15/month for 12 months

New and existing Digi customers will get to enjoy additional Freedom Add-On options for Digi Postpaid 40 (option to choose FREE Unlimited Social) or Digi Postpaid 60 (option to choose FREE Unlimited Streaming)

New customers who subscribed to the Digi Fibre 190 plan and above will receive a total of RM240 in rebates

Customers with eligible Digi Fibre plans can also enjoy savings of up to RM60/month when paired with qualifying Digi Postpaid plans

New Digi customers who switch to Digi Prepaid with NEXT 35 / 45 will get to enjoy an additional 5GB of internet data for up to 12 months. They will also get Unlimited Social (Facebook, Instagram, Tik Tok and Twitter) and an extra hotspot quota if they opt for the auto-renew feature

The Unlimited Video Pass offer is now extended. From as low as RM5, all Digi Prepaid and Postpaid customers can binge-watch their favourite programmes on Netflix, YouTube, Astro GO, Viu, Dailymotion or Unifi PlayTV. It's valid for 3 days and comes with unlimited streaming. On top of that, customers will get up to 50% cashback with every purchase of the pass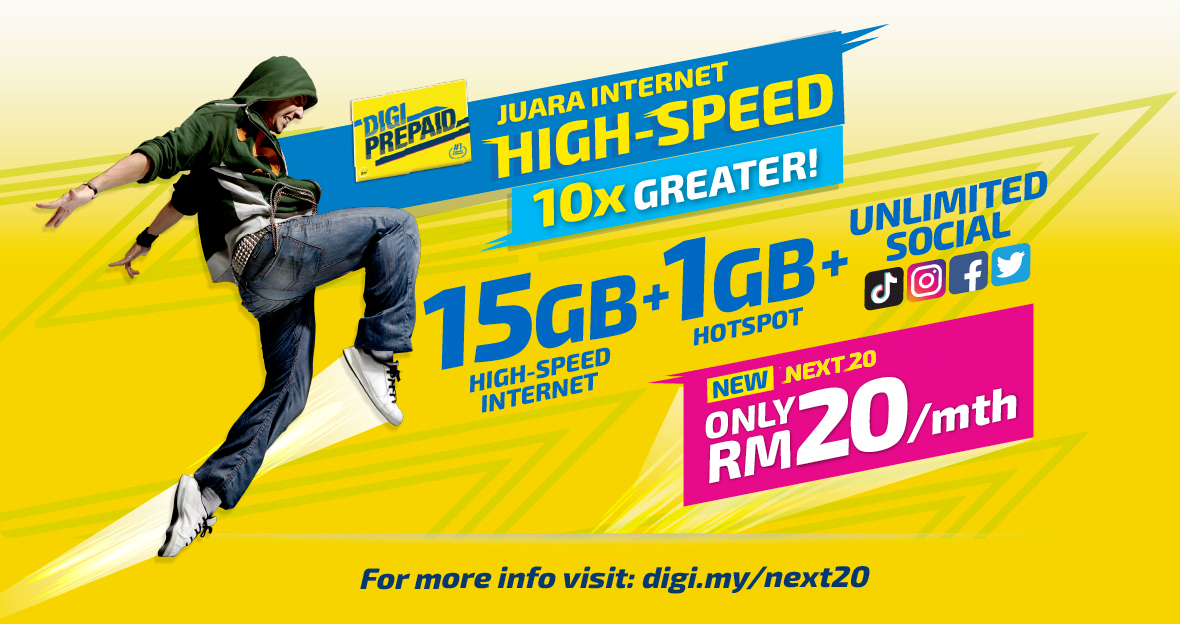 Last but not least, Digi is also introducing a new Prepaid NEXT20 as a new entry-level plan. It comes with 15GB of internet data and has unlimited access for Facebook, Instagram, TikTok and Twitter. Interested customers can sign up for this at only RM20 by visiting the Digi Store Online or walk-in to their nearest Digi Store, Digi Store Express or any Digi authorised dealer.
For more information on Digi's Juara Internet Familiku campaign, you can visit digi.my/familiku to check it out. Stay tuned for more trending tech news at TechNave.com.