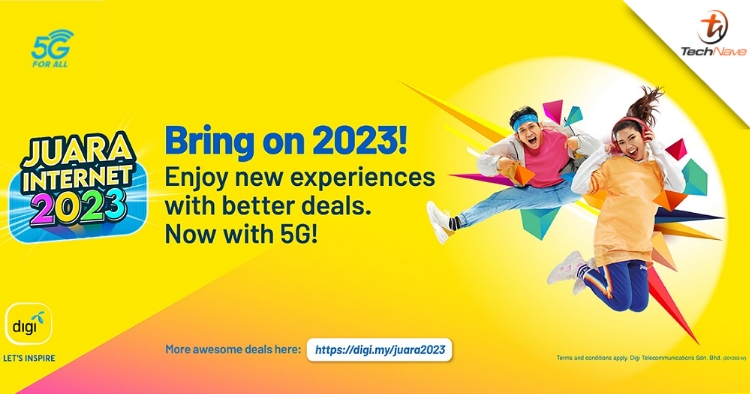 Digi Telecommunications Sdn Bhd (Digi) is welcoming the new year with better experiences and more exciting offers through Digi Juara Internet 2023. These include free smartphones, faster internet with the addition of 5G network, as well as better value-for-money deals across its range of Prepaid, Postpaid and Fibre products.
From today until 14 February 2023, new and existing Digi customers can enjoy these exciting offers:
The latest devices with Digi Postpaid Family Unlimited and Pakej PowerJimat
Digi is offering a wider selection of free devices with Pakej PowerJimat and Family Unlimited plans. These include:
Free iPad (9th Generation, WiFi, 64GB, RRP: RM1499) when customers sign up for Digi Postpaid Family Unlimited plan, now with the option for a free upgrade to 5G access, on a 24-month contract. The free iPad offer is only valid for in-store purchases
Free Samsung Galaxy A04 (RRP: RM559), Redmi 10A (RRP: RM569), vivo Y16 (RRP: RM599), vivo Y02s (RRP: RM499), Honor X6 (RRP:RM599), OPPO A17 (RRP:RM599) and OPPO A17k (RRP:RM499) with Digi Postpaid 60 on Pakej PowerJimat
Free Samsung Galaxy A13 (RRP: RM799) or power up to 5G with HONOR X8 5G (RRP: RM999) when customers sign up for Digi Postpaid 90 on Pakej Power Jimat
Digi Postpaid customers can also get an RM200 GadgetFreedom Plus voucher on their MyDigi app to purchase the latest smartphones and accessories
Unlimited and beyond with more savings
With unlimited Internet offers, Digi customers can surf, stream and game without having to worry about running out of Internet quota. Check out the details here:
Digi Postpaid Infinite with unlimited Internet and calls is now available from RM55/month. This offer is applicable for in-store sign-ups and is limited to the first 5,000 customers only
Unlimited Gaming is now available as a Freedom Add-On for Digi Postpaid 60 and above customers to experience smooth gameplay on top titles such as Mobile Legends: Bang Bang, PUBG Mobile and Call of Duty Mobile. Customers also have the option to choose unlimited social or streaming, or free monthly roaming with Freedom Add-Ons
NEXT Unlimited 40 brings more value for Prepaid customers with unlimited Internet and calls at only RM40/month. Get an additional 10GB hotspot monthly when signing up for the auto-renewal plan. Available at Digi Stores, Digi Store Online, MyDigi and Digi self-service kiosks
The World Roaming pass is a 30-day multi-country pass that gives customers 30GB of high-speed Internet and 30 minutes of voice calls across 69 countries including Australia, Japan, South Korea, Singapore, the USA, United Kingdom, Turkey and Saudi Arabia. Open to all Prepaid and Postpaid customers for RM95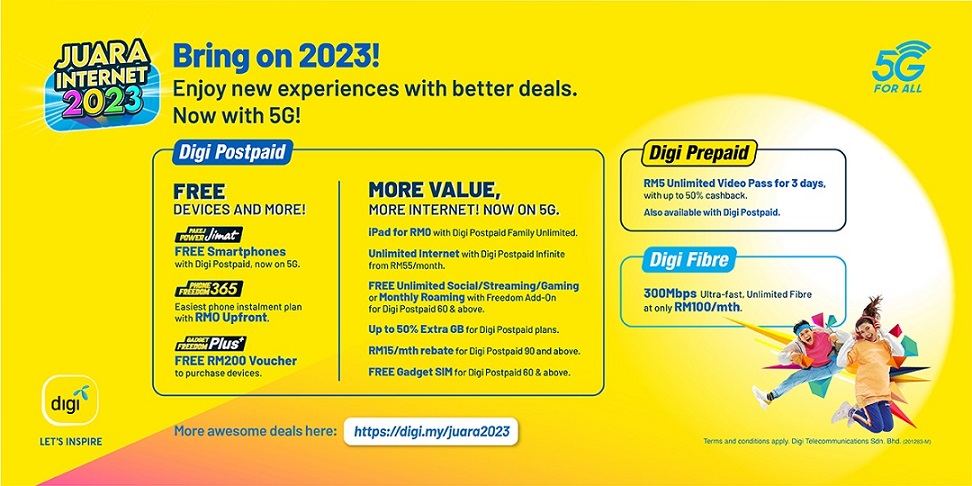 Non-stop entertainment with Unlimited Video Pass
With Digi's Unlimited Video pass, consumers in Malaysia can get these perks:
The all-time popular Unlimited Video pass offer is now extended and available for Prepaid and Postpaid customers at only RM5 for 3-day validity. Customers can enjoy uninterrupted streaming of their football matches or K-drama series on Netflix, YouTube, YouTube Kids, YouTube Gaming, Astro GO, DailyMotion and Viu
Customers can also enjoy up to 50% cash back on up to 3 purchases of the video pass
More value on Digi Postpaid with extra high-speed Internet, now on 5G
Consumers can get extra quota and rebates every month when they sign up for eligible Digi Postpaid Plans:
Customers who sign up for Digi Postpaid 40, 60 and 90 can now enjoy an additional 10GB Internet for 12 months

Customers who are on Digi Postpaid 120, 150 and PhoneFreedom 365 can get 50% extra Internet quota

Customers who sign up for Digi Postpaid 90, 120 and 150 can also get an extra RM15 monthly rebate for 12 months
Ultra-fast, Unlimited Home Fibre for the whole family
Digi is offering more Malaysian households ultra-fast and reliable connectivity with unlimited fibre plans below:
Customers can enjoy up to RM60 monthly rebate for 24 months when they sign up for 500Mbps Digi Fibre plans and above when paired with a new or existing Digi Postpaid 90 plan and above
For smaller households, existing and new Digi Postpaid 60 subscribers can enjoy 100Mbps Digi Fibre for only RM100/month (NP: RM130) with savings of up to RM30/month
Consumers can sign up for these Juara Internet 2023 deals by visiting Digi Store Online or walking into any Digi Store, Digi Store Express or authorised Digi dealer. For more information, please visit Digi's official website here. As always, make sure to stay tuned to TechNave for the latest tech news and deals such as this.