Digi releases Apple iPhone 6s and iPhone 6s Plus in Malaysia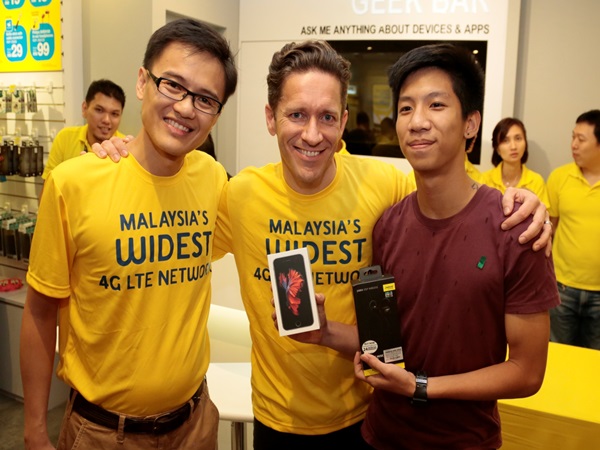 (from left to right) How Lih Ren, Head of Consumer Sales, Digi and Christian Thrane, Chief Marketing Officer, Digi with Lee Jin Wai, Digi's first Apple iPhone 6s customer at the SS2, Petaling Jaya, Digi Store.
Digi Telecommunications Sdn Bhd (Digi) began its six launch events sale on 16th October 2015 nationwide with the Apple iPhone 6s and Apple iPhone 6s Plus. Many excited Apple fans queued up from 10pm to get their hands on Apple's latest smartphones and other goodies. The Apple fans who pre-ordered the latest iPhone also enjoyed an additional RM200 rebate after signing up for the Digi SmartPlan 98, meanwhile the customers who weren't Digi users got an RM300 rebate after switching to Digi. Digi also did the midnight delivery of pre-ordered iPhones to their customers' doorsteps.
The iPhone 6s and iPhone 6s Plus boast a number of new features including 3D Touch which enables a multi-touch interface to appear depending on the pressure pressed on the screen. This lets the user do all kinds of essential things more quickly and conveniently. Other than that, there is also a Live Photo feature, a 12MP iSight camera, 5MP FaceTime HD camera with Retina Flash and others. It is also equipped with the most advanced chip yet by Apple, the A9 Chip that provides faster performance and better battery life.
"We are very encouraged by the turnout and would like to thank all Digi customers, new and old, for their support. Digi is looking to create seamless connectivity by pairing a great network experience with great devices such as the iPhone 6s and iPhone 6s Plus." said Christian Thrane, ​Digi's Chief Marketing Officer.
The six Digi stores that opened its doors to their faithful customers are:
SS2, Petaling Jaya
Kuantan, Pahang
Pulau Tikus, Pulau Pinang
Danga Bay, Johor
Kuching, Sarawak
Api Api, Sabah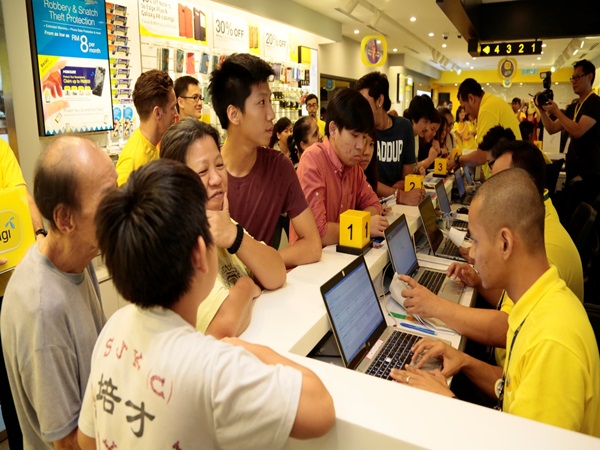 Digi customers eagerly purchasing the new iPhone 6s and iPhone 6s Plus
at one of the six launches nationwide (SS2, Petaling Jaya)