Digital calligraphy with the S Pen by Samsung Electronics Malaysia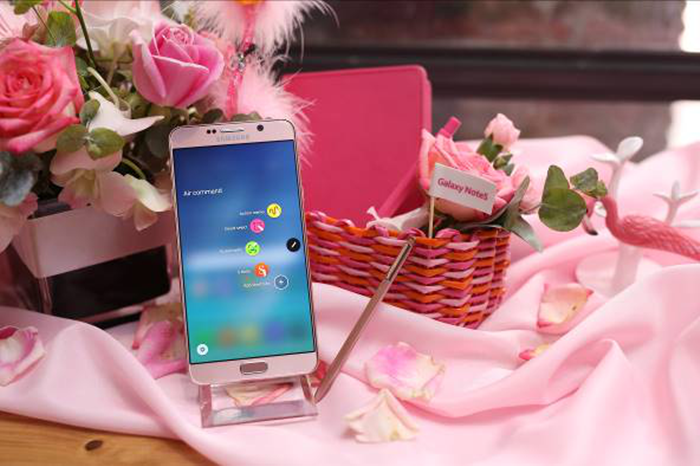 The Samsung Galaxy Note5 now comes in a new sassy colour, Pink Gold - perfect for ladies looking for a device that harmonises style and productivity with a touch of femininity, sophistication and grace
With the recent released of the Pink Gold Samsung Galaxy Note5 limited edition, Samsung Electronics Malaysia is proud to present their customers a new way of calligraphy writing on their devices – the S Pen.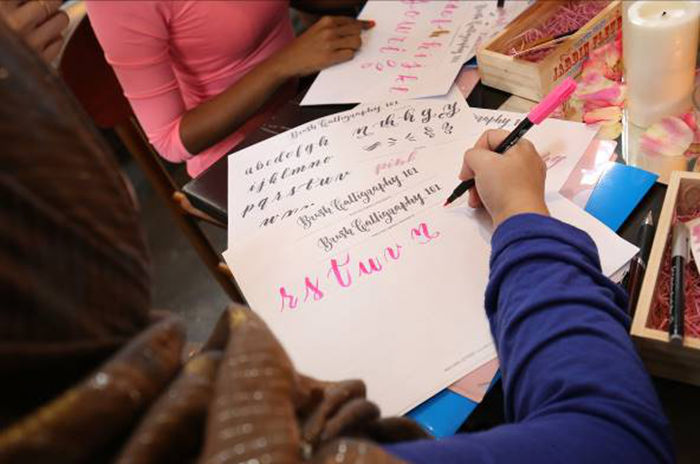 Guests expressing their personalised style through the art of calligraphy writing which can be adapted digitally using the Galaxy Note5 S Pen feature.
The S Pen can be used by users to write, draw and design anything and everything. It encourages freedom of expressions and allows users to explore their creativity beyond traditional text and static visuals. Such feature, the "Moment of Note" can be utilized with the S Pen after the user captures a picture with it, then use the S Pen to recreate, design and beautify each shot with style through calligraphy.
Jil Sta Ana, a software engineer by profession and a calligraphy artist by passion was invited by the company to held a mini workshop to teach the audience the artistic wonders the S Pen can do with calligraphy.
"Calligraphy is an ancient writing technique using flat edged pens to create artistic lettering using thick and thin lines, depending on the direction of the stroke. Penning your thoughts using calligraphy style of writing does not only add beauty to the text but also inspires creativity. It is a beautiful form of art that has followed us through to modern times and with innovative tools such as the S Pen, the sky really is the limit with what you can write, draw and design using calligraphy. There are options to change brush styles, pen tips, and colours when writing and drawing with the S Pen, and that makes all the difference in calligraphic art," said Jil Sta. Ana.
Julian Thean, Product Marketing Manager, IT and Mobile Business Unit, Samsung Malaysia Electronics, introducing Samsung's new colour addition for the Note5, Pink Gold

"The Galaxy Note5 is by far one of our most successful and popular products in the market. The exceptional innovation and functionality of the Galaxy Note5 aside, we realized that colour too play an important role in the popularity of the phone. From our research on market insights and predictions of current trends in the smartphone industry, we noted that Pink is a unique vibrant colour that resonates with many consumers. We introduced the Galaxy Note4 in Pink last year and it was a remarkable hit among consumers. Now we want to continue the trend and this time, introduce the Galaxy Note5 in Pink Gold," said Mr Lee Jui Siang, Vice President, IT & Mobile Business Unit, Samsung Malaysia Electronics.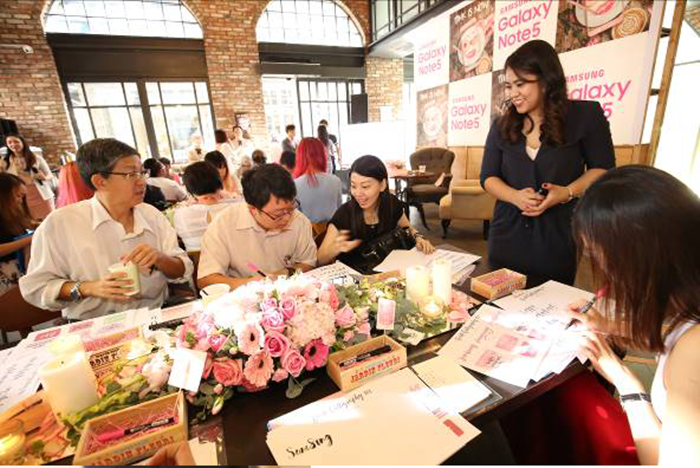 Workshop participants exploring creativity with calligraphy art inspired by the vibrant colour and features of Galaxy Note5 Pink Gold
As mentioned of the Galaxy Note5 Pink Gold in the other post earlier today, it is offered for a limited time only from 21 January onwards until stocks last at a recommended retail price of RM2,699 (inclusive of GST). Note5 is also available in Gold Platinum, Silver Titanium, White Pearl and Black Sapphire.