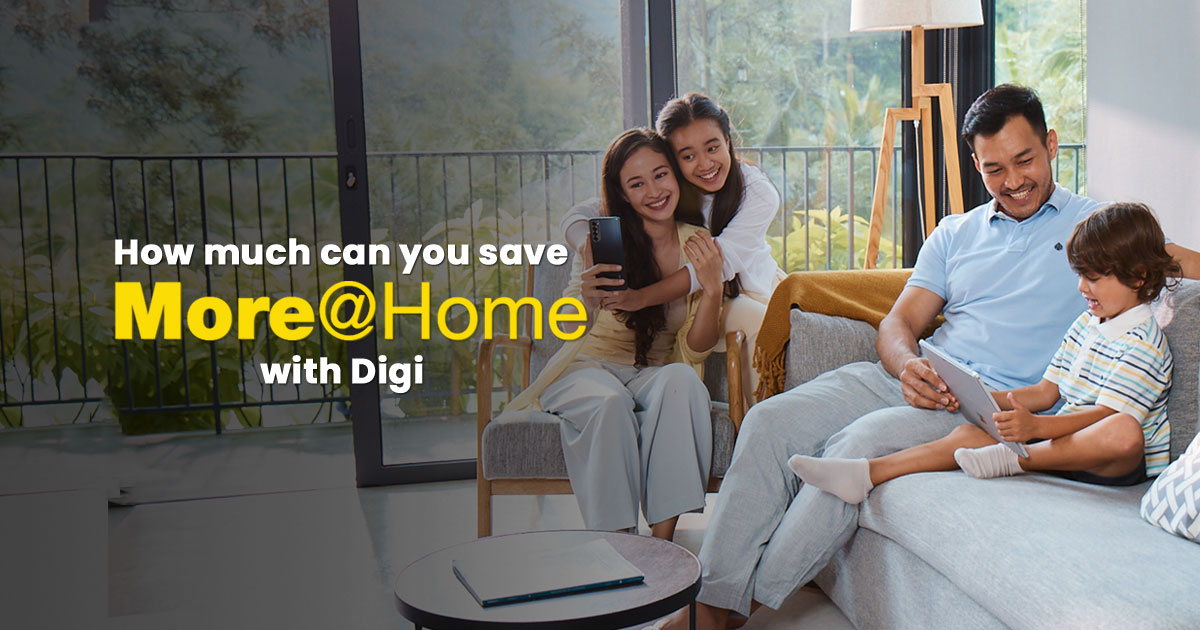 In 2020 this year, you probably have stayed at home more than before. Despite the situation, most of our work can still be done at home through online thanks to the Internet. This goes the same for children and teens when schools were forced to close, including colleges and universities. We don't exactly know when this will end, but it's important to save smartly on the best value deals we can find.
If you are here reading this, you probably want to know how much you can really save up with Digi. And what exactly is Digi offering? As a consumer, it can be hard to choose the right package for your needs, but there is so much information. No worries, we are here to guide you on getting the best deals under More@Home with Digi.
Postpaid Start and Postpaid Family Deals
Perhaps like the majority of Malaysians like yourself, most of you are already relying on WiFi at home, so what's the point of keeping your Postpaid plan with that ton of internet data? Not that it's a bad thing, you can still rely on your current Postpaid Internet data (if your WiFi is lagging) but in case if you need a new plan at a lower price, read on below on what you can get out of Digi's Postpaid offers.
According to Digi's Postpaid deals, signing up for a new SIM card will grant you a rebate of RM10 for 12 months continuously. This rebate is applicable for all the Digi Postpaid plans, including Digi Postpaid 58, 80, 120 and 160 and 190. Below is a table for your reference:

Personally, I think the Digi Postpaid 58 is a viable plan because you can stack Internet data of up to 20GB the longer you're subscribed to the plan (a total of up to 50GB!). Since most of us are staying at home, you can binge-watch your favourite TV series in HD on Viu, Mubi, Dimsum for just RM1/month. Let's also not forget that with the RM10 extra savings for 12 months, you would only need to pay RM576 (RM58 x 12 - RM120) for the first year!
Okay, maybe you happen to be a parent who's looking for a good package for your whole family. After all, you could be working from home, and your children might be taking online classes. In this case, you could consider the Digi Postpaid family, which offers up to 1 year of savings. Applicable to Digi Postpaid 80, 120, 160 and 190, you can:
Get a new supplementary line for your spouse and children (and each line gets the same Internet data and unlimited calls as your principal line!)

It will be RM28/month with the savings of RM10 x 12 months = RM120

Get up to 100GB All-Day Internet with unlimited calls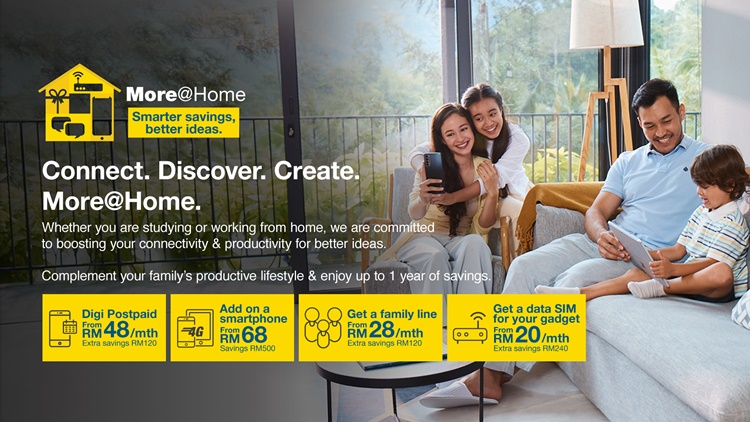 Not such a bad deal for the whole family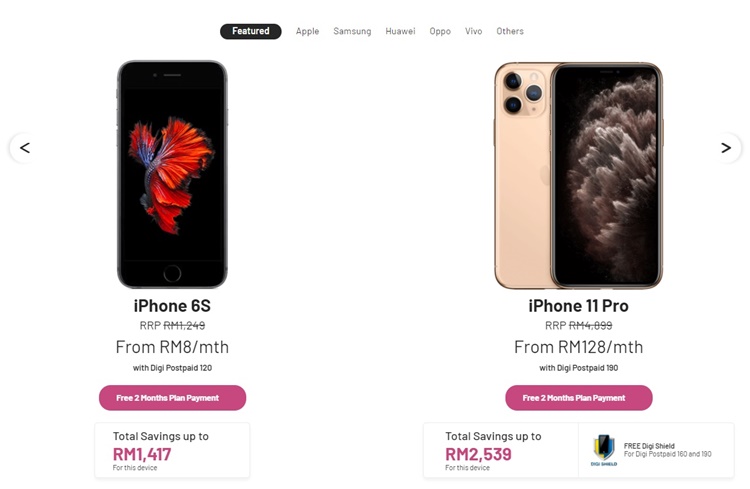 The iPhone 6s is just RM8/month under the PhoneFreedom365 plan
If your family members already have a Digi Postpaid plan, they can port into your principal line. This will save you some money since each line gets the same benefits as aforementioned. As the principal line, you can also get new smartphones or smartwatches for your family with the Digi PhoneFreedom 365 supplementary line! The promotion has already begun and you can own a phone from just RM8/month. You can visit this page here to learn more.
Postpaid Start for the Frontliners - Phones from RM68
Speaking of saving smartly from the Digi PhoneFreedom 365, there are still other ways to preserve your savings during this period. The pandemic has been tough for everyone and even more so than ever, you and I need to think thrice before taking out our wallet to spend on a particular phone. But what if our current one is dying and we needed a new phone?

Well, say that you have already subscribed to the Digi Postpaid 58, you are eligible to get selected smartphones for as low as RM68! Most of the phones are entry-level tier but hey, it's better than nothing and most of these devices work just fine for our daily social usage. Furthermore, if you happen to work on the front lines, these Digi Postpaid phone plans are especially for you with all the same benefits, including the 1-Year RM10 rebate!
The Broadband Plans for streaming
If you or your family members stream a lot of videos at home, there's a good chance that the Postpaid Family plan won't be enough. But don't you fret! Like you, I too love streaming Netflix and YouTube at home (more than ever, in fact), so I require a lot of Internet data. Trust me, you will need it for smooth streaming in HD and to check the streaming services that are eligible for this here.
There are two broadband packages - mobile and fibre. For the mobile broadband plans, there are the Digi Broadband monthly 45, 65 and 105 plans, which include principal and supplementary lines. You will also get a free MobiFi mini router and an additional rebate of RM20 for 12 months if you sign up for Digi Broadband 65 and 105. There are other routers available too, so you can check them out right here.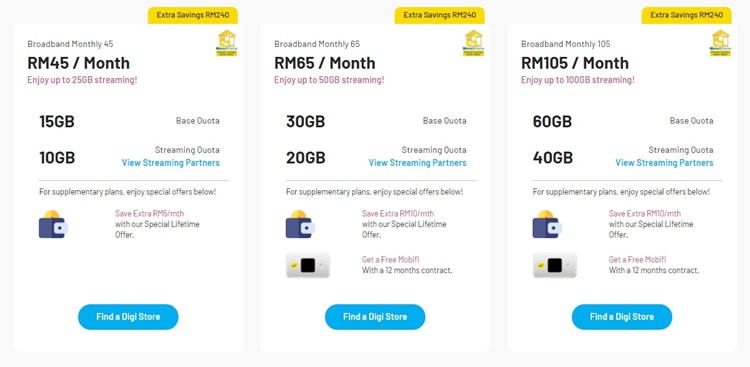 Digi Mobile Broadband selections

Digi Fibre Broadband plans
If you want more UNLIMITED POWAAA, I suggest going for the Digi Fibre Broadband plans because it has unlimited Internet data (at a price, of course). Of the plans available, the Digi Internet Freedom 130 (100Mbps) is the most popular and is ideal for small households. Besides that, you can get up to two Digi Postpaid Unlimited lines for RM60/month (per line) and 12 months of free access to Viu.
Besides that, you can go for even faster Internet plans of up to 1Gbps on the Digi Internet Freedom 290 plan. Not only is this plan 10x faster but the benefits are doubled with a total of four Postpaid unlimited plans (for the same price per line) and 24 months on Viu streaming. Of course, it really depends if you have a constant non-stop HD streaming habit and how big is your family as well. You know your household best.
Prepaid - RM8 off for every RM35 plan and above
If none of the Postpaid and broadband plans above matters to you because you're a prepaid user, then you're at the right spot. Currently, Digi has two Prepaid NEXT special offers on a limited time - the Truly High-Speed RM35 and RM30 package, which has no speed cap! Furthermore, there are also Internet Cili Padi and biGBonus depending on your preference.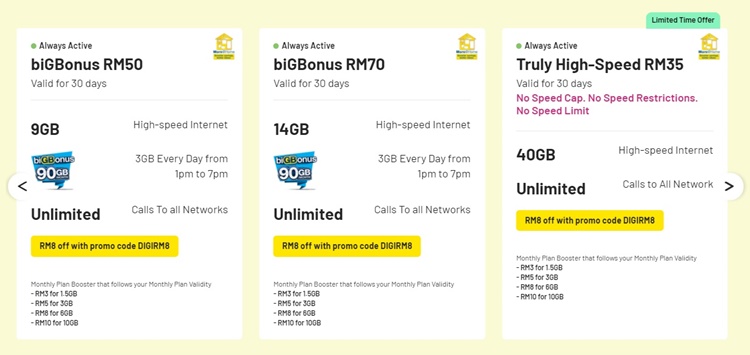 The Truly High-Speed RM35 is the best deal now
I suggest every prepaid user pick either one of the Prepaid NEXT plans that are RM35 and above because they also come with an RM8 off voucher with the promo code DIGIRM8. For example, you can pick the Truly High-Speed RM35 and get it for RM27, but have twice the Internet data compared to the Truly High-Speed RM30 plan. If I was a prepaid user, that's an irresistible deal for me. You could also check out the Prepaid Box of Surprise via MyDigi app now to enjoy 5GB Internet + Free 12GB (from 1 AM - 7 AM) for just RM5 only!
Others - Auto-billing rebate, MyDigi Rewards, promo codes and more
Ah yes, Digi also prepared a bunch of rewards for signing up for any of the plans mentioned above. I'm sure most of you are already using auto-billing for convenience. But if you haven't, I recommend doing so because it's much safer than going out during this time. In fact, Digi has a new promotion to encourage that. You can now get a 5% bill rate for 6 months consecutively and RM50 Digi Store Online voucher if you sign up for auto-billing with a Mastercard!

Auto-billing rewards for new users
This promotion is eligible for all the plans, but only the first 20,000 subscribers. Honestly, I think this is yet another great saving option offered by Digi. You can sign up for it from now on until 31 December 2020. To do so, you can use the MyDigi app, Digi Store Online, or visit your nearest Digi store. For more information, you can head over here to learn more.
Wait, there are more MyDigi rewards! You can also enjoy your favourite food from Texas Chicken, Tiger Sugar, Pizza Hut, IIao IIao, and many more at a discounted price as low as RM0.99! For accessories, you can get any selected item from the Digi Store Online with RM12 off (minimum spending RM30) with the promo code YES12. Finally, if you're a student looking to stay productive at home, check out the best EasyAdd subscription deals from Microsoft Office 365, JomTuisyen and more from as low as RM2!

More MyDigi Rewards

The promo code is "YES12" for accessories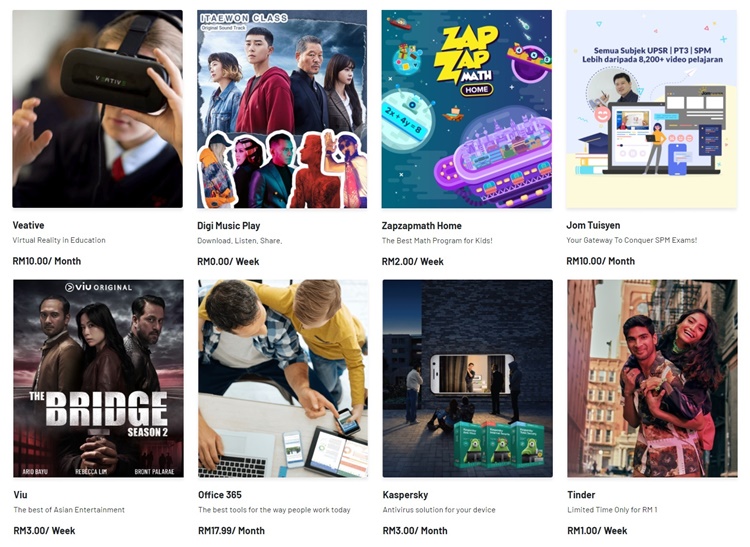 EasyAdd subscriptions
Phew, that was a long list to go through, but I hope that you have found a plan that suits your needs. Personally, the Digi Postpaid 58 is the one I'd choose to get some savings because I mostly rely on the WiFi since I'm working from home. From Postpaid Family to Prepaid, each category offers the best value for money for the fastest Internet speed, as provided by our local telco in yellow.
You can click on either one of the links below to find a Digi plan that can fit your current lifestyle. There is something for everyone, so save smart and stay safe, people. We are in this together!