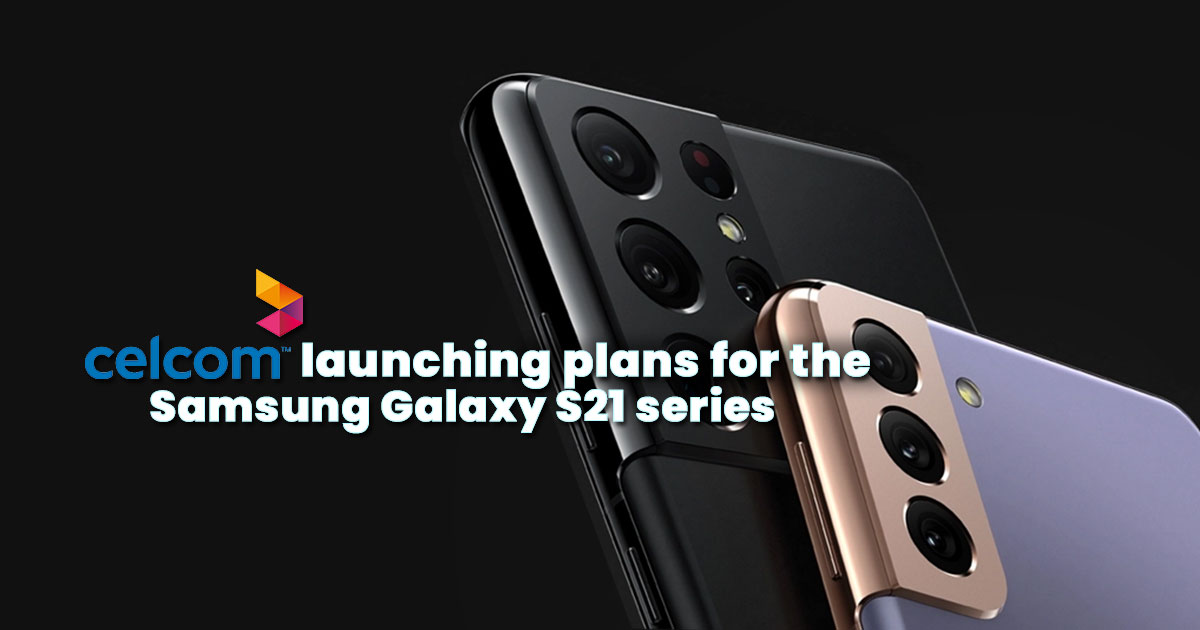 Now that the pre-order period has ended, it now marks the launching day of the Samsung Galaxy S21 series. If you are looking for which one is the best launching sales deal, you ave come to the right place. In this article, we will be taking a look at Celcom's postpaid plans for the latest Samsung flagships. So, is Celcom's launching plan for the Galaxy S21 series the best one? Let's take a look below.
#1 EasyPhone from RM79/month
The Galaxy S21 series looks gorgeous and packs the latest tech specs. But its starting price is RM3699, which might make you think twice. In that case, what if I told you that there is another way to own one? EasyPhone is Celcom's trademark postpaid program that allows consumers to own a smartphone without putting a hole in their wallet.
All three flagships - the Galaxy S21, Galaxy S21+, and Galaxy S21 Ultra - are available with the Celcom EasyPhone package. The phones all come with 256GB of storage with the price starting from RM79/month, then RM99/month and RM132/month respectively. On top of that, you get to choose either the MEGA Unlimited plan, which gives you unlimited Internet data and unlimited calls to all networks.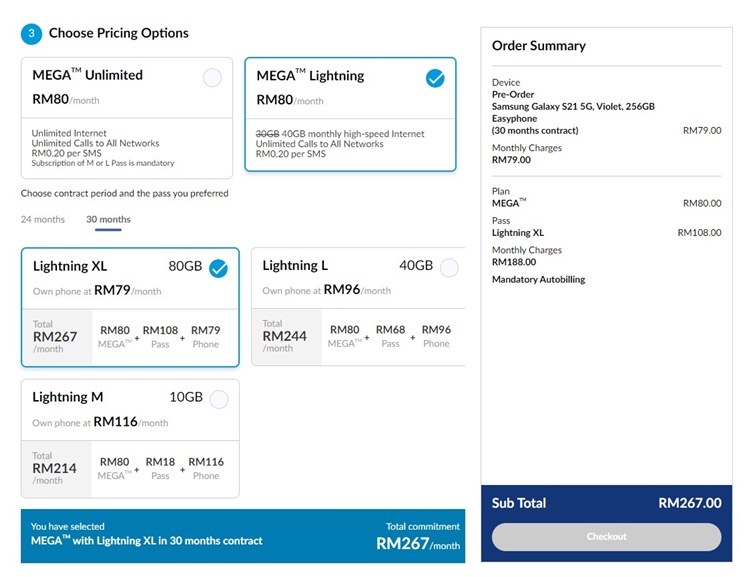 EasyPhone plan for the Galaxy S21
On the other hand, you may opt for the MEGA Lightning plan. Initially, the high-speed Internet data quota was 30GB, but that got bumped up to 40GB. In addition to that, you still get unlimited calls to all networks! There are three types of Lightning passes (XL, L and M) too. Depending on your preference, you should choose the one that is best suited for your lifestyle.
#2 Device Bundle from RM1988
Alternatively, you can also go for the Device Bundle if that's your preference. With the Celcom MEGA Lightning XL Pass, the lowest price you can get is RM1988 for the Galaxy S21 model. If you choose to go for the Ultra model, then it's RM3239 with the same plan.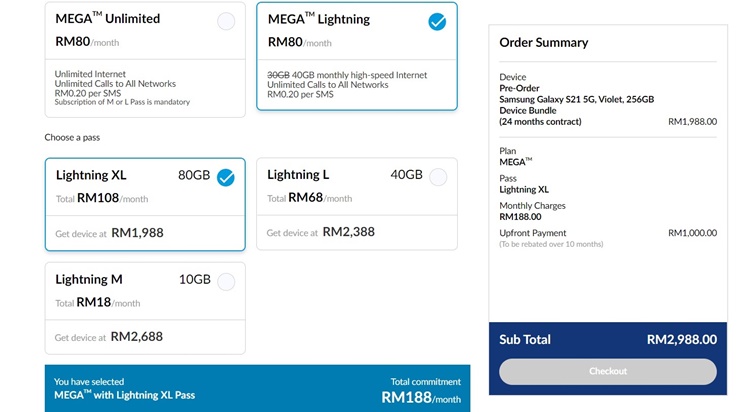 Device Bundle for the Galaxy S21
The MEGA Unlimited plan is also available within the Device Bundle, but only between the Unlimited L and M plans. If you add the MEGA Unlimited plan, you can get the Galaxy S21 for RM2388. Considering that you get the same unlimited high-speed Internet data and unlimited calls to all networks, this is not a bad choice. Of course, you should decide for yourself if it's the right option.
#3 You are still getting three freebie items
Even if you missed out the pre-order period which gave away some awesome freebies, you can still get 3 complimentary gifts from Celcom. For starters, you get a free Galaxy Fit2 smartband (worth RM179) and a brand new Galaxy SmartTag (worth RM119), which can locate missing items you attached it to. And finally, there is also a Galaxy Wireless Charger Trio (worth RM399) that can charge your Galaxy phone, wireless earbuds and Galaxy smartwatch at the same time. The latter is certainly a nice addition to the Galaxy ecosystem!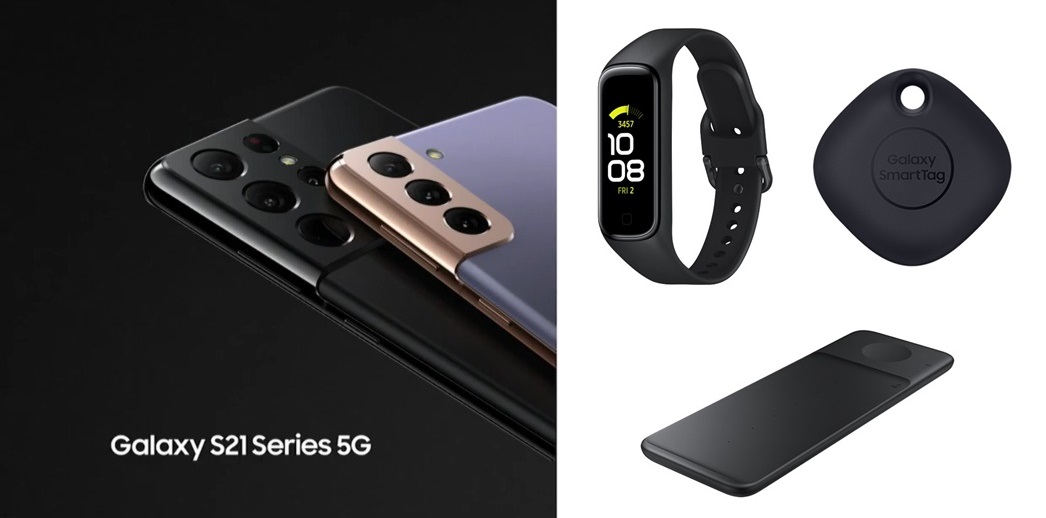 A fairly good complimentary giveaway, don't you think?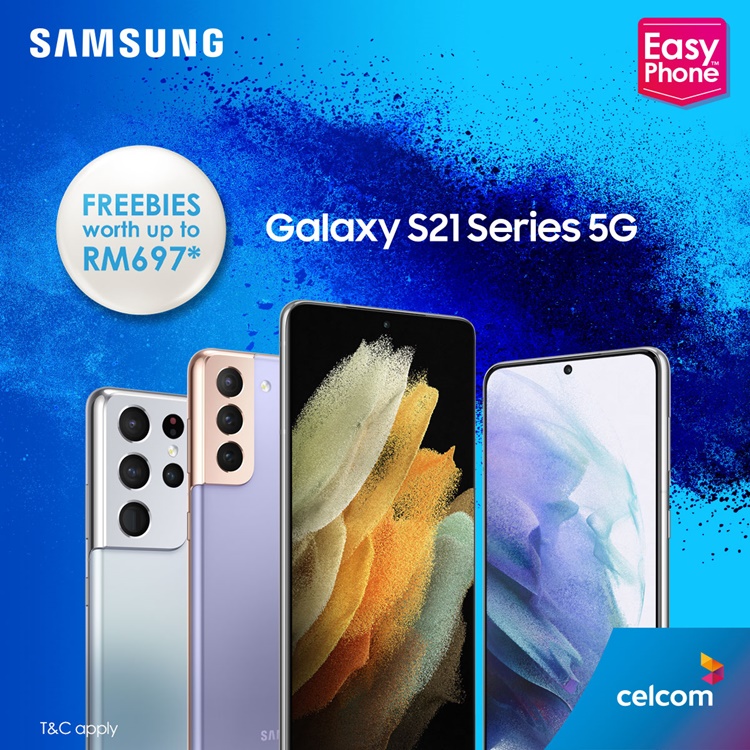 Customers can already start to purchase the Samsung Galaxy S21 series starting from now onwards (29 January 2021). However, you are advised to stay at home due to the on-going MCO. So just make your orders online and wait for the couriers to deliver to your doorstep.
Speaking of the launching promotion campaign, customers who purchase any Galaxy S21 series will be entitled to receive a Galaxy Fit2, SmartTag and Wireless Charger Trio worth a total of RM697, terms and conditions apply, while stocks last. You may visit the official launching page right here to learn more.