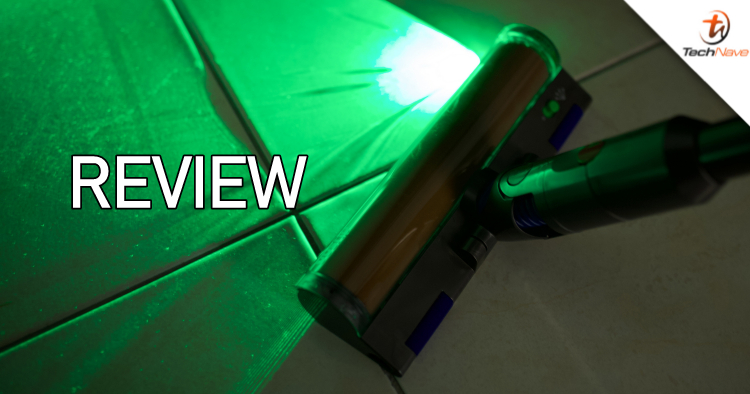 Dyson has long been known for their engineering and design knowhow in everything from personal transportation to bladeless cooling fans. They're the brand to beat when it comes to innovation and they've been doing that with their V series vacuum cleaners for some time. The Dyson V12 Detect Slim is one of their latest, featuring a laser vacuum head that supposedly makes cleaning easier. Is it worth the hype and RM3299 price tag it's going for? Find out in our review of the Dyson V12 Detect Slim below.
At first glance, the Dyson V12 Detect Slim looks like something Thanos might enjoy with it's bronze body, red detailing and purple head display, however, it's very solidly built with very good design. Attachments and accessories easily click into place yet are firm even if you wave them about and you don't need to press that hard to release them either.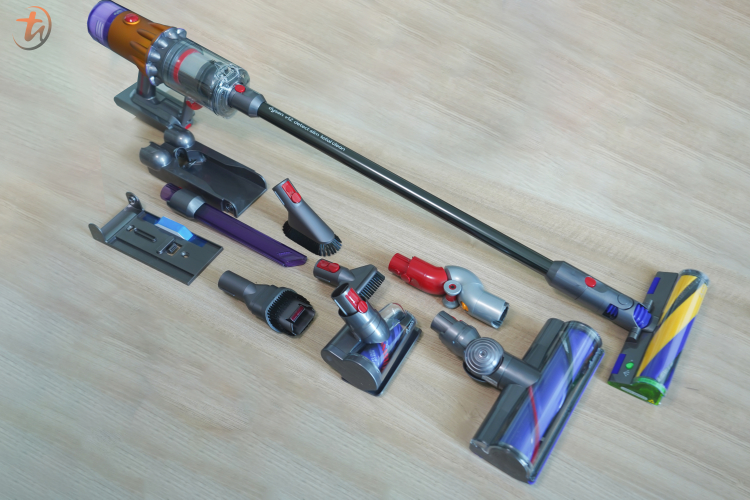 Here's everything inside the box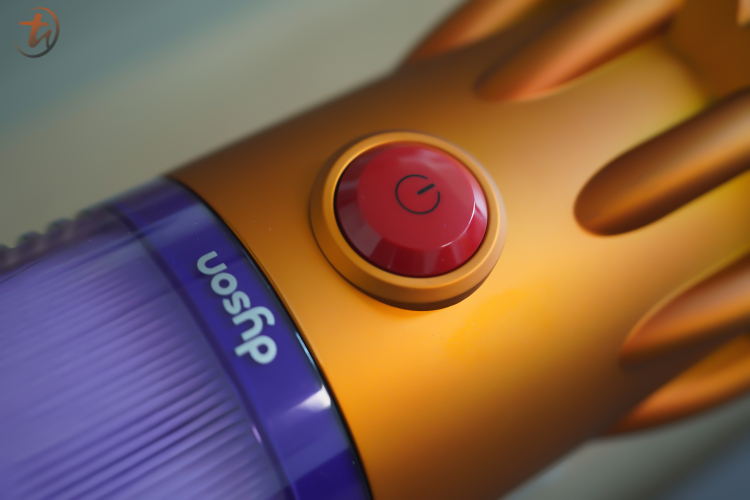 The big red power button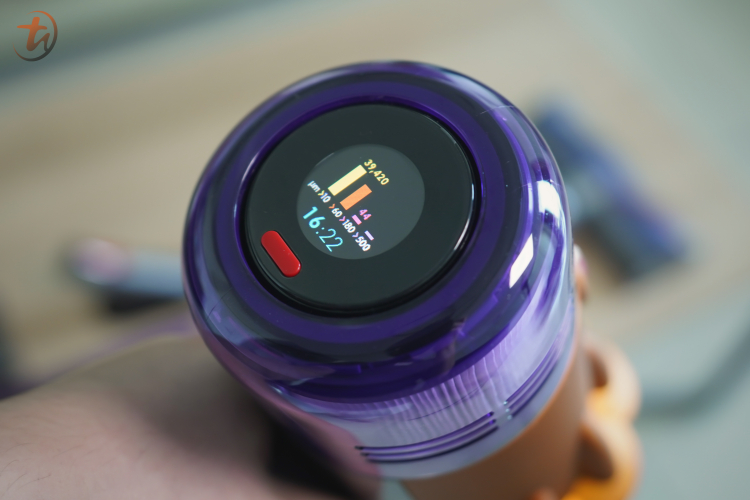 The colour LCD on the top shows all the details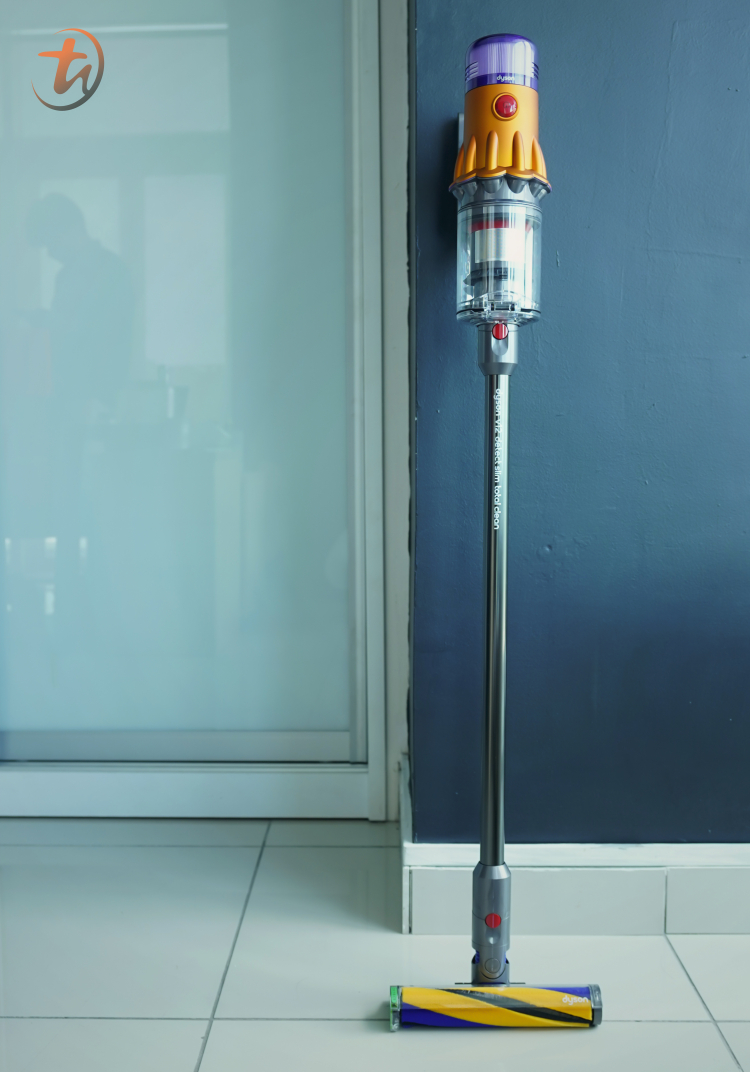 This is how the Dyson V12 Detect Slim looks like fully assembled
At 2.2kg, the V12 Detect Slim is still rather heavy to use one-handed (30 minutes is enough to make my hand hurt) but if you use both hands, even a child could use it. On top of the transparent purple head, there's a colour LCD display that shows power (Eco, Auto, Boost) levels, what particles were sucked up and so forth. Controls are simple with a single big red button on the side for power and a button near the display to turn it on and cycle through options.
Of the 3 V12 series, the V12 Detect Slim is actually the midranger with 2 cleaner heads and 6 accessories which includes the Direct Drive cleaner head for carpets and harder surface and the Slim Fluffy cleaner head with the aforementioned green laser. The 6 accessories include a Hair screw tool for cleaning fur and loose hair on beds and a light pipe crevice tool for tight spaces that also has a bright white LED light for those dark areas.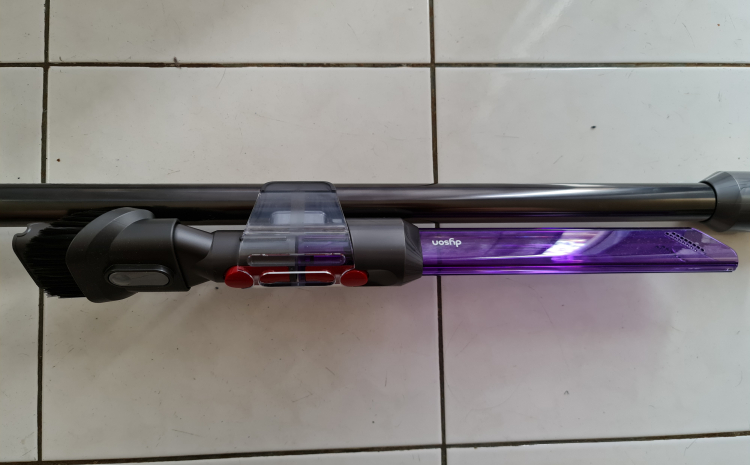 For easy head changing during cleaning
There's also 2 brush accessories, an angle accessory and a head attachment accessory that you can clip on to the main wand for quick and easy head changing. Other things in the box include a wall charger dock and the charger itself along with the manual and other documention but you can learn everything you need to know from their site online.
Actually using the V12 Detect Slim feels fun and exhilarating, especially if you're used to more traditional bagless vacuum cleaners, as the V12 Detect Slim easily picks up dust even on Eco mode. The rollers in the cleaning heads work wonderfully well compared to the more traditional vacuum cleaner heads, but the Direct Drive cleaner head is clearly better at cleaning carpets.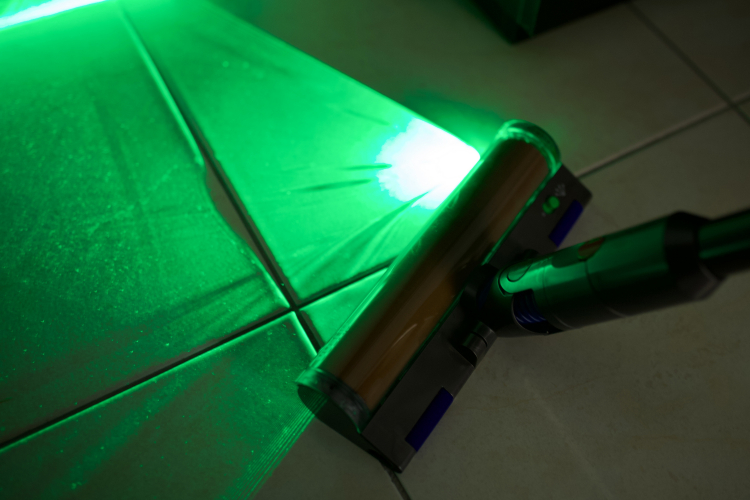 The laser really does highlight the dust that you didn't think was there
The laser equipped Slim Fluffy cleaner head on the other hand only activates when the power button is actually on, and it really does highlight dust and other particles you'd normally not see. It's both satisfying and slightly disturbing to see how dirty my home actually is though, so I expect this would be great for people with OCD but may spoil people a bit for vacuums that don't have lasers equipped to them.
According to Dyson, the V12 Detect Slim can last "up to 60 minutes of fade-free suction power", which probably translates to an hour of continuous usage with no weakening of the suction at the end of said 60 minutes. On intermittent usage it can last for up to a week unless you're doing a serious 1 hour clean, but charging doesn't take much longer than 2 hours or so.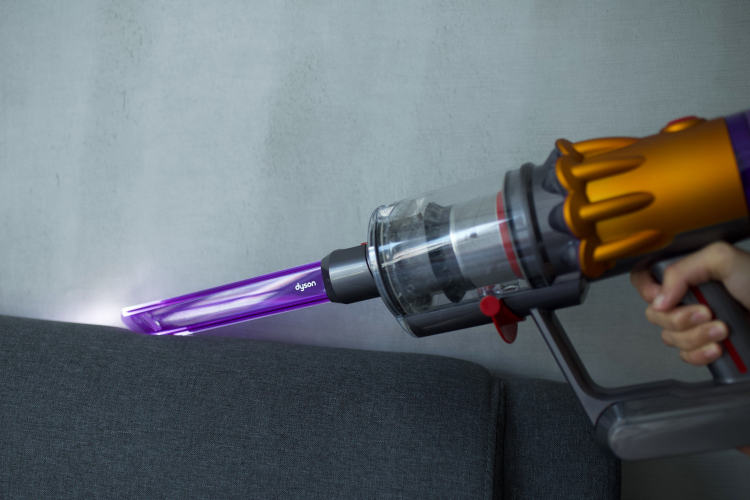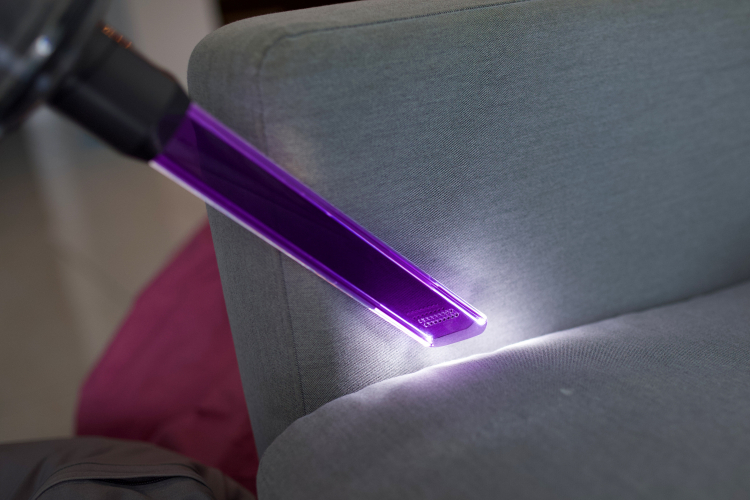 The crevice tool lights up at the end for easier cleaning
Emptying the V12 Detect Slim is super easy due to the release system but it can only take a small amount of debris before it needs to be emptied. This means you'll have to do frequent trips to empty it while cleaning. While you can remove the metal filter part to be washed, long hair does tend to get caught in it, which results in me still having to stick my fingers in to pull them out. It sort of makes me wish Dyson had included a cleaning tool for their dust compartment too, especially since the metal filter has to be completely dry after washing before you should put it back in (Dyson recommends waiting 24 hours for that).
On Auto, the V12 Detect Slim does actually increase and decrease suction power depending on the situation or need, so this is a good thing for newbies while Eco mode makes it fairly quiet for a vacuum cleaner. Boost mode makes it into an angry snarling beast though, so you should only use that if you really need to. I didn't get any snarls or jams in the rollers due to long hair, but the rollers are removable and can be cleaned separately but again Dyson recommends that these be dried 24 hours first as well.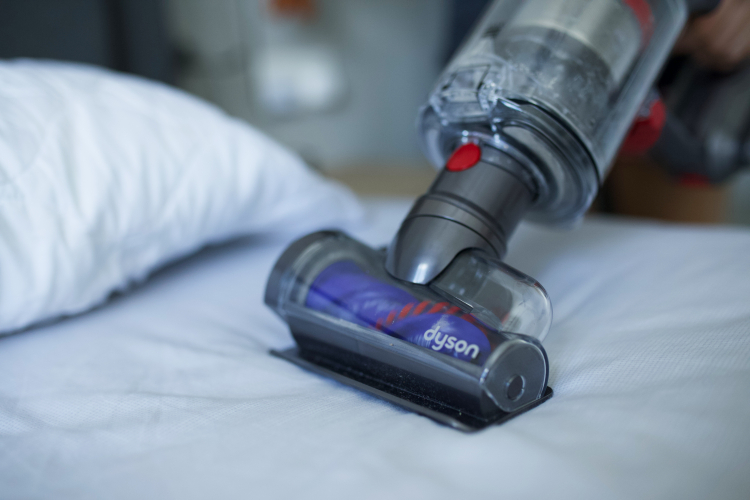 If you know there's likely going to be hair or fur, use the Hair Screw tool
Overall, the Dyson V12 Detect Slim is one of the most satisfyingly new vacuum cleaners to get for those shifting over from the more traditional bagless vacuum cleaners. All the attachments and cleaning heads offer a total package, making it fit for the new household just starting out (maybe as a wedding gift perhaps?).
At RM3299, it is a bit pricey though, but since Dyson was the original innovator for these types of vacuum cleaners it makes sense to pay them more so that they can continue to innovate. However, if price is more your concern then there are similar vacuum cleaners from Roborock or perhaps the new Dreame brand at more affordable prices. Even realme and Xiaomi are also coming in with their similar vacuum cleaners too.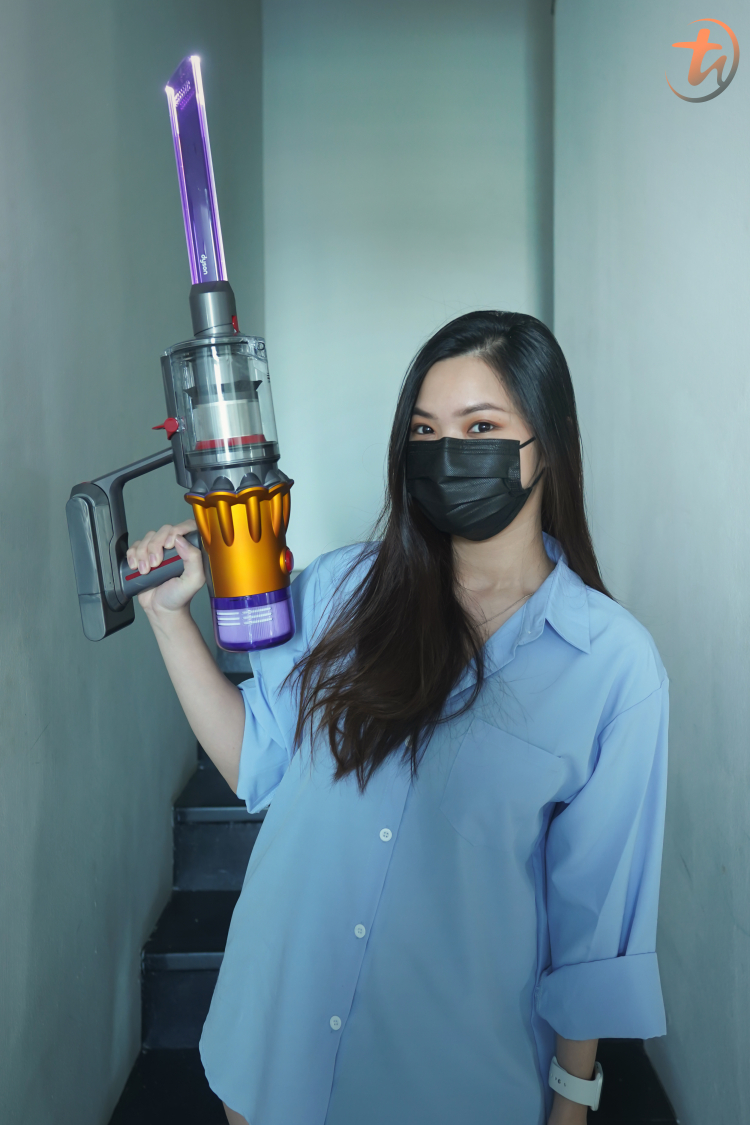 Even though it weighs 2.2kg, you can still hold it for short periods of time
I would have liked the Dyson V12 Detect Slim more if the price was lower, it could clean up wet stuff and if there was an attachment to clean ceiling fans easier (the laser doesn't help if you can't see it, lol). However, it's still one of the better branded vacuum cleaners out there. Thankfully, there should be a sale for the V12 Detect Slim and other Dyson devices this 11.11 or next month's 12.12, so you could probably get it at a better price then.
What do you think? Would you buy the Dyson V12 Detect Slim or do you know anyone who has bought it? Tell us your experiences in our Facebook page, so we can all compare notes and stay tuned to TechNave.com
Tech Specs and Features
Here are the tech specs and features for the Dyson V12 Detect Slim smart vacuum cleaner:
laser and dust detect technology

Auto suction power

Dyson Hyperdymium motor

7 vortexes for stronger suction

2.2kg

Includes 2 cleaner heads, 6 accessories + Wall Dock charger

up to 60 minutes fade-free suction
Pros and cons
Pros: Strong but portable smart vacuum cleaner from Dyson. Laser really does highlight dust better. Hair screw and crevice tools are very useful.
Cons: Very Pricey. Only for dry stuff. Small max dust space is difficult to clean if it clogs. Still quite heavy one-handed.
Summary: Great premium Dyson smart vacuum cleaner bundle for the Obsessive Compulsive (OCD) home cleaner