ESCAPE by Celcom offers RM50000 worth of duit raya and more for #SalomaHariRaya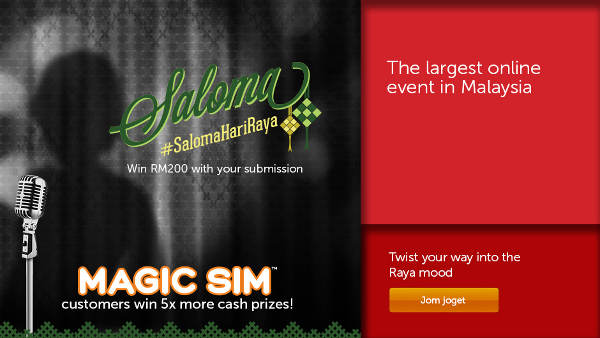 ESCAPE Axiata Sdn Bhd, a fully owned subsidiary of Celcom Axiata Berhad have announced a new #SalomaHariRaya campaign offering duit raya and prizes worth up to RM50000 for all Malaysians from 26 June 2015 to 18 August 2015. To enter the contest, participants may lip-sync or sing to the Saloma sung 'Selamat Hari Raya' song, record it and share it on Facebook, Instagram or Twitter with #SalomaHariRaya and @SalomaHariRaya tags. MAGIC SIM users can get extra duit raya with an additional #MAGICSIM hashtag. Participants can check their submisions at www.celcomESCAPE.com. The Top 50 submissions may win a chance to win RM200 duit raya from the total amount and may also appear in a final mash-up video at the end of the contest. MAGIC SIM users will get an extra advantage here as well, as they can win up five times the duit raya for RM1000 duit raya. In conjunction with the campaign, Xpax MAGIC SIM subscribers get to watch 6 complimentary box-office movies this Raya period at www.celcomESCAPE.com/magic. The movies include various box-office hits with each title starting with the letters 'S', 'A', 'L.', 'O', 'M' and 'A'. Here's what Celcom had to say about the #SalomaHariRaya campaign:
"Once again, we would like to showcase Celcom's passion towards bringing Malaysians together, regardless of their backgrounds and inspire them to share the Hari Raya spirit. By joining the #SalomaHariRaya campaign, Malaysians will not only be able relive the joy of celebrating memorable Hari Raya moments with their loved ones but also collect cash prizes in the form of duit raya. Besides rewarding our customers for their support throughout the years, we at Celcom believe in continuously engaging with them for an enriching customer experience. The #SalomaHariRaya campaign also aims to foster creativity amongst our customers to come up with winning ideas and enable them to experience the best digital services from Celcom's fastest and widest network. We are confident that the campaign will receive a good response from all Malaysians and we look forward to reviewing their submissions." Dato' Sri Shazalli Ramly, Chief Executive Officer of ESCAPE Axiata Sdn. Bhd. and Celcom Axiata Berhad.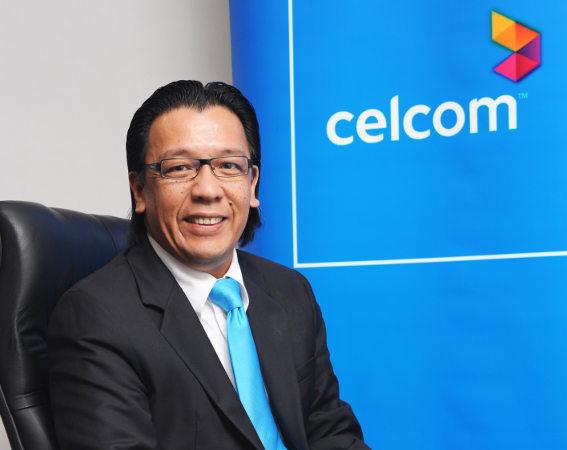 Dato' Sri Shazalli Ramly, Chief Executive Officer of ESCAPE Axiata Sdn. Bhd. and Celcom Axiata Berhad
In addition to the #SalomaHariRaya campaign, other Celcom promotions for Hari Raya include:
Discounts of up to RM400 for device bundles with selected FIRST by Celcom plans. Includes Samsung Galaxy S6, Samsung Galaxy Note edge, BlackBerry Classic, Samsung Galaxy S6 Edge, Samsung Galaxy Note 4, iPhone 6 and iPhone 6 plus. This will be available from 23 June 2015 to 31 August 2015 at the Celcom Site.
Celcom customers can also subscribe to Malay dramas at RM3 per week and get FREE ESCAPE Movie passes, with 15 of these lucky customers getting the chance to win RM1000 duit raya. To apply send SMS ON DA or ON MB to 26633.
Call Me Tones from 'All Time Favourite Ramadhan' and 'Raya Call Me Tones Idol' are also available for download during the campaign period via an SMS CMT <Songcode> to 22990. For this campaign, 30 lucky subscribers could win RM1000 duit raya as well. Check out www.thecube.my for more information.