Edifier P841 headphone and P293 earbud review - Good quality budget audio products
Back in January, we reviewed the Edifier W855BT Stereo Bluetooth Headphone and we thought the headphone is pretty worth buying considering its price (RM439) and great sound quality. Now we're back again with another Edifier sound device, not one, but two of them which include the P841 Headphone and P293 Earbuds. Priced at RM145.90 and RM79.90 respectively, the reason why we are reviewing two units at the same time is well...because we can.
Design - Nice and lightweight
Much like the W855BT Headphone, the P841 also features a nice leather padding on the ear cups, same goes to the top. Aside from that, everything else is made out of plastic which makes the device lightweight, and the extendable extension is metal; giving you the option to adjust according to your head size.
The leather ear cups and top, with plastic casing
The whole package for the P293 Earbud
On the other hand, the P293 Earbud is just like any earphones except that its rubbery coil is the flat type (great for "untangled" wires) and the in-canal earbuds have a unique structure that allows the silicon earbuds to enter "further" (at least that's how I felt it) and closer to your ear canal.
A closer look at the design
Tech-specs and features - Good enough but nothing really stands out
Here are the tech-specs for the two audio products:
Edifier P841 Headphones specifications
Product type - headset, moving coil
Driver unit - 40 mm
Impedance - 32 Ohm
Sound Pressure Level (SPL) - 98 dB
Frequency Response - 20 Hz ~ 20 KHz
Cable Length - 1.3 M
Connector - 3.5 mm stereo
Accessory - Wire Clip*1
Edifier P293 Earbud specifications
Product type - enclosed, moving coil
Driver unit - 10 mm
Impedance - 32 Ohm
Sound Pressure Level (SPL) - 106 dB
Frequency Response - 20 Hz ~ 20 KHz
Cable Length - 1.3M
Connector - 3.5mm stereo
Accessory - Silicon ear buds (2 pairs), connector*1, wire clip*1, pouch
The wired controller and 3.5mm headphone jack
Alright, so…the features. Actually there's nothing to talk much about the P841, because from inside the box, it only comes with a clipper and a manual booklet giving you instructions on operating the wired controller. Which only leaves us the earphone...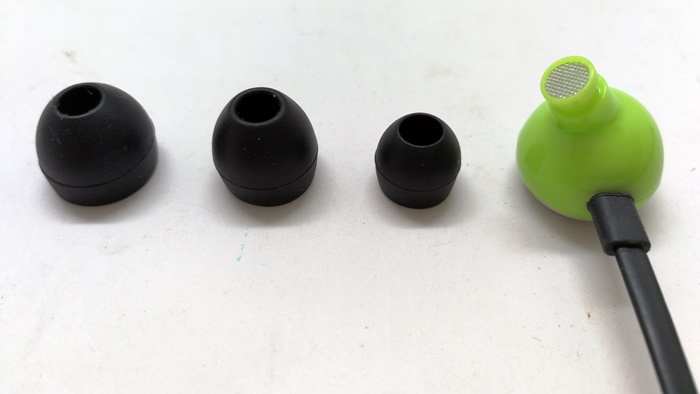 The P293 comes with a manual booklet and a clipper as well, but also with two extra pairs of silicon earbuds which is standard, big earbuds for large ear holes; and small earbuds for smaller ones. For those who aren't aware of why there is a need for extra earbuds, this is because our ear holes are actually not perfectly in sync with each other, as in one can be slightly bigger than the other. Like for my case, my left ear hole is actually smaller than the right side. With that, you can do some experiment on which one is the right combination.
Also, a connector is included inside the box for the audiophiles, which is for connecting into a high-end audio device to enhance the sound. There's a small pouch for keeping the P293 inside safe and sound.
Performance - Good quality sound
Continuing on the P293 earphone, the music quality just sounds great especially with how the silicon earbuds just naturally creates a seal within your ear canal, blocking the sounds from outside. Personally, I think the P293 sounds great with electronic-type of music as opposed to others, not saying the others don't sound that great with it, just that the former suits the P293 better. But then again, you can always adjust the sound setting in your respective smartphone.
That being said, that's not always a good thing, since with the vacuum effect it also means it's not ideal for going outdoor exercise, trust me; you will hear more of your own heartbeat and the rubber coil moving more than the songs.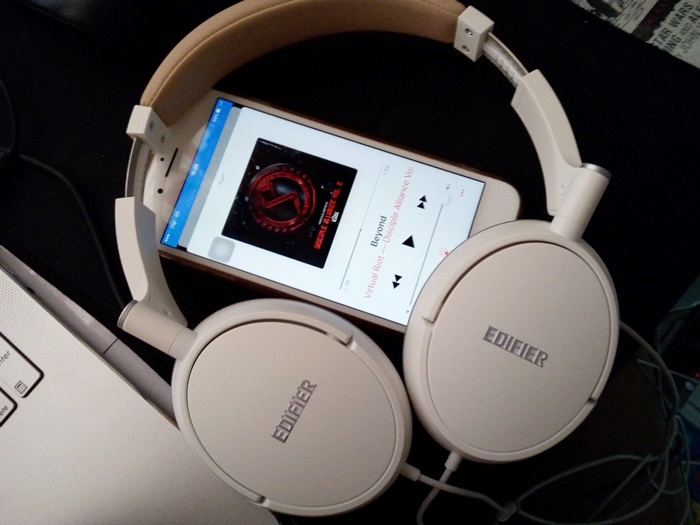 As for the P841, this headphone perfectly balances up the treble and bass altogether. In fact, if I were to compare this with the W855BT Bluetooth Headset; I might actually prefer this one because it also sounds great on videos, where the voiceover doesn't sound too soft and gets overpowered by the background music. And of course, this headset is best used at home because it doesn't have the vacuum effect.
In case you're wondering if both of these audio products works the same for both Android and iOS, they do and there's no difference, however, your ears will start get "gasping" for air after a long period of time, so there's that. In addition, they are capable of taking incoming calls as well, and not too shabby for gaming too (although gaming headphones are obviously better).
Conclusion - Good budget audio products
Overall, these are pretty good audio products by Edifier at reasonable prices, but if it were me, I'd choose the P841 simply because I prefer headphones and it has better sound balance compared to the earphone. Not to mention, both are lightweight and have a nice simple design.
As mentioned earlier, in comparison between the P841 and W885BT, I personally prefer the P841 because of a better sound balance. Also I don't need to charge the headphone and it costs way cheaper (the latter costs RM439). But if you prefer bluetooth headsets, the W885BT isn't that bad either, which you can check out in our review for it.
While you're at it, maybe you can head over to their website and check out the rest of their audio products, ranging from earphones to speakers. That's all from us, stay tuned for more reviews at Technave.com.