Enjoy 10% reload discount on 11street for new MAGIC SIM subscribers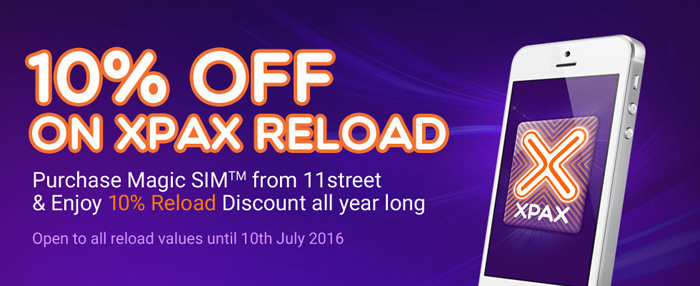 If you are thinking about jumping ship to XPAX Magic Sim, right now is probably the best time. If you buy the sim from 11street, an online shopping platform based in Malaysia, you can enjoy 10% reload discount on any reload values. This benefits will only apply to XPAX Magic Sim new subscriber, and you can get Magic Sim from as low as RM5 with initial RM3 credits and 200MB free high-speed data.

All you need to do is to download and install the 11street.my app, then log-in and buy the Magic Sim for RM5 (free shipping). You need to purchase the top up from within the 11street.my app itself to enjoy the 10% reload promotion of RM10 for RM9, RM30 for RM27, RM50 for RM45, and RM100 for RM90. The promotion will last from 11 April 2016 until 10 April 2017. But the "Open to all reload values" will only continue until 10 July 2016 which probably means after that you can only get 10% discount from only the selected reload values that they offer.
[Source]