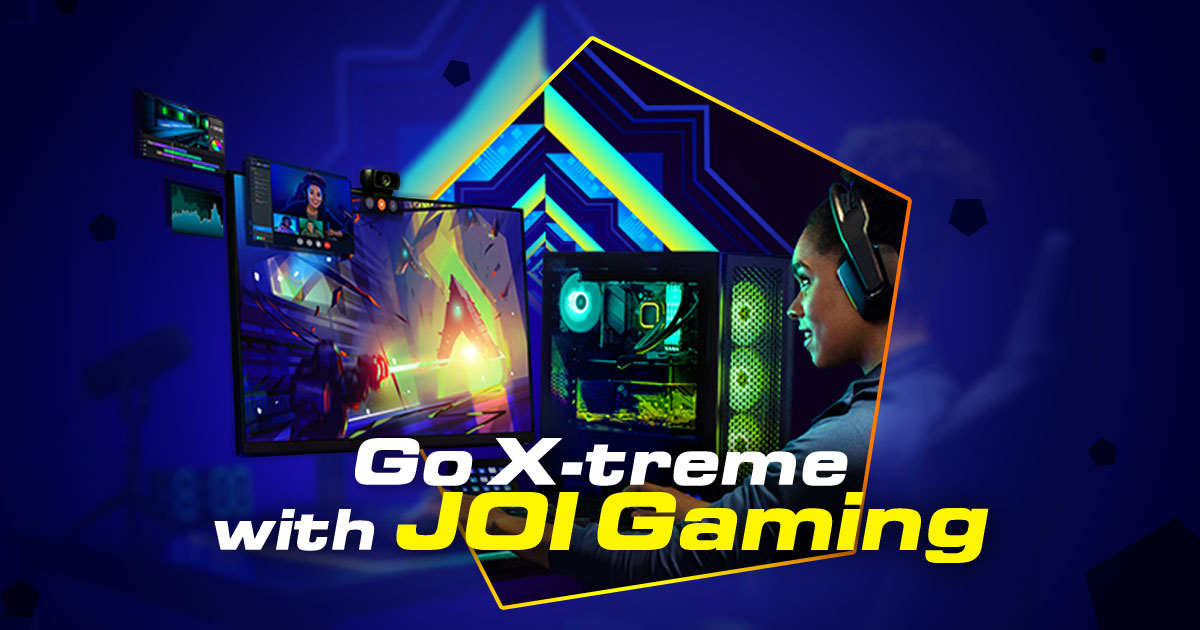 Are you planning to get a gaming desktop PC? In that case, you could go for a setup that includes a powerful 12th Gen Intel® Core™ processor. If you don't know how to shop for parts and prefer to get a prebuilt gaming rig, there's various options but you won't go wrong with these JOI Gaming PC X-treme bundles from Notebook Plaza. Here are a few reasons to consider these Intel®-powered PC deals.
Power + Efficiency
When it comes to desktop CPUs, tasks are loaded onto the different cores according to workload. Note that these CPU cores are identical, and don't perform any differently from each other. However, that's changed with the 12th Gen Intel® Core™ processors.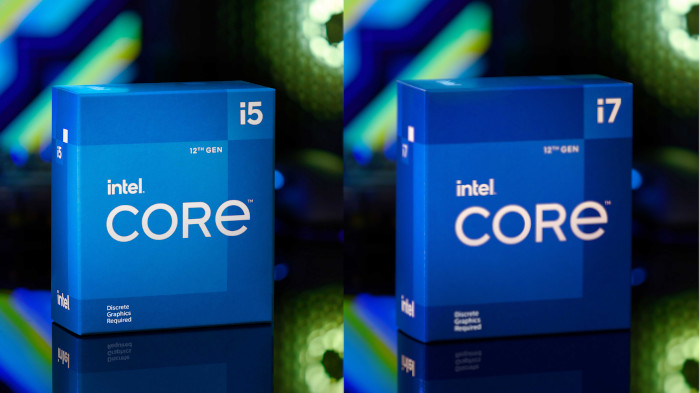 The new CPUs now feature a hybrid architecture that combines performance-cores and efficient-cores. Intel® has optimised its new 12th Gen chips for different tasks or apps. This results in better performance in games, productivity tasks, and creative work.
Older or simpler apps like WhatsApp will use the performance-cores (or P-cores), which were designed to handle single or lightly-threaded tasks. As for highly-threaded programs like PC games or web browsers, the Efficient-cores (or E-cores) will take over instead.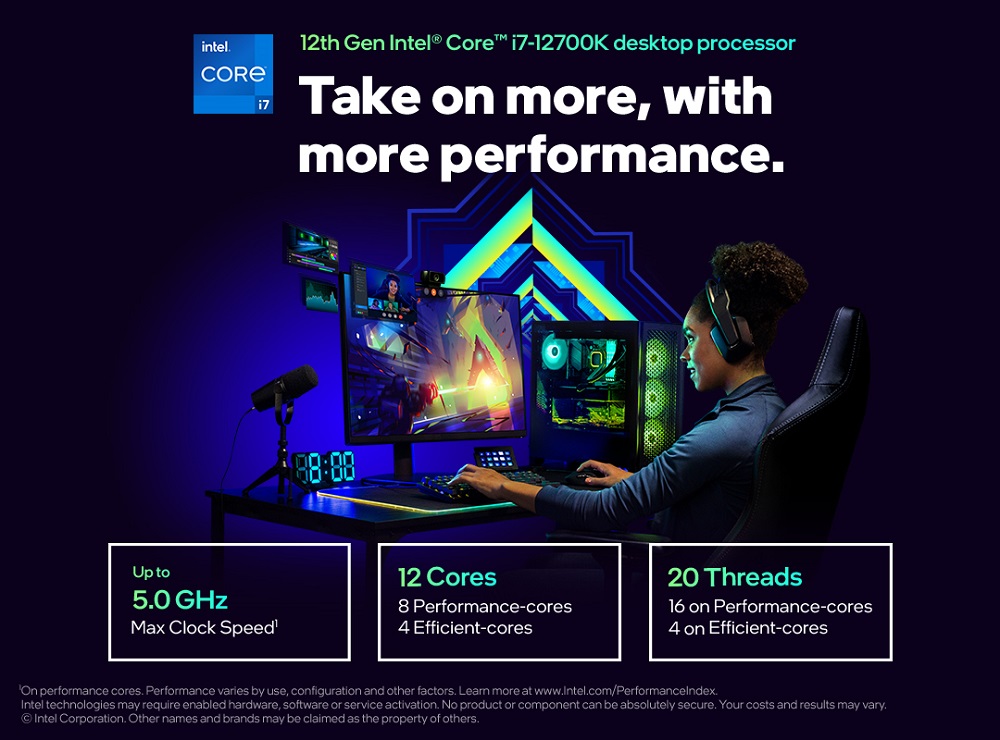 Future-proofed tech
Tech in PCs can take a few generations for significant updates, and the 12th Gen Intel® Core™ processors are when we finally get it. The new CPUs come with a full range of new innovations like PCIe 5.0, DDR5 RAM support, and more.
With PCIe 5.0, you'll get double the bandwidth of the previous standard. This ensures that you can take maximum advantage of the latest high-end SSDs or graphics cards. Then there's the DDR5 RAM support, which allows for transfer speeds of up to 4800 MT/s. For your info, that's 50% faster than the 3200 MT/s for DDR4 RAMs.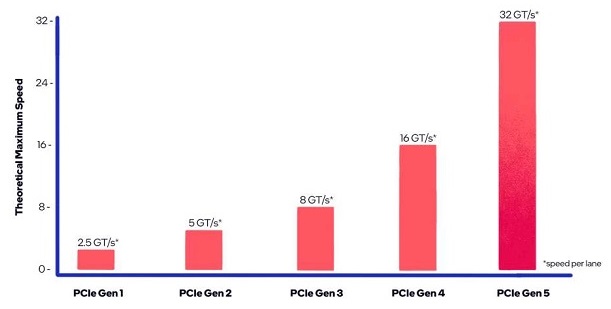 Enhanced integrated graphics
Another upgrade with the new generation is the graphics. The 12th Gen CPUs come with Intel® UHD Graphics, powered by the company's latest Xe Architecture. This new integrated GPU promises up to 8K HDR video in rich colours and supports up to 4 simultaneous 4K displays. The latter is super useful for multi-tasking!
Fast Wi-Fi and more
In addition, the 12th Gen CPUs come with a bunch of features. This includes the Intel® Wi-Fi 6E (Gig+), which offers much faster Wi-Fi speeds than before. Specifically, you're looking at almost 3x faster connectivity without interference. That's incredibly useful for remote playback of high bitrate multimedia content or high-quality online streaming.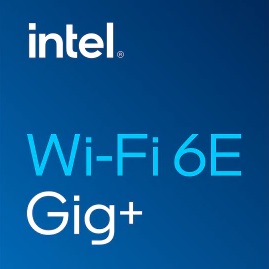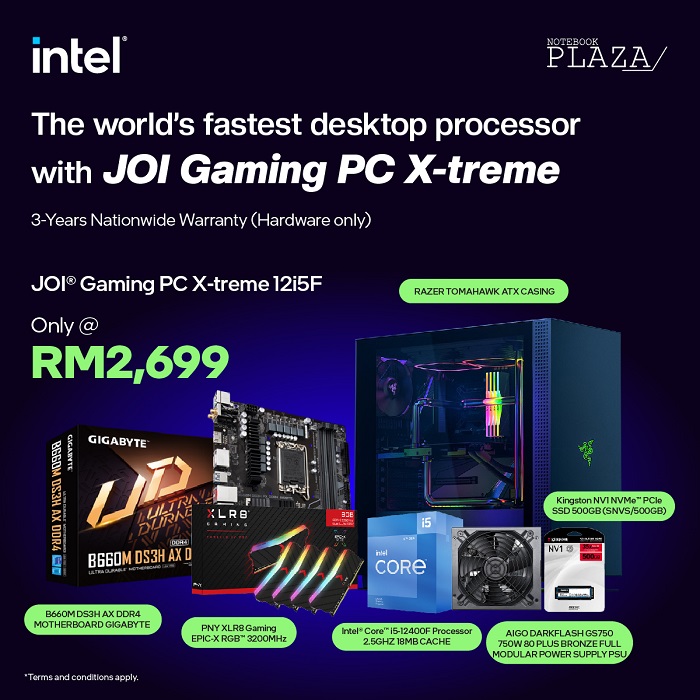 As you can tell, you can get significant upgrades by going for the 12th Gen Intel® Core™ processors. If that's something you'd be interested in, you could check out the X-treme JOI Gaming PCs by Notebook Plaza. The company has a few gaming rigs available, including a basic bundle at just RM2699 and other options with increasingly better hardware. There's also a PWP offer for those who want to get a graphics card for the bundles without one.
If you're interested, check out Notebook Plaza's website for more details. You can also buy the bundles from the GLOO Concept Store and website or from the iTworld website. So, which bundle would you get if you plan to buy a new gaming PC? Let us know in the comments, and stay tuned to TechNave for more updates on local promos and deals.