First impressions on the LG C9 Smart TV - Same look but with upgraded ThinQ AI features!
Unlike the smartphone industry, the TV industry has fewer brands that people recognize and choose. Personally, only LG, Sony, Samsung, and Panasonic would come to mind, but it still isn't easy choosing a smart TV from these brands as all of them make good products. But anyway, today I'll be talking about a new LG smart TV - the 65" C9 OLED HDR Smart UHD TV with ThinQ AI.
Phew, that was a mouthful, but to keep it short I'm just going to call it the C9 TV. Just earlier this week, I had the opportunity to check out the TV first-hand at a really comfy and nice living room setting. But is it any different from the previous model? What upgrades did it get this time? Let's dive in, shall we?
Still the same design
Starting with the smart TV design, it's exactly the same design with the predecessor. Some may see it as lazy, some may not care but as the popular saying goes -"If it's not broken, don't fix it". So, this is what LG did with the C9 TV.
The C9 TV in the flesh together with the LG Soundbar, look at those narrow bezels! <3
The C9 TV retains the same look including that super-thin screen panel
For measurement purposes, it's as thin as these papers clipped together
Simple cable management layout and the back design and speakers are at the bottom

Many, many AI features
Another popular saying is "Never judge a book by its cover", which is what the new LG C9 TV is. Same look, but now it's packed with a few new features such as the 2nd Gen a9 Intelligent Processor. What sets this apart from the 1st Gen is that the former has a new deep learning AI algorithm which can enable better imagery and custom sound on a movie file. For example, if your favourite old school movie doesn't have 4K and Dolby Atmos, then the 2nd Gen a9 Intelligent Processor comes to the rescue.
I'm not saying it will convert into 4K (although that'd be awesome), but rather an improvement on the graphics and sound. Speaking of improvement, there's also AI Picture that helps on Noise Reduction and this isn't the first time. Like the processor, AI Picture is a tag-team partner that helps to optimize the clarity, sharpness, details and brightness of the visuals, making the noise disappear which is nice. On the other hand, AI Brightness helps to optimise the brightness in low-light environment scenes.
Just some visual presentation from the C9 TV
Animated movies are pretty great on this one
You can find AI Picture and Dolby Vision in Picture Mode too
Last year, I wrote that I didn't have the best environment for testing the sound out so that was most unfortunate. Thankfully, the folks at LG Electronics Malaysia listened and we got ourselves a nice living room as mentioned earlier. Like most smart TVs, the sound would either come out of the back, bottom, or the screen itself (new tech). While the C9 TV has a pretty balanced sound, its AI Sound feature can mix up the 2.0 channel sound into virtual 5.1 surround sound and that's not all, a new AI Acoustic Tuning can redirect the sound to where you are sitting! Unfortunately, you will have to manually set the AI Acoustic Tuning with the Magic Remote so it's not really automatic (lol).
Of course, as a smart TV, it's bound to come with an LG AI TV voice assistant and there are quite a few commands it understands. This includes simple phrases such as "YouTube", "Cinema Mode", "Recommend a comedy show" and even "Find me recipes for ayam rendang". You can also pair it with your Apple or Android phone, which works with Siri and Google Assistant respectively.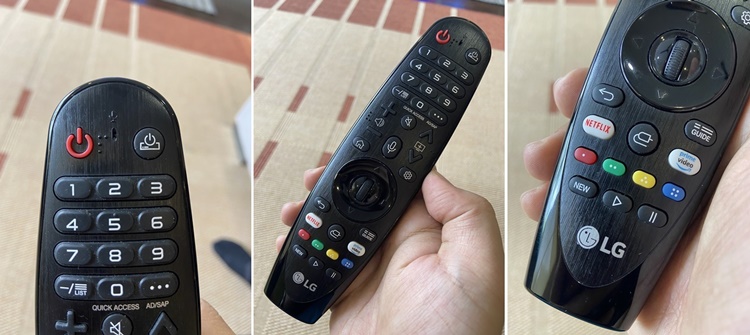 Just a closer look at the Magic Remote
Home Dashboard and AirPlay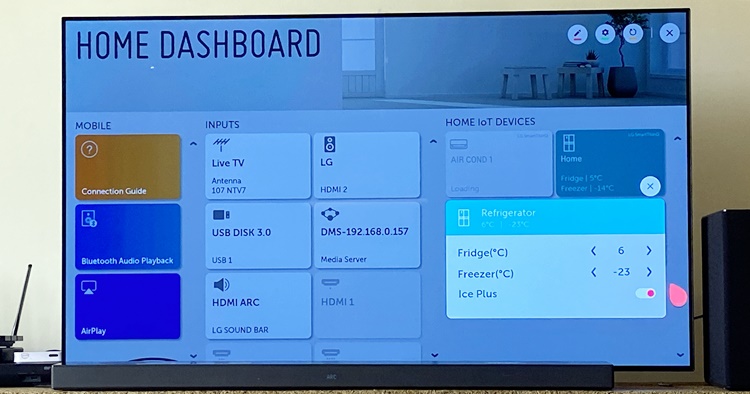 Adjusting the Home IoT Devices with the Magic Remote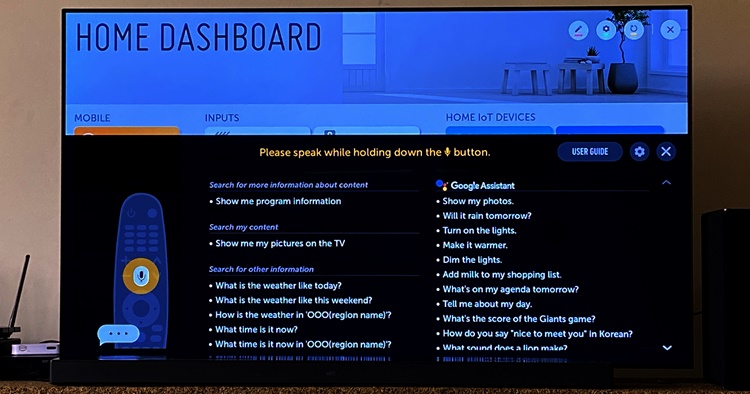 A bunch of commands that you can take advantage of
Home Dashboard is LG's own home page for managing the TV, as well as Home IoT Devices such as an air purifier, robot vacuum, refrigerator, and many more but as you suspect - this only works with LG products (dang it). However, devices with Open Connectivity Foundation (OCF) can be connected so it's still alright. On top of that, you can also control the Dashboard app from your mobile devices (Apple and Android).
While it's common for smart TVs to be integrated with Google services, seeing Apple associated with it is a rarity. That's right, the C9 TV now supports AirPlay (and Apple HomeKit) where you can mirror your iPhone, iPad or Mac to the TV effortlessly without an actual Apple TV. In fact, as long as any devices (including speakers) are supported with AirPlay 2, you're good to go with your Apple devices.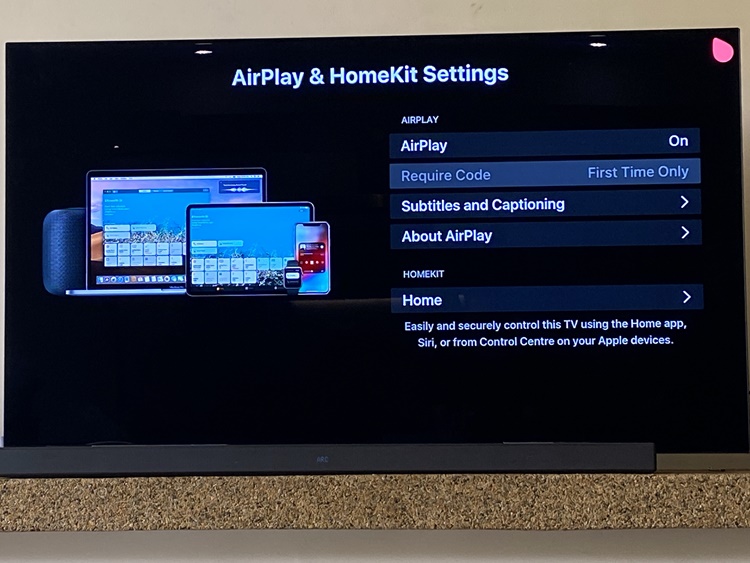 AirPlay support on the C9 TV!
Closing thoughts on the C9 TV
I think in terms of improvement, the new C9 TV is definitely an eye-catching smart TV and should attract Apple users (me) since it supports AirPlay now. Besides that, the AI features should be able to bring a rather cosy cinematic experience at home but because I only spent an hour there, this is as much as I can tell you from my first impressions. For the price, this unit model cost RM17,499 which may be a bit steep for some but thanks to the Christmas promotion, you can actually get it for RM13,999 which doesn't seem too bad for a smart TV.
So these are my thoughts on the LG C9 TV, but what do you think of its AI features? Is it necessary for you? Let us know in the comments below and stay tuned for more LG news at TechNave.com.