Folding dual screen Microsoft Surface Neo tablet and Surface Duo phone running Windows 10X and Android revealed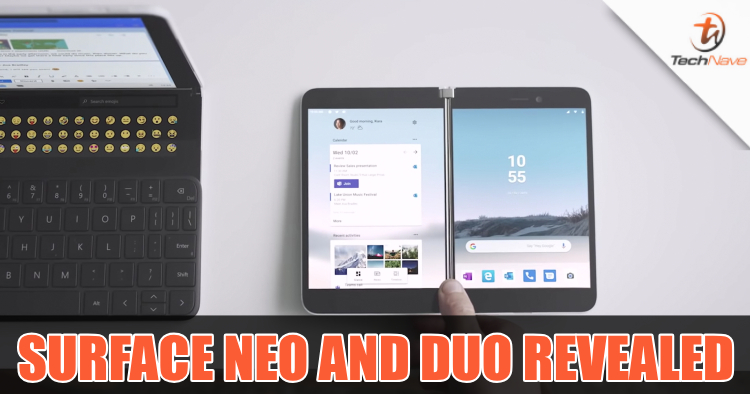 Microsoft have recently revealed their Surface Neo tablet and Surface Duo phone with folding dual screens which can be folded inside and outside. The Surface Neo is likely the more powerful Intel powered device with Microsoft Windows 10X and a keyboard attachment that makes it look like the ASUS ZenBook Pro Duo (yeah, the keyboard leaves some of the touchscreen uncovered which then automatically sizes itself accordingly). The Surface Duo phone appears to be an Android-based Microsoft phone (Microsoft say they are working closely with Google).
The hinges for both devices appear to be 360 degrees that can be fixed, so that they can stay as a laptop or tent mode. Or they can be folded with the screens on the outside so that the Surface Duo can be used as a phone and the Surface Neo as a more traditional tablet. Both can use the Surface Pen stylus so we expect the screens to be covered with glass. The Windows 10X apparently lets you swipe stuff between screens but there's still a gap between them.
The Microsoft Surface Neo
The Surface Neo unfolded is also said to be 5.6mm thin, so this likely appears to be the same for the smaller Surface Duo. Microsoft have said that both are super lightweight as well. It's not the first time brands have done dual screen devices and screens are the main energy guzzlers for battery life in any mobile device, so while we're interested in the dual screen folding form factor we are wondering just how well Microsoft managed to pull it off especially when most phones are expected to last a full day.
No other tech specs or features were revealed and no Malaysia release dates or pricing details yet, but it is expected to come to the US in Holiday 2020 (probably Q4 2020) so we expect them to come to Malaysia a few months after, if they come at all. Would you be interested in a dual screen folding Microsoft tablet or Microsoft Android phone coming the end of next year? We might be, for the right price, but what do you think? Let us know on our Facebook page and stay tuned to TechNave.com
The Microsoft Surface Duo