Fujifilm FinePix JX370 Camera Review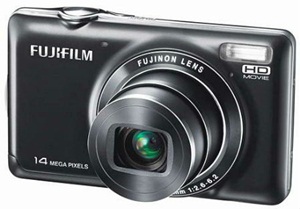 The Fuji FinePix JX370 / JX375 digital camera is an entry-level model, aimed at photographers who just want to capture their memories without needing to understand the whys and hows. Many buyers will be family documentarians looking to supplement their photo album, and perhaps even first-time digital camera users. For that reason, ease of use is the JX370's core design principle.

Fujifilm FinePix JX370 / JX375: Zoom Lens
That's not to say that the Fuji JX370 isn't capable, however. With a 5x optical zoom lens, the JX370 provides adequate zoom range for most shooters. The JX370's 28mm-equivalent wide angle should be enough even for indoor shooting, when you often can't simply take a few more steps back from your subject to fit everything within the frame. On the other end of the range, the 140mm-equivalent telephoto lets you more tightly frame your subject, helping make them the center of attention. A standard CCD image sensor with a resolution of 14 megapixels should provide plenty of resolution for typical home print sizes, even after some cropping to achieve a more pleasingly-framed scene.

Fujifilm FinePix JX370 / JX375: Image Stabilizer

Fuji JX370 lacks any form of mechanical image stabilization. Instead, it provides only what Fuji refers to as "digital image stabilization", which simply raises ISO sensitivity to avoid use of slower shutter speeds that might prove susceptible to camera shake. That might help reduce the prevalance of blurry images, if you don't mind images with higher levels of either digital noise, or the artifacts of processing to remove this, but it's no substitute for true image stabilization. Another concession to the entry-level pricetag is the lack of an optical or electronic viewfinder. Instead, you'll frame images at arm's length, as is the norm with most entry-level cameras. While neither as high-resolution or as large as those in pricier models, the JX370's 2.7-inch, 77,000 pixel LCD screen is typical of cameras in this category.
Fujifilm FinePix JX370 / JX375: SR Auto Mode

Among its ease-of-use features, the FinePix JX370 includes an "SR Auto" mode (that's 'Scene Recognition' Auto), which can recognize one of six common scene types: Portrait, Landscape, Night, Macro, Night Portrait, and Backlit Portrait. With an understandable focus on taking pictures of people, the JX370's SR Auto mode will configure the camera appropriately for whichever scene type it identifies, saving the photographer even having to manually choose a scene mode. Of course, you can also select a scene mode manually if you prefer, with a generous selection of seventeen scene modes to choose from, including common modes such as Fireworks or Baby, as well as less common choices like Natural Light. Finally, there's a fully automatic mode that doesn't attempt to perform scene recognition, and a Program auto mode that allows the photographer to tweak certain settings to their own tastes.

Fujifilm FinePix JX370 / JX375: Autofocus
Like most fixed-lens digital cameras, the FinePix JX370 relies on a contrast detection autofocus system, and as is the norm these days, this includes a face detection feature that can automatically located human subjects, then ensure that the dominant subject is correctly focused. The JX370 can identify ten faces simultaneously, and can warn you if anyone blinks at the moment of capture. There's also a Smile and Shoot function, which automatically triggers the shutter when your subject is smiling. Perhaps a little rarer at this price point is the fact that the autofocus system can recognize a moving subject, and track it as it progresses across the image frame.

Fujifilm FinePix JX370 / JX375: Motion Panaroma Mode

The JX370 include some other features that aren't especially common at the entry level, such as its Motion Panorama mode. This allows you to capture three sequential frames, with the camera providing marks on the LCD to help you correctly align each subsequent shot. The results are then stitched together automatically in-camera to yield the final panoramic image. There's also a Natural Light + Flash mode, which captures the same scene twice--once with high sensitivity to capture your subject with ambient light (and potentially higher noise), and the second shot with flash (ensuring there's no blur, but with the less natural feel that's typical of flash shots.) You can then select the image you want to keep and discard the other, or perhaps you'll decide you want to keep both!

Fujifilm FinePix JX370 / JX375: Video
As well as still images, the Fuji FinePix JX370 can capture high definition video clips, with a maximum resolution of 1,280 x 720 pixels, commonly known as 720p. Movies are recorded using Motion JPEG compression, a format that's fairly friendly in terms of its hardware requirements for playback and editing, not to mention widely compatible, but which can require a lot of storage space, since it isn't terribly efficient.

Fujifilm FinePix JX370 / JX375: Photo Editing

The Fuji JX370 includes some fun features for viewing, sharing, and retouching images post-capture. These include the ability to rate images (from one thru five stars), or to organize images into "photo books" in-camera. The latter function further allows you to order a printed copy of a photo book, either in certain stores, or on the internet. You can also search for a specific image by rating, scene mode type, date, or in a couple of more unusual ways. One of these lets you search for only solo portraits, pictures of couples, or group shots. The other allows you to search only for unedited still images, edited still images, or movies. Finally, you can edit photos to remove red-eye post capture, without a computer.

Fujifilm FinePix JX370 / JX375: Photo Sharing

f you have a PC, you can also tag images and movies to be uploaded to either Facebook or YouTube, automatically, when the camera is next connected to your computer. And if you just want to get an overall view of your images, you can view up to 100 thumbnails on-screen at once, if you don't mind squinting.
Fujifilm FinePix JX370 / JX375: Memory & Battery

The Fuji JX370 stores images and movies on Secure Digital cards, including the higher capacity SDHC types. Note, though, that it isn't compatible with the latest generation of SDXC cards. Power comes courtesy of a proprietary NP-45A lithium ion rechargeable battery, with BC-45W charger included in the product bundle.
Fujifilm FinePix JX370 / JX375: Connectivity
Two connectivity options are provided--USB 2.0 High-Speed data for getting images and movies onto your computer, and standard-definition composite video output. Note that there's no high-definition video output connectivity, though, so if you've upgraded to a high-def display, you'll not get the benefit of its resolution unless it can accept SD cards directly, or you have a compatible viewer. Fuji offers its own HDP-L1 HD player separately, for this purpose.

Fujifilm FinePix JX370 Specs & Price >