Garmin Venu Review - A pricey smartwatch for sports enthusiasts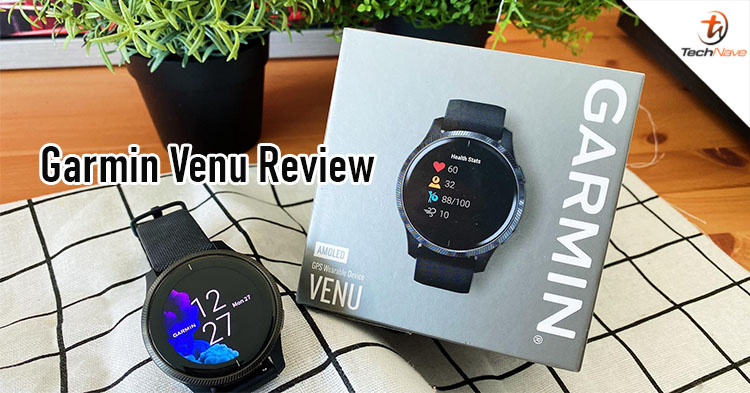 Are you tired of tracking your workout routine? Lazy to hit the gym? Want to listen to your music when working out but hate bringing the iPod or handphone around? The Garmin Venu got you covered! The smartwatch was launched last year but I was still curious on how it performs.
The smartwatch is currently RM1599 and that may be quite expensive for many users. Is it worth getting one? If you are considering it and want to know the pros and cons, you have come to the right place. Without further ado, here's my review and what I think of the Garmin Venu smartwatch.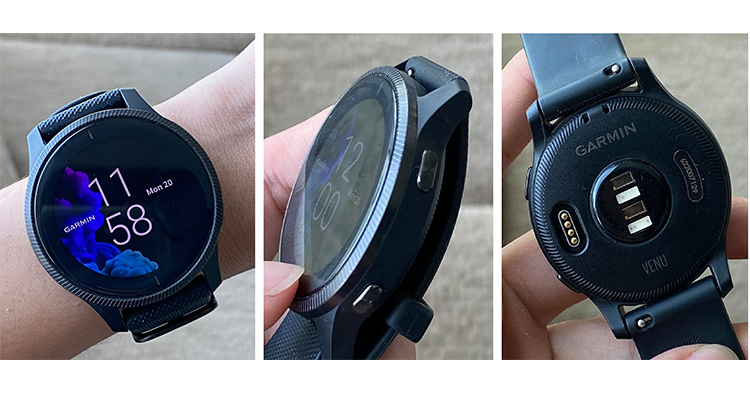 The design of the Garmin Venu
Starting with the design, it features a 1.2-inch AMOLED display and supports a touch screen with 2 buttons on the side. This touch sensitivity is quite sensitive as it responds fast to your commands, I'm also impressed with the colours because of the 390p resolution unlike the previous Garmin vívoactive 4S. Besides that, it is protected by Corning Gorilla Glass 3 and I can wear it everywhere I go with zero worries in the gym because it won't crack easily (p.s - I'm a clumsy person).
There are 4 color variants which are Black & Slate, Blue Granite & Silver (isn't it Gray?), Light Sand & Rose Gold, and Black & Gold. Combined with the stainless steel bezel and silicon material straps, you can change the strap with a variety of choices from colors to materials. If you're interested, you may pay a visit to their official website to check it out.

The colour varients of the Garmin Venu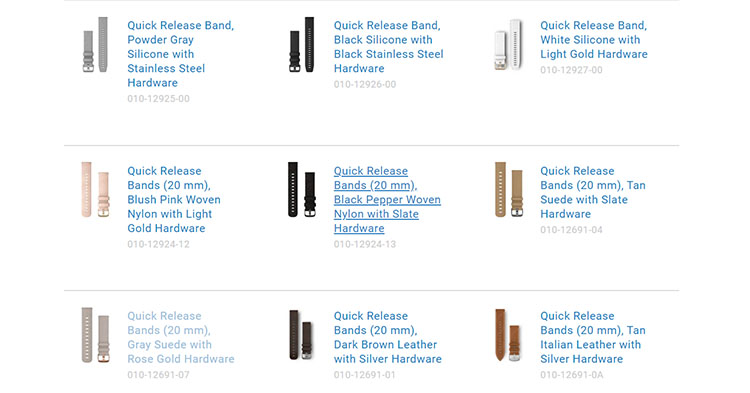 The Garmin Venu 20mm straps
On top of that, the smartwatch is preloaded with more than 20 GPS and indoor sports apps which you can track and record your workout, including running, XC ski, cardio, bike, elliptical, swimming, yoga, pilates, strength workout, SUP, rowing and there's even golfing. On the other hand, you can follow Garmin Coach which is a tutorial that is preloaded as well in the smartwatch. By using inbuilt animation workouts (like yoga and others), this tutorial is convenient to me because I can workout anywhere I want. In the meantime, it can alert you too to take a short break if your heartbeat rate is abnormal or feeling too stressed.
The smartwatch is 5 ATM which means it can withstand 50 meters down underwater. This also means you can wear it for swimming, snorkeling, diving, as well as resisting splashes, rain, and snow. I couldn't test its water resistance due to the on-going pandemic but it works just fine from water splashes. Besides that, you may add in more workout activities via ConnectIQ to create custom workouts like badminton, basketball, futsal, and more. At the same time, you may even add some games in it to play.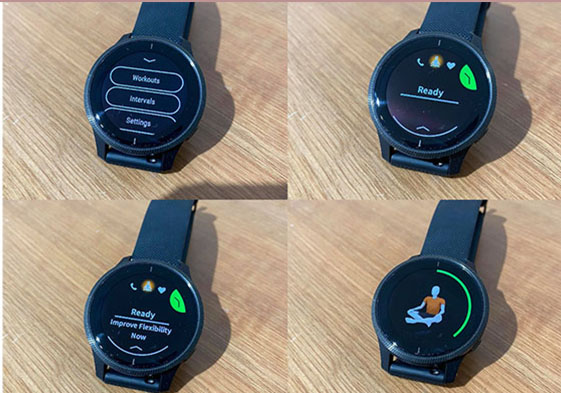 The Garmin Coach workout animation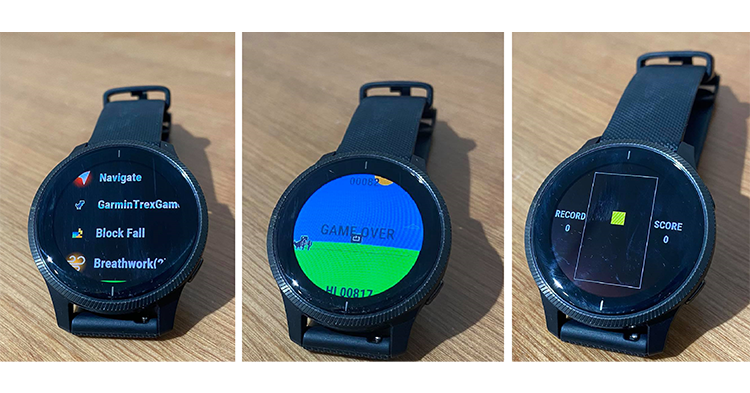 The Games from ConnectIQ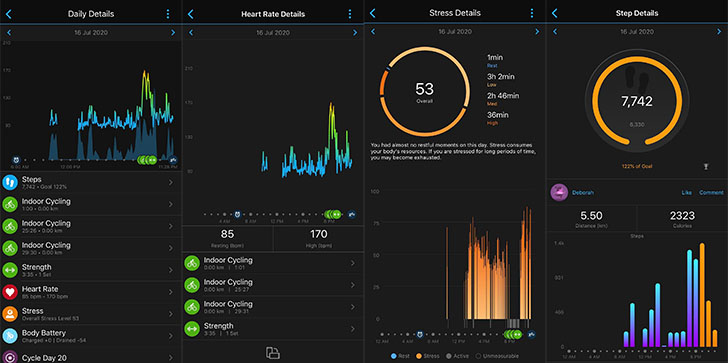 The sample of the result of the day
Can't sleep well? Didn't get enough quality sleep? Having stress during work? No worries, the Garmin Venu covers it for you because it can track your pulse OX, heartbeat, sleeping habit, and respiration tracking. Once it detects that unusual body reaction (like super stress), it will alert you to take a deep breath or inform you that you're having stress. There's a feature I found useful which is the body battery energy monitor because by checking it, I can schedule when to go for a rest or workout. The smartwatch can even track women's menstrual cycle.
The battery life can last up to 5 days and comparing it with other smartwatches, this is pretty amazing but it depends on your usage. According to the official website, it claims to last up to 5 days without GPS and music mode while the shortest duration will last for 6 hours with the GPS and music mode. There are some tips to save battery life, you can switch off the features like GPS, pulse OX sensor, the screen on mode, display brightness, and more. For charging, it took me about more than an hour to fully charge it.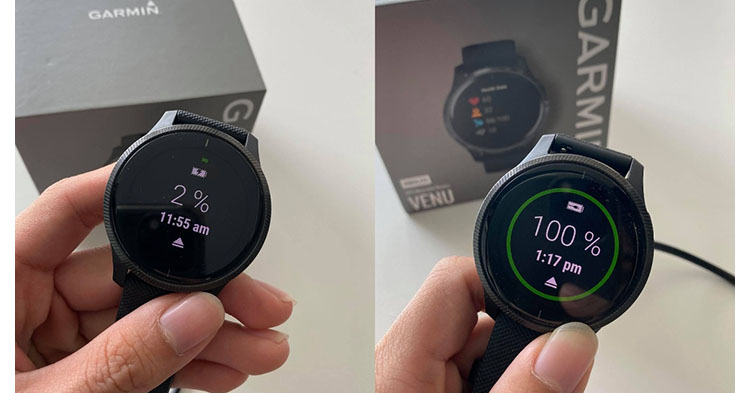 The battery life
The Garmin Venu can store up to 500 songs via Spotify and you can play it offline. This feature is really convenient to me because all I need is just a pair of wireless Bluetooth earphones for my workout. It is very easy to download the songs to the smartwatch with some simple steps. Furthermore, you can still install other music apps (Deezer, KKBox, and others) into it if you are not a Spotify user. In fact, the user interface on this smartwatch is really easy to use so I'm sure you won't have much trouble learning it.
Speaking of a friendly user interface experience, there's a default watch face setting and you can change it to an analog or digital clock surface via on the phone or the smartwatch itself. Moreover, you also can set the wallpaper with your own photo by installing ConnectIQ. There are plenty of apps in ConnectIQ to install into the smartwatch, there's the camera shutter control, games, performance metrics, and many more apps.
Please take note that some mobile apps can't be used on the iPhone (like camera shutter control) which is a letdown. To add on, there are a few things that iPhone users have to know - the smartwatch can't receive WhatsApp notifications and can't reply with short text, yet it's not a problem for Android users. This smartwatch also has Garmin Pay but this service cannot be used in the Malaysian market, so yeah.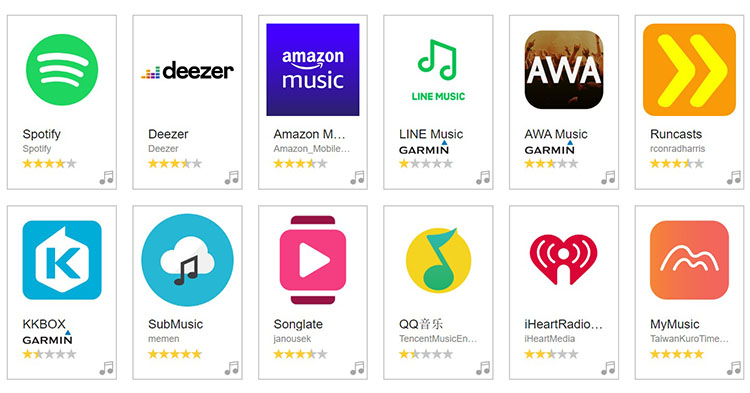 Music apps that you can install in the smartwatch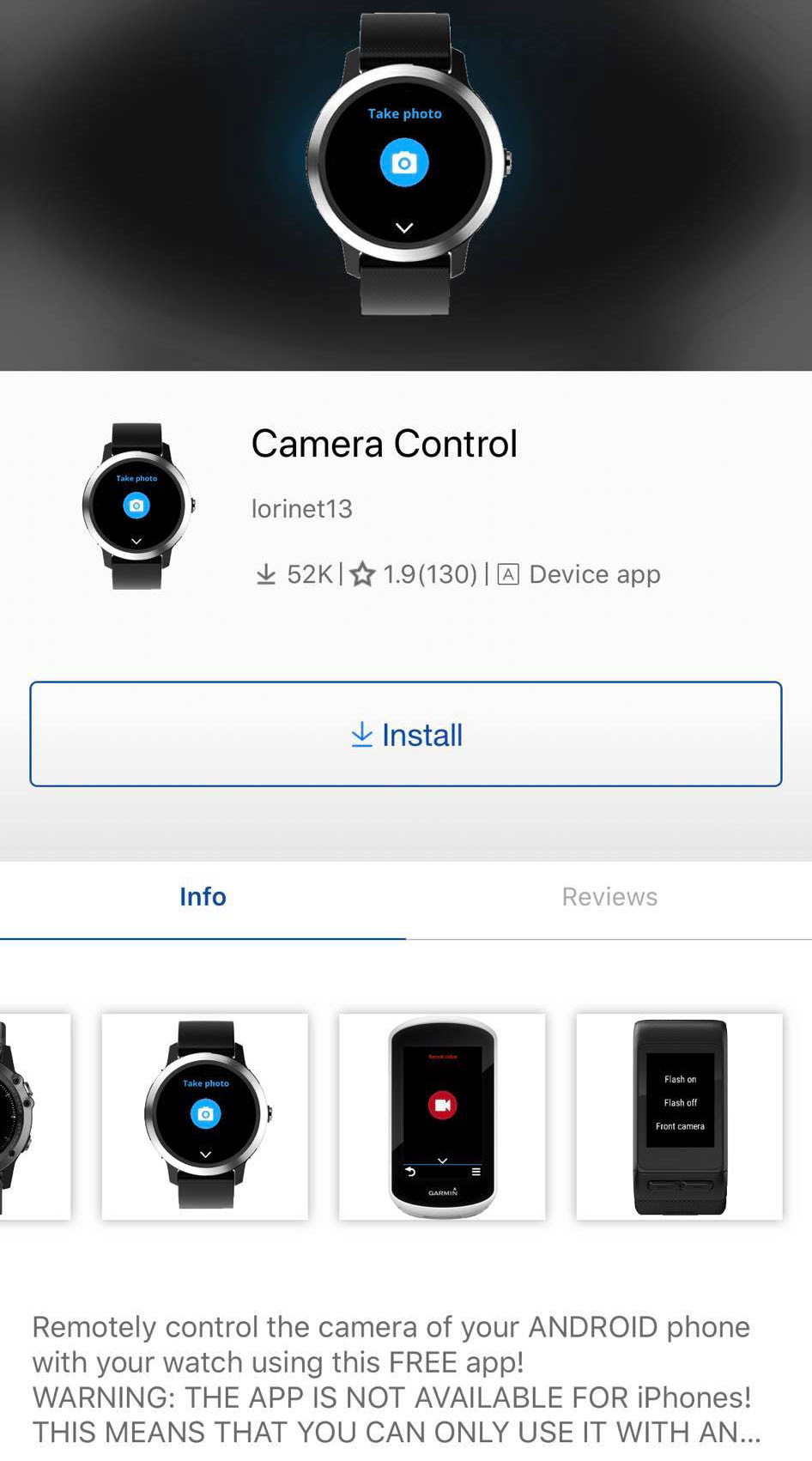 Sample of the app that can't use on an iPhone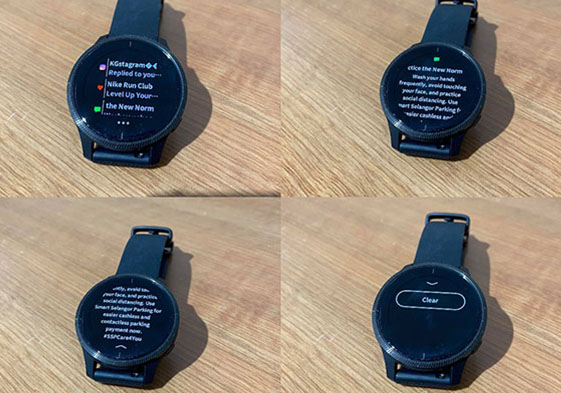 The notifications on the smartwatch screen (but can't reply and receive WhatApps)
Lastly, I personally think that the connection is quite weak. This includes the Bluetooth, WiFi and even the GPS and it takes quite some time to connect it to the phone. For example, the smartwatch would go off connecting and disconnecting when I go to another room (and I'm not even that far), so say if I happen to misplace my phone, the "Find My Phone" feature won't work that well if I was far away. There was even one time that it tried to send an emergency message when I was waving my arms for fun.
As mentioned earlier, the Garmin Venu is RM1599 (it was RM1799 last year) and compared with the Garmin vívoactive 4S (~RM1750), the former is a better choice in terms of features and pricing. On the other hand, the Huawei Watch GT2 is cheaper than the Garmin Venu with a starting price of RM619 but it doesn't have as many features as the latter.
So should you get this smartwatch? Well, I personally like the friendly user interface and how it keeps reminding you to take a break when you are stressed. I also like the hands-free experience of storing my songs when I go workout. However, connectivity is an issue as it's not consistent and most of the features can't be used on an iPhone.
To buy the Garmin Venu, you may visit their official website or the offline retail store. So what do you think about this smartwatch? Let us know in the comments below, and be sure to stay tuned for more tech reviews on TechNave.com.
Tech Specs and Features
Here are the Garmin Venu tech specs and features:
1.2-inch AMOLED display with 390p features C

orning Gorilla Glass 3

Measures 43.2 x 43.2 x 12.4mm, weighs 46.3g

3.6GB internal storage with up to 500 songs & 200 hours activity data

Features water-resistance up to 50 meters, GPS, Pulse OX, heart rate monitor, galileo, safety & tracking, and various sports modes

Battery life:
- Smartwatch mode: Up to 5 days
- GPS mode with music: Up to 6 hours


- GPS mode without: Up to 18 hours
Pros and Cons
Pros - Able to store up to 500 songs and play them offline, animation workouts to exercise whenever you want, and can alert you to take a short break from having a rapid heartbeat and stress.
Cons - Connectivity is weak, text response doesn't apply to an Apple iPhone. Garmin Pay is unavailable in the Malaysian market.
Summary - A smartwatch that does its job well but it could have been better if it wasn't for the weak connection and inability to receive WhatsApp notifications on my iPhone.
Garmin Venu 2S Specs & Price >