Get a Samsung Galaxy Smartphone with One Month Free Instalment payment at Senheng and senQ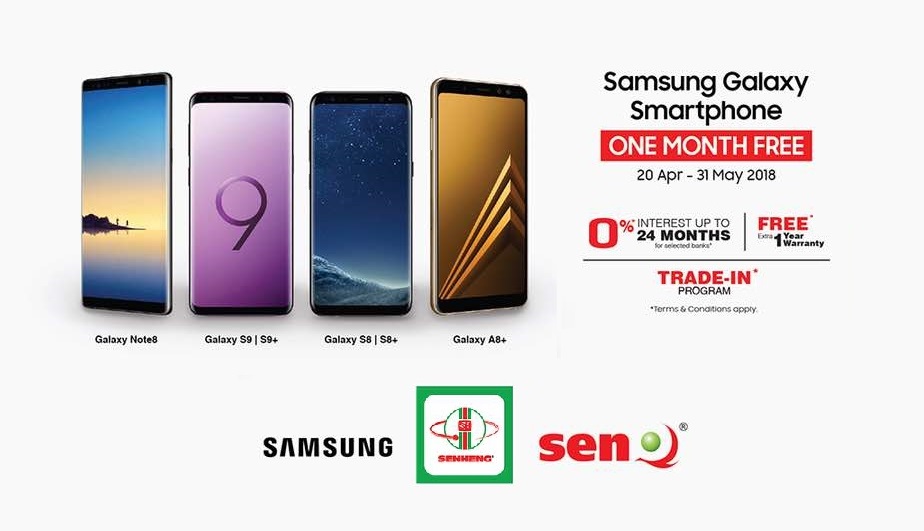 Welcome back to another edition of Senheng and senQ promotion. This time around, Samsung Galaxy smartphones are in the spotlight and if you're the type that prefers Instalment Plans, you're in the right place so here's the deal - for every purchase of a Samsung Galaxy device by using a credit card Instalment Plan (IPP) or AEON Easy Payment Scheme, you will be entitled to a one-month free Instalment payment!
This campaign duration has already started and will end on the last day of May 2018. In case you're wondering, the Samsung devices that are eligible for this are the Galaxy Note8, Galaxy S9 / S9+, Galaxy S8 / S8+ and the Galaxy A8+. Also, you're probably wondering if there's any catch behind this one-month free promo, so here's where we explain how it works.
The math behind it all
The promotion is calculated from the selected model's price (exclusive of interest) then divided to 12 months. So let's say if you're getting the Note8 at RM3999, with your Citi Bank IPP of 12-months, you can purchase the Note8 for RM3665. Nice right? The math here is RM3999 - RM334 (the device that was divided to 12-months), then from there, your monthly IPP Instalment will be just RM305.42 x 12 months.
There are some ground rules for this, though. First, 50% of the purchase value must be paid by Credit Card IPP or AEON Easy Payment Scheme. It's also open for customers who wish to go for a higher tenure instalment plan for more than 12 months. This means 12, 18, or even 24 months and if you do, the one-month free instalment payment remains unchanged. However, if you want to do be below 12 months, this will not be allowed.
Other benefits
On top of that, Senheng and senQ also offer other benefits besides that which include:
Extra 1 Year Warranty with PlusOne Membership at RM12 for extra 1-year warranty on top of Samsung warranty when you purchase a new Samsung Galaxy smartphone
Delivery option for your newly purchased devices - Nationwide delivery inclusive of Sabah and Sarawak (Free Shipping) and Store Pick-up
Sounds good? If you're down with that, you can now head over to either Senheng or senQ's website and start purchasing your dream Samsung Galaxy device. Stay tuned for more local tech news at TechNave.com.