Get promo prices and free gifts from selected products from Samsung Year End Treats sale
Remember about the Year End Treats 2018 sale that we talked about by Samsung Malaysia? Looks like they have added more products to the list, so besides the Samsung TVs, home appliances such as the refrigerator, washing machine, air-conditioner & purifier, microwave oven, as well as vacuum cleaners are now included for the promotion sale.
Starting now until 31 December 2018, Samsung Malaysia will also give away some nice rewards and free gifts worth up to RM3599 depending on selected TVs and home appliances. Below is a table of products, promo prices and free gifts for your reference:
| Product category | Promo RRP | Free gift |
| --- | --- | --- |
| QLED TV | RM34,999 | Free HW-N650 Soundbar and Petronas Gift Card total worth RM3599 |
| Premium UHD TV | RM21,999 | Free HW-N650 Soundbar worth RM 2599 |
| Refrigerator | RM6399 | Free Stick Vacuum Cleaner and Solo Microwave Oven total worth RM1258 |
| Washing Machine | RM4599 | Free 1.0L Eco Vacuum Carafe and Stick Vacuum Cleaner total worth RM1058 |
| Vacuum | RM2699 | Save RM100 and Free Soft Action Brush worth RM399 |
| Air Conditioner | RM1849 | Free Smart Living Cooler Bag worth RM39.90 |
| Microwave Oven | RM1499 | Free Big Glass Steamer worth RM99.90 |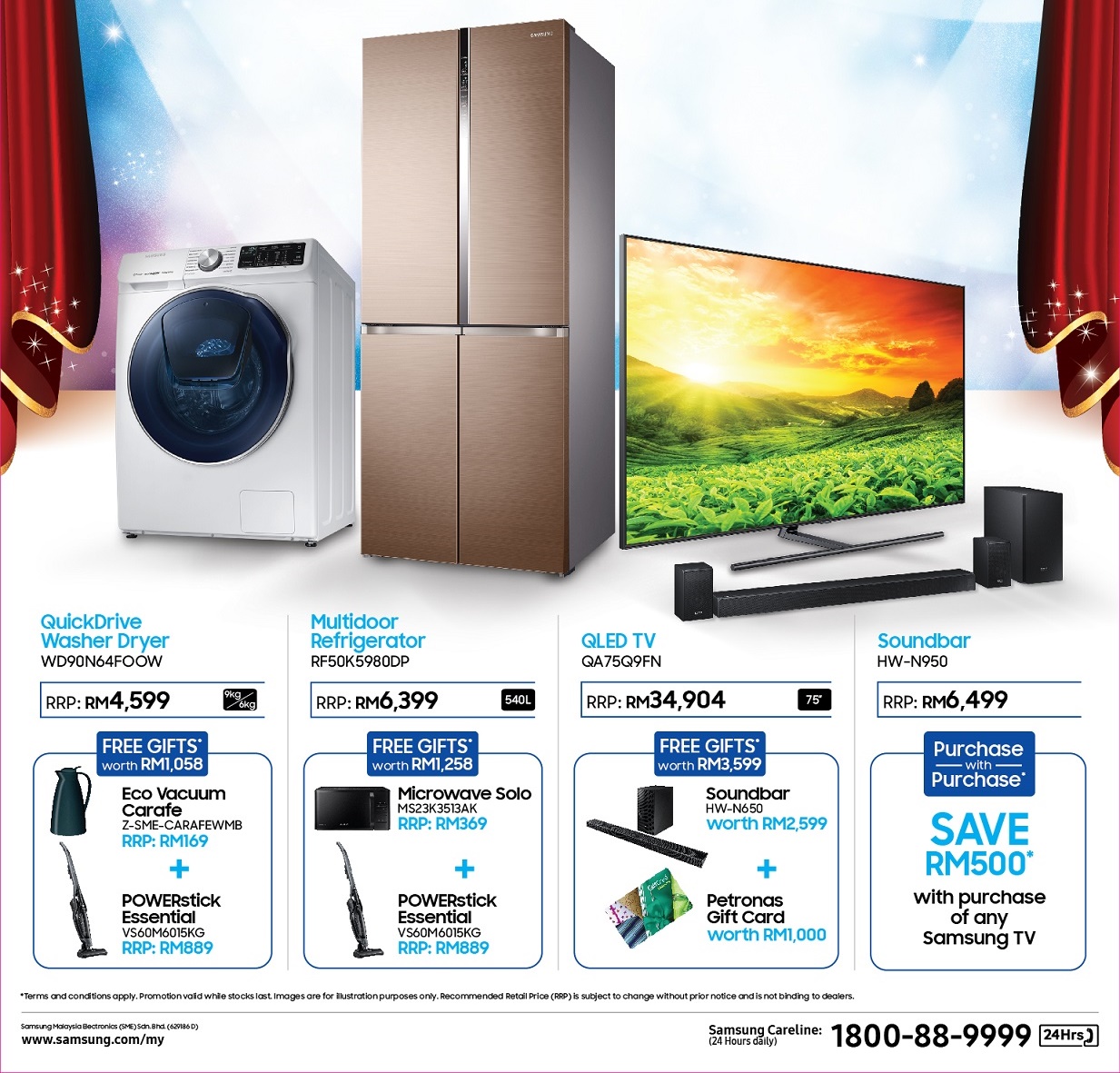 You can visit your nearest Samsung authorised outlets to check it out, as well as its official website right over here. Stay tuned for more Samsung news at TechNave.com and happy shopping!