When it comes to top-class action or rugged cameras, the brand that comes to mind is probably GoPro. Indeed, the brand has long established its reputation as one of the most reliable compact cameras for adventures since its debut. In this review, let's look at the GoPro HERO 11 Black.
The HERO 11 Black looks more or less the same as previous GoPro cameras. Externally, it has curved corners, a large camera lens, a display on the front and back, buttons for recording and switching, and a waterproof cover for the battery and memory card. There's also a spot to install accessories (compatible with HERO 10 Black accessories). Like always, the HERO 11 Black is an incredibly lightweight (154g) device, making it convenient to carry along.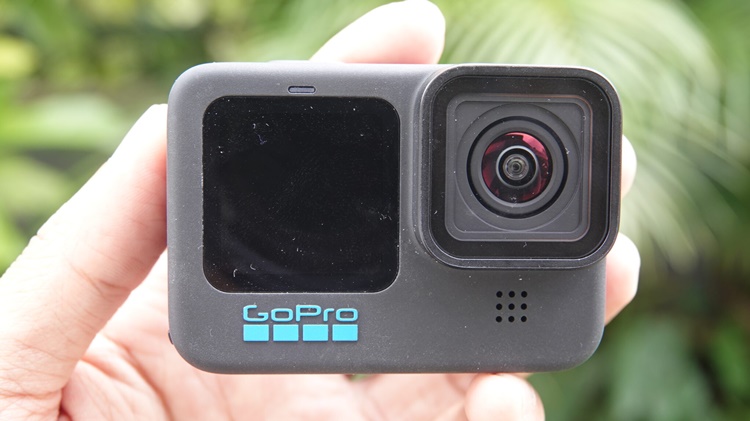 Front - LCD, camera, and microphone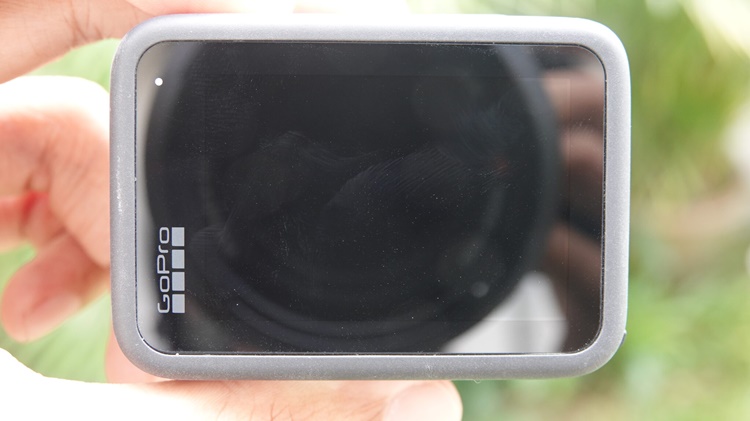 Rear - Large LCD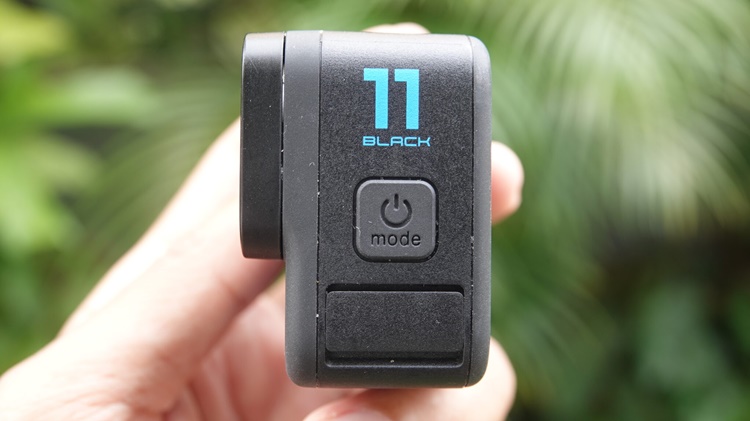 Left - Power button and the model name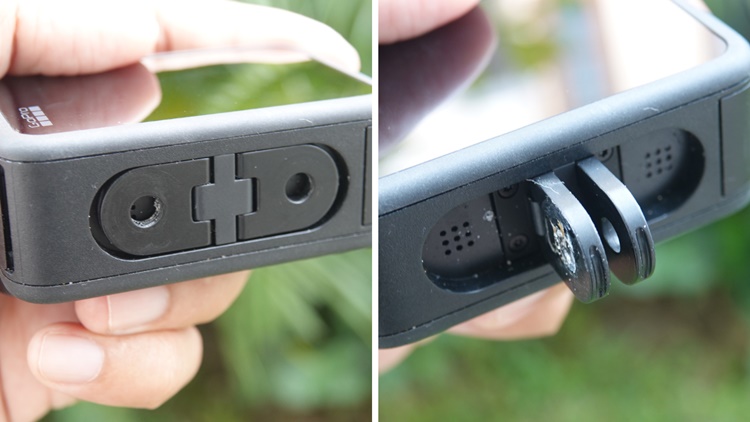 Bottom - This is where you install accessories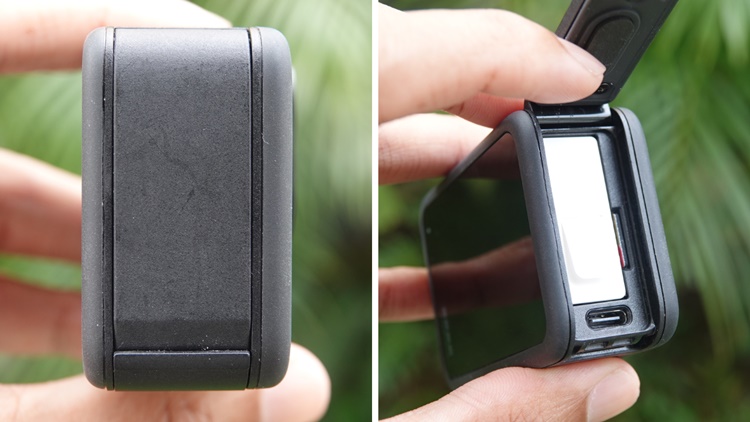 Right - Large cover for the battery, USB-C port, and memory card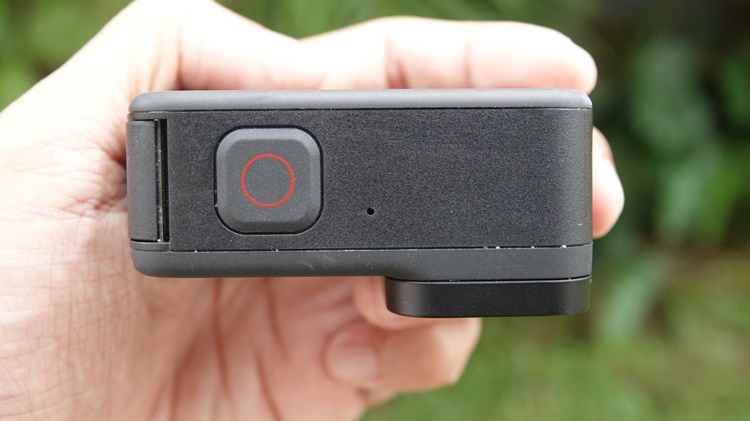 Top - Record button
Since it's waterproof, the HERO 11 Black can submerge underwater for up to 10 metres. It also has solid build quality, so we didn't need to worry about the device falling. It's unlikely to accidentally drop it, as the surface is pretty rugged and enhances grip when you hold it.
The rear LCD is 2.27 inches, whereas the front display is 1.4 inches. Why is there a need for a front display? Well, it's for easier vlogging. Unfortunately, the LCD isn't a touchscreen, which would give vloggers more of an advantage. For your info, the DJI Osmo Action's front display is touch-capable.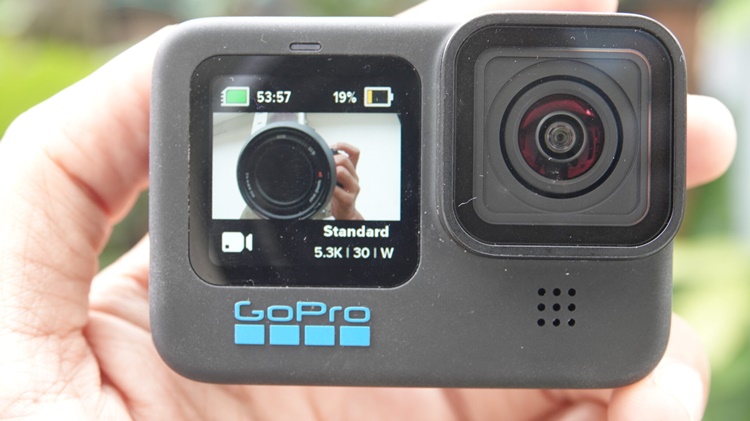 The smaller front display doesn't support touch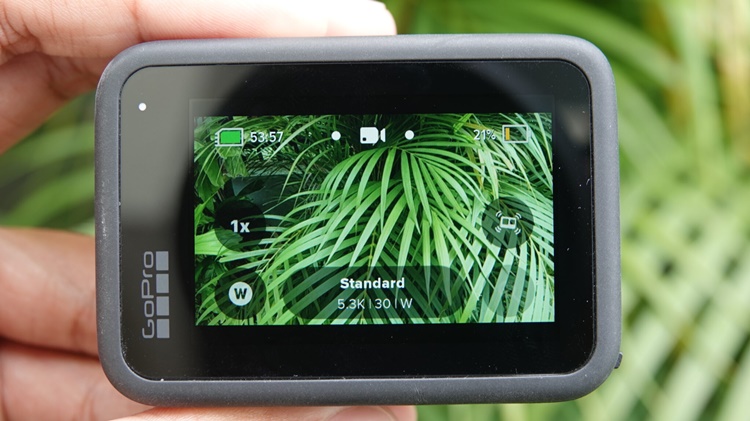 The rear LCD is responsive
Onto the camera, the sensor size is 1/1.9 inches. That's larger than the HERO 10 Black's sensor and allows users to record videos in a unique 8:7 aspect ratio. You can then edit the recordings into the more conventional aspect ratios like 16:9 or 9:16. The latter is handy, as it's a vertical format you can post on TikTok.
For features, the HERO 11 Black has a new HyperView that offers ultra-wide angles. However, It's too wide for its own good as you would immediately notice visual distortion at the sides, which visually degrades the video. You're better off with the wide or SuperView mode when recording.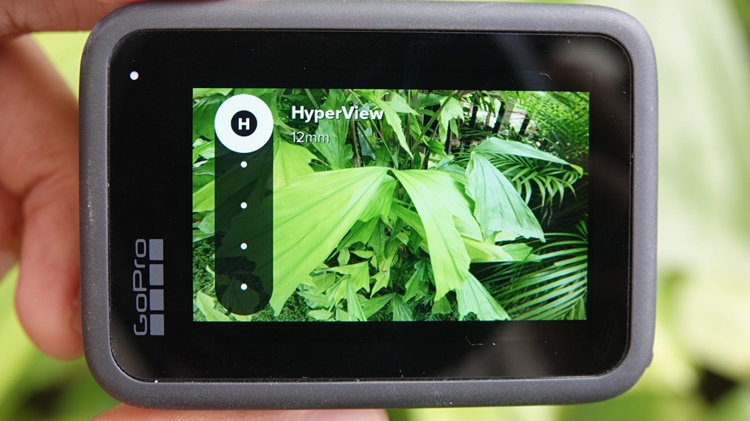 HyperView mode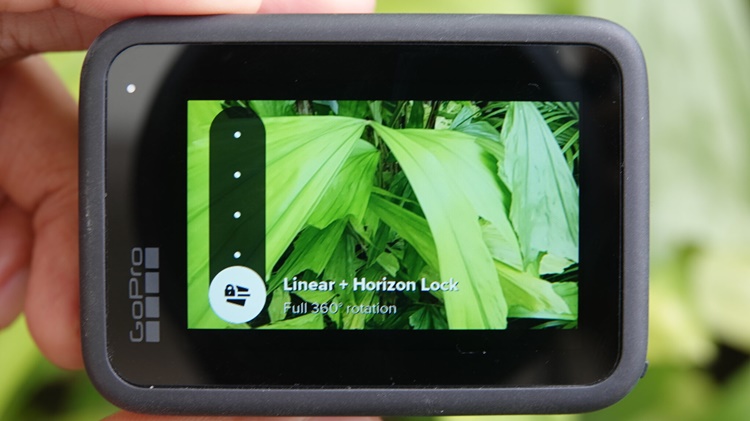 You may also set it to wide, SuperWide, or Linear+Horizon Lock
The HERO 11 Black can record a video with a 5.3K resolution at 60fps, or slow-motion mode can be recorded up to 2.7K resolution at 240fps. While that's impressive on paper, the video quality is not that different from the HERO 10 Black. For those who like to edit colours in videos, the HERO 11 Black now supports 10-bit recording, which means it can store more colour-processing data for post-edits.
While the video performance was good, the audio quality was far from impressive. If you want clearer audio, you may need a Media Mod with a directional microphone, but that would be an additional cost. On the bright side, video stability is excellent, thanks to the HyperSmooth 5.0 function. Videos remain smooth even if you're running with the action camera.
The video stabilisation is incredible
Complementing the stabiliser is an Autoboost function that can adjust the stabilisation level automatically. Also, the Horizon Lock feature allows the HERO 11 Black to keep the video flat horizontally, even if it's rotated by 360°, higher than the 45° on the previous HERO 10. On that note, Horizon Lock can only be activated in Linear vision angles.
What about photography? Well, the HERO 11 Black allows you to take 27MP photos, which is a higher pixel count than the HERO 10 Black's 23MP. In addition, you can also get 24.7MP pictures from videos, so you can get your favourite moments from a video and turn them into high-quality photos. For people who are too lazy to mess with the settings, the HERO 11 Black has Easy Controls to adjust the frame rate and field of view. But stick to Pro Controls if you regularly change the resolution, colour profiles, stabilisation levels, ISO, or more.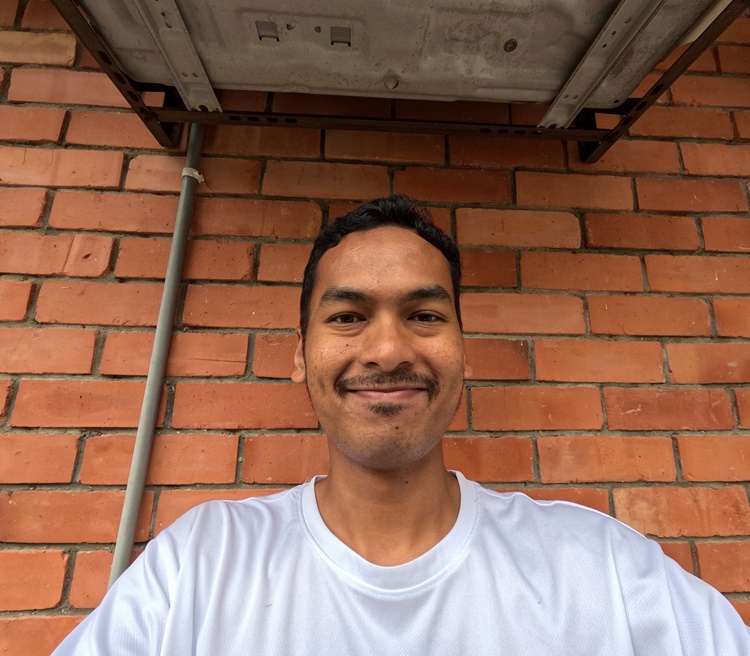 Selfie!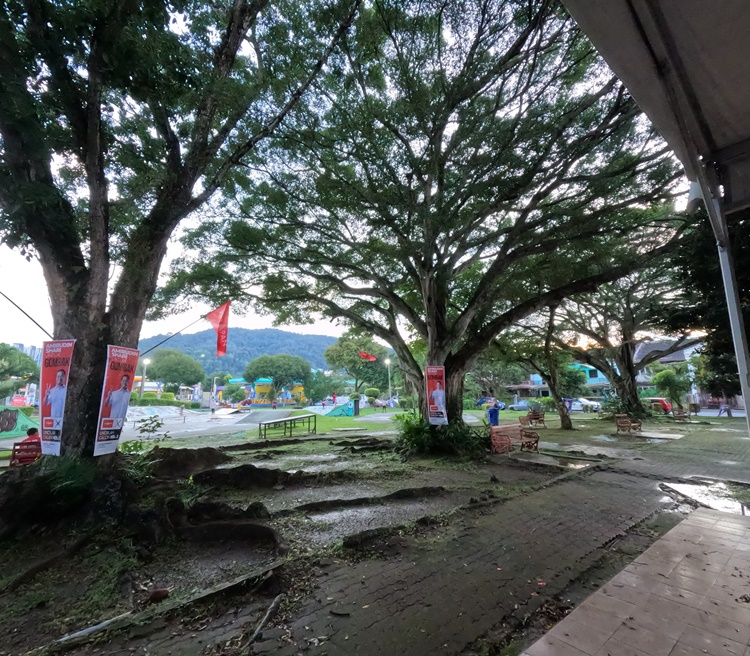 Outdoor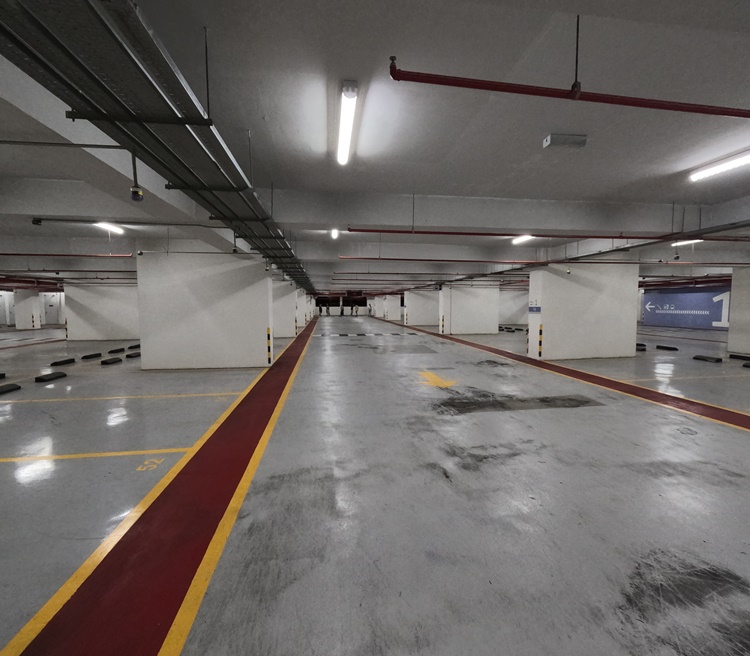 Indoors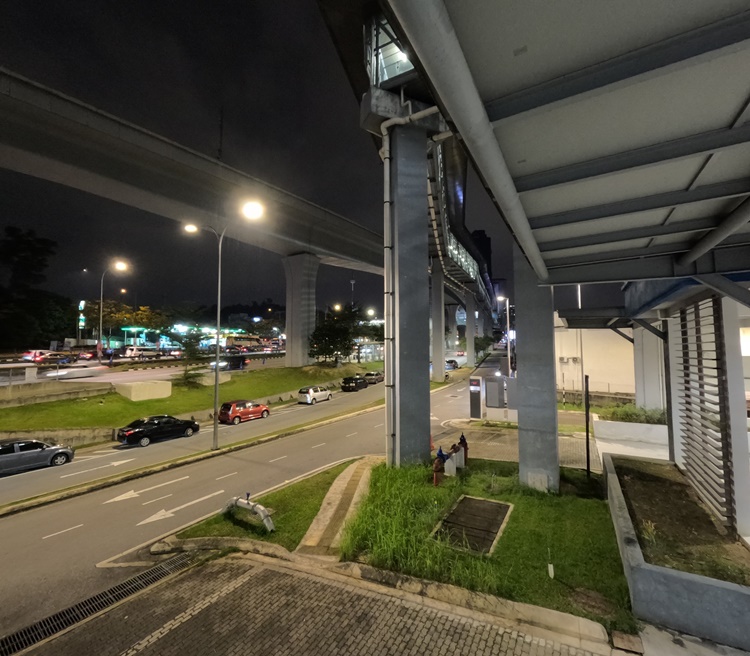 Night shot
For battery, the HERO 11 Black features a new 1720mAh Enduro battery. According to GoPro, this battery can last 38% longer. During our review, this battery lasted around an hour and 10 minutes in standard mode. Furthermore, the battery life can be extended if you record in lower resolution and frame rate or turn off some functions like GPS.
If you like capturing timelapse images, the HERO 11 Black features several new functions for night-time usage, namely Star Trails, Light Painting and Vehicle Lights. With this mode, you can take pictures of interesting light lines with satisfactory image quality.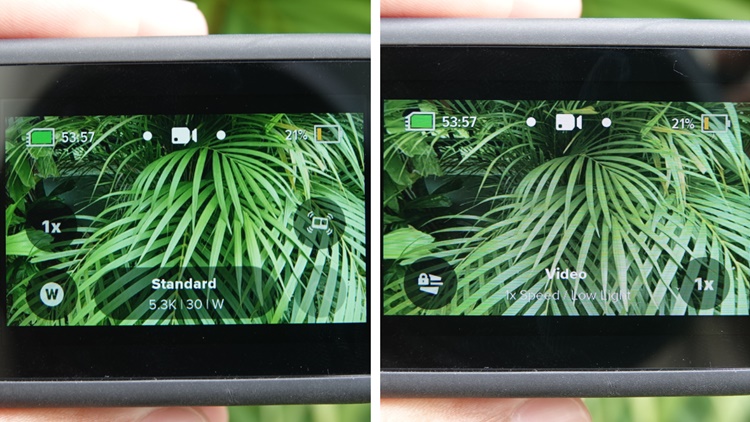 Pro Control (left) and Easy Control (right)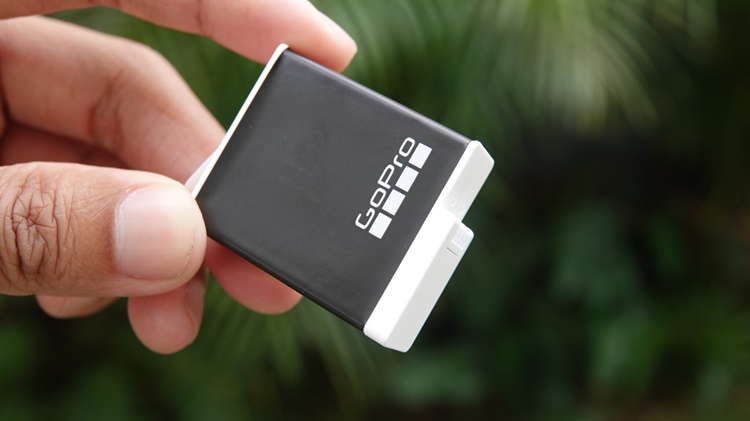 The HERO 11 Black's battery life is much longer life than its predecessor
Overall, GoPro HERO 11 Black remains the king of action cameras. Of course, it has some disadvantages, such as the lack of touch support for the front LCD and the subpar audio quality.
Another challenge for the HERO 11 Black would be pricing. While the HERO 11 Black retails in Malaysia at RM2399, the DJI Action Osmo 3 is priced at RM1699, and the Insta360 One RS only costs RM1399. Although the HERO 11 Black offers the most advanced functions among these three cameras, a significant price difference can certainly sway Malaysian buyers.
Tech specs and features of the GoPro HERO 11 Black
Measures 71.8 x 50.8 x 33.6mm, weight 154g
GP2 processor
CMOS sensor size 1/1.9 inch
2.27-inch touch LCD screen behind
1.4-inch LCD screen in front
Waterproofing up to 10 meters / 33 feet
Video recording up to 5.3K resolution, 60fps rate
Video aspect ratio 8:7, 4:3 or 16:9
27MP image resolution
TimeLapse function
3 microphones
Supports voice control
1720mAhbattery
Pros: Strong stabilisation, unique aspect ratio, easy to use
Cons: Expensive, the front screen has no touch control, and the audio quality could be better
Conclusion: One of the best action cameras for 2022