Google Put Nexus on the Samsung Galaxy S4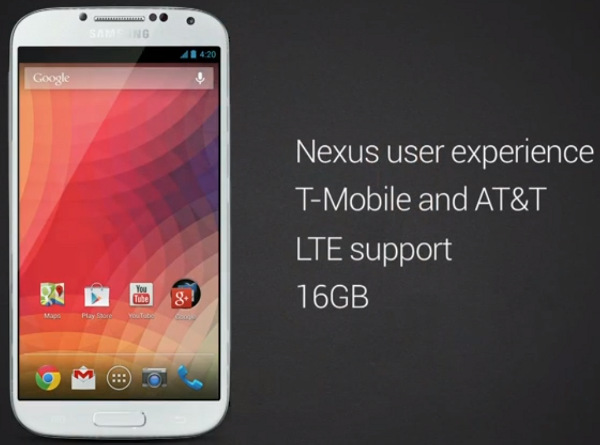 In a move which came as a surprise to everyone, Google announced that it would provide a Nexus experience on the Samsung Galaxy S4 at the recent Google I/O event. While many were expecting the announcement of a new Nexus device (most likely for LG to do a Google Nexus 5 smartphone) Google are instead offering the Samsung Galaxy S4 minus the Samsung TouchWiz interface. Instead it will feature stock Android Nexus and have an unlocked bootloader (so you can root it easier).
Tech specs for the Google Samsung Galaxy S4 don't differ from a standard LTE-enabled Samsung Galaxy S4 but bear in mind that you lose access to all those S Features Samsung has been hyping about. Instead Google are now offering the following for their Nexus Samsung Galaxy S4 device:
Stock Android Nexus experience
Unlocked Bootloader
16GB of storage
Android 4.2
Prompt system updates
$649 price tag (RM1952)
No news yet on availability here in Malaysia but we could perhaps expect it as another option over at a Samsung store nearby perhaps. According to Google they will release it for the aforementioned price of $649 on the Google store on 26 June 2013.