HONOR 9X Pro Review - Experience gaming with HMS
While the HONOR 9X is a standalone casual device, the HONOR 9X Pro is arguably the better Pro variant. As far as we know, this is a fairly high spec device for a mid-range smartphone at a reasonable below RM1K price. It's likely the first such device to offer 6GB RAM + 256GB storage for around that price range.
The HONOR 9X Pro, previously set for launch on 19 March 2020, has been postponed to a new launch date following the Malaysian Government's Movement Control Order. We had the opportunity to experience the 9X Pro first-hand, anticipating that it could be a good gaming device due to its better graphics. Check out our honest experience using the HONOR 9X Pro for gaming and more with the Huawei Mobile Services (HMS) application ecosystem in the review below.
Design - Reflecting "X" with attractive colors
For us, the most interesting bit about the HONOR 9X Pro design was the X reflection on the back panel! We can't personally say the same about the other color options, but the Phantom Purple with X reflection on the back was stunning. In fact, the color options offered are quite similar to the HONOR 9X 's Magic Night Black and Phantom Purple.
This device may be a bit heavy (206g), but this is fine because the display is fairly large at 6.59 inches. This 1080 x 2340 pixel resolution IPS LCD display comes with a 84.7% screen-to-body ratio. Like the HONOR 9X, the Pro version also comes with a mirror design on the front and back panels, surrounded by an aluminum frame that adds a premium look and feel to it. The thin bezel is also a feature of the design on this device.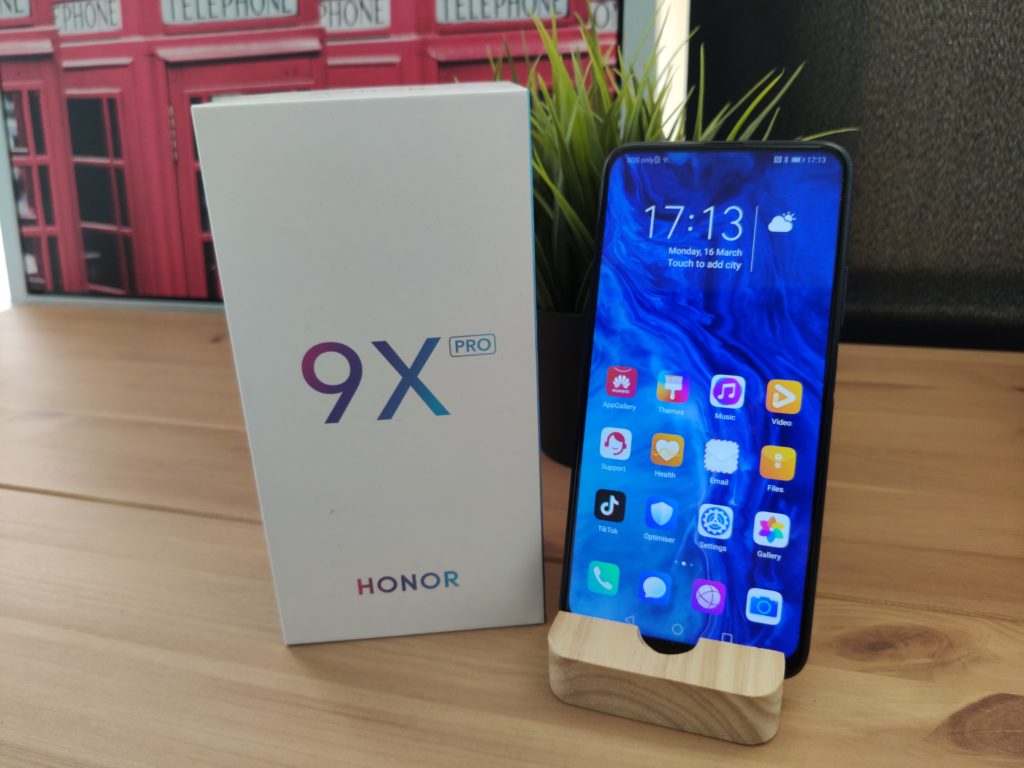 HONOR 9X Pro back panel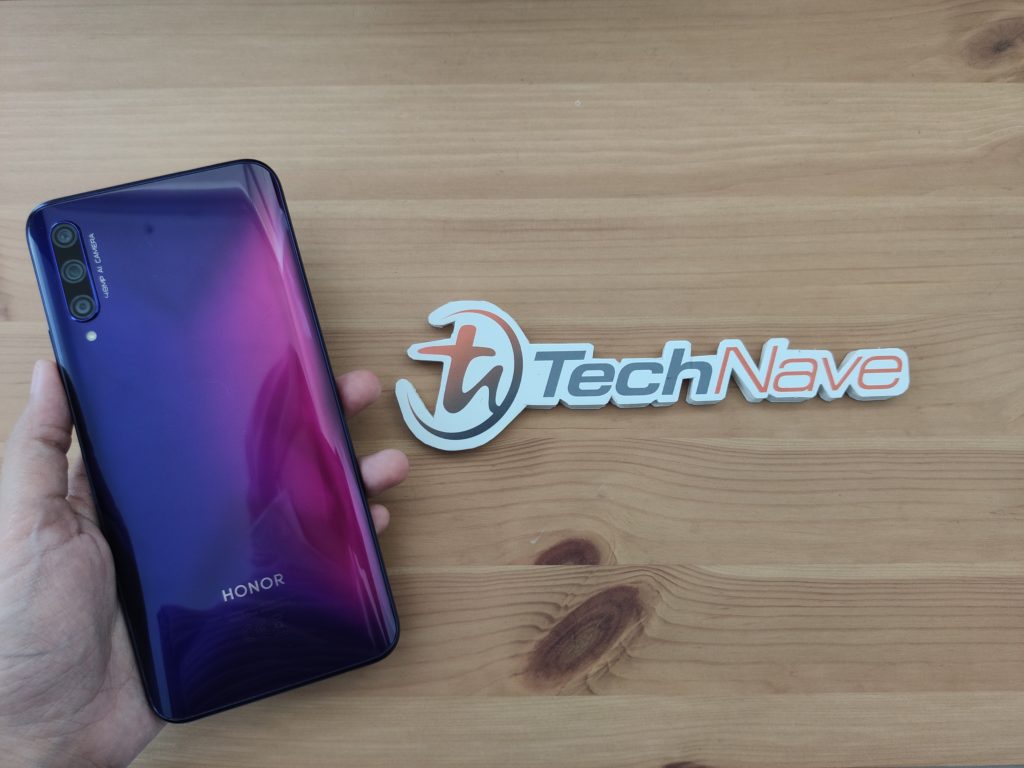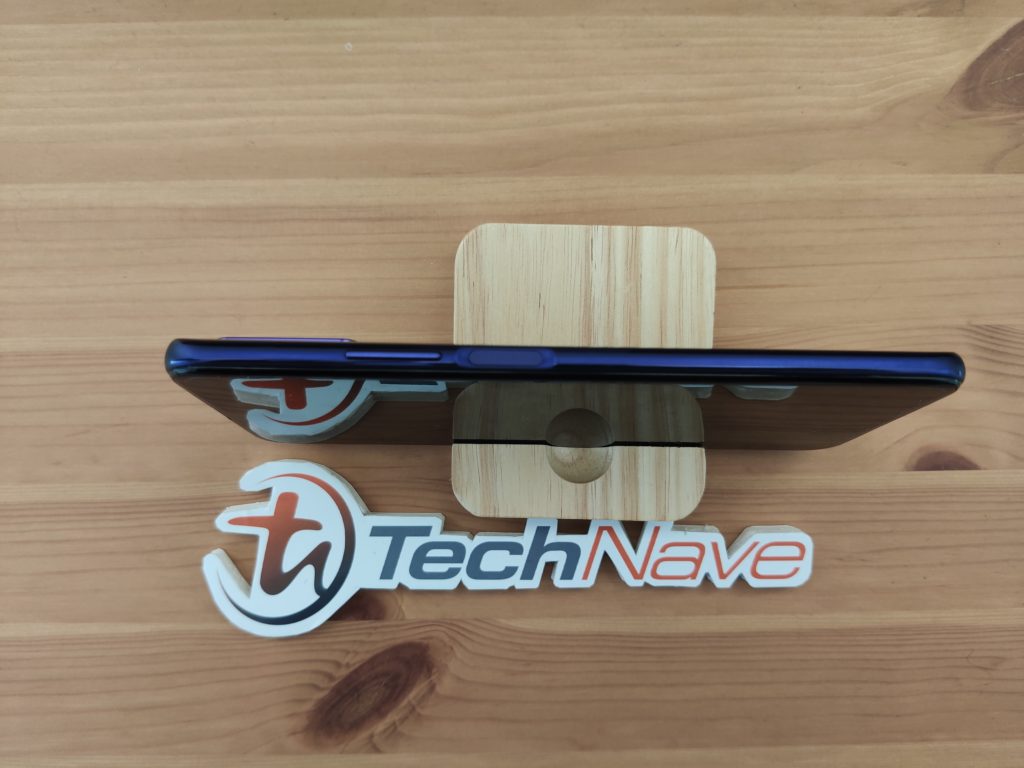 Right side of the device: Side fingerprint sensor and volume button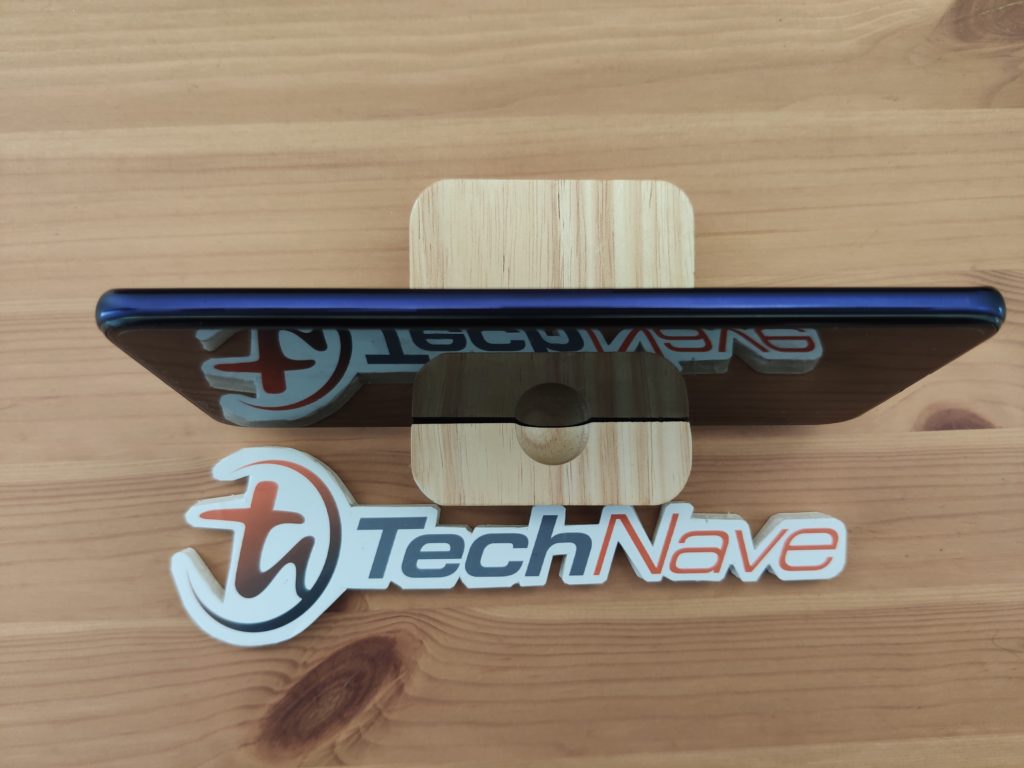 Left: Nothing on the left side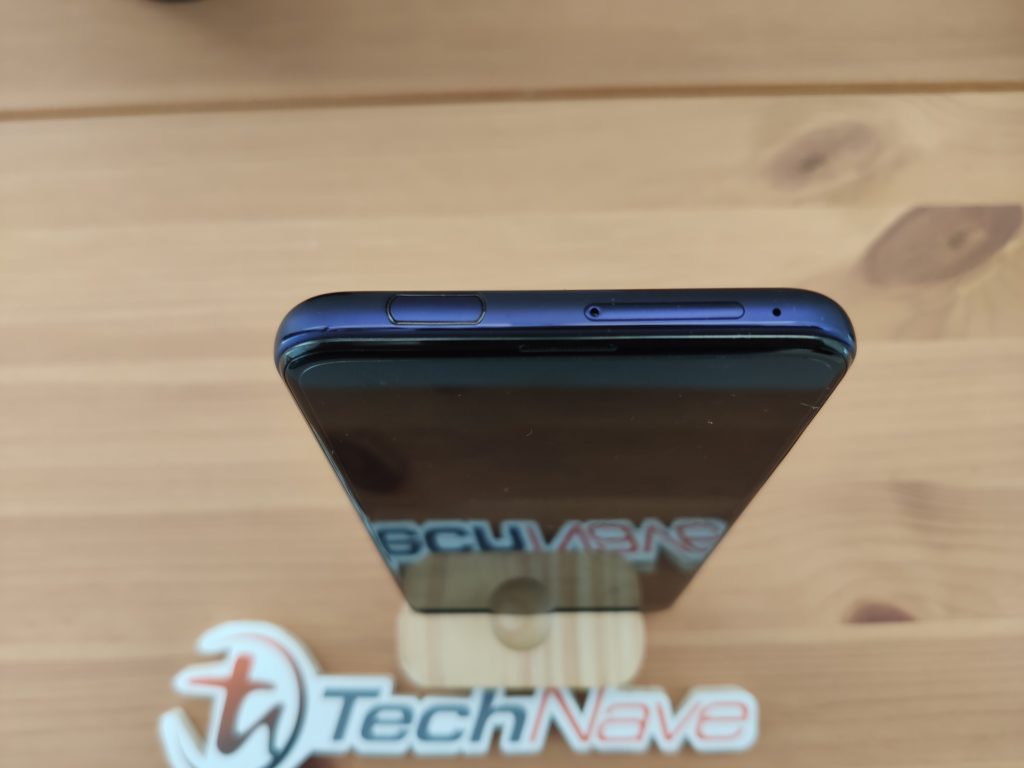 Top: Hybrid SIM card tray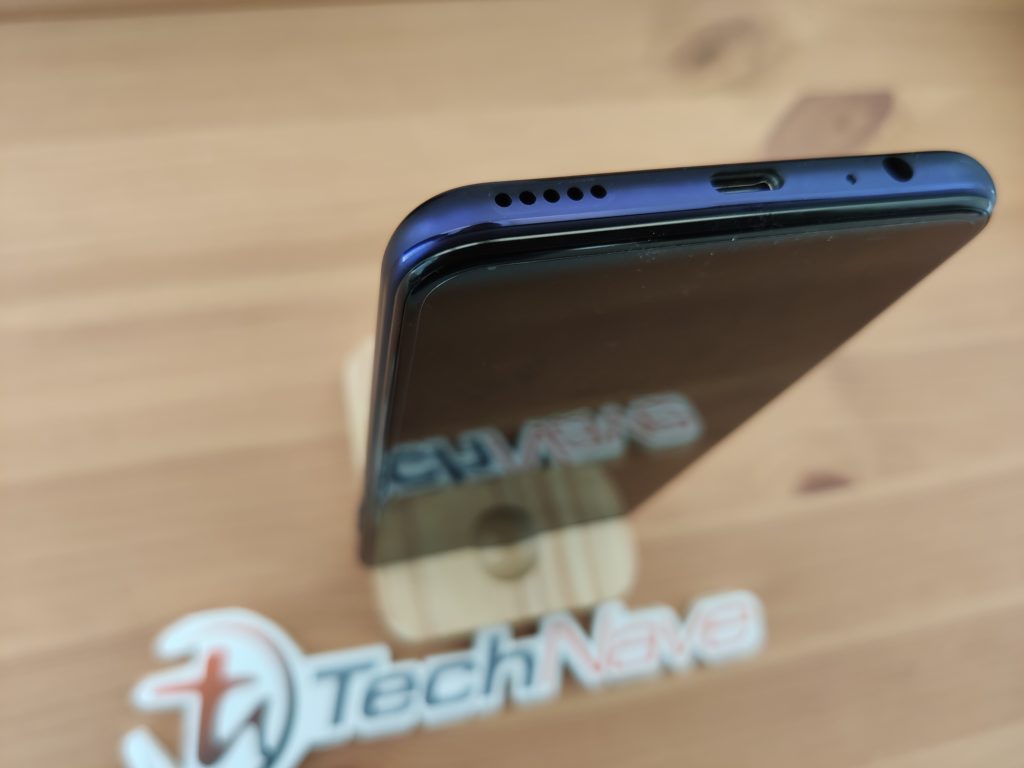 Bottom of the device: Speaker grille, 3.5mm audio jack and USB Type-C port
Scan X on the back panel


Features and Specifications - Not bad for a mid-range smartphone
Highlight features of the HONOR 9X Pro include the HiSilicon Kirin 810 7nm chipset with 6GB of RAM and 256GB of storage (which will be discussed in more detail later). Other specifications are about the same as other devices in today's technology market.
However, the difference between the HONOR 9X and this Pro version is in the chipset, GPU, fingerprint sensor position and internal storage. You can check out the full tech specs and feature list below:
HiSilicon Kirin 810 chipset (7nm)

Turbo 3.0 GPU
6GB RAM + 256 GB RAM
Hybrid dual-SIM that can be shared with a microSD card
6.59-inch LCD IPS display
48MP Rear Camera (main lens) + 8MP (ultra-wide) + 2MP (depth sensor)
16MP Pop-Up Front Camera
Side-mounted fingerprint sensor, 3.5mm audio jack
Android Pie 9-based EMUI 9.1
4000 mAh battery with 10W charging
163.1 x 77.2 x 8.8mm, weighs in at 206g
For your information, this version of Pro does not come with Google Mobile Services. However, you don't need to worry because Huawei and HONOR have their own application ecosystem which is the Huawei Mobile Services or HMS via the Huawei AppGallery.
The HONOR 9X Pro also lets you use split screens or screens that can be divided into two. This feature makes it easy for you to do more without leaving the application you're using or multi-tasking between 2 applications.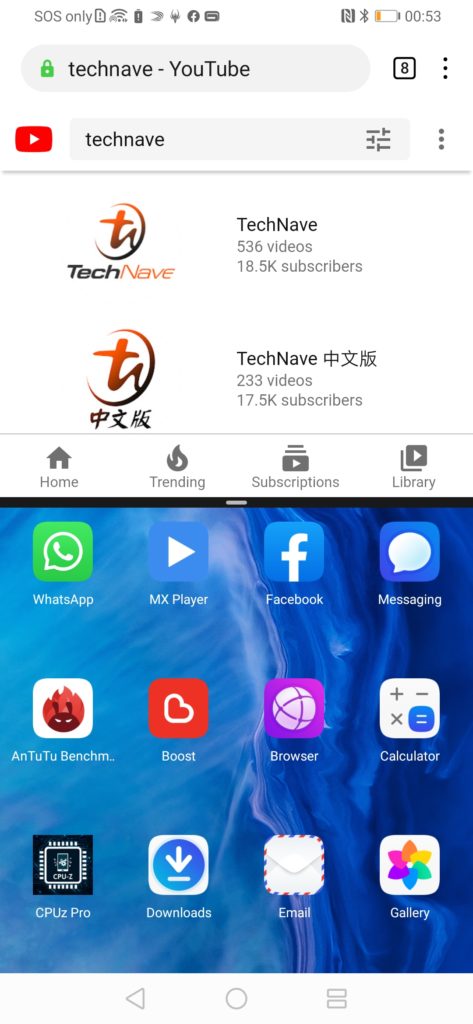 You can do other things without shutting down the application being used
Performance - Even without GMS gaming is still solid
Beginning with its weaknesses, we cannot deny that the absence of Google Mobile Services was initially awkward. However, after checking out the applications downloaded through the Huawei AppGallery, we expect that sooner or later this app ecosystem will attract more app developers, enough for it to be on par if not better than the Google Play Store.
The available Huawei AppGallery offers a good amount of choice but for applications that are not available like WhatsApp, Facebook and Instagram, you can try downloading and installing them via APK files. Of course, many users download APK files, but you also need to be aware of the drawbacks and risks of downloading them. If you want to watch YouTube and other Google services, you can do so directly on the Huawei browser.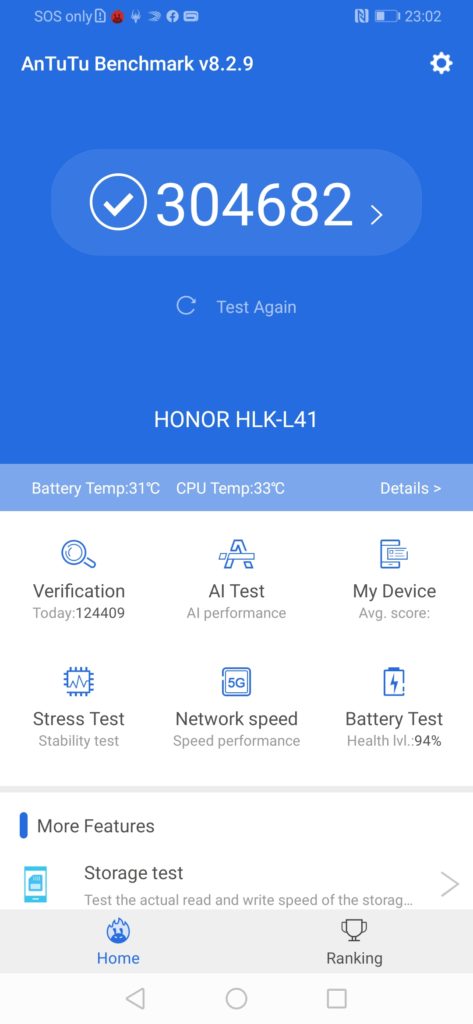 Gaming Performance? We're speechless, to say the least. Before commenting further, we first launched the AnTuTu benchmarking test for this device. In the picture below, you can see the points achieved in the AnTuTu benchmark test are quite satisfying for a middle-class device, beating out the Redmi Note 8 Pro and the Xiaomi Mi 9T.
We downloaded games like Asphalt 9, Lords Mobile and Mobile Royale on the HONOR 9X Pro. For middle-class devices, the gaming performance is relatively stable and solid thanks to the collaboration between the HONOR GPU Turbo 3.0 with the Kirin 810 chipset! While we played the game for some time, we were a bit surprised that the device only became warm, not too hot at all perhaps due to the PC-grade liquid cooling system.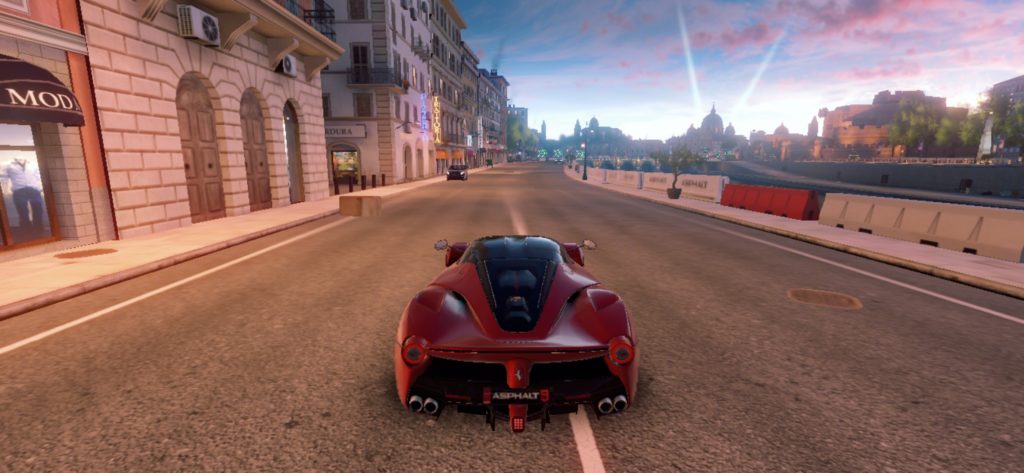 Smooth Asphalt 9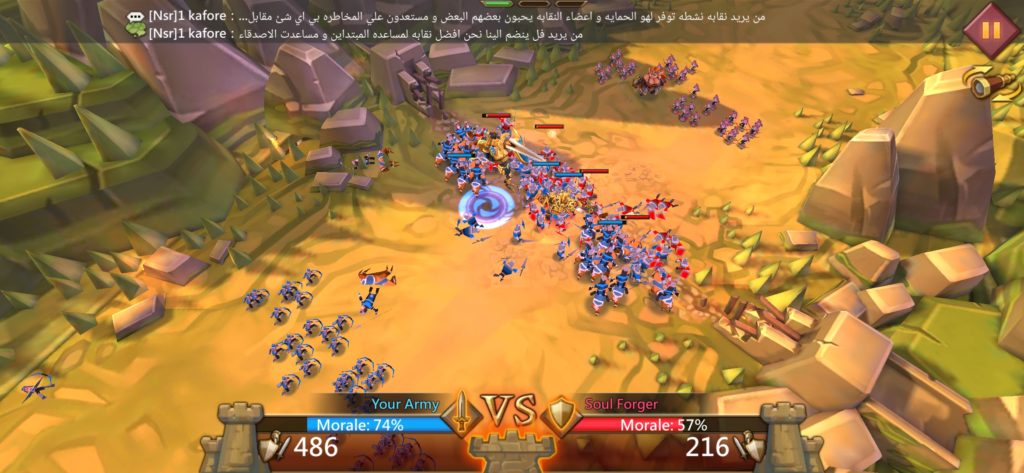 Game Mobile Lords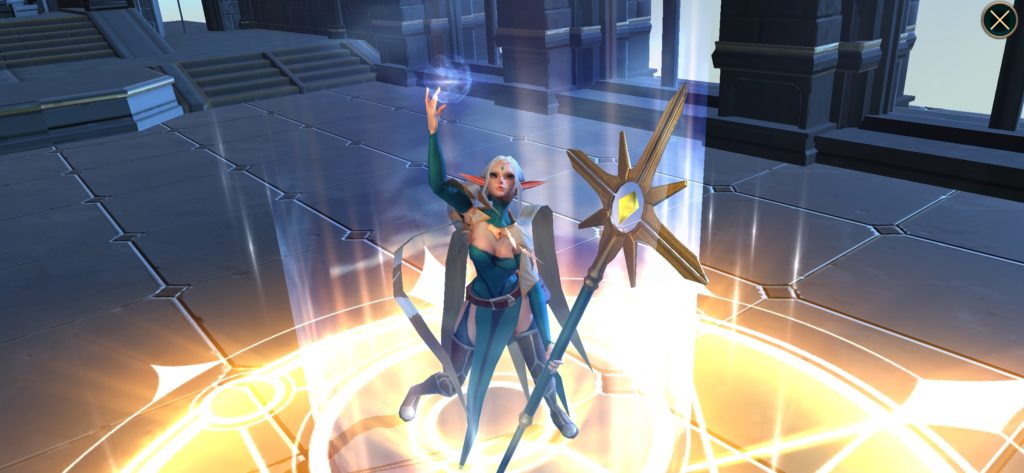 Look at this great graphic!
The 4000 mAh battery on the HONOR 9X offers 10W fast charging. On casual usage (no heavy gaming) the phone can quite easily last 2 days or so.
Switching to the camera, the device comes with three rear cameras. The 48MP primary camera with 8MP ultra-wide and 2MP depth sensor work well. To our knowledge, you can change the rear camera lens whenever you want to use 48MP or 48MP AI Ultra Clarity (you can see the settings and picture results below). AI Ultra Clarity is perfect for shooting pictures of well-lit objects though.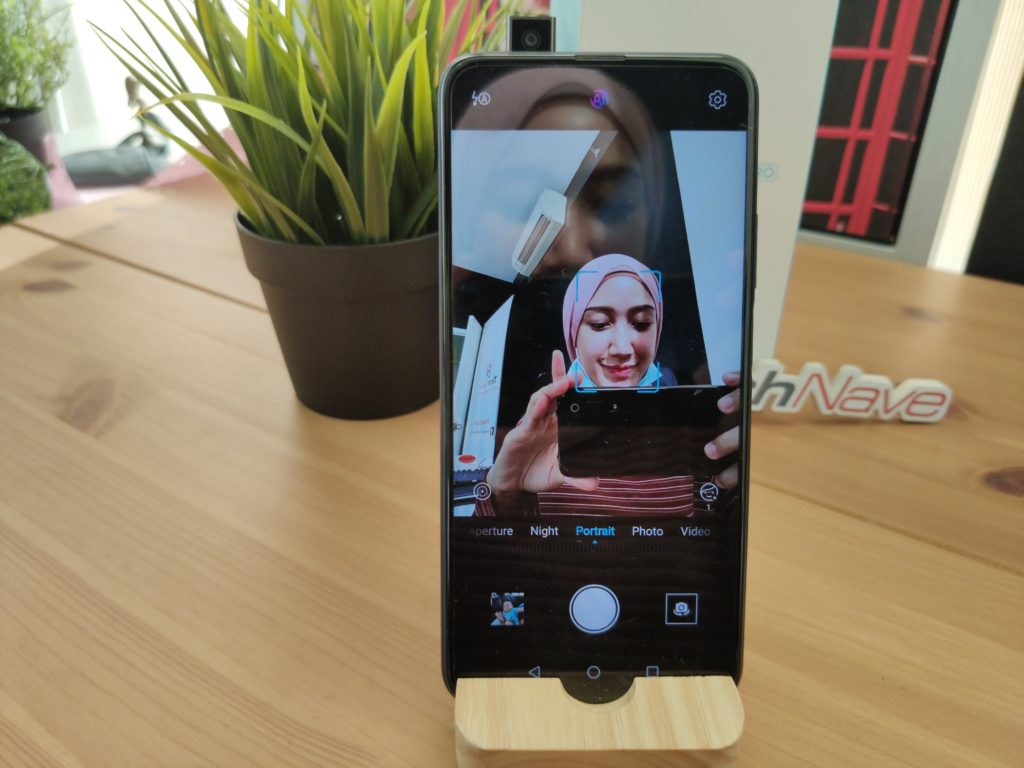 Camera interface with pop-up camera active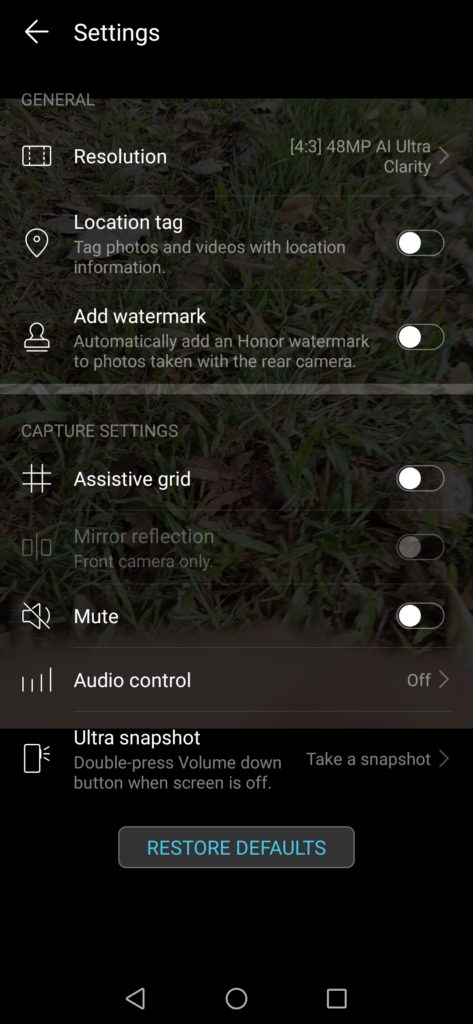 You can choose the resolution setting you want
The 'AIS Night Mode 2.0' night mode is also satisfying but you should probably use night mode in good or just low light. Night mode will reduce the noise of the picture and the color of the picture will be clearer but it may some noise in completely dark situations.
AI technology also helps to give color clarity in the picture. For example, if you take a picture of the sky, the AI will be able to detect it and produce a beautiful picture to look at.
As for the 16MP selfie camera, the quality is quite good. There's a whole bunch of beautify features that should come in handy if you like to tweak your selfies. Check out our results below.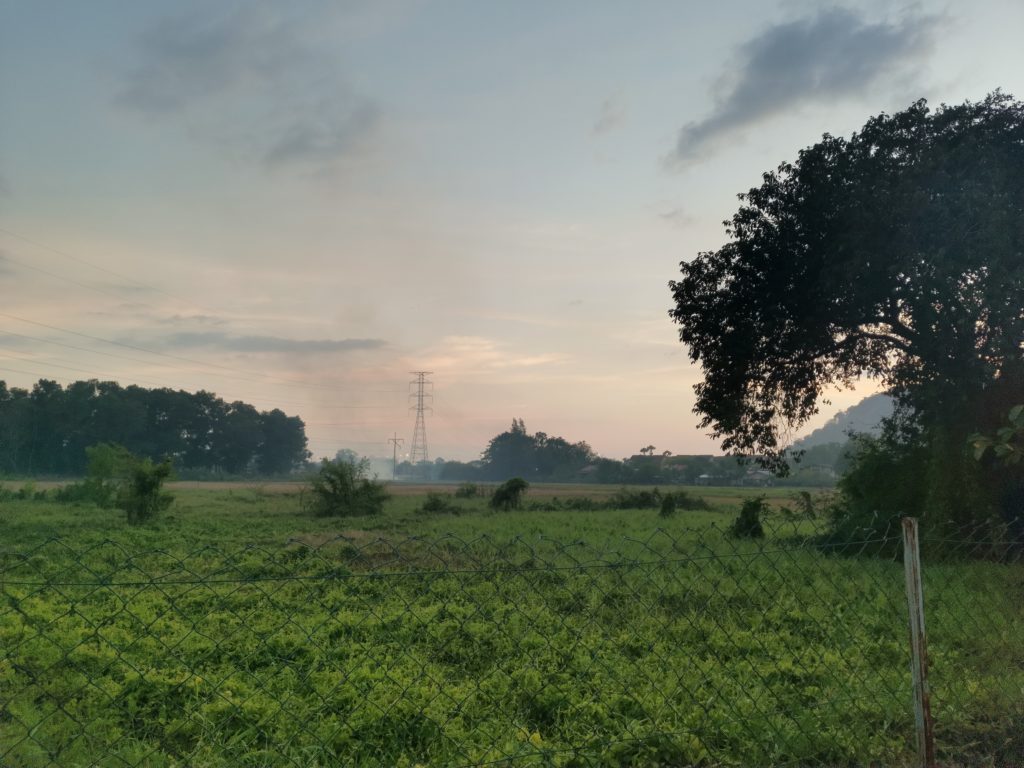 48MP regular lens. You can see the smoke in the picture quite clearly.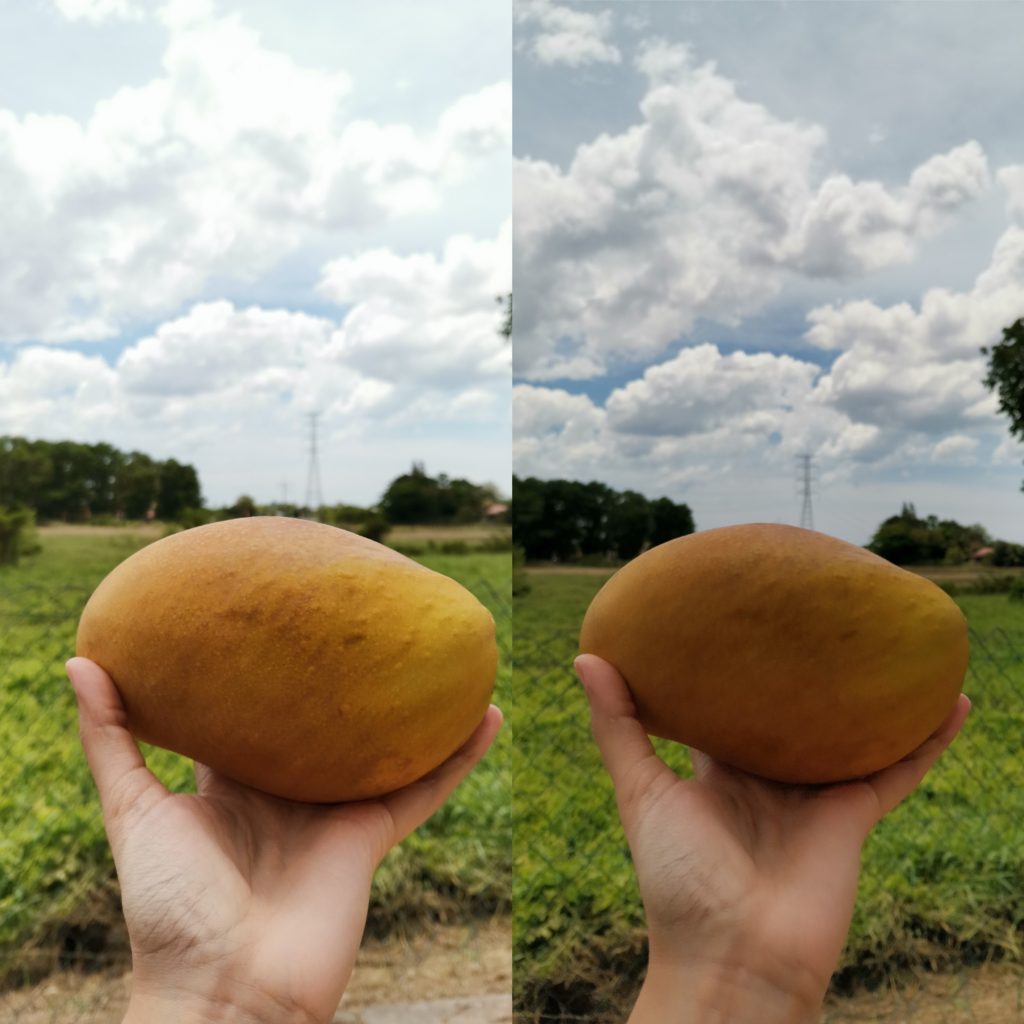 Delicious sweet fruit! On the left is from the 48MP AI Ultra Clarity lens, while on the right is from the regular 48MP primary lens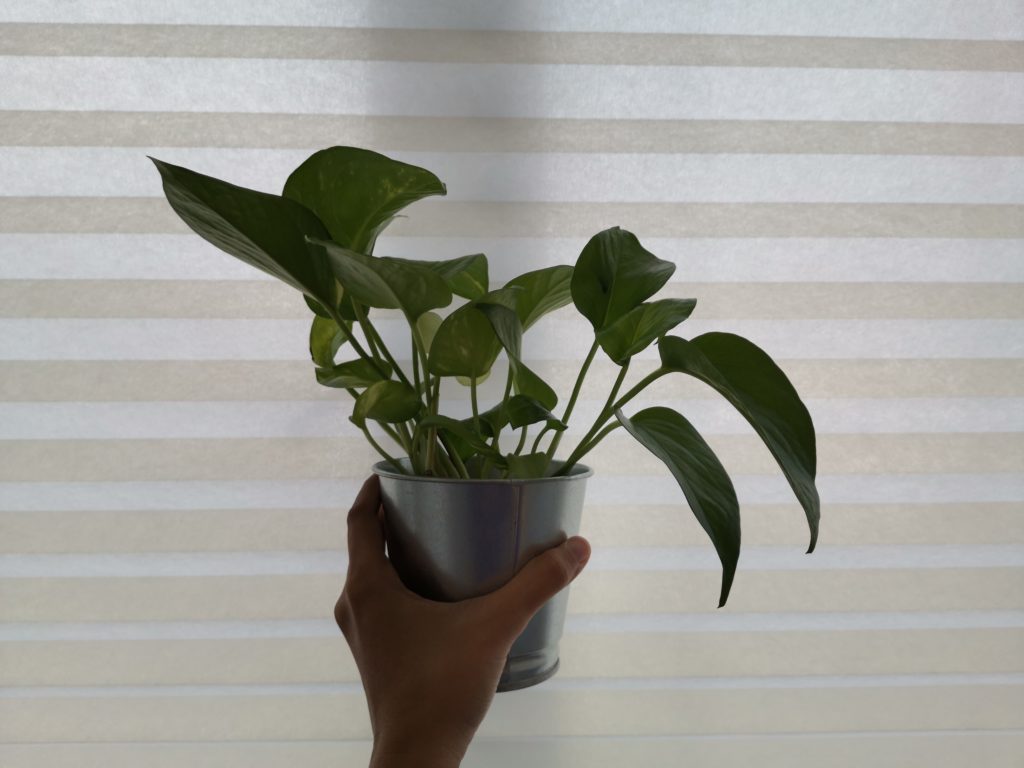 48MP regular lens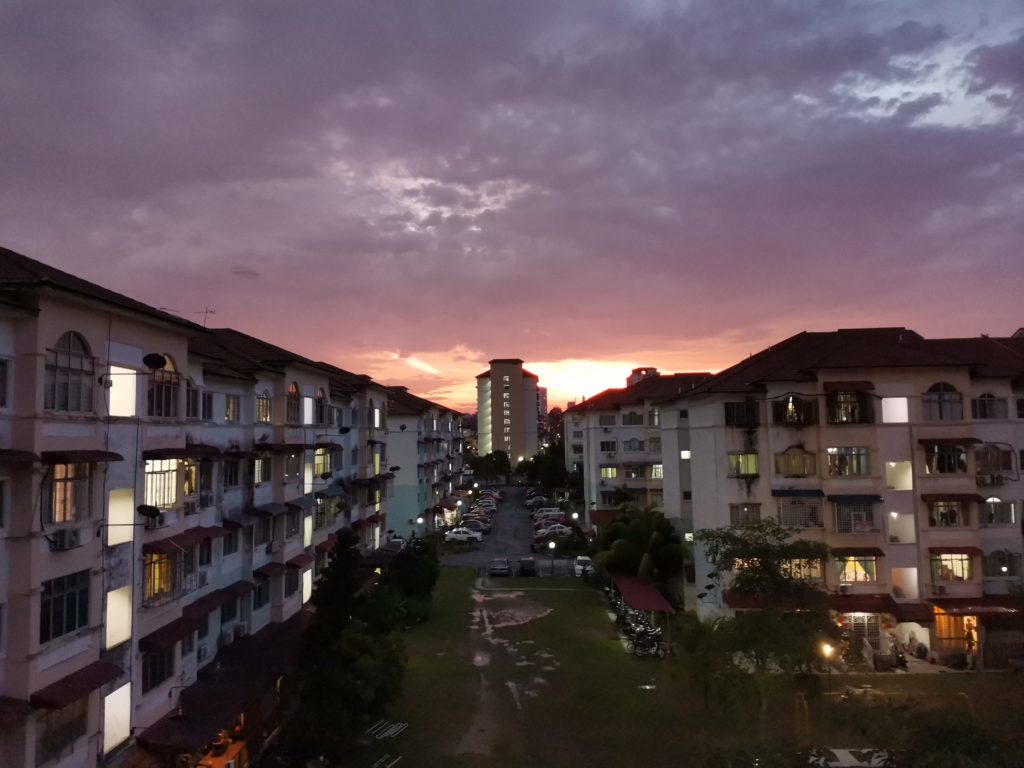 48MP regular lens (compare image below)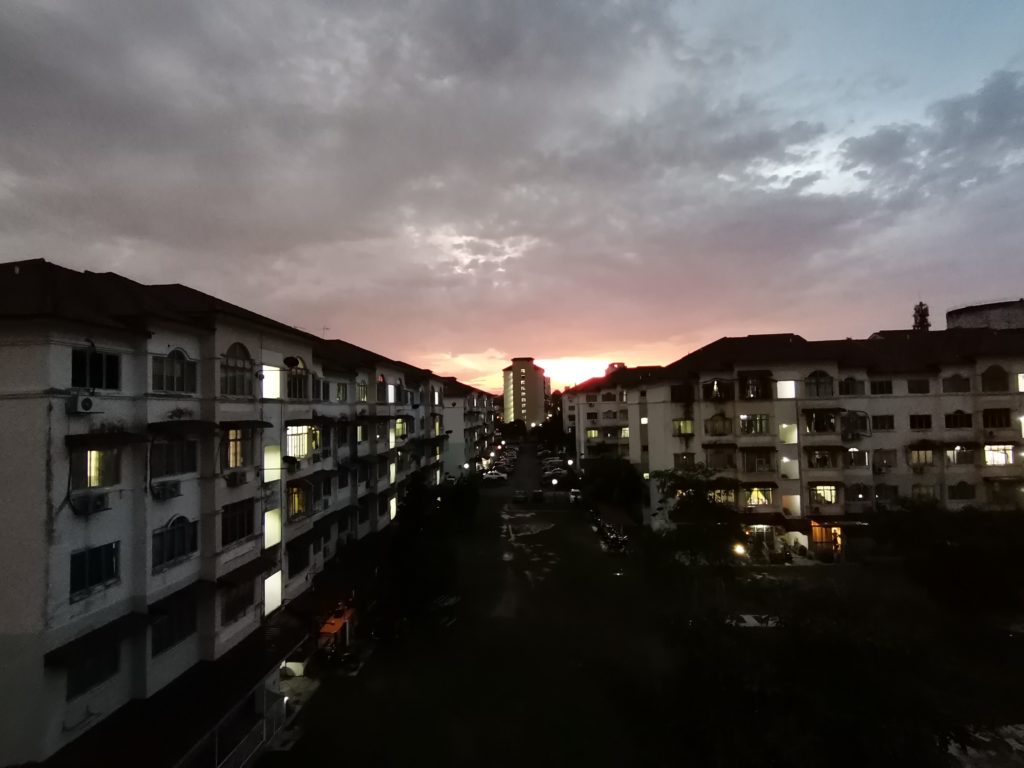 48MP lens with ultra-wide function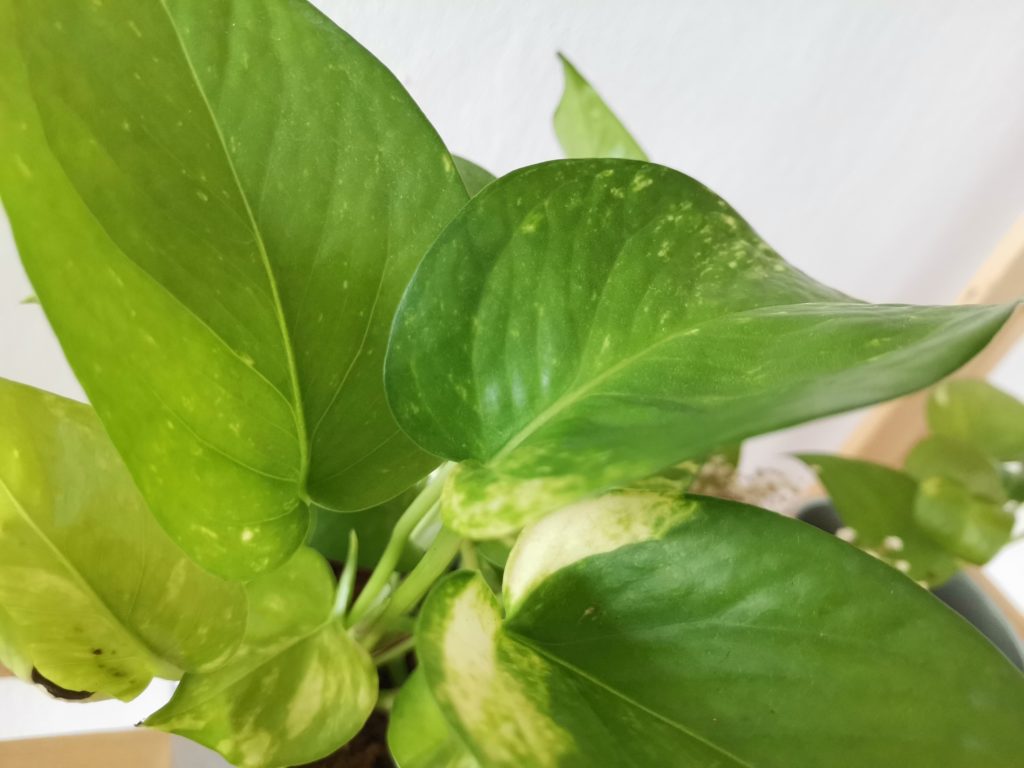 Close-up image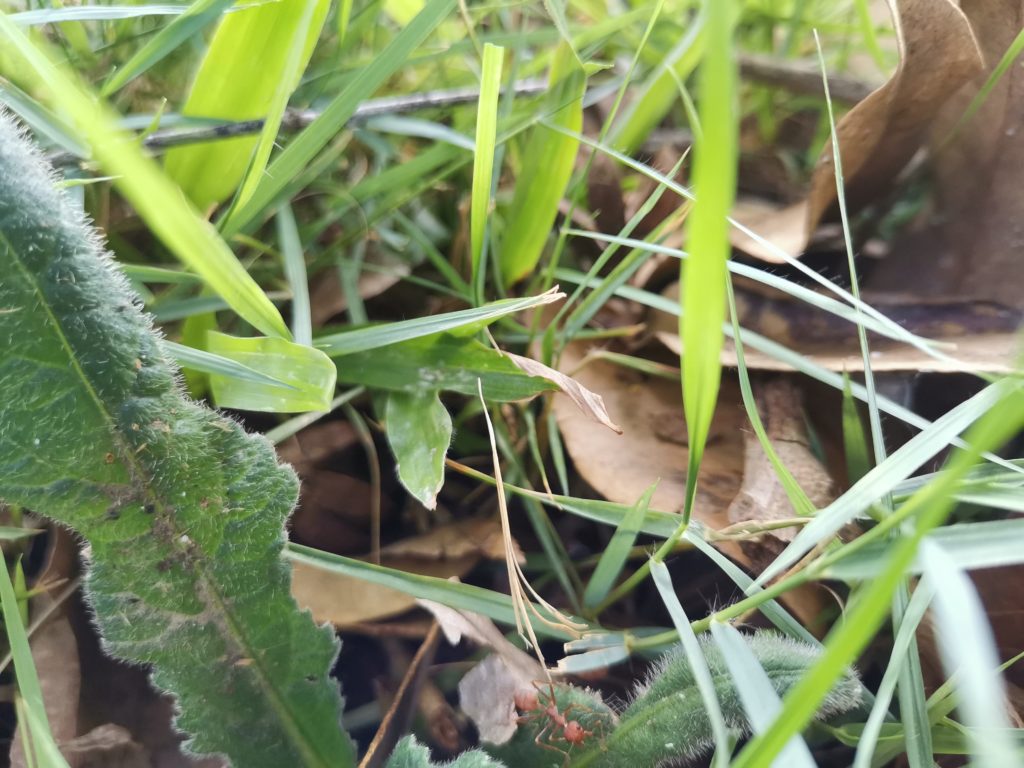 Close-up image (I was bitten as I took this picture)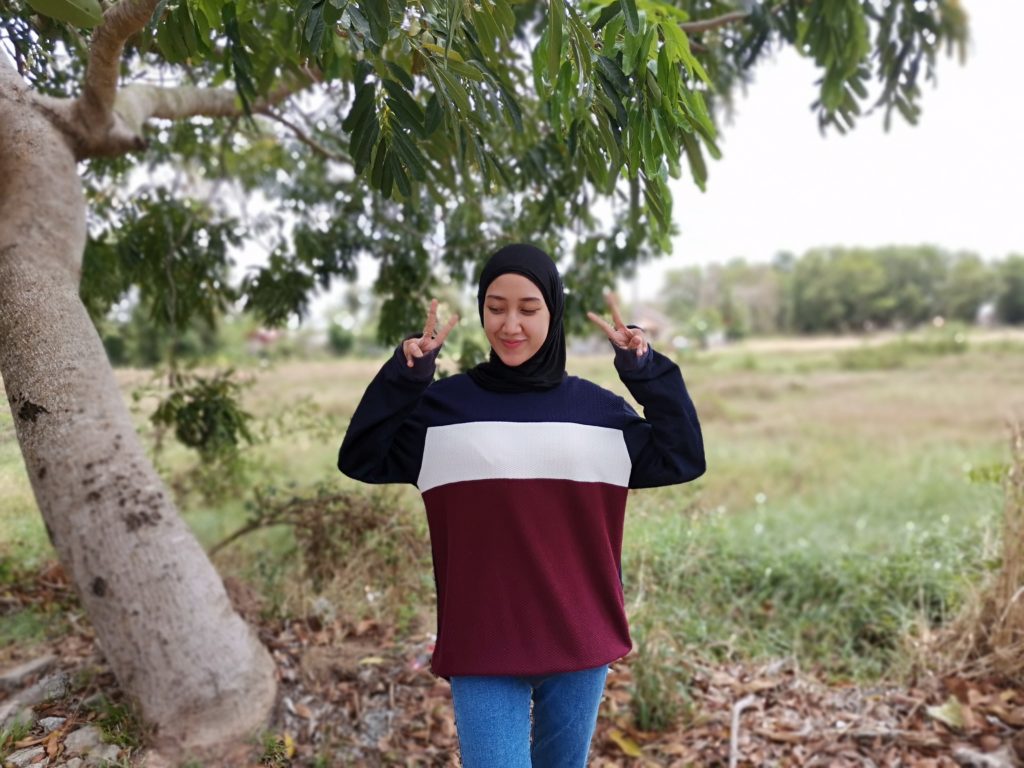 48MP primary lens with portrait mode. Successfully photographed objects with blurry background.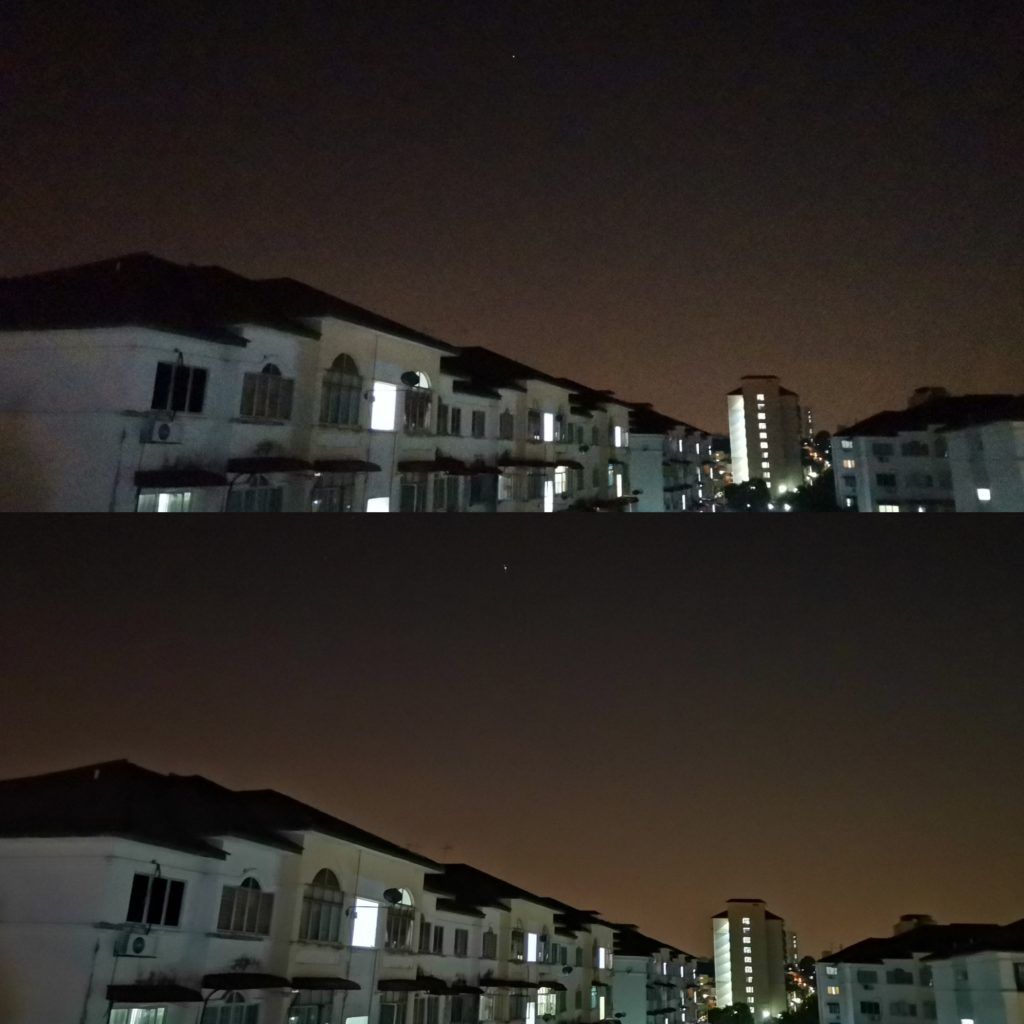 The top image uses normal lenses, the image below with night mode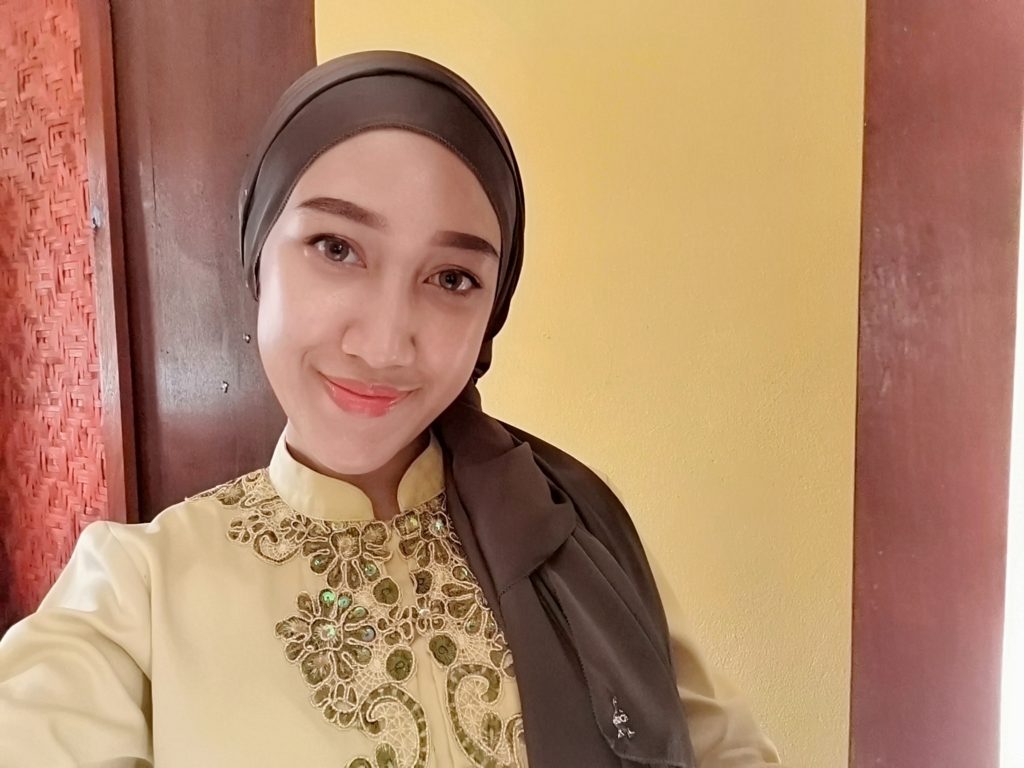 16MP selfie camera
Conclusion - Mobile gaming? Yes.
It's a bit difficult to come up with an overall conclusion on this device. To be honest, the HONOR 9X Pro might be our choice if the Huawei AppGallery had a better list of games or apps. Nonetheless we believe that the Huawei AppGallery will get more great game developers soon and when it does it will really shine as a midrange gaming smartphone.
Even now, the 6GB RAM and 256GB offers plenty of value for those who like to download and play huge GB sized games. Something that you'll rarely see in most phones around the HONOR 9X Pro's RM999 price tag.
However, if you want to have a device that is about the same price but has GMS, you can try the OPPO A91 but you'll have less storage at 128GB. If you don't mind about the storage, you might want to check out the previous version, the HONOR 9X which comes with Google services.
Do you have more reviews for this review? Post your question or comment on our Facebook page and stay tuned to our Top Technology Partner for further smartphone reviews.
Honor 9X Pro Specs & Price >