HTC 7 Mozart Review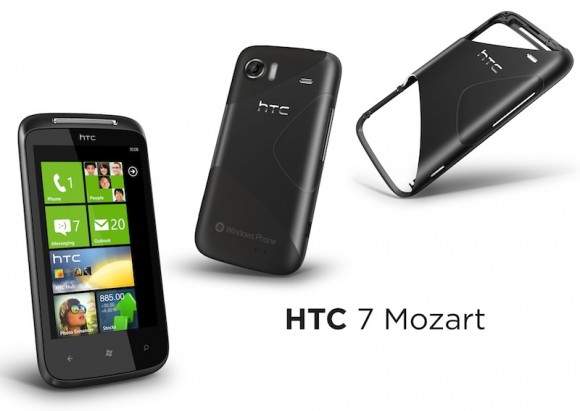 Before Nokia announced that it was throwing in the towel on its own smartphone OS efforts and instead putting its faith in Microsoft's fledging Window Phone 7 platform, HTC was perhaps Microsoft's best buddy when it came to Windows Phone hardware. Along with the Trophy and HD7, the Mozart was one of three handsets that HTC introduced launch of Windows Phone 7.

HTC 7 Mozart - Hardware:

The HTC 7 Mozart, then, takes its core 1GHz Qualcomm Snapdragon QSD8250 processor, and pairs it with 8GB of flash storage (there's no microSD card slot, remember), 512MB of RAM and 576MB of ROM, a 3.7-inch WVGA LCD TFT capacitive touchscreen and 900/2100 dual-band UMTS/HSPA. HTC are positioning the Mozart as their audio-centric device, among the HD7 and the 7 Trophy, but in actual fact it's the photography-biased model. On the back is an 8-megapixel autofocus camera with a Xenon flash, as opposed to the 5-megapixels and LED flashes of its counterparts.
HTC 7 Mozart - Design & Build:
It's a solid piece of hardware, benefiting from HTC's unibody-style manufacturing process that gave us the Android-powered Legend. The brushed aluminum bezel continues around the back of the phone, with two soft-touch triangular plastic inserts for the camera and the battery cover. The latter is used as the antenna, as with the Legend, snapping off to reveal the SIM card slot and, held in with a plastic bar, the battery. Microsoft dictate what buttons a Windows Phone 7 device must have, so the HTC 7 Mozart gets a volume rocker on the left-hand side (above a microUSB port), power/standby button on the top (next to a 3.5mm headphones socket), and a two-stage camera shortcut on the lower right-hand side. Underneath the display are touch-sensitive, backlit back, Start and search keys, while a multicolor status light is hidden behind the earpiece mesh.

It all adds up to a solid, if a little thick-feeling device, measuring in at 4.69 x 2.37 x 0.47 inches and weighing 4.59oz. Turn on, and after the short setup wizard – which allows you to optionally register or sign-in with an email, Facebook and Live ID account – there's plenty of orange, given the fact that this is the Orange UK version of the smartphone.

HTC 7 Mozart - Software:

In short, though, the combination of well-tuned software and speedy hardware makes for an enjoyably swift device. The homescreen, with its distinctive tiles, can be as straightforward or as flexible as you want it to be, and the animations – the tiles tilting slightly as you tap them, lists and menus bunching up as you reach their limits, different screens pivoting into place as you move between them – never feel as though they're holding up the core functionality in the name of visual gloss. Although we like HTC's Sense enhancements on Android, WP7 feels more consistent with the suite of customizations corralled neatly into the HTC Hub.
HTC 7 Mozart - Camera:

The HTC 7 Mozart's crowning glory is meant to be its camera, obviously, though we've learned to be wary about relying too much on megapixel counts. Settings include multiple shooting modes – Auto, Portrait, Landscape, Sports, Beach, Backlight, Candlelight and Macro – together with various effects – Grayscale, Negative, Sepia and Solarize – plus flicker adjustment, a choice of metering – center, average or spot – and flash on/off/auto. No optical zoom, unsurprisingly, just a digital one with several jerky levels. As with a regular camera, you half-press the button to lock focus and then completely press to take the photo; unfortunately the focus lock itself is a relatively slow affair. There's also no on-screen button to take a shot, which some users find helps steady the camera rather than a physical key.

HTC 7 Mozart - Video:
720p HD video recording is also supported, and that's more successful. The Mozart's refresh rate is reasonable, and there's not too much jerkiness or blurring. Fast movement can lead to wobbly edges, as we've seen on other phones, but in general the quality of the footage is good. It's worth noting that there's no HDMI output, however, nor DLNA streaming as we've seen on recent Android smartphones. In fact there's no way to wirelessly offload video from Windows Phone 7, you can only transfer it via the desktop manager app.

HTC 7 Mozart - Battery:

Battery life is rated at up to 330 minutes WCDMA talktime (405 minutes GSM) or 435 hours standby (360 hours GSM) from the 1,300mAh battery. We managed to get through a full day on a full charge with push email turned on and using 3G and WiFi, though especially heavy use of browsing, Bluetooth and voice calls did see the Mozart needing a top-up in the evening.
HTC 7 Mozart - Calls:
Call quality, meanwhile, was strong, with a clear earpiece and callers reporting no problems with interference or background hiss. The speakerphone is on the quiet side, though loud enough for impromptu conference calls around a small table; we'd want to use a car-kit or Bluetooth headset, however, for in-car use. Windows Phone 7 supports the A2DP stereo Bluetooth profile as well, and we were able to pair the 7 Mozart with a stereo headset and use its buttons to control media playback.

Conclusion:

There's a lot to like about Windows Phone 7, and indeed about the HTC 7 Mozart. With its 3.7-inch display it's one of the more pocketable devices, yet without giving up too much in the way of usability. It's camera, meanwhile, can be coaxed into producing reasonable stills and video, and we prefer the Xenon flash for still photography than the less-powerful LED alternative. Microsoft's new OS is obviously coming to a market made up of well-established rivals; it would have been easier, perhaps, for the company to rehash Windows Mobile and rely on its considerably back-catalog of apps as a much-needed sales point.
HTC 7 Mozart Specs & Price >