HTC Desire HD Review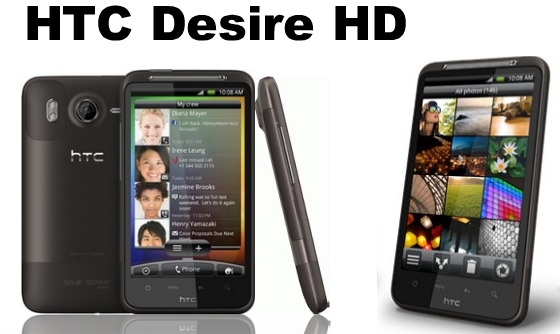 If you're looking for the ultimate smart phone, you just found it. The HTC Desire HD is a big beast for the average user, but if you value power over portability, you won't be disappointed. The best Web browser in the business and a screen that pushes tablet territory means the Desire HD is more than smart -- it's genius.
HTC Desire HD - Features:

The Desire HD features a 4.3 inch WVGA touchscreen display, with a resolution of 480 x 800 pixels, there is also a 1GHz processor, plus 768MB of RAM and 1.5GB of internal storage.

The camera on the Desire HD is an 8 megapixel one that comes with a wide range of features, which include a dual LED flash, auto-focus, face detection, and a range of effects which can be added to your photos. The Desire HD camera also features geo-tagging, and the video camera is capable of recording HD video in 720p. For connectivity you get 3G/GPRS/Edge and 802.11 b/g/n WiFi, plus Bluetooth 2.1+EDR.

It also features a microSD card slot, which can take up to 32GB cards and there is also a 3.5mm audio jack, plus a digital compass, proximity sensor, G-sensor and an ambient light sensor. The Desire HD features a 1230mAh battery which will give you up to 320 minutes of talk time on 3G and up to 490 hours of standby according to the manufacturer specifications.

HTC Desire HD - Design & Display:

The first thing you notice about the HTC Desire HD is the display, the 4.3 inch display is a fair bit larger than other smartphones, the display is sharp and clear and everything looks great on it.

The design of the HTC Desire is very nice, it certainly feels very well built, the body is made from metal and it feels like a quality smartphone, although the size does take a bit of getting used to as it is quite a bit larger the the majority of handsets.
HTC Desire HD - UI:

The HTC Desire HD comes with Android 2.2, and HTC Sense UI, this is where the handset really shines, as the Sense UI is stunning and great to use and it definitely one of the best user interfaces we have seen on an Android smartphone to date, the Sense UI on the Desire HD is the new updated version, and HTC has done a great job on improving an already great UI.
HTC Desire HD - Camera:

The Desire HD feature an 8 megapixel camera, it comes with built in auto-focus and a dual LED flash, it is capable of recording HD video in 720p, and also comes with built in face detection software. There are also a range of built in effects which include depth of field, distortion, vignette and many more, these can be quite fun to use and do produce some interesting photos.

Overall the camera does a pretty good job at taking photos, everything you would expect from a smartphone camera, the quality is pretty good, you can see a sample photo below taken with the Desire HD camera on standard settings.

HTC Desire HD - Performance:

With a second-generation, 1Ghz CPU I expected a little more speed than what I experienced. The overall performance of the device and Sense UI launcher was generally fast and snappy, but I encountered intermittent periods of very noticeable lag in seemingly random places. Restarting the phone resolved the issue. Music and videos played flawlessly without hesitation, skips, pops, or other anomalies.

HTC Desire HD - Call Quality:

Call quality using both carrier network and Google Voice were clean and clear. The device fits easily in the hand for traditional phone-to-face holding and both sides of the conversation were superb. Calls made using various Bluetooth devices and the included wired headset were equally clear.

HTC Desire HD - Battery Life:

When I cracked open the battery compartment for the first time I was honestly surprised to see a 1230mAh hiding inside – it seemed somewhat small. The G2, with a slower processor, small screen, and HSPA+ radio, has a 1300mAh battery.
Conclusion:

The Desire HD is a great Android smartphone and the HTC Sense UI makes it a pleasure to use, and everything seems to work well and flow together. It is definitely well built, and feels like a quality smartphone. The size may take a little getting used to if you have only used a standard size smartphone before, one you get used to it the 4.3 inch display is great.
One thing I would point out about the Desire HD, is the battery life, it isn't the best we have seen on a smartphone, and you can expect to have to charge it daily if you are a heavy user.
HTC Desire HD A9191 Specs & Price >