HTC Evo 3D Review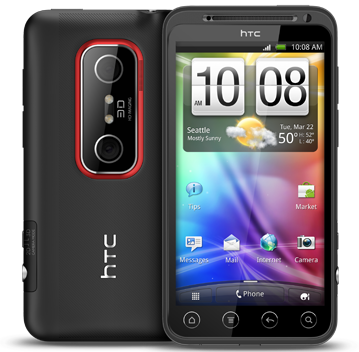 The HTC EVO 3D and its chanting followers is something we rarely see in the smartphone industry, back when it launched it had a very quick rise to fame. I mean it had that huge 4.3″ screen that made all the other phones around look tiny, it had 4G and it was fast. I can see why everyone fell in love with the original EVO and why its still selling like hot cakes, it is a sweet phone. Will the new HTC EVO 3D live up to the same fame — can it be everything and more? Read on to find out.
HTC Evo 3D - Design & Build:

First and foremost, the EVO 3D is a gorgeous phone. Like the EVO 4G, the EVO 3D is black with blood-red detailing. Keeping it in the family, the EVO View Android tablet, also announced today, has the same color scheme. The EVO 3D smartphone feels solid, but not bulky in the least. It has a nice, textured rubber backing and a slimmer shape that feels good in hand.
With the battery in place, the HTC EVO 3D weighs 6 ounces. It measures about 5 inches tall, nearly 3 inches wide, and 0.47 inches thick. Its display is a 4.3-inch 3D touchscreen with a sheet of Gorilla Glass for added toughness. Unlike the EVO 4G, the EVO 3D doesn't sport a kickstand--mainly because the twin 3D cameras occupy most of the space on the rear.
HTC Evo 3D - Display:

One of the most important features of the EVO 3D is, of course, its 3D display. The phone uses parallax barriers to display 3D images and video, without the need for clunky 3D glasses. The EVO 3D's 4.3-inch qHD 960-by-540-pixel screen looks terrific in 2D--and pretty good in 3D, as well. Let me be clear, however: This isn't the kind of 3D you'd see at the movie theater. Images aren't exactly flying in your face. Rather, it looks like you can peer into the phone much like a diorama.

You need to maintain an absolute dead-on viewing angle to properly appreciate the third dimension, though. If you're viewing at a slight angle, the image will look like a blurry mess. This can be difficult with a small screen. With an image or a short video clip, it isn't too hard to hold the phone directly in front of your eyes for a few seconds. And don't even think about trying to watch 3D movies outside; it completely fades in bright sunlight. If you don't want to view 3D images and prefer to stick to the standard 2D display, a toggle switch on the side of the device allows you to turn the effect off.
HTC Evo 3D - User Interface:

Like the HTC Sensation, the EVO 3D comes with the latest version of the Sense user interface. Sense 3.0 has a brand-new customizable lock screen. You can pick a theme for your lock screen (the phone offers quite a few to choose from) and then select four apps that you visit the most. When you turn on your phone, you'll see those four apps at the bottom of the screen. To unlock your phone, you drag the circle and move it over an app; you then jump straight to that app. That way, you don't have to go through multiple menus to reach your e-mail or any other items you access frequently.
HTC Evo 3D - Performance:

The EVO 3D is powered by a 1.2GHz dual-core Qualcomm Snapdragon processor. The Snapdragon processor supports advanced 3D technology, including full 1080p 30-frames-per-second HD video and stereoscopic 3D video capture and playback.

So how much of a difference does dual-core make? We matched the EVO 3D up against its predecessor, the HTC EVO 4G (a single-core device), and there's quite a big difference--one you'll notice as soon as you turn on the phone. The EVO 4G had a startup time of 74 seconds (!), while the EVO 3D had a much faster startup time of 13.7 seconds. File transfer speed was about the same for both phones, with the EVO 4G clocking in at 7.8 megabits per second versus the EVO 3D with 7.2 megabits per second.

HTC Evo 3D - Camera and Video:

Despite my mixed feelings about 3D, there's something quite satisfying about capturing 3D images or videos and then being able to watch them on the same device. But you can also view them on any 3D TV with the help of the phone's HDMI-out jack. The HDMI jack uses a technology called MHL (Mobile High-Definition Link) that allows both charging and HDMI-out via the same port.

Like the Sensation 4G, the EVO 3D comes loaded with Watch, HTC's new movie and TV-show streaming service. With Watch, you can download videos and start viewing them immediately. Watch is well integrated into Sense, making it easier to find the videos you want to, um, watch. The app's interface is clean, and movies are easy to find, but the library is pretty sparse at this point. You'll find some newly released movies like Due Date and some classics like Top Gun. If you're looking for something in particular, though, you're not likely to find it (no Spinal Tap!).
HTC Evo 3D - Data Speeds and Call Quality:

The EVO is also juiced with 4G data speeds, and it comes with a 4G mobile hotspot feature that lets you share your connection with up to eight devices. The EVO 3D achieved average download speeds of 3.59 megabits per second and average upload speeds of 1.42 mbps. This is in line with other 4G phones we have tested in the past. And thank goodness for the 4G widget on phones, which makes it easy to switch 4G on and off. Call quality over various network was okay, though it could be uneven at times.
Conclusion:

The EVO 3D is a powerful phone--3D or not. My opinion of 3D remains pretty much the same: It is fun to watch short videos in 3D or take 3D photos, but it is definitely still a novelty feature. That said, the EVO 3D's design is gorgeous, and the combination of dual-core Snapdragon processors with 4G can't be beat. It is definitely the best phone and a worthy successor to the original EVO.
HTC Evo 3D Specs & Price >