HTC Flyer Review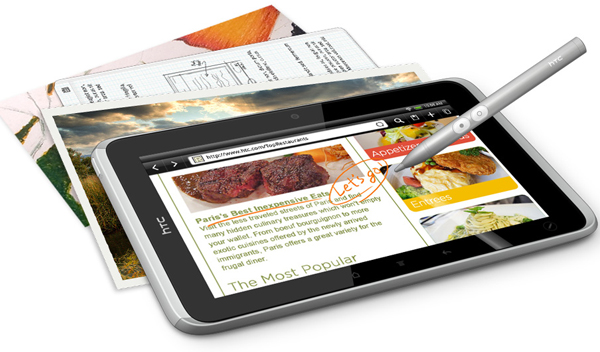 HTC has taken a different approach to its first tablet. Like the Blackberry Playbook, the screen is seven inches, this instantly makes it a far more portable option and at just 122 mm wide, it can easily fit into a pocket. This form factor also enables you to hold it comfortably using one hand.

Construction follows the same unibody design as HTC's handset range, but this time with white accents. HTC uses a proprietary port in the base for charging and unlike Honeycomb tablets it charges over USB.
HTC Flyer - Android:
When HTC announced that the Flyer would be running Android 2.3.3, we were surprised – surely it makes sense to run the latest tablet optimised version of Google's UI? So although it looks like a big smartphone, it doesn't feel like a smartphone to use - unlike the first Samsung Galaxy Tab.

There's a slick 3D carousel of homescreens for you to flick through, while widgets such as FriendStream, Contacts and Mail have been designed to fit a large screen, with most changes evident when you flip the Flyer to landscape orientation.

In Mail you can view a dual-panel email view, with a list of messages on the left and contents of the email on the right. However the bewildering array of buttons, means it isn't as intuitive as the Honeycomb Mail app, where the controls change intelligently.

Contacts too has a dual-pane view in landscape format, displaying additional contact details including Twitter and Facebook accounts on the right. You still get HTC's social networking widget Friendstream displaying Twitter and Facebook feed on the left, with comments on the right.

The HTC Flyer sorely misses some key elements of Android 3.0 Honeycomb, such as the excellent You Tube app with its 3D wall and the ability to drag and drop apps and shortcuts onto the screens.
HTC Flyer - Performance:
HTC has included a single, rather than dual-core processor, but we never found the device slow at loading web pages. In fact in general use it's smooth and quick to use. On-board Flash support is welcome too.

Without a dual-core chip you won't be able to access the range of games available for tablets like the Motorola Xoom. HTC's solution is to include cloud-based gaming service OnLive. It hasn't launched yet, but when it does you'll be able to play games including Assassin's Creed Brotherhood and Lego Harry Potter.
HTC Flyer - Screen:
The Flyer shares the same screen resolution as the Blackberry Playbook, and playing back a selection of HD clips, motion was smooth and colours natural, although we noticed blacks and whites aren't as pure as the iPad 2. Seven inches is a good size to watch movies comfortably though. Off-angle viewing is OK and visibility isn't too bad in bright sunlight.
HTC Flyer - HTC Scribe:
One of the main distinctions of the Flyer is its compatibility with a pen. Surprisingly this doesn't come with the device and will cost an extra ~RM240. Enter Pen mode at any point by tapping the green icon. You can either scribe notes or take a screen shot.

The pen is compatible with certain apps, including Notes, which has been optimised especially for it. As well as scribing notes, you can also record an audio track simultaneously, when you've finished tap on the note and it automatically goes to the correct part of the audio track. We tried it out by taking notes while watching The Apprentice and it works very well, although the tapping of the pen is audible.

The pen doesn't work as a stylus, so on occasion our natural instinct was to use it to tap the screen to access menu commands, when in fact you need to use your finger. Two buttons on the pen let you erase and highlight text, although the latter only works in compatible programs, such as Reader, Polaris Office and PDF Viewer.
HTC Flyer - Camera:
HTC's equipped the Flyer with a 5-megapixel primary camera, which is poor. Tapping the screen to autofocus is a nice touch, although detail is very soft, with little definition, especially at wide angle. Things improve with close up shots though, which are much sharper.

There's a good selection of tweakable features, including: ISO, White Balance and Exposure Compensation, along with HTC filters: Distortion, Vignette and Vintage.

The rear camera captures 720p movies at 30fps, but while the action is smooth, it's very soft, drop it to VGA and quality improves dramatically. We've been disappointed with HD movie quality of a few HTC products and this is no exception.
HTC Flyer - Battery:
With WiFi on and screen brightness to Automatic, we managed to get five hours use, four hours or so of movie playback and an hour or so of general use, including browsing. With a lot of downloads, this will probably reduce.
Verdict:
There are some things we love about the Flyer: the high-quality build, the size, performance and HTC Sense is slick and efficient. Sure Sense lacks features of Honeycomb, but it's arguably simpler to navigate. The Flyer is not a multimedia powerhouse, but if you're main use of the tablet is browsing, playing back video and making notes, the 1.5Ghz processor will be more than adequate.

What makes the Flyer unique is its pen, which with practice certainly adds a new dimension to tablet use. But we object to the extra cost of the pen, especially when you are paying a whopping pirce for the 32GB 3G version of the tablet.
HTC Flyer Specs & Price >