HTC HD Mini Review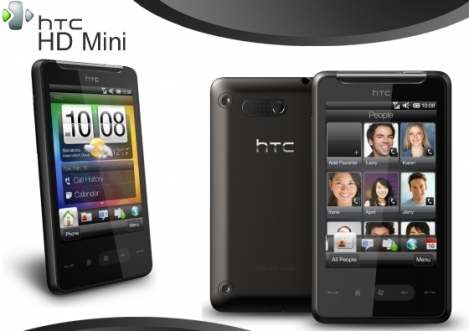 Windows Mobile 6.5.3 is an albatross hanging around the HTC HD Mini's neck. With the HTC Sense interface, the phone is somewhat usable. But with the wondrous Windows Phone 7 launched, you can't seriously consider the HD Mini right off the bat—so keep that in mind as we discuss the phone from a purely academic perspective.
HTC HD Mini - Design & Build:

The hardware is great. It's what we've come to know and love from HTC, scaling the HD2 down to a more accessible size. It's an industrial one, the HD Mini. Certainly not sleek and sexy like the Legend, nor curved like the Desire. Exposed screws on each corner of the rubberized back plate give it a very masculine appearance. Underneath the cover lies a bright yellow inside, a hidden secret which I showed off to countless friends while testing it.

HTC HD Mini - Display:
The 3.2-inch capacitive HVGA screen more than big enough to browse and type on. It's bright until you hold the phone in the sun. The screen is responsive, with haptics providing feedback—though I found it more difficult typing on the HD Mini than I did the Legend and Desire, often pressing the wrong letters. Predictive text exists for a reason, but it did have me pining for my usual BlackBerry.

HTC HD Mini - Performance:

A 600Mhz processor with 384MB of RAM should be adequate to drive a modern smartphone OS, but the lag was infuriating. Switching between programs, heck even scrolling through the sideways menu bar through Sense was a real hassle. Trying to read the Twitter feed, scrolling through the messages but encountering an almost-frozen screen resulted in me just not bothering after a while. The HD2 has a Snapdragon processor and 448MB of RAM, which was "unbelievably fast," but with the slower processor the HD Mini is almost crippled by WinMo.

Surfing the internet didn't prove to be difficult, though I did find 3G service dropped in areas where I normally receive a strong signal. In most places though it was fast, though browsing was hindered by the clunky Opera browser.
HTC HD Mini - Camera:

A typical 5MP image sensor with flash and autofocus didn't throw any surprises my way, though the lack of a hard button for taking photos is always a disappointment. Due to the nature of Windows Mobile, fumbling for the camera app is time consuming, having to load the menu and scroll through to the app, or scroll sideways through HTC Sense and access the camera through the photos and video app.
HTC HD Mini - Battery:

HTC has squeezed a 1200mAh battery into the slim casing of the HD Mini, which proved decent enough, but as smartphone owners know all to well, constantly being connected results in daily charging. The Legend used a 1300mAh and HD2 1230mAh, so we've certainly seen better—but anyone buying a Windows Mobile phone will be well aware of battery downfalls already.
HTC HD Mini - Call Quality:

I wouldn't normally mention call quality in reviews nowadays, as you expect a certain level of quality from this high-end smartphones. Having said that, the call quality was pitiful on the HD Mini. On a call to my parents, I actually had to swap my SIM back into my BlackBerry, such was the annoyance of having a crackling sound in my ear. This could be due to the phone being a pre-production unit, as two other reviewers I spoke to about the issue also confirmed they had problems. Having said that, if you do buy this handset, be sure you're happy with the call quality before committing fully.
Conclusion:

I do feel quite sad for HTC. They can't do wrong when working with Android, but when faced with a clunky, bloated operating system that will be DOA, it really lets the whole phone down. Lag was a real issue, the camera wasn't quite as good as the Desire and Legend's, despite the similar specs, and while HTC Sense helps hide some of the most unflattering views of Windows Mobile, it doesn't take too many presses of a finger to dig down and discover the true bones of the OS—and it's always, painfully, excruciatingly slow.

HTC HD Mini T5555 Specs & Price >