HTC HD7 Review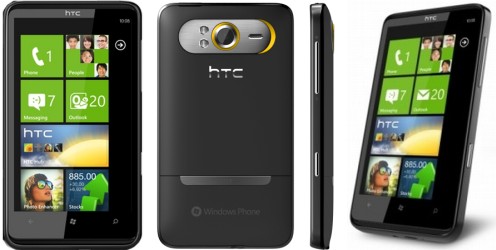 The HTC HD7 is one of the best from the first batch of Windows Phone 7 smartphones and it features a large 4.3-inch capacitive touchscreen LCD display. The HD7 feels a bit heavier but some people would prefer its square form factor and metal-like look.
HTC HD7 - Hardware:

The HD7′s hardware is strikingly similar to that of the HTC Desire HD we reviewed earlier. Dominating the phone is a 4.3-inch WVGA capacitive touchscreen, with minimal bezel and a 5-megapixel autofocus camera with dual-LED flash on the back. Inside is a 1GHz Qualcomm Snapdragon QSD8250 chip, the same as all the other first-wave Windows Phone 7 devices, paired with 576MB of RAM, 512MB of ROM and 16GB of flash storage (courtesy of an internal microSD card not intended for user-replacement). Again, there's no user-expandable storage option.

HTC HD7 - Control:
Hardware controls consist of the power/sleep button on the top edge, and volume and camera buttons on the side; there are also three touch-sensitive buttons under the display – back, home and search – together with a 3.5mm headphone jack and microUSB port on the bottom edge. The metal surround for the camera flips out to prop the handset up for video playback, though we're dubious about its long-term resilience to damage. While the phone overall feels sturdy, the thin plastic battery cover and the stand do seem the most likely breaking points.
HTC HD7 - Software:

The combination of well-tuned software and speedy hardware makes for an enjoyably swift device. The homescreen, with its distinctive tiles, can be as straightforward or as flexible as you want it to be, and the animations – the tiles tilting slightly as you tap them, lists and menus bunching up as you reach their limits, different screens pivoting into place as you move between them – never feel as though they're holding up the core functionality in the name of visual gloss. Although we like HTC's Sense enhancements on Android, WP7 feels more consistent with the suite of customizations corralled neatly into the HTC Hub.

HTC HD7 - The Hub:

The Hub consists of a suite of mini-apps that more closely resemble the company's Sense experience on Android devices. Loaded via a dedicated tile on the homescreen, it's packed with HTC's favorite weather animations and a selection of mini-apps including a flashlight, basic photo editor, stocks app, notes app (in which the notes visibly age the older they are), a sound equalizer and a converter app. HTC has also said it will be releasing further apps for the Hub for users of its devices. While they all work, the overall theme sits uncomfortably with the regular Windows Phone 7 UI, and Microsoft's decision to prevent OEM modification of the core visuals of the OS means it's easy to forget HTC's extras.
HTC HD7 - Camera:

Unlike the HTC 7 Mozart, the HD7 makes do with a 5-megapixel camera (rather than 8-megapixels) and a dual-LED flash (rather than Xenon). Since the Windows Phone 7 camera app is the same, there are multiple shooting modes – Auto, Portrait, Landscape, Sports, Beach, Backlight, Candlelight and Macro – together with various effects – Grayscale, Negative, Sepia and Solarize – plus flicker adjustment, a choice of metering – center, average or spot – and flash on/off/auto. The digital zoom steps through its few jerky levels with either the touchscreen or the volume rocker.

Unfortunately, while the Mozart's two-stage camera button is solid and tactile, the HD7′s is mushy and uninspiring. It's hard to tell whether it's half-depressing to lock focus or not, since the mechanism overall has so much play to it. As a result, more often than not we found ourselves nudging the phone unduly while trying to snap a frame.

HTC HD7 - Multimedia:
Consuming multimedia is perhaps the HD7′s forte, then, and – while what is the biggest display on a Windows Phone 7 device today still doesn't offer any extra pixels beyond the standard WVGA resolution – the handset does a decent job of it. The OS supports 3gp, .3g2, .mp4, .m4v, .mbr and .wmv video, and as long as you're sitting dead-on to the HD7 and using headphones then the experience is strong.
Shared viewing is less successful, mind, mostly because of poor viewing angles that mangle the colors as you move off-center. Unfortunately it's more noticeable in landscape orientation than it is in portrait, which considering how HTC – and the kick-stand – encourage you to use the HD7, is a real issue. The stereo speakers which flank the short edges of the display, meanwhile, are also pretty underwhelming, and they're perfectly placed and shaped to catch all the dust and fluff from your pockets, too. Happily audio quality through headphones – either wired or Bluetooth A2DP wireless – was more successful, and the Windows Phone 7 media player responded to the AVCHD controls on our test Bluetooth cans.
HTC HD7 - Battery:

Prize off the HD7′s wafer-thin battery cover and there's space for a 1,230mAh pack, which HTC reckon is good for up to 380 minutes of talktime or 320 hours of standby. Despite the bigger screen and the HD7 being a larger handset overall, it actually gets a smaller Li-Ion pack than its Trophy and Mozart siblings. Other Windows Phone 7 devices offer even more capacity.

The result is a smartphone that penalizes you heavily if you take advantage of its media and browsing abilities. Watch a few video clips, spend some time online over 3G or WiFi, and you'll find yourself out of juice before the day is through. More moderate use saw us manage a full day, complete with push email turned on.

HTC HD7 - Phone:
Phone quality was good, with parties at both ends able to head us clearly, and the speakerphone was strong. Being able to prop the HD7 up on its kick-stand made for a good impromptu conference call setup. We also paired it with Bluetooth earpieces, and had no problems there either.
Conclusion:

The HTC HD7 delivers a great performance with its large display; whether it is emailing, browsing the web, getting directions on Bing maps, reading and editing a document or watching videos, it is highly enjoyable. A few features could have been better: the display and the speaker quality, web browsing was overall slightly slower than expected.
HTC HD7 Specs & Price >