HTC Wildfire S Review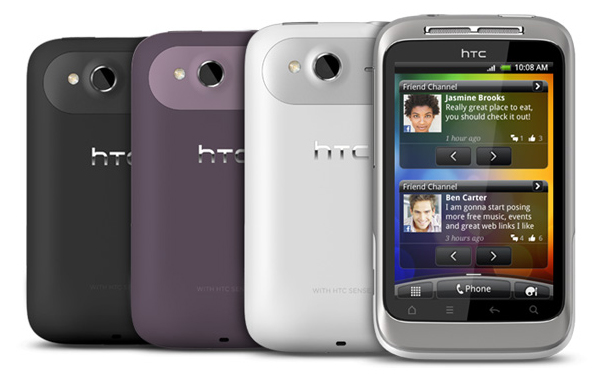 The HTC Wildfire S is here to take the baton from HTC's entry-level Android phone for 2010, the hit HTC Wildfire. This time around it's sporting a spruced up screen, a newer bake of Android and a luvverly metal shell.
Wildfire S - Design and build quality:
If the original Wildfire was a pico-sized version of the hit 2010 HTC Desire Android phone, so the HTC Wildfire S echoes the new look and design of its sequel, the HTC Desire S. Port placements are the same, the trackpad has been ditched in favour of responsive capacitive buttons below the display and it keeps that same beautiful metal build.
Unlike the Desire S, it's not actually a unibody design, but it still feels top notch with a cool, strong and smudge resistant finish, and a lilac hue that's not nearly as offensive on your eyeballs as you'd expect (there are black, white and red versions also).
It's a miniature version of the Desire S, and it certainly feels it in your hand: we still can't get over how small this handset is, at just 101.3mm long. Perhaps it's all the jumbo four inch phones we've been using over the last year? Regardless, you'd do well to check one out in a shop to see if it suits your fingers: it's gorgeous and sturdy, but it is small, so typing could be an issue for you.
Wildfire S - Screen:
This time around, HTC has bumped it up to a sharper 320×480, so almost every Android app is now supported, and text, websites and images appear sharper and much easier on the eye. Unfortunately, the LCD panel still can't match the beautiful colours of the AMOLED display on last year's Legend, which sports the same resolution, and it's not something you'll settle for if you've ever owned a handset with a more pixel dense screen.
And more surprisingly, we had some issues with touch response: now and then, taps we'd expect to register on any other Android phone would go unnoticed – which is a bit irksome when it comes to putting in your PIN number every time you want to unlock the phone.
Wildfire S - Key Features:
HTC's aim with the Wildfire S is to provide an affordable way into both the latest version of Android (2.3, the first sub-1GHz phone to offer this), and its clever HTC Sense services, from Facebook contact integration to app recommendation and cloud backup.
There is a price to pay though when it comes to hardware: the aforementioned screen and a rather bog standard 600MHz CPU that's not the smoothest of smartphone experiences. Don't expect high end games to run on this, even if most regular apps execute smoothly.
Wildfire S - Usabilities:
Android itself is a powerful operating system, with a wealth of apps and hidden features tucked away beneath its widgety homescreens. It's not always an easy one to get to grips with, but HTC's Sense software skin compensates, offering a seamless way to connect Facebook and phonebook contacts, and see updates when you make a call. It also has an excellent browser, which wraps text to fit the screen quickly and easily.
Wildfire S - Connectivity:
The HTC Wildfire S isn't a flagship phone, and as such you can't expect much more than the bare minimum that Google specifies and Android allows natively. You get your usual combination of HSDPA, Wi-Fi and GPS for location lock on, as well as the ability to share your 3G connection as a Wi-Fi hotpot, an extremely handy software feature of Android introduced in version 2.2.
Wildfire S - Video and camera:
The HTC Wildfire S is still rocking last year's five megapixel sensor with seemingly little improvement: there is auto focus of sorts, but we still struggled to come away with particularly defined shots. Standard definition video is rather pedestrian too, with visible frame skips.
On the plus side though, the camera app loads up surprisingly quickly, and Android being Android, it's incredibly easy to bung your content online to whatever service you want.
Wildfire S - Media playback:
While LG adds .AVI video playback and Samsung throws in lossless audio and full HD MKV container support, HTC's never lifted a finger, content to allow you to play back the limited file types Android supports natively. The same is true of the Wildfire S, which also lacks Flash video streaming support due to its low power processor. As such the HTC Wildfire S is only for those who want to listen to MP3 music files and not much else.
Wildfire S - Apps:
As ever, access to the Android Market puts hundreds of thousands of apps within a fingertip's reach, but there are a few extra ones HTC has included you won't find anywhere else. As well as HTC's now famous and still futile Stocks ticker app, there's a hub to download more themes, plus HTC's cloud Sense services for backing up your contacts and tracking down your phone should it ever get lost.
Wildfire S - Call quality / battery life:
The HTC Wildfire S provides surprisingly respectable acoustics when it comes to making calls. It can belt out crisp sound, and we didn't have any reports of muffled ramblings from unlucky recipients of our calls.
The first Wildfire didn't set the world ablaze with reports of incredible battery life, but this one deserves to. Despite its small 1230mAh capacity battery, we found that the Wildfire S lasts a full two days of use between charges, with GPS, Wi-Fi and email sync all whirring away. Of course, this is in part because you won't be using the phone to play games all hours of the day as you would on more powerful Google blowers: but the extended run time should definitely appeal to plenty of modest mobile users.
Verdict:
It may very well be HTC's low price Android offering, but that doesn't mean the HTC Wildfire S is the best affordable Android option. The HTC Wildfire S is however, the new micro Android option. If your fingers are the size of a grain of rice, and you're looking for a more up to date Sony Ericsson Xperia X10 Mini, you'll love this tiny little smartphone. Us though, we're all about the big screens.
HTC Wildfire S A510e Specs & Price >