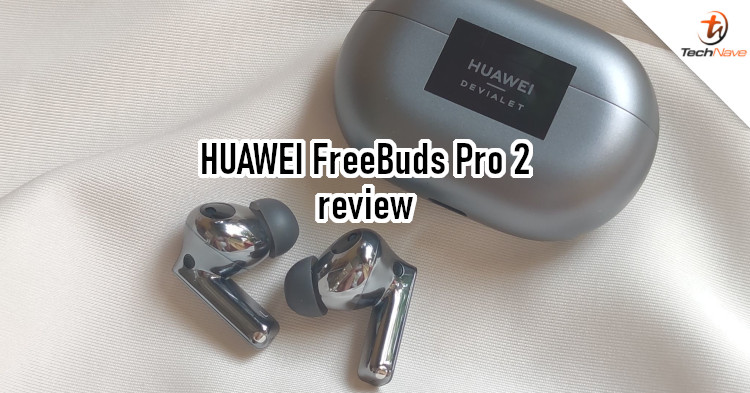 As more manufacturers continue to release true wireless stereo (TWS) earphones, the technology continues to improve. With TWS earphones, most think that they come with noise cancellation. Not all of them do, of course, but the new model from HUAWEI does. In addition to a noise reduction of up to 47db, these earphones are a collaboration with French audio manufacturer Devialet!
So how do the HUAWEI FreeBuds Pro 2 fare? Read on below to find out!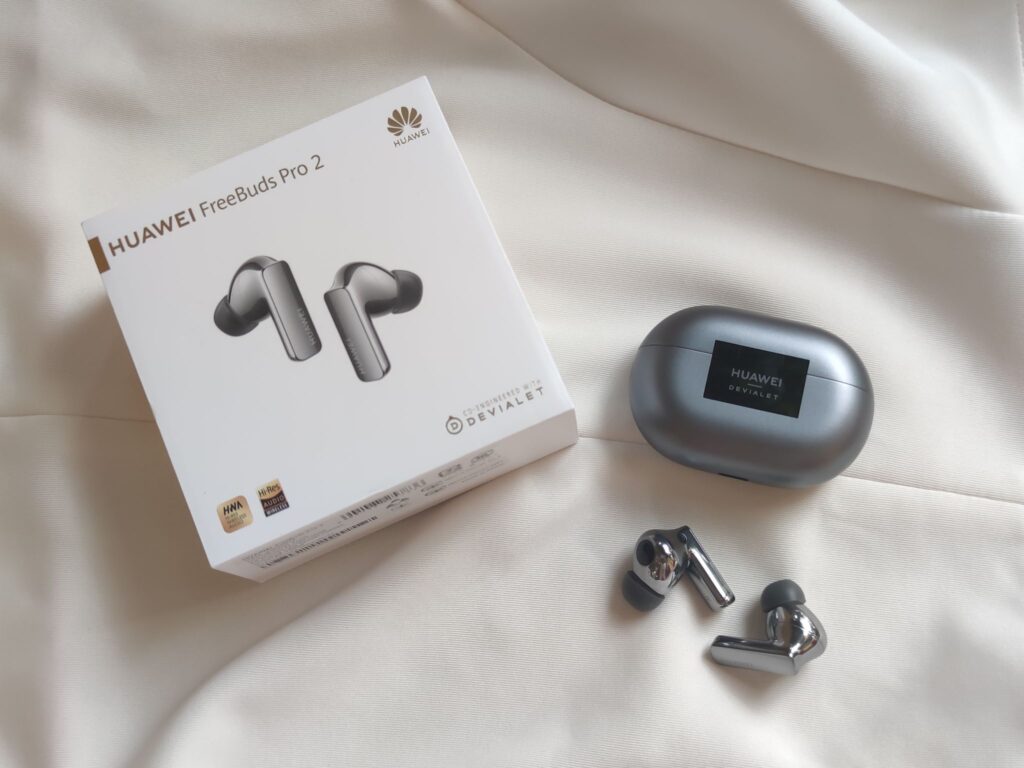 The packaging, charging case, and FreeBuds Pro 2 earphones
In terms of design, HUAWEI went for a soft stone colour for the FreeBuds Pro 2's charging case. Although the HUAWEI FreeBuds Pro 2 are made of plastic, they don't feel cheap. On the contrary, the matte texture and pearl-like lustre give them a luxurious feel.
More importantly, fingerprints won't stick to the case. Besides that, it's light and small, which makes it easy to carry around. If that's not a colour you like, the FreeBuds Pro 2 is also available in Silver Blue and Ceramic White.
At the back of the charging case is a rectangular shiny metal surface, where you'll find the HUAWEI and Devialet logos. It's a nice touch but might mislead you into thinking it's the front instead of the back. Also, the glossy metal surface is much more susceptible to fingerprint smudges.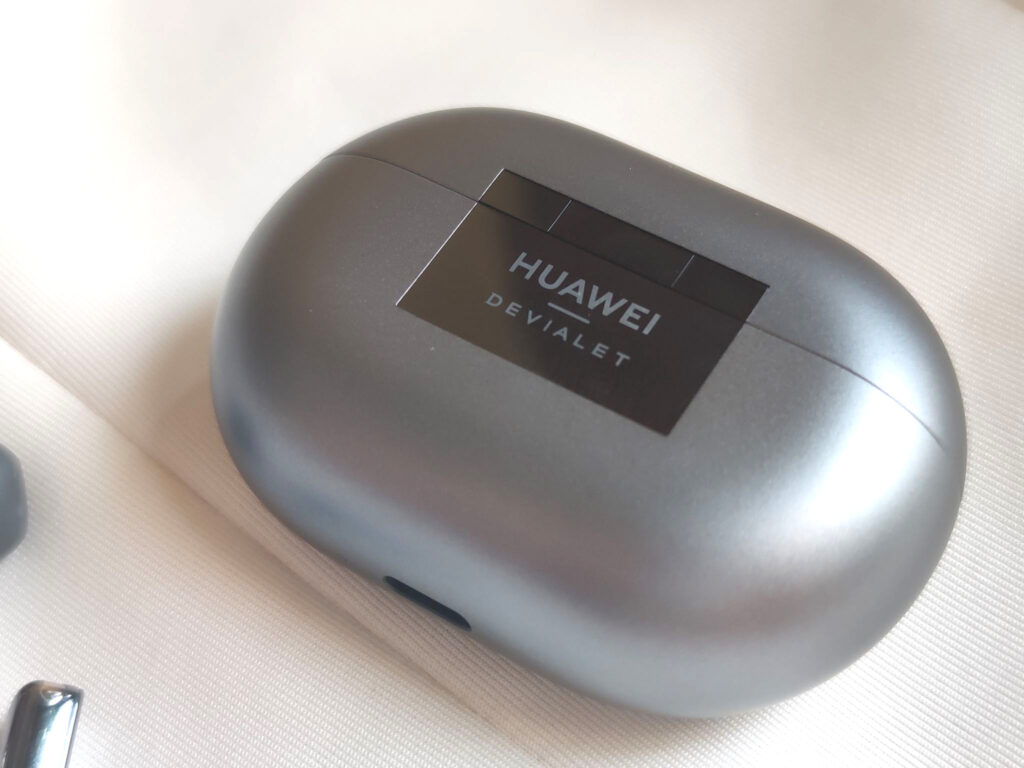 A closer look at the charging case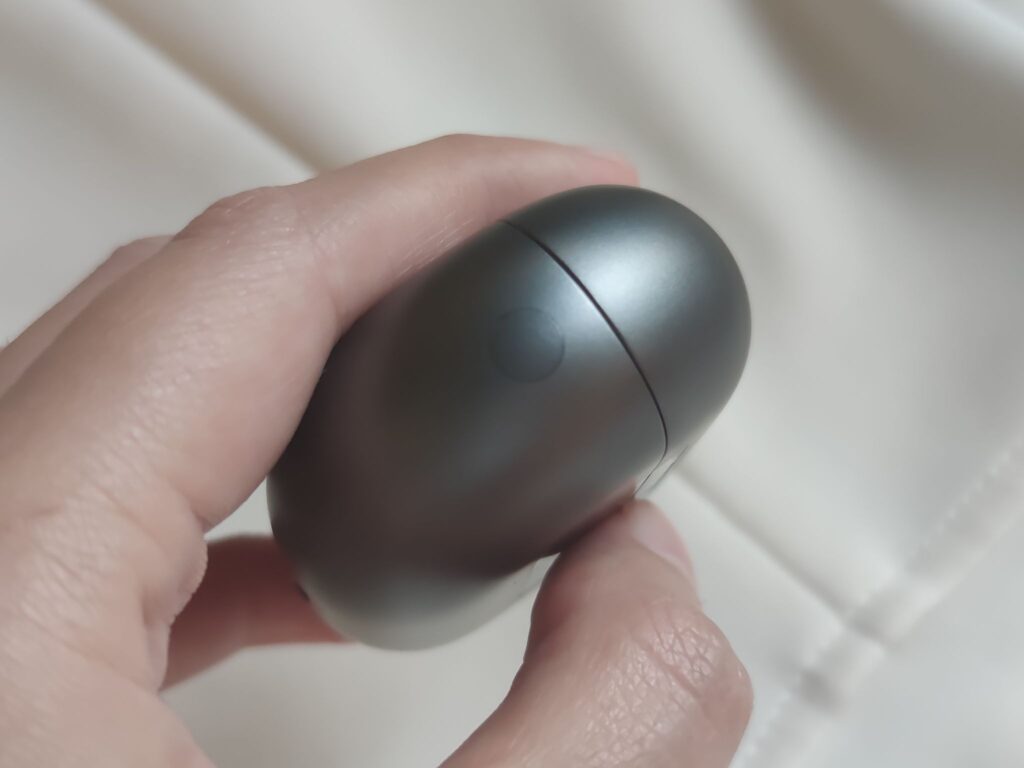 The Bluetooth connection button
The magnetic force for the charging case is just right, so it can be opened with a slight push but shouldn't open accidentally while in your pocket. There's also a Bluetooth connection button on the right side, but its colouring makes it blend into the background, so it can be a bit hard to spot. Still, it's a simple design that we liked a lot.
Unlike the case, the earphones feature a brighter glossy surface. They're a bit slippery to the touch and collect smudges easily. At first, we had trouble getting the earphones out of the case consistently. But after using it for a while, we found that you just needed to grab the right sides, give it a slight push up, and it's out.
The weight of each earphone is 5.9g, so it's lighter than its predecessor. The lighter weight means you'll hardly feel it, and it won't fall off even if you're exercising. However, its shape makes wearing it feel uncomfortable after a while. If the earbuds don't fit well, you can try using the extra small and large-sized earbuds provided in the box.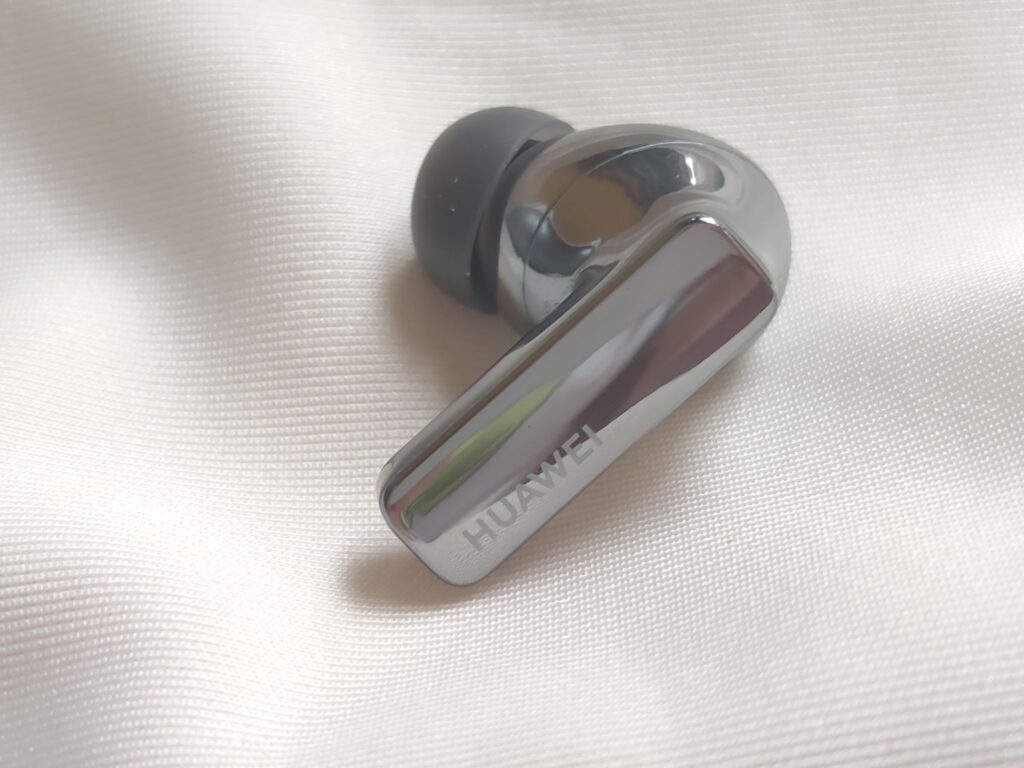 Close-up of the earphones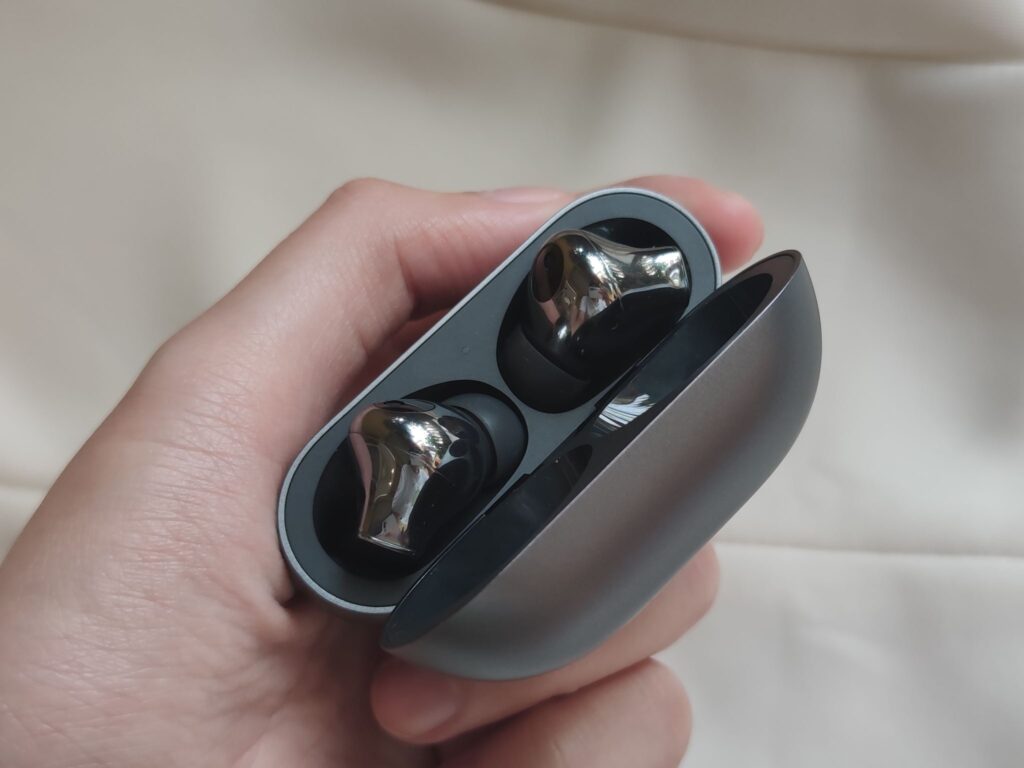 The earphones stored in the case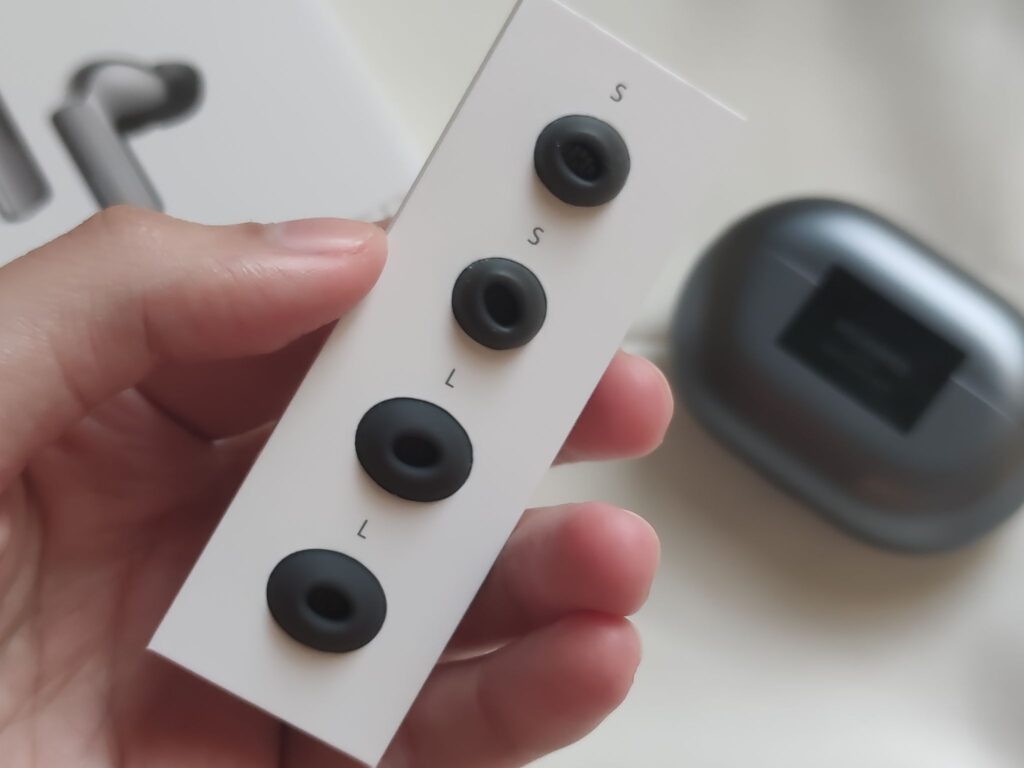 Extra small and large earbuds
Like most TWS earphones, you can download an app for some advanced settings. In this case, you'd need the "HUAWEI Smart Life" App. When pairing, just open the charging case, make sure the earphones are in place, and then press and hold the pairing button. You should see an indicator light inside the box flashing as the device starts the connection.
It should be noted that the HUAWEI Smart Life App (from the Google Play Store) will remind users to install the updated version after downloading. You might end up with two versions of the HUAWEI Smart Life after the update, so keep that in mind.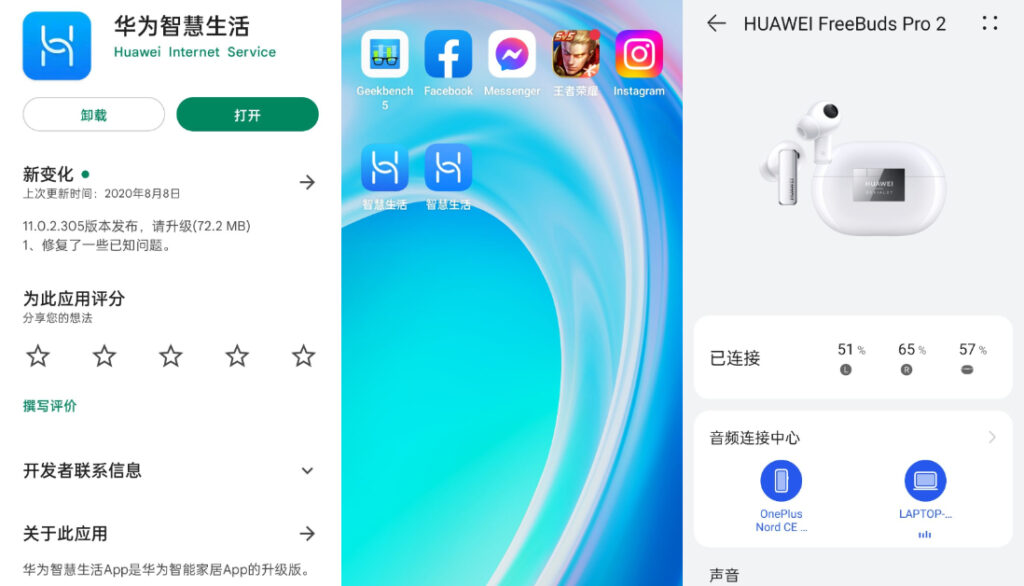 The HUAWEI Smart Life app on the Google Play Store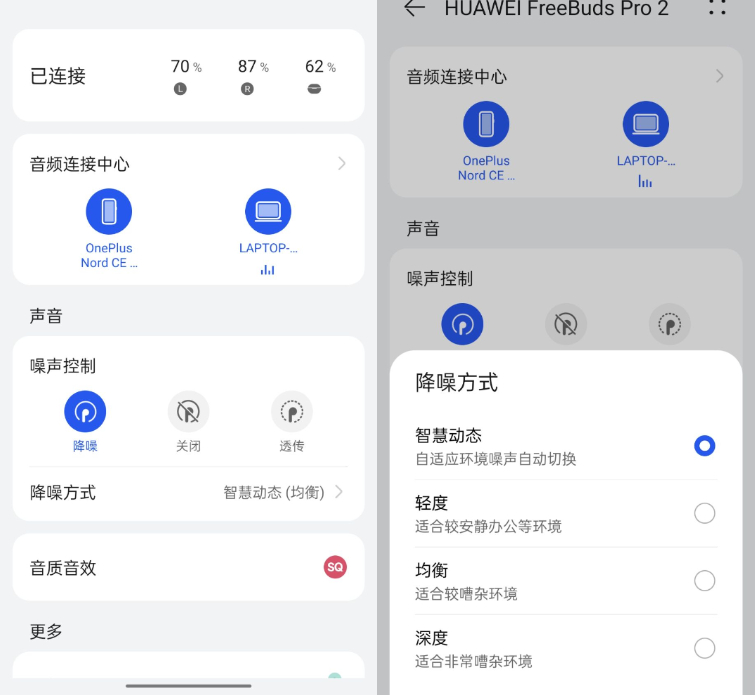 Some settings for the app
As mentioned, HUAWEI collaborated with Devialet to tune the sound of the FreeBuds Pro 2. They not only have an excellent sound signature but also improved noise reduction, supports ANC intelligent dynamic noise reduction 2.0 technology, and use a three-microphone active noise reduction system for the first time. While we had the earphones, we tested 3 different noise reduction modes - light, balanced and deep. They also have an additional intelligent dynamic that automatically switches to the appropriate mode depending on the surrounding environment.
You can still hear some dialogue in light mode, except you won't be able to listen to it clearly. This makes it suitable for a quieter place, as you won't get disturbed even if someone is talking next to you (unless you're super focused). Deep mode eliminates even more ambient noise. You won't even hear your mechanical keyboard after it's enabled. However, the bass will be relatively heavier, which might not fit your music listening preferences. If that's the case for you, we recommend using the other modes. In most cases, it's better to just use dynamic mode.
In dynamic mode, the FreeBuds Pro 2 can detect when someone is talking to you. They will then switch to a dual-transmission mode, so you can hear the conversation even when wearing the earphones. This effect is better in noise reduction mode, which makes it easier to listen to what the other party is saying. Moreover, there are voice prompts when you switch modes, so you'll know which you are currently using. This also happens when you use gestures, letting you know if you have successfully swapped between modes.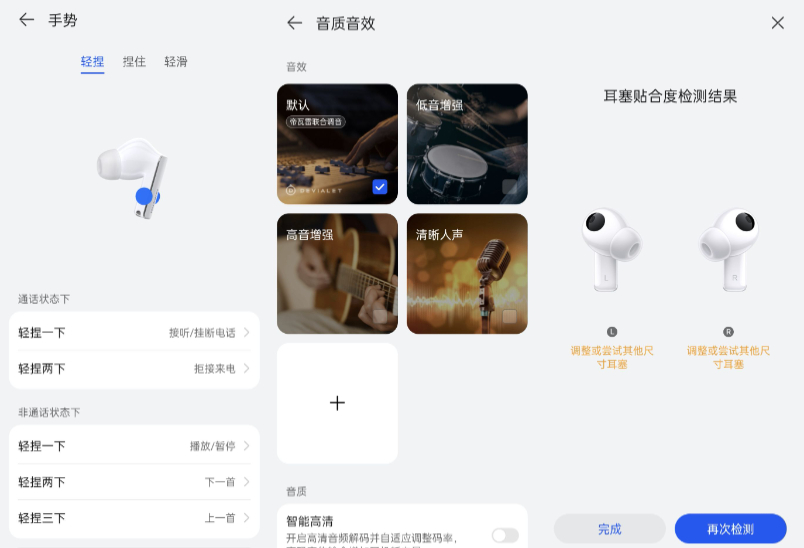 Gesture controls and audio presets
Speaking of gestures, the HUAWEI FreeBuds Pro 2 supports pinching and swiping gestures for various operations. As you would expect, you don't have to have your phone on hand to switch tracks or play and pause. You'll also hear a sound effect that indicates a successful gesture operation. Note that the response time will lag behind the gesture by a few seconds. Another problem is the sensitivity of the earphones. A few times, we triggered gestures accidentally when brushing against them (they register this as swiping). Overall, it could take some getting used to.
In addition, the HUAWEI FreeBuds Pro 2 has a bone conduction microphone. With the help of AI, it can enhance your voice during a call for better clarity. The HUAWEI FreeBuds Pro 2 also supports smart wear detection, which automatically pauses audio playback when you take them off or switch to another device. For example, the music on your phone stops playing when you take the earphones off. Interestingly, this doesn't seem to work on laptops.
Speaking of pairing devices, the HUAWEI FreeBuds Pro 2 supports dual device connection. In other words, it can connect to two different devices, like a phone and a laptop. You can switch between connected devices, albeit with a slight delay. Besides the features above, the HUAWEI Smart Life App has a feature that helps you find your earphones. It can also determine whether the earbuds you're currently using are a proper fit.
Under the hood, these earphones use 11mm four-magnet moving coil drivers, delivering 30% more volume. Also, its audio frequency can go as low as 14Hz, meaning the bass has improved. In addition, the collaboration with Devialet resulted in 4 different EQ presets. If you don't like any of them, you can use the 10-band equaliser to tune the sound to your preference. The app also has different sound effects that you can customise. There's a lot of flexibility here, and you can create 3 custom presets.
According to HUAWEI, the FreeBuds Pro 2 has a battery life of about 4.5 hours for voice calls and 6.5 hours for music playback. The charging case gives you another 20 hours of calls and 30 hours of music playback, which is great if you're a heavy user.
In conclusion, the HUAWEI FreeBuds Pro 2 are a great pair of TWS earphones with excellent features and a good design. They're better than most TWS earphones on the market in some aspects, especially the battery life. Of course, they do have some shortcomings. First, the earphones are pretty prone to fingerprint smudges. Secondly, you could activate gestures accidentally because the earphones are slightly too sensitive to swipes. The response time for gestures is also kind of slow.
If you have the budget (RM899), and are a Huawei phone and laptop user the HUAWEI FreeBuds Pro 2 could be a good choice. But if you're paying that kind of money, you might want to go for the Sony WF-1000XM4. It might be a 2021 model, but it's easily as good (if not better) and is now cheaper at RM859. There's also the Nothing ear (1) that's much cheaper (RM499) but still offers ANC and good audio quality.
So, does this TWS model fit your needs? Let us know what you think about the review, and leave us a comment if we've missed anything. Also, stay tuned to TechNave.com for more reviews like this.
Pros and Cons
Pros - Strong battery life, good design, excellent sound quality
Cons - Overly sensitive to swipe gestures, slow gesture response time, and glossy earphones could collect fingerprint smudges
Conclusion - A solid and flexible option for those who want high-end TWS earphones that can last long