Here are 3 ways to utilize Flex Mode on the Samsung Galaxy Z Fold2 and Galaxy Z Flip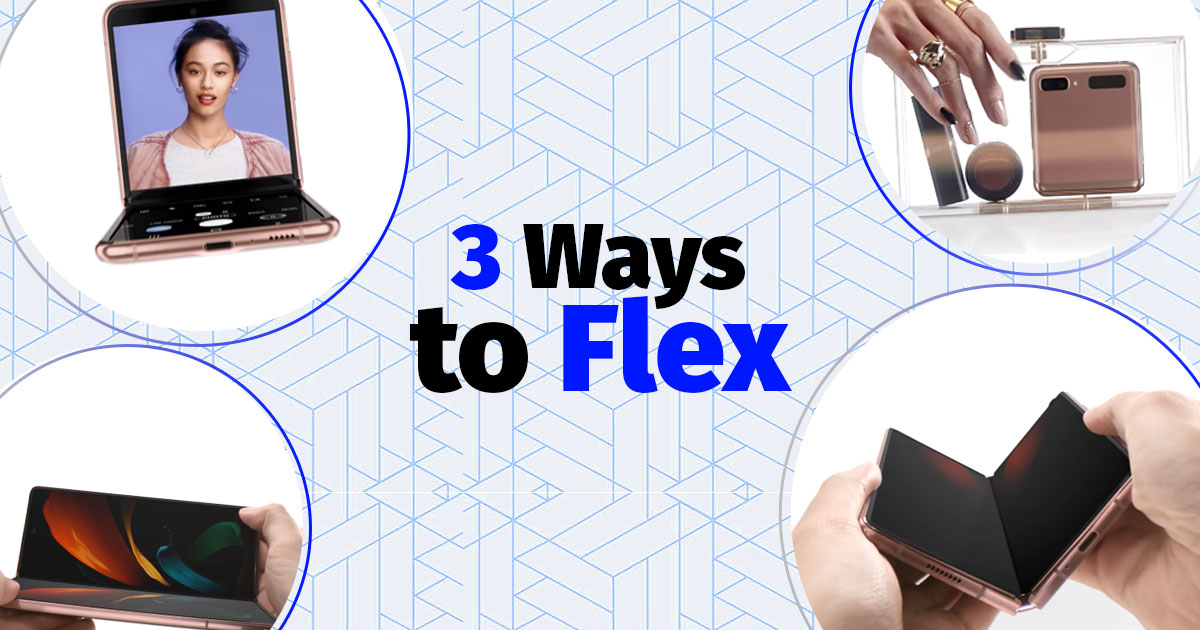 As a tech journalist, I have played around with and evaluated various phones over the years. While I may not have reviewed every device, I did get to try the new Samsung Galaxy Z Fold2 5G and the Galaxy Z Flip during the weekend.
While foldable phones have yet to become mainstream, I'll share some fun ways to use the Galaxy Z Fold2 and Galaxy Z Flip. Thanks to their sturdy hinges and software, you can do some tasks that you never could before with single panel phones. So without beating around the bush too much, here are three ways to utilise the Flex Mode on the Galaxy Z Fold2 and Galaxy Z Flip.
Use it as a 'tripod' to take photos
If you don't have a tripod stand at home, don't worry - you can totally use the Galaxy Z Fold2 and Galaxy Z Flip's Flex Mode as a 'standalone stand'. Don't believe me? All you have to do is just fold the phone halfway and place it on top of a surface then you're good to go! Of course, please be careful with the rough surfaces, as they can potentially scratch the phone. We recommend equipping the Galaxy Z Fold2 and Galaxy Z Flip with a protective casing at all times.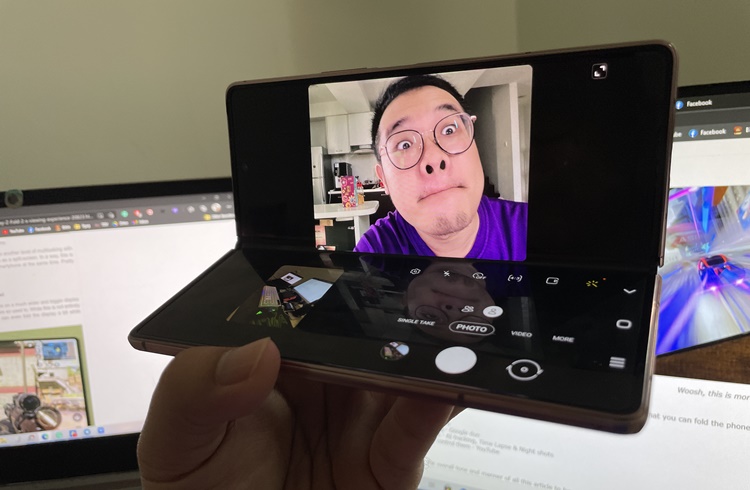 SELFIE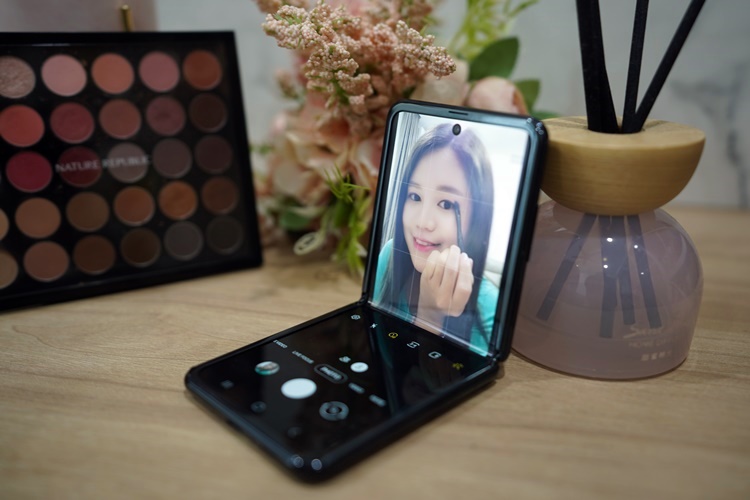 You can even use it as a 'pocket mirror' haha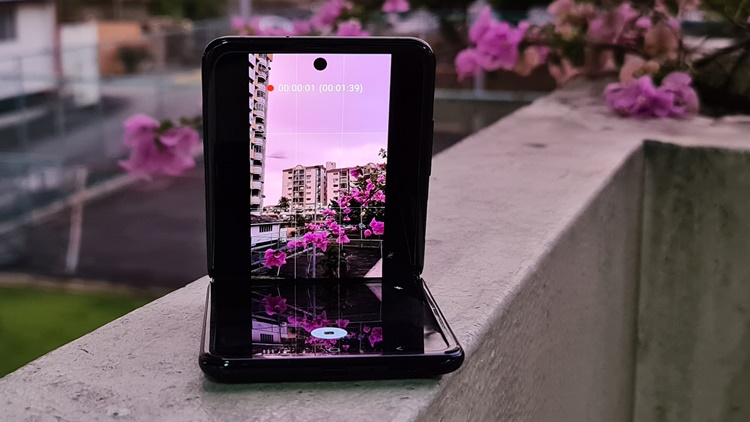 Hyperlapse recording in session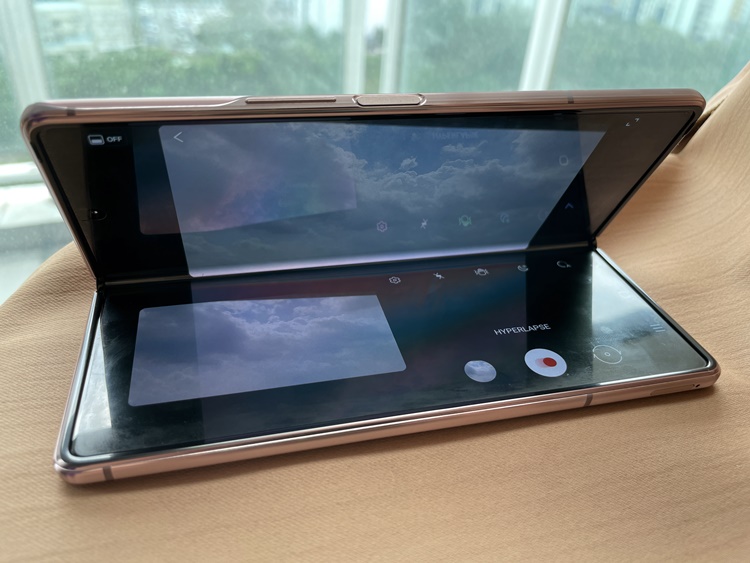 Here's the Galaxy Z Fold2 in video recording mode
Besides taking pictures, you can also take advantage of some of the other camera features on the Galaxy Z Fold2 and Galaxy Z Flip in Flex mode. Like taking a video, you could place the phones on any surface and start recording the sunset or starry night sky. On top of that, you can fold them halfway and vlog yourself hands-free.
Video conferencing on-the-go
Video conferencing is already a norm, so there's always that occasional online meeting with your colleagues. If you're still working from home and want to stay away from your computer for a while, just take the Galaxy Z Fold2 or Galaxy Z Flip with you and place it on the table. You should be able to find most video meeting apps on Google Play Store, regardless of whether you're using Zoom, Google Duo, or Cisco Webex. Just download it so you can have convenient conference calls anytime and anywhere.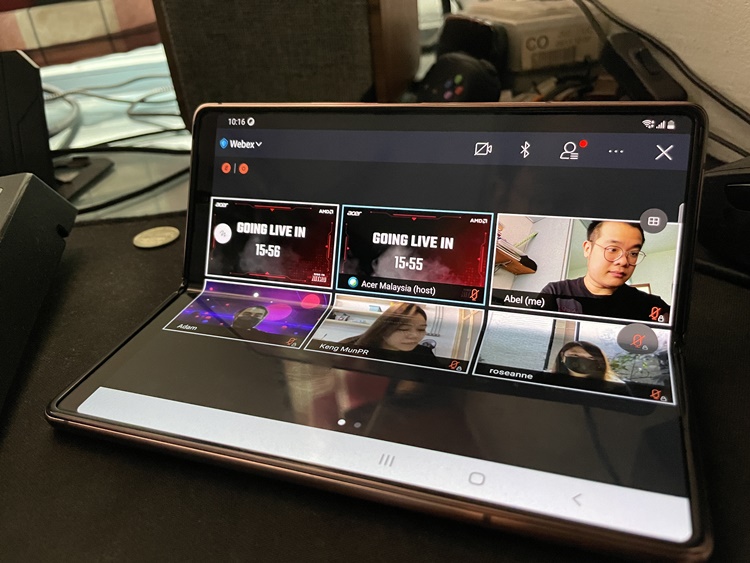 Using Cisco Webex on the Galaxy Z Fold2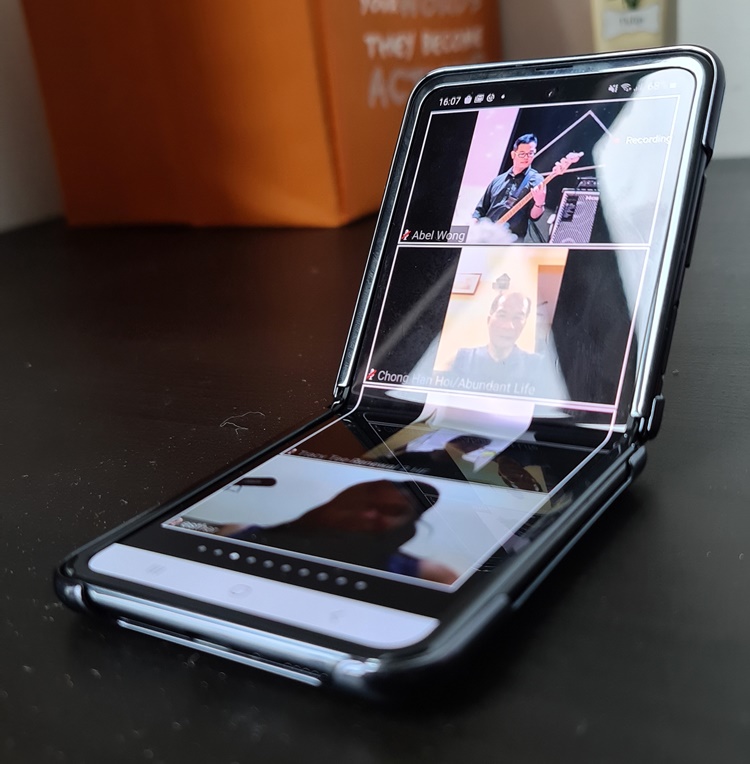 Zoom call meeting on the Galaxy Z Flip
Watch YouTube videos like a boss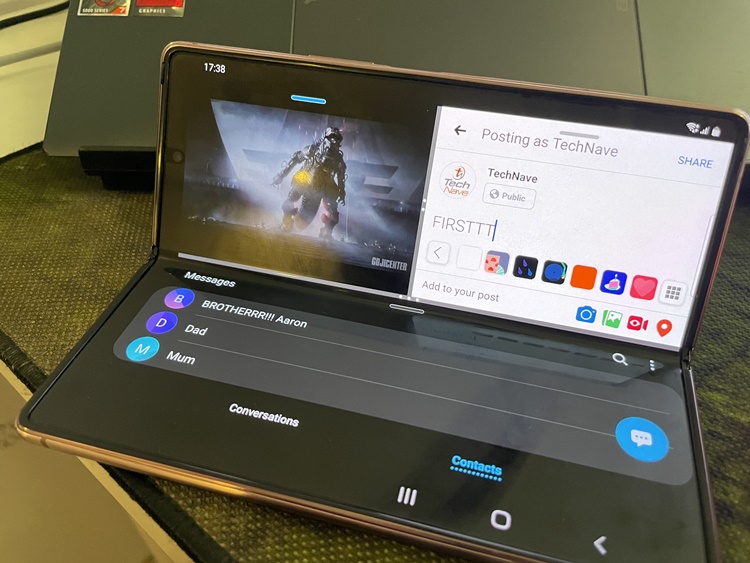 Surf YouTube, Facebook and replying to messages at the same time? No problem!
Last but not least, if you watch a lot of YouTube videos - you're gonna love Smart Pop-Up View. On the Galaxy Z Fold2, go to the settings and search for Smart Pop-Up View (use the search function for faster access) and tick on the YouTube app. After that, use the split-screen function by pulling out the YouTube app (or whichever app you like) from a hidden sidebar on the right side and voila! Now you get to chill on the couch and enjoy multitasking!
It's the same for the Galaxy Z Flip, where Flex Mode for YouTube is automatic as soon as you fold it halfway. In this orientation, the comments and description are shifted down while the video is on top. The video will play seamless, regardless of whether it's a 16:9 aspect ratio, square or vertical video.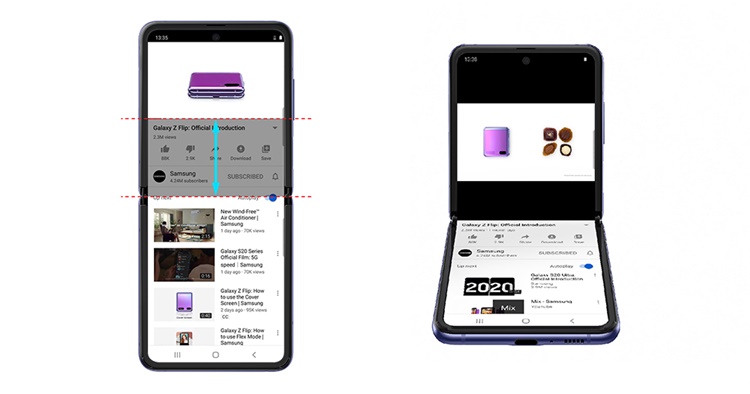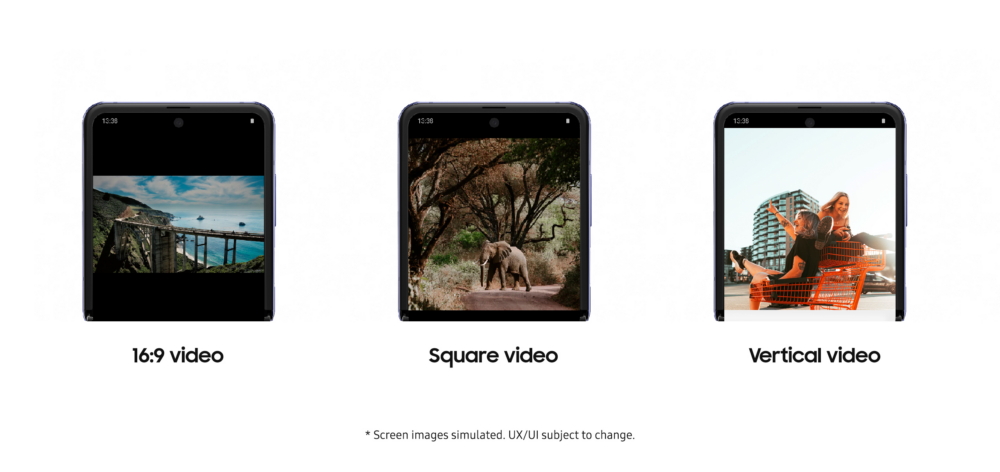 Galaxy Z Flip Flex Mode for YouTube
So there you have it! From the Galaxy Fold to the Galaxy Z Flip and now the Galaxy Z Fold2, Samsung really put in a lot of effort and enhancement on the hinge. Even though I've only used them for a short period, the hinge definitely felt more durable. It also provided an improved user experience during Flex mode. By the way, Samsung Malaysia recently announced a new retail price tag for the Galaxy Z Fold2 and Galaxy Z Flip.
First, the Galaxy Z Fold2 now cost RM6999 (originally RM7999) and comes in Mystic Bronze and Mystic Black. It also sports a Snapdragon 865+ chipset, 12GB of RAM, 256GB internal storage, a 7.6-inch Foldable Dynamic AMOLED 2X display, a 12MP triple rear camera (for each sensor), a 4500mAh battery and more.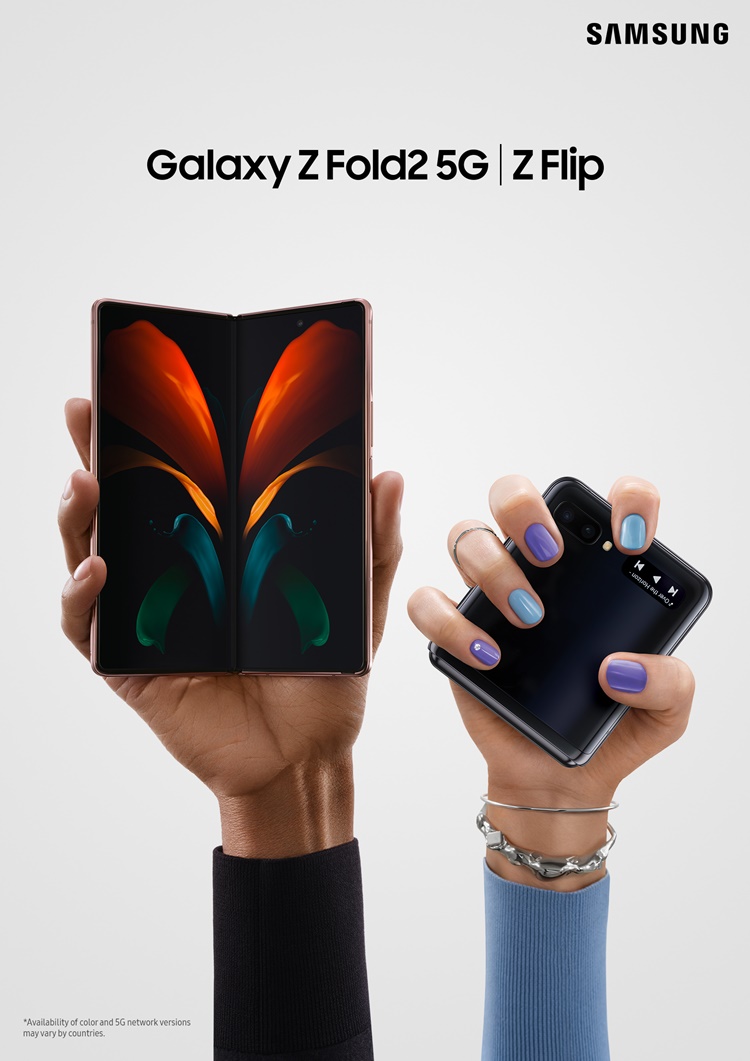 Now permanent price tags!
As for the Galaxy Z Flip, it's now priced at RM3999. The device previously retailed for RM5888, so it's a massive price cut of RM1889! Available in Mirror Black, this clamshell phone comes with a respectable Snapdragon 855+ chipset. In addition to that, it has an 8GB + 256GB memory capacity, a 6.7-inch Foldable Dynamic AMOLED display, a 12MP + 12MP dual rear camera with OIS, a 3300mAh battery and more.
To find out more about them, you can visit the official product pages on the Samsung Malaysia below. Stay tuned for more tech articles at TechNave.com.