Here are 6 factors why the Samsung Neo QLED 8K TVs are ideal for Home, Work, and Play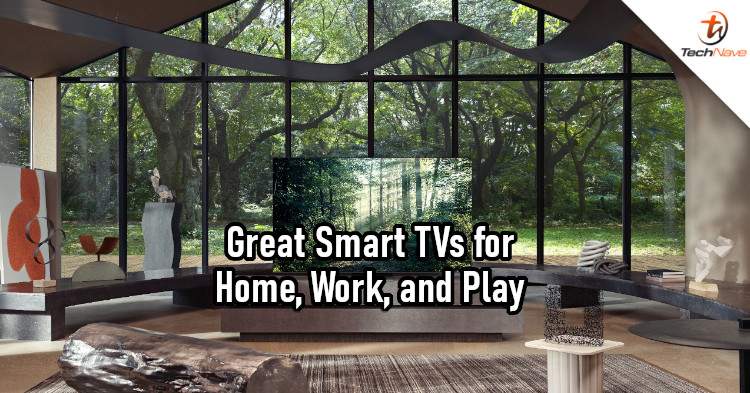 Although monitors have become better and larger, there are many situations where a TV is the better option. But even for TVs, there are various types of panel technologies available today. Of course, each panel type has its unique characteristics and advantages.
For Samsung, the in-house QLED has seen a leap in advancement with the upgrade to Neo QLED. The company has launched a range of new Smart TVs using this panel, promising slimmer displays, better viewing experiences and more. We introduced some of the changes before, but for today, let's take a look at 6 factors that make the Neo QLED 8K TVs great for work, home entertainment, and gaming.
#1 Ultra-slim panel that's nearly bezel-less
Incredibly slim bezels, wow!
A compact box to keep everything nice and tidy
Many modern Smart TVs are slim, but the Samsung Neo QLED 8K (QN800A/QN900A) really sticks out with how slim it can be, especially when seen from the sides. In fact, the bezel is almost non-existent thanks to the Infinity One Design. Moreover, the new Smart TVs feature a near bezel-less design, allowing Samsung to put in a screen that stretches from edge to edge. This results in an incredible screen-to-body ratio, which really adds to the visual immersion.
Of course, that slim design also means that the Neo QLED TVs are suitable for wall mounting. By mounting it with the Slim Fit wall mount, you can make a Neo QLED TV mount flush to the wall with a minimal gap. This really helps it blend into the background and save you a lot of space. In addition, it comes with the Slim One Connect box, which can be tucked behind the TV. This compact box keeps all your cables out of sight, making your TV setup tidier.
#2 Upgraded QLED for a better viewing experience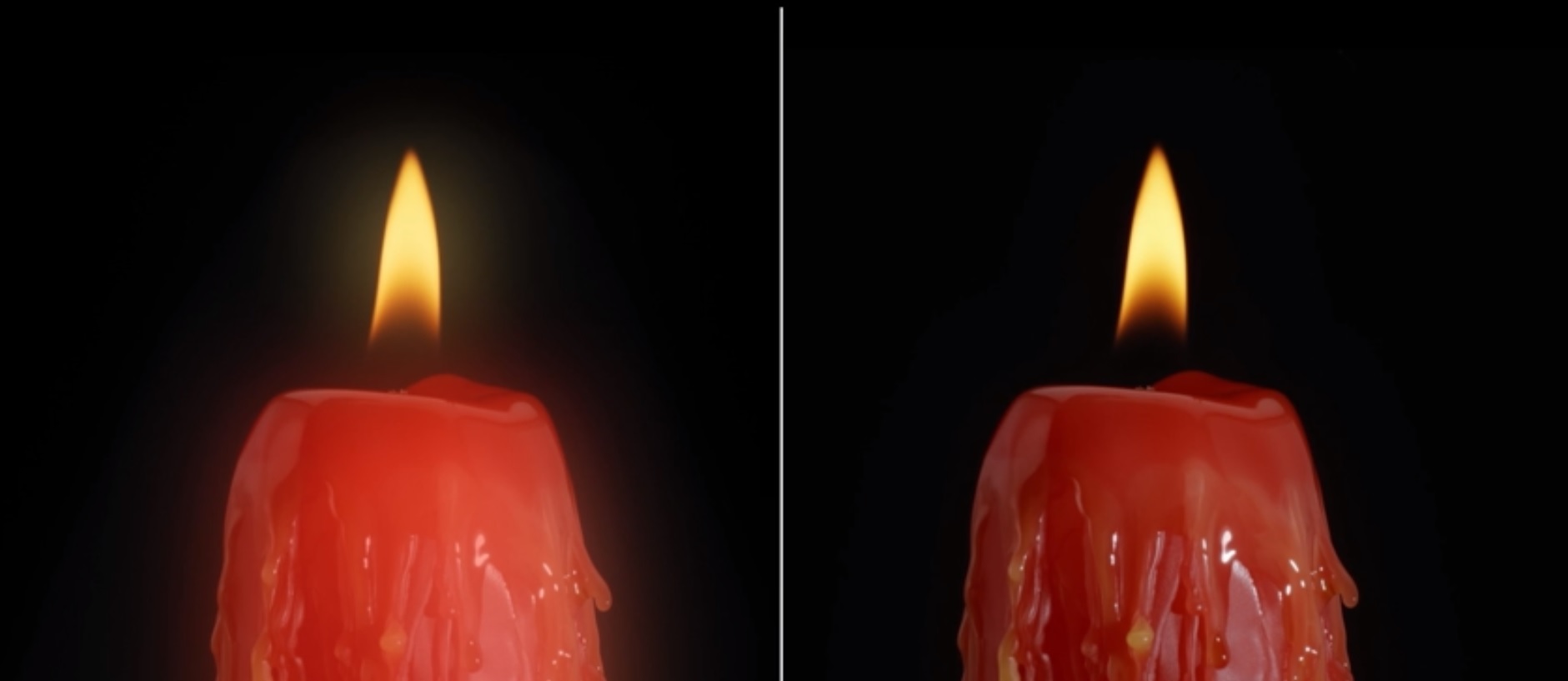 Neo QLED (right) - Less light blooming effect with the new Quantum Mini LEDs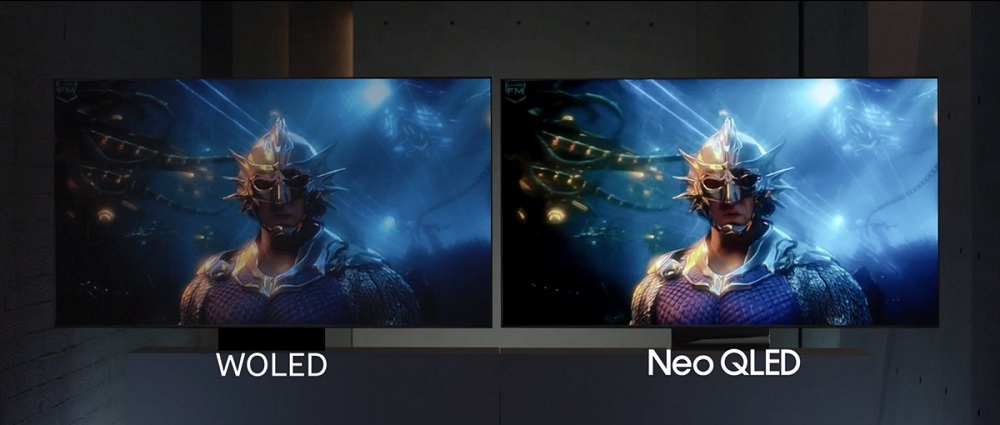 Neo QLED also delivers greater contrast levels
Mind you, the upgrade to Neo QLED did more than just make the new TVs slimmer. Samsung described it as a quantum leap in innovation and transformation. In other words, the new panel also delivers a slew of features and technological improvements.
These new features make the Neo QLED 8K TVs much better than their predecessors. One of the features would be the new Quantum Mini LEDs, which are 1/40th the size of conventional LEDs. Besides making the TVs slimmer, they deliver greater contrast levels, deeper blacks and reduce the overall light blooming effect.
Of course, there's a technology that helps control the new LEDs - the Quantum Matrix Technology Pro. This technology enables ultra-fine and precise dimming control of the densely packed LEDs, which is how the new TVs eliminate the aforementioned blooming effect. The other piece of the puzzle is their Quantum HDR tech. Combined with HDR10+, they deliver a more optimised colour and contrast, making your movies, TV shows, and games look more vibrant.
#3 Real 8K resolution and AI upscaling to match
Do you watch content on platforms that still have SD content? Fret not! The Neo QLED 8K Smart TVs have that covered, as they can upscale videos in standard definition. This is done with the help of the Neo Quantum Processor 8K, which can upscale lower-resolution content to 8K. Its AI deep learning algorithm uses 16 multi-model neural networks to learn your content scene-by-scene, so it can optimise your viewing condition to all of your contents.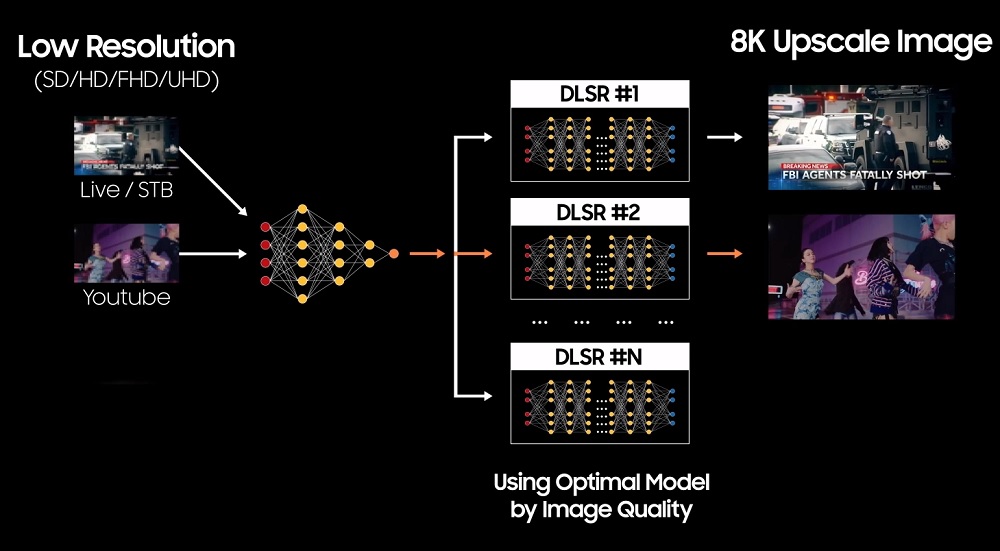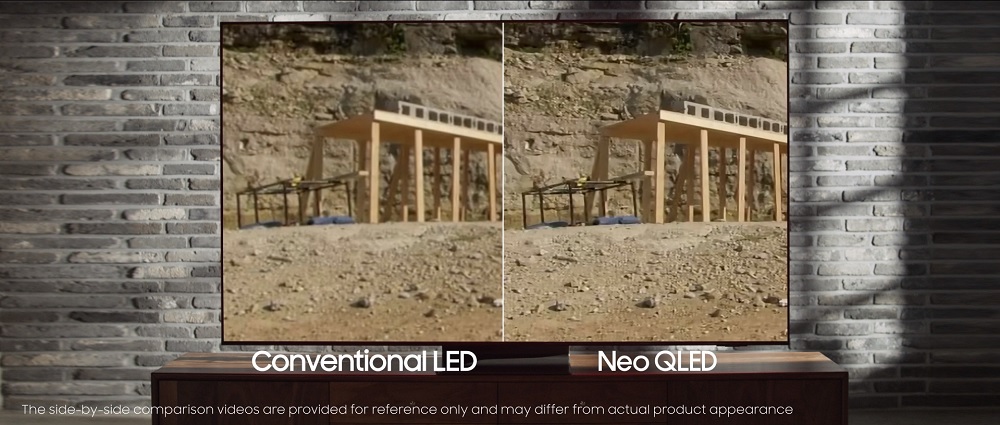 The Neo Quantum Processor offers superior AI upscaling capabilities
#4 Superb audio with cinematic sound and Q-Symphony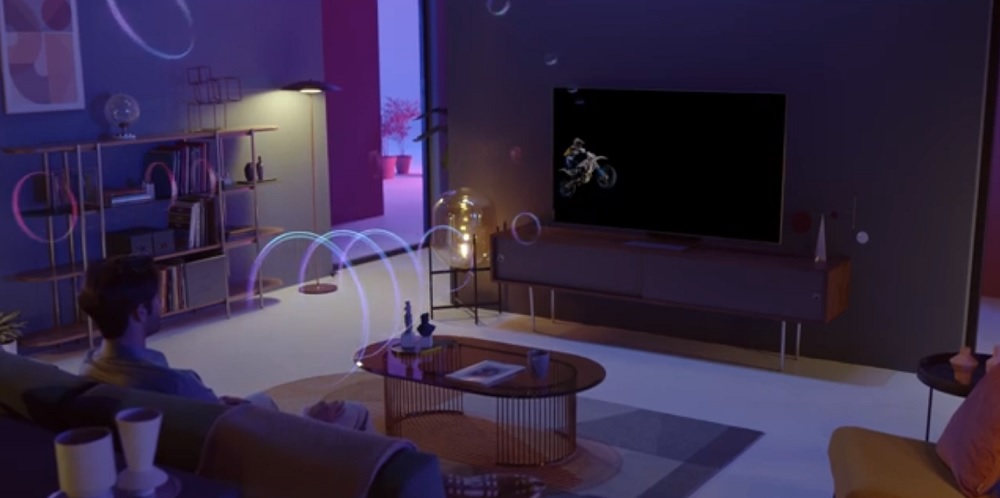 Object Tracking Sound optimises the TV's audio based on your surroundings
Of course, audio is just as important as video when it comes to TVs. For the Neo QLED TVs, Samsung has equipped them with the Object Tracking Sound Pro (OTS+ for QN800A). This can create a virtual surround sound effect with its top, centre, and bottom speakers. First, the feature tracks the movement of objects on the screen. After that, the TV uses SpaceFit Sound to analyse its surroundings and optimise the audio based on that. Another cool feature is the Q-Symphony, which syncs the sound from the NEO QLED TVs to your soundbar for that perfect surround sound experience.
#5 Enhancing games for those extended gaming sessions
If your main form of entertainment is gaming, some people would tell you to get a gaming monitor. But the Neo QLED TVs are just as capable of giving you the best gaming sessions. When you start playing games on the new TVs, it will switch to Auto Low Latency Mode (ALLM) to reduce input lag. This is possible thanks to AMD FreeSync Premium Pro, which also reduces screen tearing stutters. Then there's the Motion Xcelerator Turbo+ feature, which uses frame interpolation to deliver games at 4K 120fps.
Besides that, there are a few other cool features like Super Ultrawide GameView. This works with certain PC games where the visuals can be switched to a 32:9 aspect ratio, giving you a much wider field of view. You can also use the Game Bar to switch to a different aspect ratio, enable Free Sync, and change other settings.
Auto Game Mode reduces input latency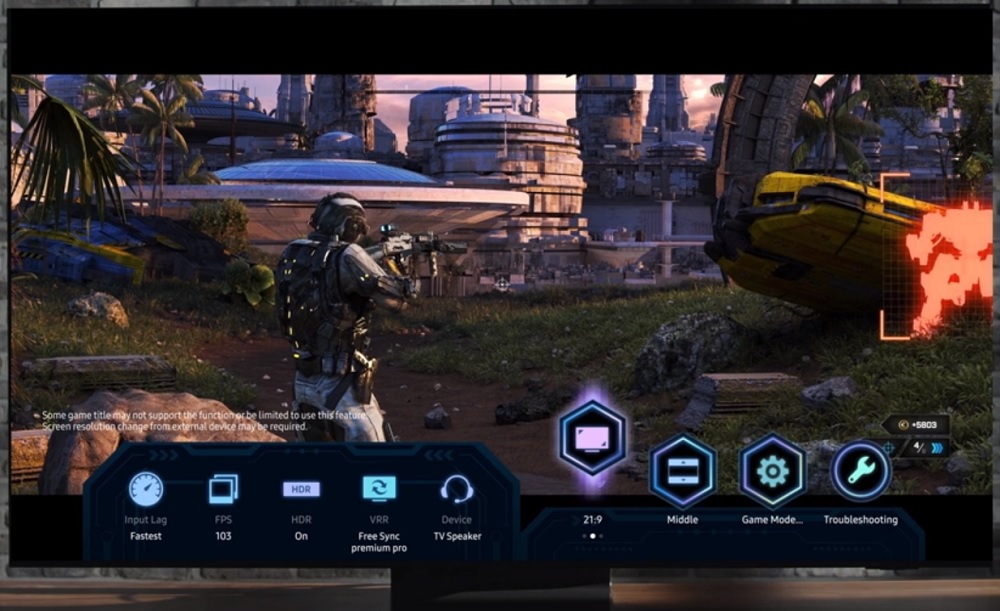 You can get the Game Bar to pop up by holding the Play/Pause button
#6 Multi-View, Samsung DeX, and Google Duo for productivity
If your work can benefit from a huge display, you could totally use a Neo QLED TV too. The PC on TV feature lets you remotely connect a PC to the TV, allowing you to do your work on a larger screen. You could easily fit a browser, spreadsheets, document writer, and more.
Want to connect multiple devices? That's possible too! With Multi View, you can connect your Samsung phone and PC to a Neo QLED 8K TV and view all of them simultaneously. The 8K models can support up to 4 screens, which can be very useful when working from home! This method allows you to do things like exercise while watching a YouTube video, checking reports, and more.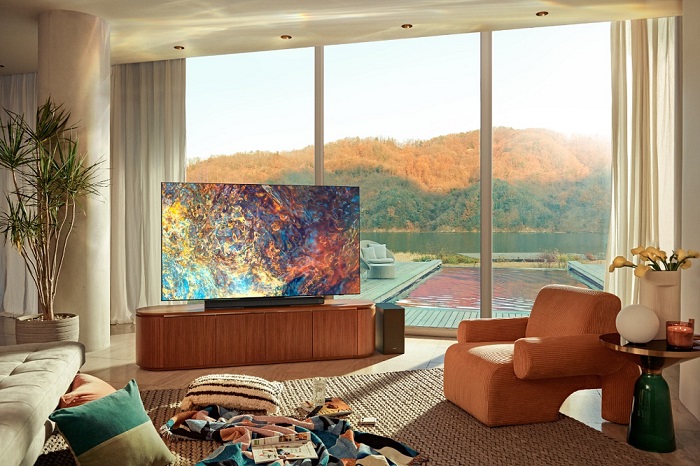 As you must have realised by now, Smart TVs are designed to be multi-purpose these days, and the Neo QLED 8K TVs are definitely versatile while delivering a top-notch visual experience. If you'd like to find out more about these new TVs, do head over to the official website for more details.
With that said, what do you think of the Samsung Neo QLED 8K TVs so far? Would you be interested in getting on? Let us know in the comments below! For more articles like this, stay tuned to TechNave.com.