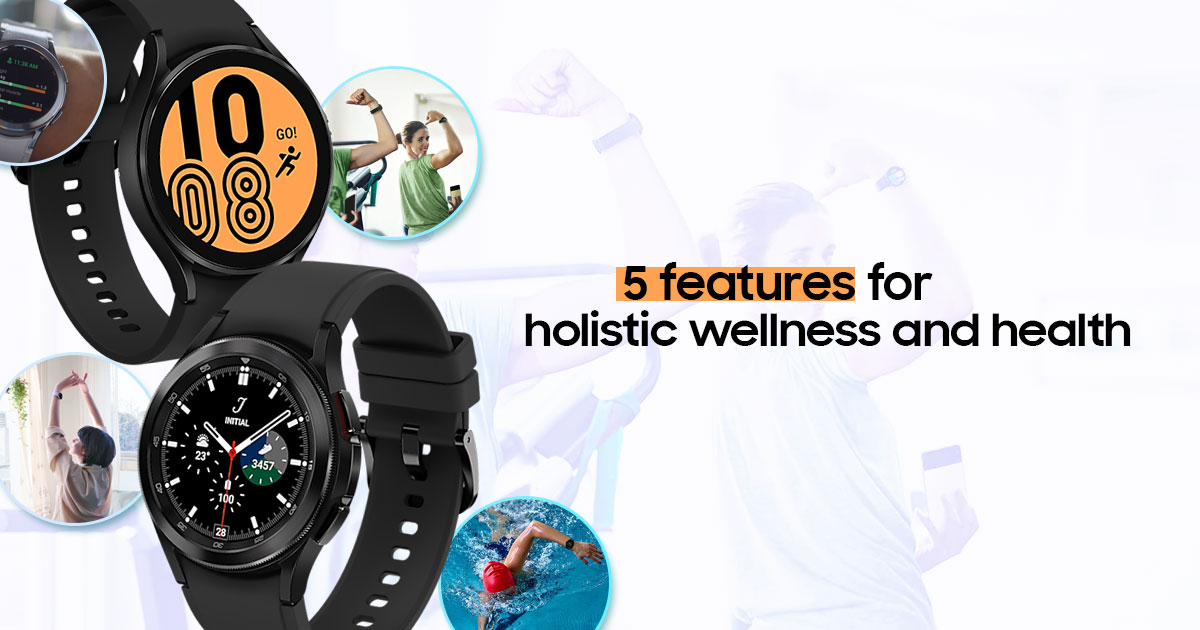 Did long months of working from home affect your health? Trying to get fit or take better care of yourself? It's hard for us to know if we're healthy or not. Sure, you could exercise regularly and eat well. But without fitness instructors or going for checkups, you'll never know for sure.
However, some devices could help in this regard. Specifically, we're talking about smart bands and smartwatches. Of the many smartwatches on the market, the Samsung Galaxy Watch4 series could be considered among the best. Today, let's check out the 5 Samsung Galaxy Watch4 series features for holistic wellness and health you might need the most.
#1 Body Impedance Analysis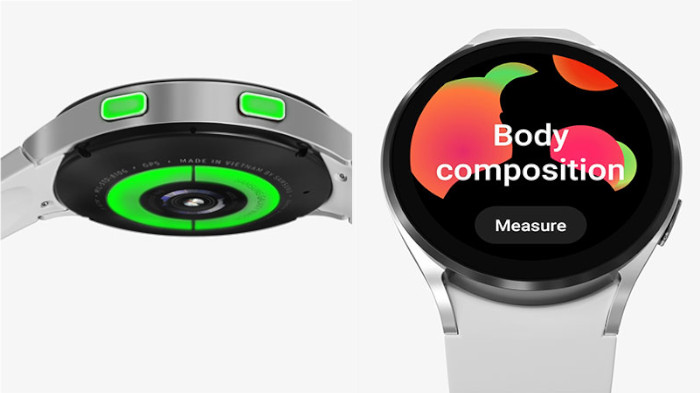 The Samsung Galaxy Watch4 smartwatches have a lot of features. But chief among them would be the Body Impedance Analysis (BIA). Thanks to its sensors, the smartwatches can measure things like body fat percentage, skeletal muscle, body water, BMI (Body Mass Index) and more.
How can we benefit from that? Well, these metrics help us get a better understanding of our health. Being able to track them means we can set goals, and then create structured exercises or activities to meet those goals.
#2 Sleep Tracker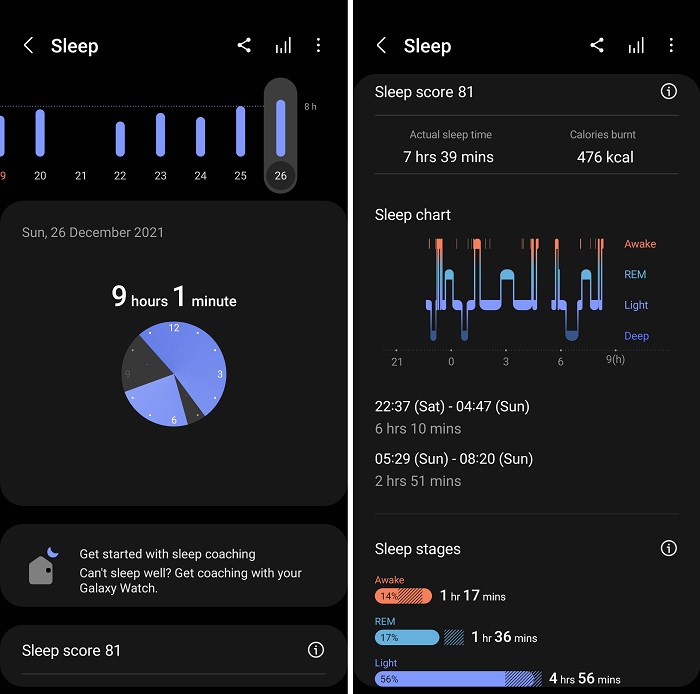 We all know that generally 7 hours of sleep or more is recommended. But how well are we sleeping? The Galaxy Watch4 series aims to improve your sleep quality by tracking and analysing your sleeping pattern.
The Sleep Tracker can provide valuable insight in that regard. There is also an option to record your blood-oxygen levels and other details when you sleep. Furthermore, the app would provide you with advanced insights from the National Sleep Foundation for better sleep quality and duration so you can improve in the future.
#3 Snore Detection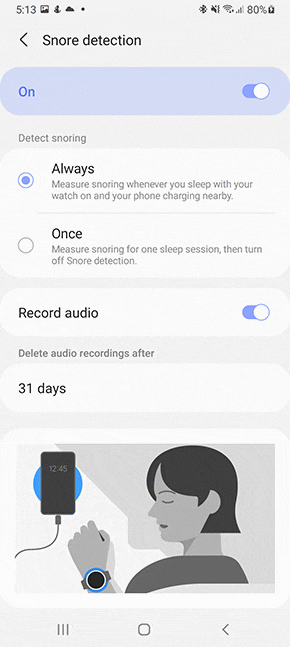 Of course, with sleep tracking comes a follow-up feature: Snore detection. That's right, the Galaxy Watch4 series can also detect whether you are snoring in your sleep. This can be useful for people who live alone.
In addition, chronic snoring could be an indication of a health condition or lack of sufficient sleep. With the Samsung Health app, you can record your sleep to find out if you're snoring.
#4 Blood-oxygen Tracker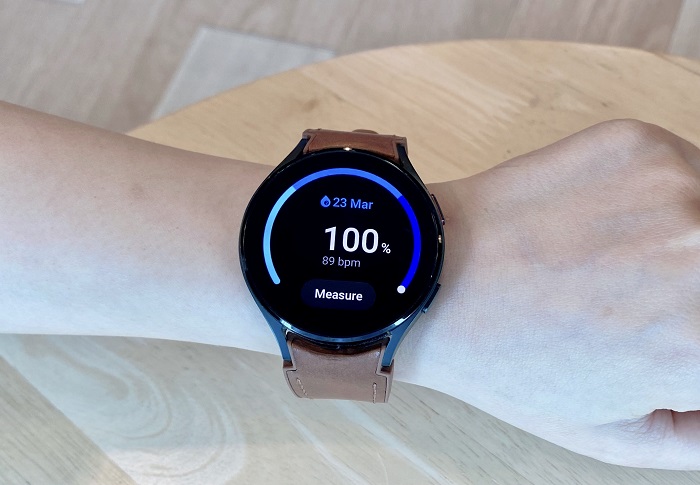 Besides that, the Galaxy Watch4 and Galaxy Watch4 Classic feature a sensor to monitor your blood oxygen while you sleep. This helps users find out if they have enough oxygen in their blood, which determines whether someone can perform more strenuous activities like intense exercise.
Furthermore, low blood oxygen levels could be due to shortness of breath, which is one of the symptoms of COVID-19. As such, monitoring your blood oxygen is important because it could help you determine if there's a potential health problem!
#5 Stress Tracker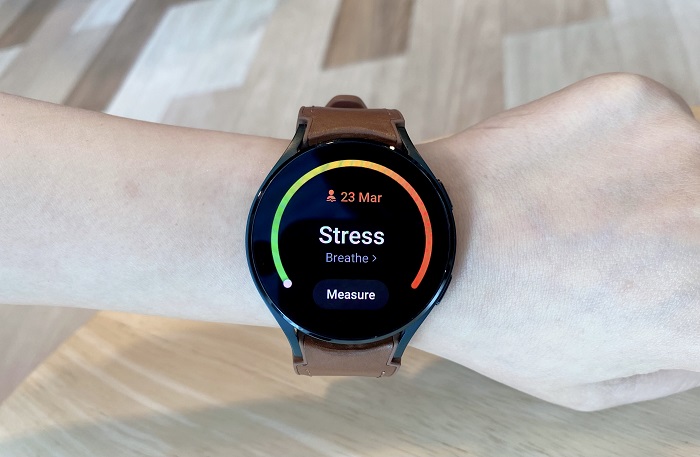 Last but not least, a useful feature for the Galaxy Watch4 series is the stress tracker. Stress can cause numerous problems such as high blood pressure, sleep problems and more. So being able to detect it in itself is already important.
Stress is known to affect heart rates, and the Galaxy Watch4 series comes with a sensor to monitor them. The recorded heart rate is then analysed to determine your stress levels. After that, users can follow the guided breathing exercises in the Samsung Health app to help relieve stress.
As you can see, the right smartwatch and health app can be a great boon to the management of your holistic health and wellness. The features in the Samsung Galaxy Watch4 series can be considered among the best for this too.
You can buy the Galaxy Watch4 now for RM999, while the Galaxy Watch4 Classic costs RM1,399. If you need more details about the two smartwatches, the official product pages are here and here.
What do you think about smartwatches like these? Are they useful for your holistic health management? Let us know in the comments below, and stay tuned to TechNave for more articles like this.