Here are the best Snapdragon 865 smartphones to get while you can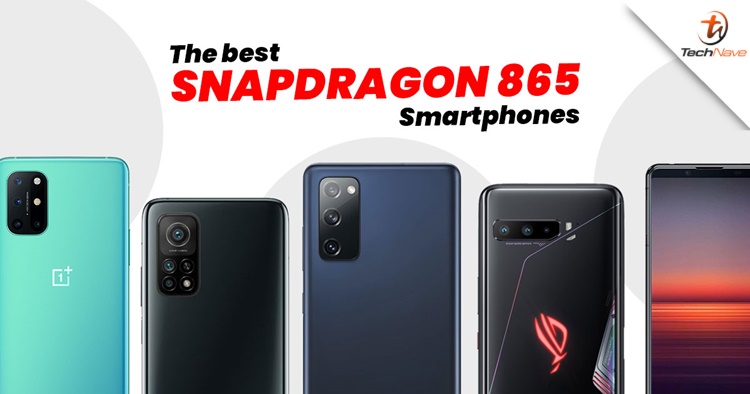 Just last month, the Sony Xperia Pro was released in the US but at a premium price of over ~RM10K. In their defence, this phone was made more for professional content creators rather than casual smartphone users. Fair enough, but it's a bit strange for a 2021 phone to have a last-gen chipset when the Snapdragon 888 is available.
It may make the Snapdragon 865 seem like an outdated chipset, but this doesn't mean that it sucks. The SD 865 is still more than capable of delivering top-tier performance, especially in graphics-intense mobile games. As SD 888-powered phones without any chargers become mainstream (it's gonna happen), SD 865 phones will start selling for more affordable prices. In other words, now's the time to get one before companies stop manufacturing them. With that in mind, here are our picks of the 5 best SD 865 smartphones you can currently get.
Samsung Galaxy S20 FE 5G
Samsung tends to have a bad rep for the Exynos variants in its Galaxy lineup. However, some Galaxy phones use a Snapdragon chipset, and the Galaxy S20 FE is one of them. The FE variant comes with most of the specs and features, such as the AMOLED 120Hz display, that the other Galaxy S20 models have. This makes it a fantastic option for many.
The only real downside of the phone is its use of high-quality plastic instead of glass for its body. Personally, I don't really mind that much because that means users don't have to be paranoid about knocking it over and breaking something. However, note that the Galaxy S20 FE 5G comes with the SD 865 but the 4G variant sports the Exynos chipset. It currently retails for RM2699, so do check it out if you're interested and want to learn more.
Xiaomi Mi 10T
Ah yes, the Xiaomi Mi series has always been one of our favourites, and the Mi 10T is no exception. If you're on a tight budget, this is the one to go for because it's just RM1699. At that price tag, it offers the best value-for-money as it features a 144Hz display, 5000mAh battery (with fast-charge technology), and of course, the SD 865 chipset.
The Mi 10T Pro for RM1999 isn't too bad either. It has a 108MP camera that can record videos in 8K resolution, which isn't something you see in most other SD 865 phones. To learn more about the phone, you can check out the details here.
ASUS ROG Phone 3
Of course, this gaming smartphone beast is bound to be on this list. Since its inception, the ROG Phone series has been a favourite among Malaysian mobile gamers (including us). Last year's ROG Phone 3 proved to be a worthy successor. Not only is it equipped with an SD 865+ chipset, but it also comes with up to 16GB of RAM and up to 512GB of UFS 3.1 storage. On top of that, it has a 144Hz display and useful touch sensors that work as extra buttons.
With a starting price of RM2999 (Strix edition), the ROG Phone 3 also comes with a wide variety of gaming accessories to improve your mobile gaming experience. But if you're more of a streamer, the Lenovo Legion Phone Duel is an equally excellent choice. However, it loses out in terms of gaming accessories and is more expensive too. Of course, the ultimate choice is up to you. You can get a quick comparison overview of the two devices here.
OnePlus 8T
The OnePlus 8T is another SD 865 phone that is more affordable than other flagships. Starting from RM2699, it comes with specs and features similar to the other phones we have already mentioned. This includes an AMOLED display with up to 120Hz refresh rate, up to 12GB + 256GB memory capacity, and 65W fast-charging.
This phone is a flagship with great performance (well, almost) due to smooth OxygenOS UI. But with the other SD 865 phones mentioned above, you have so many options that are just as good. As always, the choice is yours. If you want to find the most affordable model online, you can check our database here.
Sony Xperia 5 II
Yes, we know...Sony's recent Xperia smartphones are ridiculously expensive (RM4099) but hear us out. This is the most expensive phone on this list for a good reason. Like the Xperia Pro, the Xperia 5 II is probably the perfect phone for serious photography and videography. Its 120Hz display can produce breath-taking colours with HDR10 support via Creator Mode while its Dolby Atmos Dynamic Bass speakers help deliver the best sound experience.
For mobile photography enthusiasts, the Photo Pro and Cinema Pro mode allows you to take photos with quality on the level of Sony Alpha cameras. But if you want a higher resolution display, you can opt for the Xperia 1 II that supports 4K resolution. Technically impressive, but only for a niche market. You can find out more over here.
So those are our picks for the best SD865 smartphones to get in 2021. We know we missed out a few options, but which one would you include? Let us know in the comments below! And for more phone specs and prices, you can always refer to our website and app. Stay tuned for more tech articles at TechNave.com.