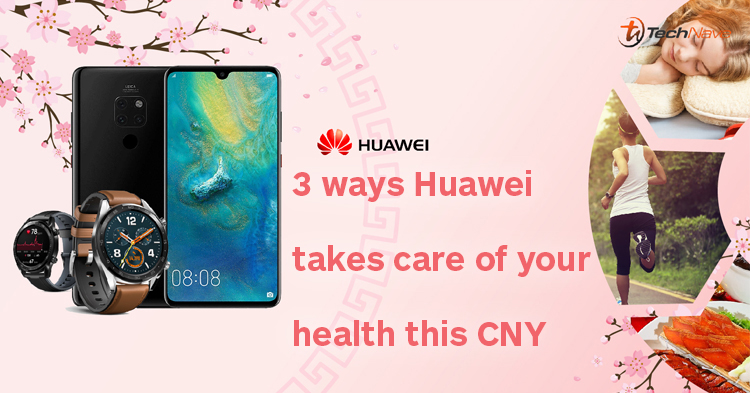 It is very easy to indulge during festive seasons, especially this coming Chinese New Year. 8 course meals, snacks, cakes, drinks and more all day, every day for 7 days straight! When you combine that with your unhealthy habits you've picked up throughout the year, that can really take a toll on your body.
Here's where Huawei comes into the picture, helping you make healthy decisions to start the new year. What's more, these apps and items will continue taking care of you, even when the festivities are over and your work life kicks back into full gear!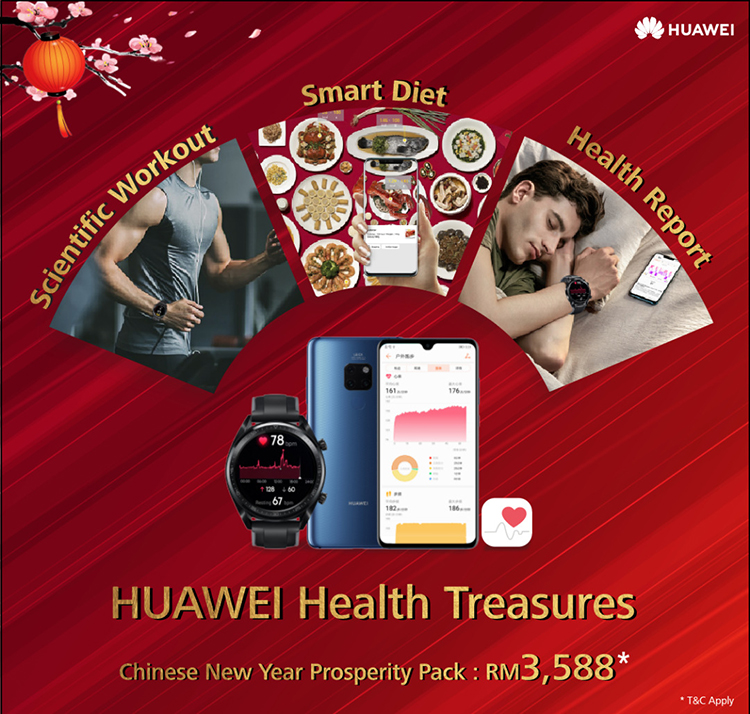 Measure your journey with the Huawei Watch GT
Time seems to move differently during Chinese New Year. One moment you're having lunch at the table and before you even get up, it is suddenly dinner. With 3 different tracking systems (GPS+GLO+GAL), the Huawei Watch GT tracks where you are accurately. With that, it can tell if you've been sitting still for over an hour and will remind you to get your butt moving and exercise!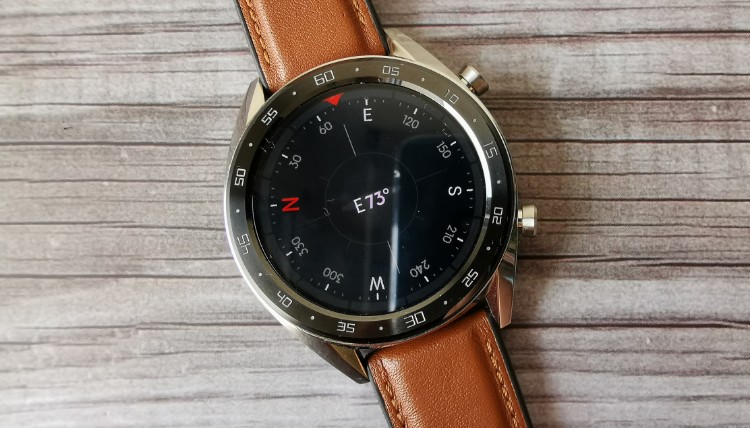 You'll never be lost in anyone's eyes with the compass in this watch
Take this watch a step further when you exercise. The Huawei Watch GT is waterproof up to 50 meters which makes it perfect for swimming. If you're into jogging and running, the watch can tell whether you are doing your warm-ups, remind you to get into the correct running posture, and provide you with real time sports data feedback so you can know how much calories, distance, speed and more when you're working out.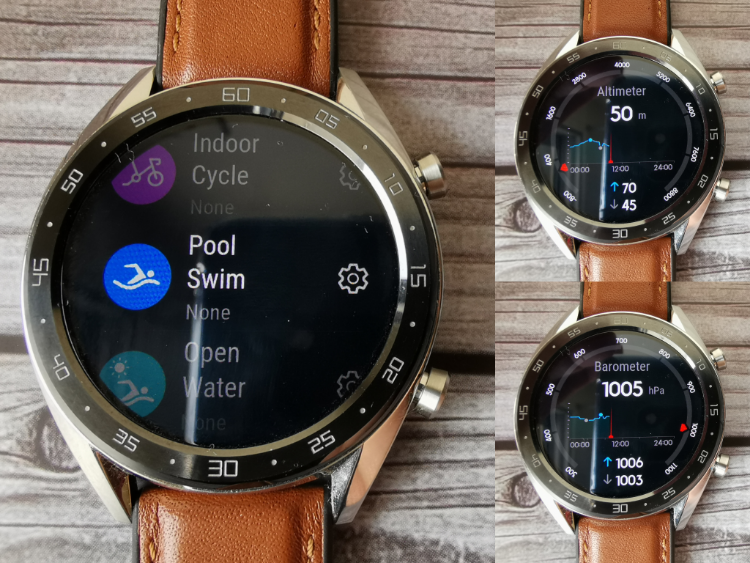 Exercise anywhere with this watch
The impressive battery life of the watch makes it possible for you to track your fitness data even when you are a long way from home as it can last for 2 weeks in a single charge with heavy usage and up to a month with normal usage. So if you balik kampung and forget your charger, it's no biggie!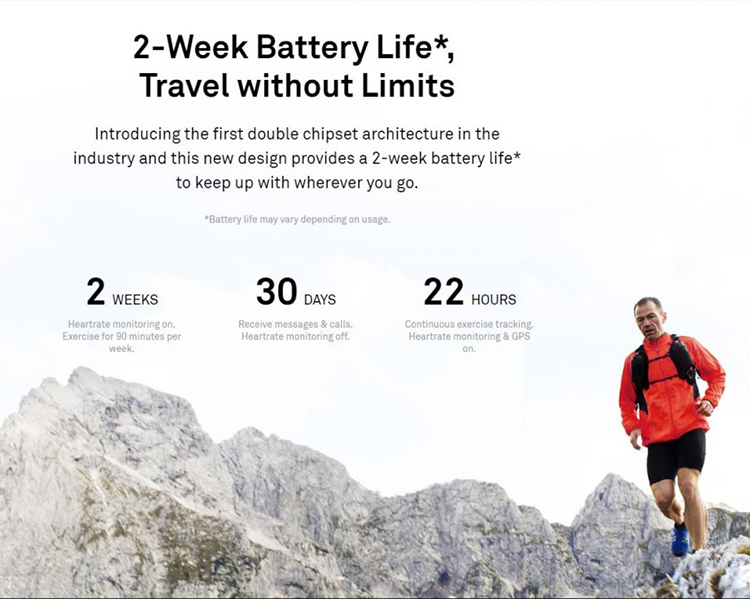 Manage your calorie intake with Huawei HiVision
Before you eat that third slice of that chocolate cake, maybe you should convince yourself not to with Huawei's AI Calorie Counter. It can estimate the amount of calories on your plate by simply pointing your camera at the food or drink and choosing the HiVision option on the top left of your camera interface. From there, choose the 'Identify' option and voila! The screen will show you what you are eating and the estimated calories there are in the food. Hopefully, this will help restrain yourself from overeating!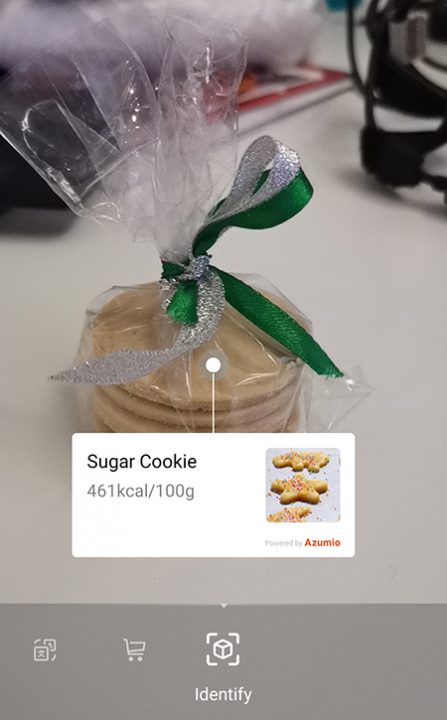 Unsure of what's in your food because you can't read Chinese? No worries! HiVision's AI translate can help you identify what exactly is in your food. Perfect for the super health conscious.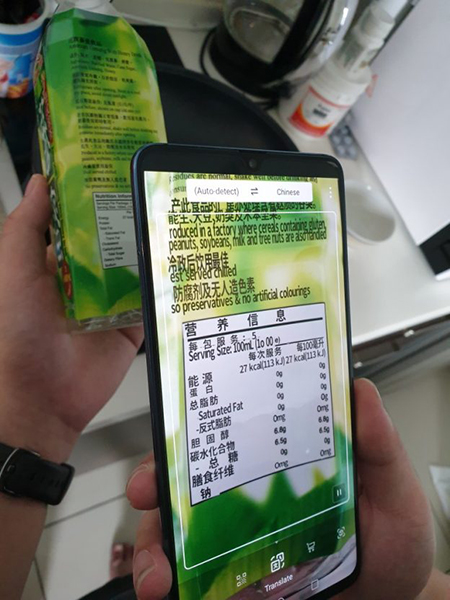 Monitor your health with the Huawei Health App
You won't know how your body's condition is unless you go for a full medical check up. Or can you? The Huawei Health App monitors your body's condition and records it for you in real time. Whether it is the number of steps you take in a day, sleep time, heart rate, calories and more, you're sure to find all of this recorded in the Health App with the aid of your Huawei Watch GT.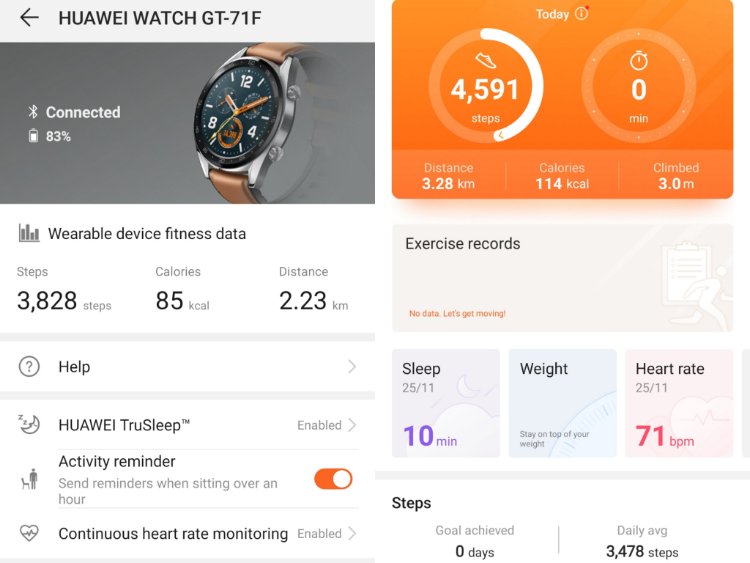 Your very own health report
The TruSeen heartbeat monitor in action
It is tough to maintain a healthy lifestyle so the help from the Health App with the TruSleep (to track your sleep pattern) and TruSeen (to monitor your heartbeats) is definitely a welcome in our lives.
It's almost like having your own personal doctor that monitors your lifestyle and reminds you to take care of yourself. Interested? Well, you're in luck. For this Chinese New Year, Huawei is offering the perfect health package: The Huawei Mate 20 (RM2799) and Huawei Watch GT (RM899) will only cost you RM3188 with the Huawei Health App pre-installed into the devices. If you want to check out how Huawei Watch GT and Huawei Mate 20 work harmoniously together, you can head on over to any Huawei experience store or even their official website. For more amazing deals this Chinese New Year, TechNave.com is the place to be!